Ruslan Suleymanov: In sports betting reputation is everything!
About the expert:
Director-General and co-founder of the Russian bookmaker Tennisi.bet. he used to be the owner of a large network of internet clubs, an IP-telephony service, several payment providers, as well as amusement arcade venues. He has moved away from being an unsuccessful bettor to being the co-owner of a company with over 700 employees in 4 countries around the world.
His story shows that it is true that one unsuccessful bet can lead you to become the Director-General of a betting company. The story began with the sensational defeat of Portugal during its home game of the 2004 Euros. Today, 16 years later Ruslan Suleymanov runs sportsbooks in numerous countries and has taken bets from the majority of its punters.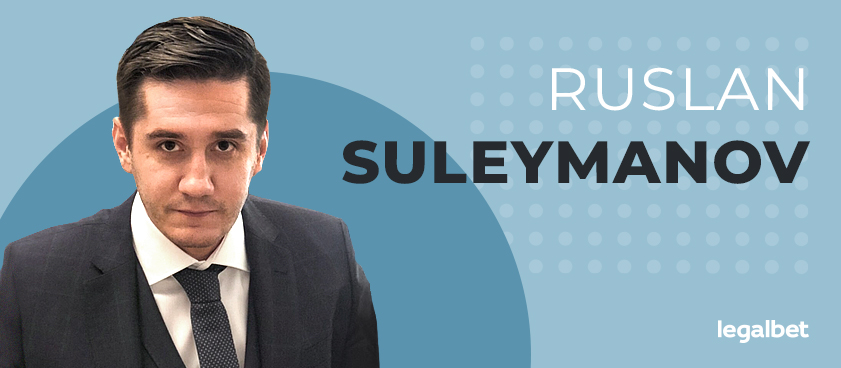 "There's no punter who can say that we did not pay him"
– Your company ranks second for reliability at Legalbet.ru. What are the basic principles that your company stands by?
– We have been on the market for around 20 years now and during this time we have gained a certain reputation. I believe that reputation is the most important thing that bookmakers may have. We hold it dear and we always put integrity at the heart of everything we do. "You will never have ALL the money in the World", I live by this principle. It is why we always pay out winning players. This is true for every country that we work in. I can assure you that there is no customer of ours who can claim that we did not pay out their winnings. We are proud of this.
Of course, we work on preventing breaches of our company rules. This is all pretty standard; you cannot have two accounts etc. It is all written down in our terms and conditions. If a client breaks the rules we don't follow the same course of action as our competitors. Instead, we try to solve the problem together with our clients, and very often we make a decision in their favour. We could sometimes have a larger profit by being stricter with them but in the long run, I am sure that a fair business will be more profitable.
– Are the principles of the company the same as your own?
– Yes, they are. Myself, my partners and our colleagues all have a very similar idea of how a person should live. It is not just about the business. We are fair to each other; we like the way we work a lot. We try to bring these ideals into our business wherever possible.
– What is the most important thing in life for you? Besides living with integrity.
– I think that you need to be fully satisfied with your life. Within reasonable limits, of course, it is important not to spare money if you want something. It is important to travel a lot and to improve yourself constantly.
"The Government doesn't want to listen to business"
– Has the legalization and regulation of betting in Russia helped Tennisi.bet?
– Sure, it definitely helped us. I can give you a simple example. To place bets in Russia, you have to go through the process of identification. It is written in the law that a bettor should do it by coming to a betting shop in person. We had about 70 shops in Russia back then, where we could carry this process out. It is obvious that 70 shops in such a big country like Russia is not enough to satisfy demand. We refused to carry the identification process online: no Skype calls, no videoconferences, no passport scans over Email. Of course, we lost many potential clients.
People would ask us how to register if they did not have any betting shops nearby, for example, Khabarovsk. Our answer was that they must visit one of our betting shops in person, even if that was thousands of miles away. People would call us idiots who obviously don't want to earn any money from them. They were ready to show us their passport right away to register but I was against such practice. It was bending the rules and did not fit us at all. We started to register people online only after a new law was issued that allowed the identification via either state services website or CUPIS website. We waited for a new law to allow online registration, and now we legally do it. This is a good example of how proper law helped us in our business.
– What was an unpleasant surprise for you in doing business in Russia?
– Sometimes I'm surprised at how little the government wants to listen. We show clearly and with examples what is wrong with the Federal law, the things which demand attention to make everything easier both for us and for the government. Unfortunately, the government is not ready to come to terms with us. We can keep trying to explain why amendments are necessary, but it will take years for them to change. This is the thing that surprises me the most. All the other things are pretty the standard here.
– Can you give a particular example? What have you suggested?
– For example, we've suggested changing the way personal income tax is calculated. Now it is calculated in a highly imperfect way. Legal bookmakers in Russia lose customers to illegal ones because people have a good reason to avoid making bets with legal bookmakers – all the winnings will be taxed! There are no taxes to be paid when you bet with illegal bookmakers though. We keep on trying to explain to the government that the current personal tax income calculation is wrong and that there is another way of calculating it which will benefit the players. But no one wants to listen. It is a huge issue though, one of many.
– The betting business is developing, the legal bookmaking sector grows annually, and the number of punters who choose illegal bookmakers is decreasing as a proportion.
– Maybe it is happening slowly, but it is happening. Legal bookmakers in Russia spend a huge amount of money on advertising. Bookmakers are one of the biggest advertisers in Russia. And it makes sense. When a bettor watches an ad of a legal bookmaker every day, he will most likely register on that website. Many people don't understand all the detail (tax issues, for example). They just register and make bets.
– Do those who know betting in detail choose illegal bookmakers?
– I think, yes they do. If I decided to bet 50,000 Rubles on Spartak I would think whether it is better to pick a legal bookmaker and be taxed afterwards or choose an illegal one where I can keep 100% of my winnings. I would really think it over.
How did "The cheerful bookmaker" turn up?
– How did you get into the betting industry?
– It was a long time ago when Euro 2004 was taking place in Portugal. I have been into sports all my life. I've been watching football all my life. In 2004 a friend of mine showed me how to make bets. I visited a website and found a bet that I wanted. It was a match between Portugal and Greece. I thought that Portugal was going to beat Greece easily. I picked Portugal to win and got odds of 1.54. That meant that if I bet $100 I would get $154 back, a profit of $54. I thought it would be easy money. So, I placed my 100 dollars and watched the match. Greece won 1:0. It was then that a thought came to my mind. I placed my own money and someone somewhere took it. He was watching football as I was, I lost the money but he earned it. At that moment I realized I need to open my own business. It all happened in Bishkek, the city where I was born. It happened fast, we opened the first betting shop in 2007. I contacted Tennisi, found contacts, met some people, negotiated with them, and I started to open clubs and the website of Tennisi in Kyrgyzstan. It all began there.
– Why Tennisi?
– It all started in the late '90s. Some guys had an idea of creating a betting exchange site for the UK. It was supposed to be a tennis betting exchange website, so the name of the website was called tennis.com. It was going good and we decided to add odds for tennis and football as well. Step by step the product was changing from a betting exchange website to a bookmaker website. At the time there were quite a lot of bettors on the website and it became quite popular. So we decided to keep the brand name and so we have Tennisi. We think that it is unusual. We've decided that this name is better than an artificial, made up and without meaning but there is no "bet", or "win" in the name. People remember it better because it stands out from the crowd. 
– How did you decide to make special betting lines on some games including memorable ones such as "Will marijuana be legalized in Russia?". Is it hard to keep such lines? Is it profitable?
– It is fun. We were brainstorming, making up all these unusual lines. Time after time we still do that. I guess we were the first in Russia to introduce some exclusive lines such as this. It was an experiment, we wanted to see what was going to happen and how the market and the people would react. We were surprised when we found out that almost all Russian betting companies started to steal these lines from us. They would just copy it and publish them on their websites. It was like a sign that we were doing something right. It was our invention and other bookmakers that were bigger than Tenissi used these kinds of lines and they never even changed them, just copy-paste and them. Even the odds were the same, if we had 1.75 then they had 1.75. We changed to 1.70, and so did they. This was a boost for us because it meant that the experiment was successful.

We started to develop this project, some guys in our company started to work exclusively on it. Those betting options created our motto – "The most cheerful bookmaker". I can say that we justify this motto not only because of the lines but also because we are active on social media. We collaborated with famous Russian bloggers (for example, Yuri Dud and Evgeny Savin), launching several interesting promo actions. We wanted those actions to make people smile, we didn't want them to be boring, like make a bet and win, or get a free bet by registering, and so on. Our main goal was to make every market special and different from the others. We did come up with some interesting terms for drawing prizes. For example, Evgeny Savin awarded not those who won, but those who lost. We've always been trying to make something that would highlight us and separate us from other bookmakers and their activities. That's why the motto "The most cheerful bookmaker" expanded from an exclusive line to our social activities as well. Check out our Instagram account – our jokes are dark and edgy. It's all connected, although everything really started from exclusive betting lines.
– But is it profitable?
– It's obvious that exclusive lines lose to classic ones. I can't imagine a situation when an exclusive line would beat an option like "Real Madrid to win" by bets turnover or profit. I think it's just impossible. All large bets are made on such popular events, and like all bookmakers, we make a profit on these events. I can't say we have real profit from our exclusive lines, but it's a good way of attracting media attention. Some business websites quote or reference us, people share the information, post it on social networks and what have you. This is a good way to gain exposure.
– How would you describe the things that have happened to you and your company in 15 years?
– I would say that the scale is larger. We started with 10 betting shops in Kyrgyzstan and now we work in several countries. It is a big company now, we have many employees and clients. I have grown with the company, and this is the main thing. I'd like to underline that we have not reached our limits, we have big plans ahead. We want to launch a new product, make a new website and linked to it a mobile App. We shall always keep on improving.
– Is CIS the main territory for your business development?
– Yes, CIS is the priority for now. Uzbekistan will legalize betting soon, the law was adopted. Perhaps, we will go to Caucasian republics as well. Of course, we'd like to expand into other markets in the future but it is mainly the CIS area for now.
– What does Tennisi.bet need to achieve so that you can sit back in a comfy chair with a glass in your hand and say: "Yeah, that's it, I've achieved what I wanted"?
– I don't know. I don't set such goals for myself, instead, I like to grow step by step. I suppose that if someday we enter Top 5 in CIS than maybe I will sit in something comfy, open something cold and agree that my life is successful. But it's not the goal. We don't set super ambitious goals, our hearts are humbler.