The Best US Sportsbooks and Betting Sites by Odds
Sportsbooks are continuously competing to offer the best odds for each event. Similarly, players will of course want to find the best odds to bet on for each event. Odds are the probability of chance given to each outcome of a certain event.
Sportsbooks will set their own odds for each event, with the difference between each usually coming down to the margins (percentage taken from each bet placed). On our Legalbet Odds Rating, we use our own unique formula for determining what percentage of each bet a sportsbook will take.
The lower that the percentage is, the better chances you will have to maximize your profits, as well as other benefits. Our rating is unique in that we take the margins not from the perspective of the sportsbook, but from that of the players. We take these from the most popular sports giving you a 100% accurate rating of which sportsbooks will continually feature the best odds.
Trusted Sports Betting Sites 
We evaluate each sportsbook based on a number of things. However, there are a few things that are most important to us that we rank sportsbooks on.
When looking at lines, we like to see a large variety of lines available for over/unders, live bets and handicaps. The more options a sportsbook has, the more ways you can play and win. Of course, finding the best odds accompanying these types of bets is equally important. No matter how often you play and win, it is important to get the most profit from your bets. 
The sportsbooks that consistently have the best odds as displayed by their margins are the sports betting sites that will give you the opportunity to profit the most. 
Finally, last but certainly not least, we always love to hear how our users rate their experiences at different sportsbooks. Not just the positive things, but also what each could do better as well. This serves as not only a guide to us, but also to other players searching for the best sportsbook.
Why Does Finding the Best Odds Matter?
One of the first things that bettors will look for on a sportsbook are the odds given for each event. Odds represent the deal that each sportsbook is offering to you, the player, on every bet. 
Getting the Best Odds Will Allow You To:
Make the most profit

Save money for other bets

Open up new betting possibilities

Allow you to wager more money
A sportsbook margin is the percentage of each bet that is kept by the sportsbook. So, a lower margin will mean that you are always given the chance to make more profit from every wager you make. It should be a priority for you to get the best deal available, especially if you are making multiple bets a day! These differences in margin percentage, no matter how small, will quickly begin to add up.
The best way to raise your profits, is by finding which sportsbooks have the lowest margins and best odds.There are a couple of main ways you can do this on Legalbet.com. The first is in our betting center where only the best odds from each sportsbook will be shown for a particular game.
Using Legalbet to find the best odds
Luckily we are here for the players, and we offer two great ways on our site to check both average sportsbook odds in general by sport and the odds for each game played. 
Odds Rating - In our odds rating, we take average margins based on odds offered for the most popular American sports from all sportsbooks in each state. The lower the margin, the more profit you can make on each bet.

Betting Center: In our betting center, you can see all sportsbook odds for every single game that is being played. Here you can find a sportsbook that gives lower odds than your preferred sportsbook or to find the best odds for a particular event.
It is a win-win for you and us. You can find the best sportsbook odds for all of your bets and we can help our users to maximize their profits. Legalbet's goal is to help each of our users to find the best sportsbooks for them. 
Finding the best odds is extremely important, and we understand this by helping players find the best of both worlds. Finding both average odds and odds for specific events from sportsbooks are made simple on Legalbet.com. 
Sportsbooks With Odds Boosts and Specials 
SugarHouse Sportsbook - Jackpot Parlay
The Jackpot Parlay on SugarHouse will automatically put together parlays for a chance to win big! This section pulls random bets from the sportsbook and lets you pick and choose which ones to include. You can choose which sports the bets are pulled from, how many legs to include, the time frame of bets and your stake. Parlays with more legs will have some stake limits.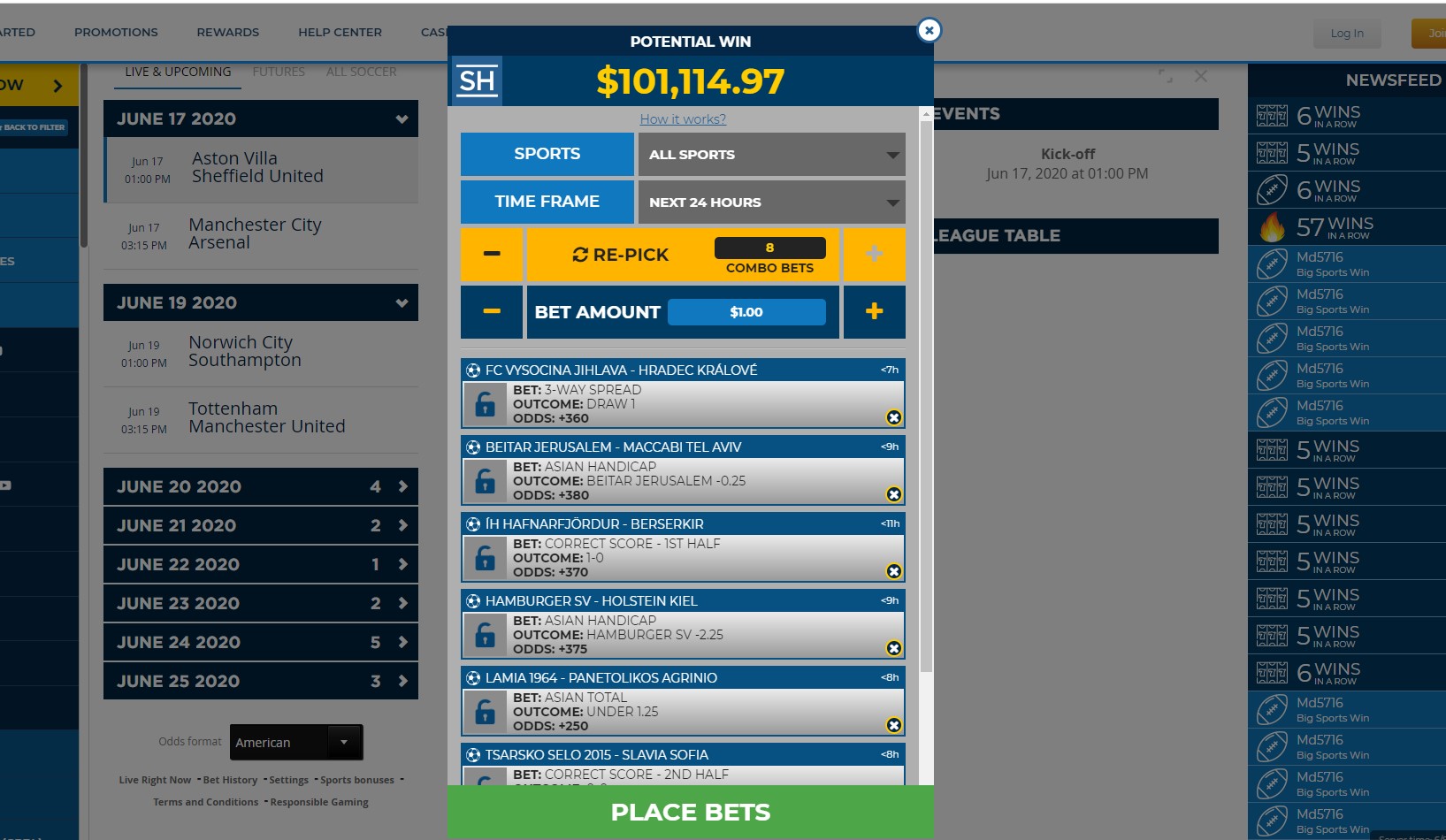 If you want a four-leg parlay bet, but do not want to include two of the markets SugarHouse selects for you, simply switch them out. Click on the 'X' next to the bet, then bring the parlay total back up to four. SugarHouse will add another bet in its place. If you do not like any of the bets provided, hit the refresh button and get a completely new parlay!
How to read American sportsbook odds?
There are three main ways of formatting odds in the betting world. However, American odds will of course be the default on USA sportsbooks.
American odds will be displayed as such:
New England Patriots -210 (Favorite)
Miami Dolphins +180 (Underdog)
The easiest way to understand American odds is that the negative number will tell you how much you need to bet in order to make $100, whereas the positive number shows how much you will make from a $100 bet. So in order to make a $100 profit betting on the New England Patriots at the above odds of -210, you will need to wager $210. A $100 wager on the Miami Dolphins at the above odds will wield a profit of $180.
What are Las Vegas odds and how are they set?
The biggest reason that the odds set in Las Vegas are important is because sports betting has been legal in Vegas for so long (since 1949), that many of the best oddsmakers come from or reside in the area. The oddsmakers in Vegas rely on a multitude of variables and algorithms called the power ranking to determine their odds:
Team strength

Injuries

Current form

Home field advantage

Public perception 

Location of sportsbook
Based on the power rankings and the variables present for a specific game, oddsmakers can set the basic moneyline as well as point spreads for each team. Sportsbooks all over the country will look at the odds that are set in Vegas, and add their own changes. The changes may be minor, but it's always good to get the best odds for every game. 
Conclusion
In conclusion, sportsbooks odds are one of the most important things when it comes to finding a sportsbook and managing your account. The sportsbook margin will determine the percentage of each bet that a sportsbook will take. This will be present on every bet, so knowing the sportsbook's average margin is a must. 
Understanding the way odds are created gives you great insight on how to find the best odds based on what the oddsmakers look for. The best and easiest way to determine a sportsbook's odds are by looking at the average margins used by the sportsbook in our 'Odds Rating' or in our 'Betting Center' on Legalbet.com.
List of Our Recommended Sportsbooks
| | | |
| --- | --- | --- |
| Sportsbook | Welcome Bonus | Rating/ Value |
| | Risk Free Bet $500 | $$$$ |
| | 100% Matched Deposit up to $150 | $$$ |
| | Two $10 Free Bets & Risk-Free Bet $250 | $$ |
| | 100% Matched Deposit up to $250 | $$$$ |
| | No Current Welcome Bonus | $ |
| | Risk-Free Bet $500, 20% Matched Deposit up to $500  | $$$$$ |
| | 100% Matched Deposit up to $100 | $$$$ |
| | Risk Free Bet $250 | $$ |
| | Risk Free Bet $500 | $$$ |
| | Risk Free Bet $100 | $ |
| | Bet $50, Get $50 | $ |
| | Risk-Free Bet $500, 50% Matched Deposit up to $500 | $$$$$ |
| | Risk Free Bet $100 | $ |
| | Bet $20, Get $100 | $$ |