Pros
Cash out service available
Main focus on American sports leagues
Long list of promotional offers and rewards program
Exclusive prices and betting markets
Cons
Limited payment methods (for both deposits and withdrawals)
No live streaming available or game statistics on the site
Payment systems
Type
At least
Max
Payment. Commission %
Payment. Deposit time

$10
Check with PointsBet
None
Immediately

$5
Check with 'Global Payments'
Insufficient funds fee $30
Up to three business days

$5
None
None
Immediately

$5
Insufficient funds fee $30
Up to three business days

$5
$500 per day
None
Within 30 minutes
Type
At least
Max
Payment. Commission %
Payment. Withdrawal time

$5
None
None
1-2 business days
PayPal is only available for withdrawals if you have previously deposited with Paypal

$5
Check with 'Global Payments'
None
1-5 business days

$50
$10,000
None
Within 24 hours

$5
Check with PointsBet
None
1-5 business days
Review of the bookmaker PointsBet from Legalbet
PointsBet first brought its Australian brand of sports betting to the United States in January 2019. The sports betting site opened in New Jersey through a partnership with Meadowlands Racetrack. It now operates in multiple states including the openings of PointsBet Indiana and PointsBet Iowa. 
PointsBet is a sportsbook that does things its own way, and it would be hard to find another like it in America. Sports betting on the site is available on both desktop and on mobile apps. Bettors who like to play on the main markets and the biggest leagues will enjoy the simple layout of the PointsBet site.  
The brand brings a premium sportsbook experience complete with a wide variety of betting markets and its own unique style of placing sports wagers. It excels in a few key areas, including promotions, betting styles and unique features on the site.
Top reasons to use PointsBet:
Lots of different markets for major US leagues

The use of 'pointsbetting' and other betting features

Different betting options like entertainment bets

Extensive promotion section with updated offers
The main feature that distinguishes PointsBet from other sportsbooks is the 'pointsbetting' style of wagering. You can find this style of wagering on many games throughout different leagues and sports on the site. 
PointsBet Site Overview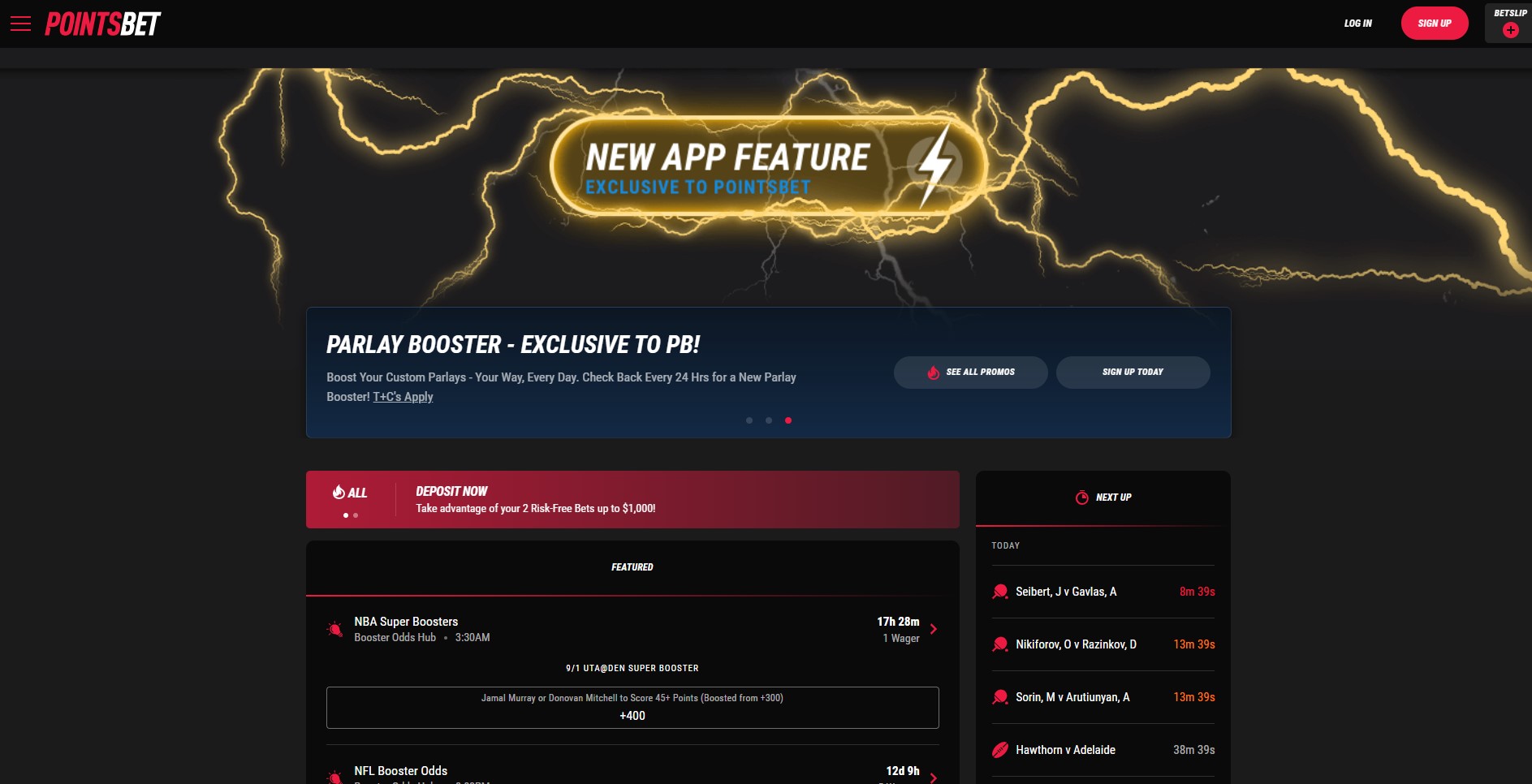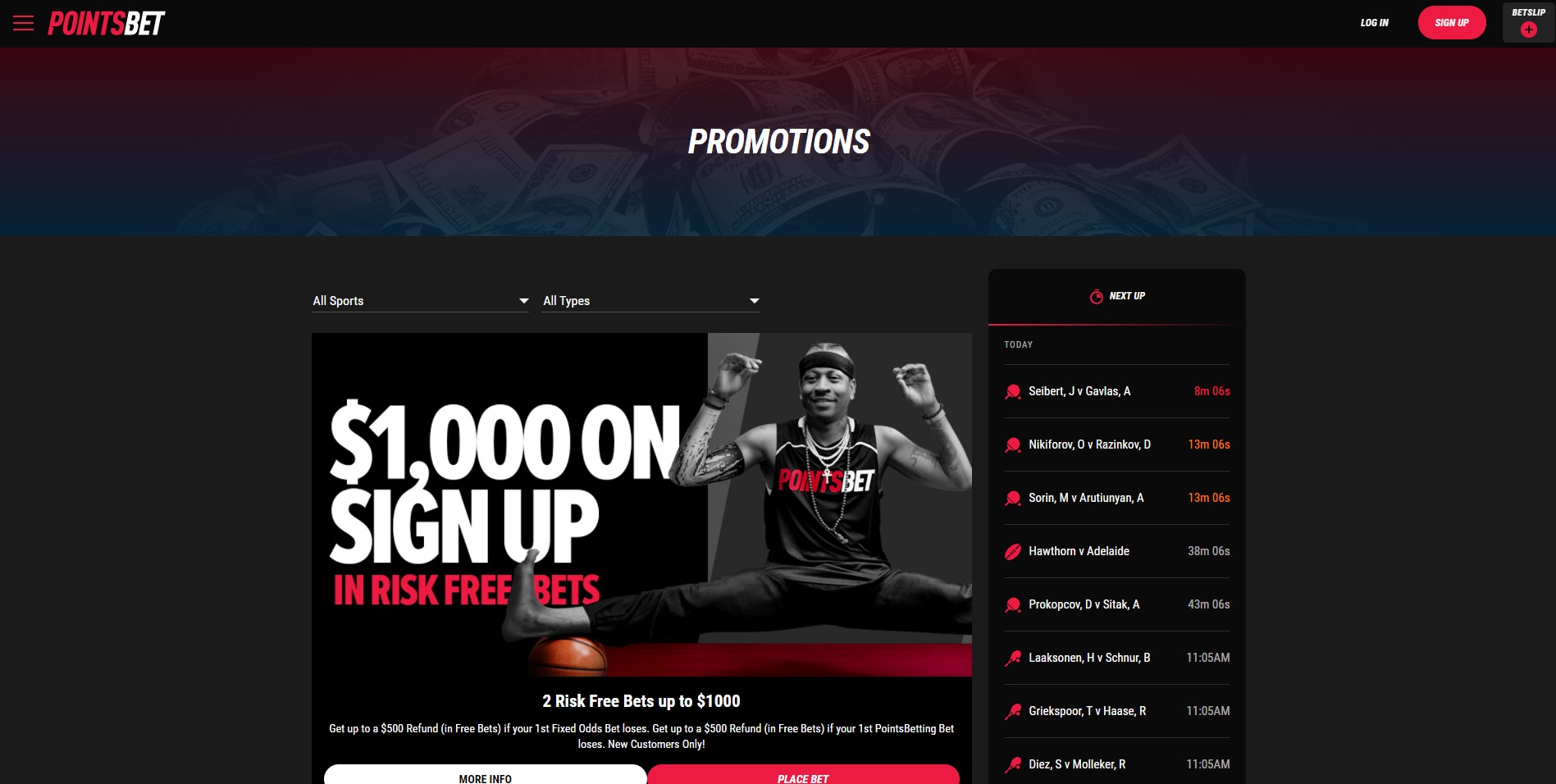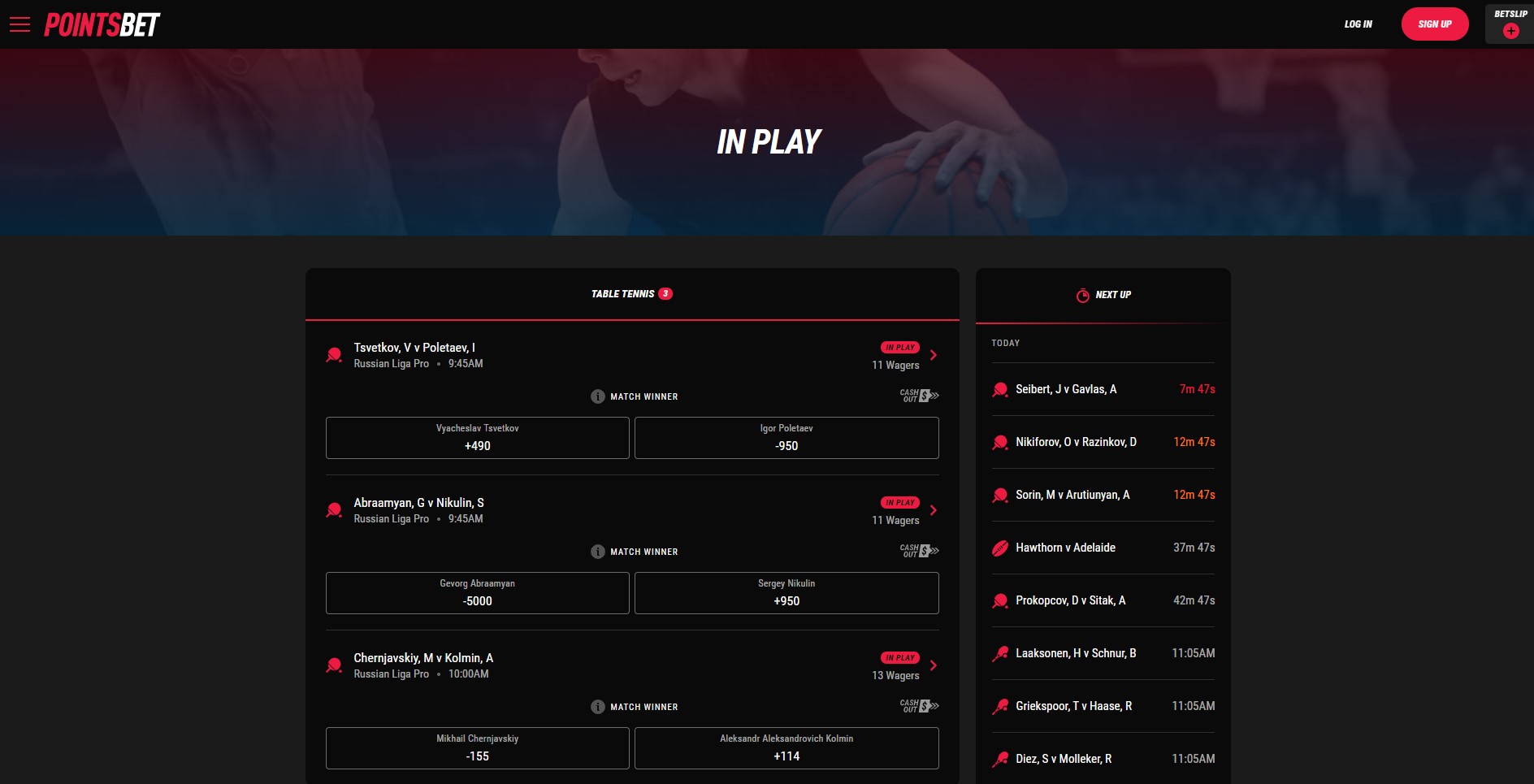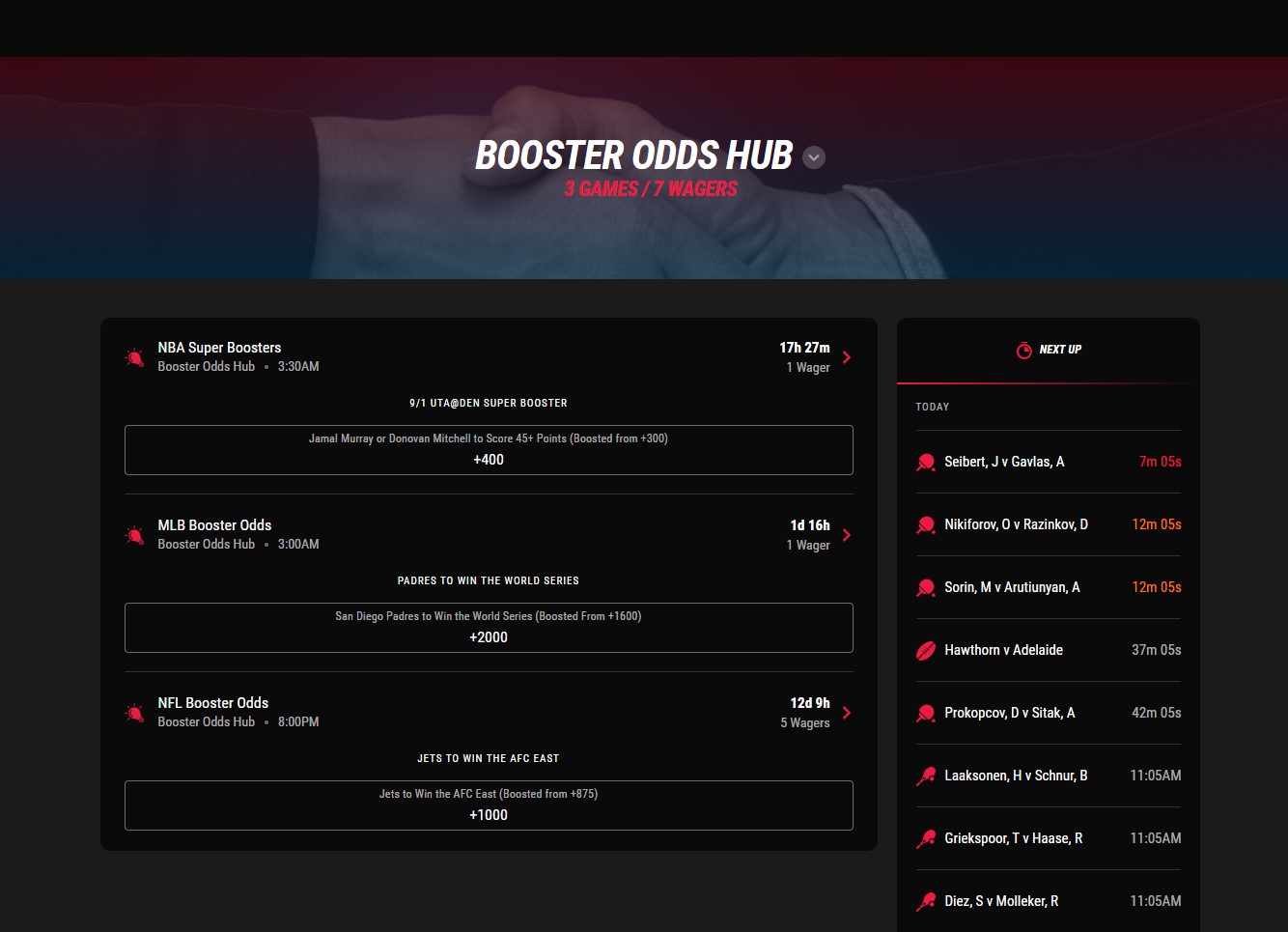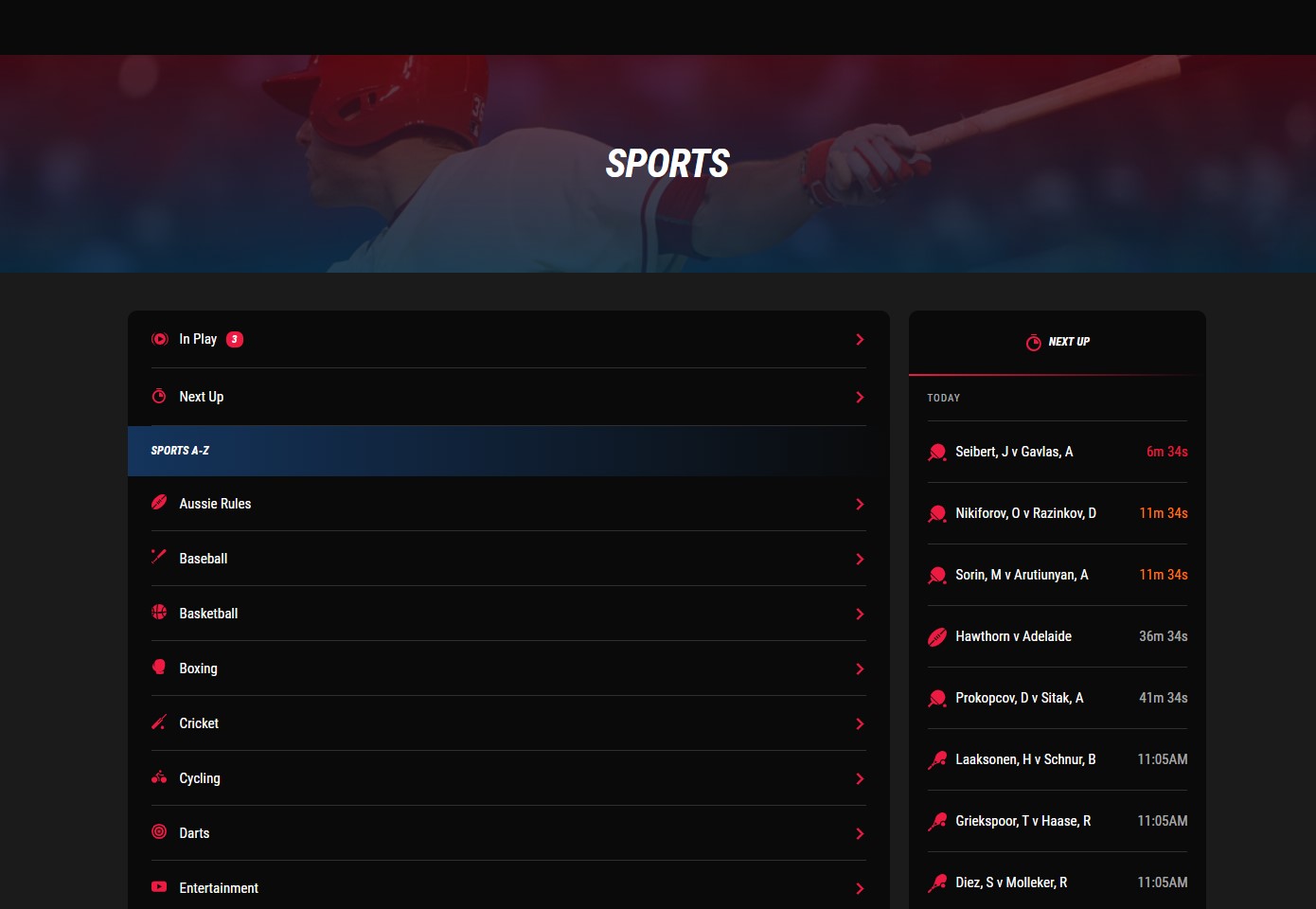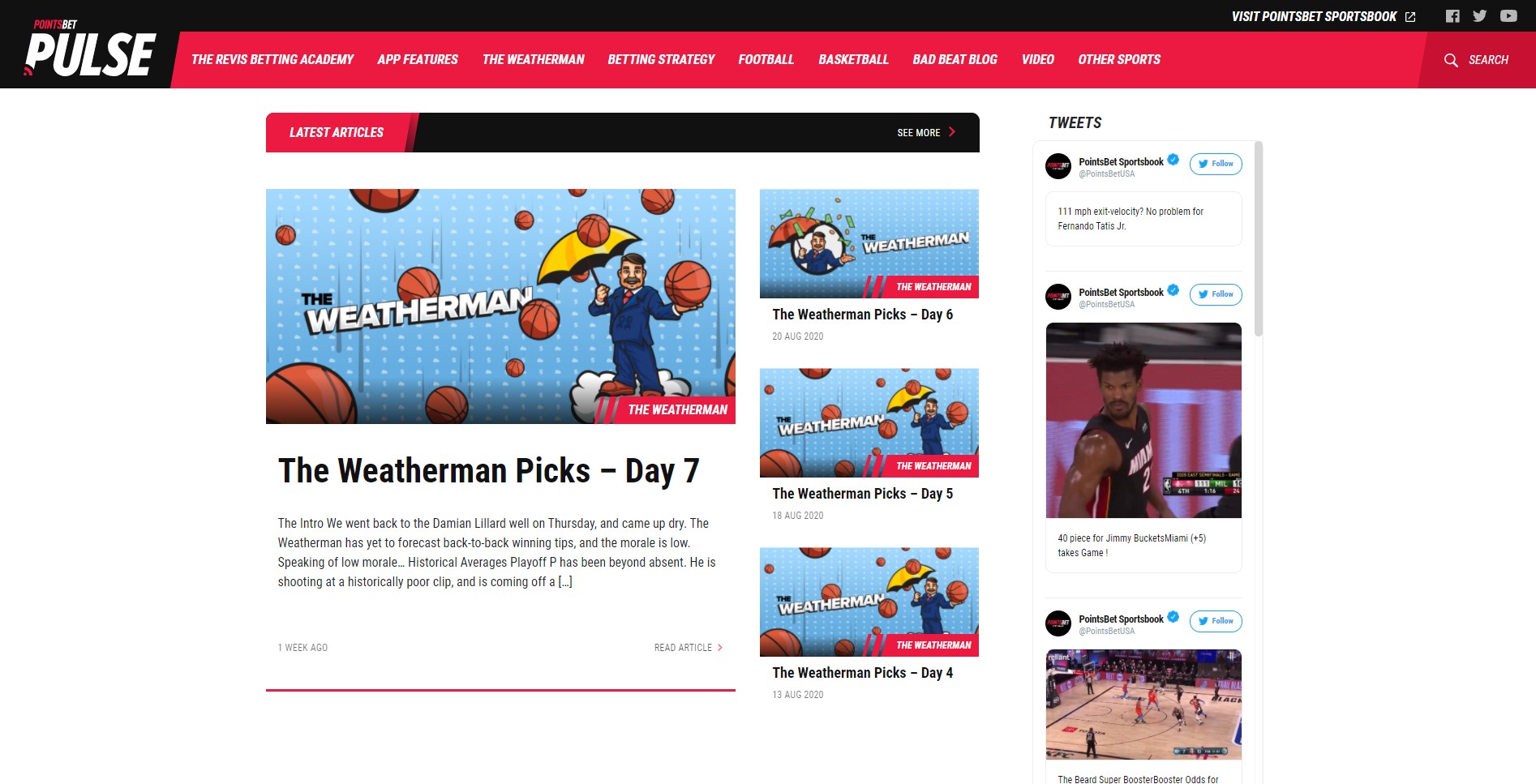 This type of wagering allows you to set your own lines for major markets with the possibility for huge profits. The way it works is that you are given a bet type like total Real Madrid goals in a game, for example. The difference of the actual number of goals scored and the number that you bet is what your stake will be multiplied by. 
Many pointsbetting markets are tapped out at 90X your stake, but even still it's not hard to see how you can make a major profit if things go your way. Other betting features on PointsBet include odds boosts and quick parlays, among others. 
Odds — good
Coming from the company's home country of Australia, PointsBet Sportsbook launched in the United States in January 2019. PointsBet offers a nice selection of sports on the site, as well as a section for bets on entertainment.
The main sports we want to see are all included,as well as unique options you wont find elsewhere. 
| | | | | |
| --- | --- | --- | --- | --- |
| Aussie Rules | Baseball | Basketball | Boxing | Cricket |
| Cycling | Darts | Entertainment | esports | Football |
| Golf | Hockey | MMA | Motor Racing | Name a Bet |
| Rugby League | Rugby Union | Soccer | Table Tennis | Tennis |
These margin percentages help to determine how good the PointsBet odds will be on your favorite sports competitions. For most leagues, we look at the moneyline and over under betting lines. 
(For our Odds Rating, we rank average margins below five percent as Good ✅, from 5-7% as Normal🔘 , and anything over seven percent as Bad ❌.)
PointsBet Odds - Soccer
Average Margin Percentage = 6.04% 
We took a mixed bag in regards to the quality of leagues we looked at for average PointsBet soccer margins. The Spanish La Liga, Mexican Liga MX and our own MLS were all examined here. 
| | | |
| --- | --- | --- |
| Odds Rating | League for Soccer Betting | Average Margin Percentage |
| Normal 🔘 | Spanish La Liga | 5.07 |
| Normal 🔘 | Mexican Liga MX | 6.04 |
| Bad ❌ | USA MLS | 7.81 |
PointsBet Odds - Hockey
Average Margin Percentage = 5.68%
In the sport of hockey, we examined the average margin percentages for two of the biggest leagues in the world, the NHL and the Russian KHL. We found averages on the moneyline more favorable than on over under bets in the latter. 
| | | |
| --- | --- | --- |
| Odds Rating | League for Hockey Betting | Average Margin Percentage |
| Good ✅ | NHL | 4.26% |
| Bad ❌ | KHL | 7.11% |
PointsBet Odds - Basketball 
Average Margin Percentage = 5.75%
For fans of basketball, PointsBet will be a must play sportsbook. The site features betting lines on games from all around the world, with around 13 and good margins for the NBA. 
| | | |
| --- | --- | --- |
| Odds Rating | League for Basketball Betting | Average Margin Percentage |
| Good ✅ | NBA | 4.42% |
| Normal 🔘 | Spanish ACB | 6.4% |
| Normal 🔘 | Turkish Super League | 6.36% |
PointsBet Odds - MMA 
Average Margin Percentage = 5.26%
There is no greater spectacle in the world of MMA fighting than the UFC. To find the average margins here, we took matchups from two separate UFC events, including main card fights. 
| | | |
| --- | --- | --- |
| Odds Rating | MMA Betting Event | Average Margin Percentage |
| Normal 🔘 | UFC 253 | 5.23% |
| Normal 🔘 | UFC 248 | 5.29% |
Other Competitions for Betting
Tennis Odds = 5.65% 🔘
Football = 4.37% ✅
Baseball = 5.34% 🔘
Betting options — good
There are plenty of different ways to place wagers on PointsBet. Main bet types are covered, as well as an extensive focus on prop bets for major leagues like the NFL and the NBA.
| | | |
| --- | --- | --- |
| Moneyline Bets | Over/Under Bets | Spread Betting |
| Prop Bets | Futures Bets | Parlay Bets |
| Teaser Bets | Live Bets | Pointsbetting |
Totals or over/under bets will provide you with a statistical number pertaining to a certain aspect of a competition. All you have to do then is guess whether the actual result will be higher or lower than the one provided. 
Each of these bets can be made on sports such as football, baseball, hockey and around 20 more!
Pointsbetting: The Most Unique Way to Wager
PointsBet also offers a more unique style of creating your own bets called pointsbetting. There are plenty of different markets for pointsbetting each with their own rules courtesy of PointsBet. The bets in this section will give players a high-risk, high-reward style of betting with bets winning or losing more based on the outcomes. 
Here you can take main bets and adjust the lines for them to make your own bets at different odds. PointsBet will have its own rules for each of the bets you make in this section with info boxes for each explaining them. 
The more correct that you are with your bet, the more money you will win. This is definitely a creative and potentially profitable way for you to insert your own ideal lines into the main bets.
Name your Own Wagers on PointsBet
Pointsbetting, however, is not the only unique betting offer on the site. Imagine a way to play as bookmaker for a bit by deciding which bets you will have on the site. 
With Pointsbet's 'Name a Bet', players are able to do exactly that. Name a Bet allows Pointsbet users to request their own custom wagers, which could in turn could be featured on the site and bet on with PointsBet odds. 
All that needs to be done is go to the PointsBet 'Name a Bet' category on the site and enter in the sport and wager you would like to see. If PointsBet prices your bet it could go live within a couple of hours! 
These two incredible features give users a unique and customizable betting experience on PointsBet.
Live — normal
Betting on games live takes place in the InPlay section on PointsBet. The main page of live betting shows you all of the games that are currently being played and are available for betting.
There is also a list with upcoming competitions and a live countdown until each starts. PointsBet live betting serves its main function allowing players to bet on current games, however, it does not include many added features that make it stand out from other sections.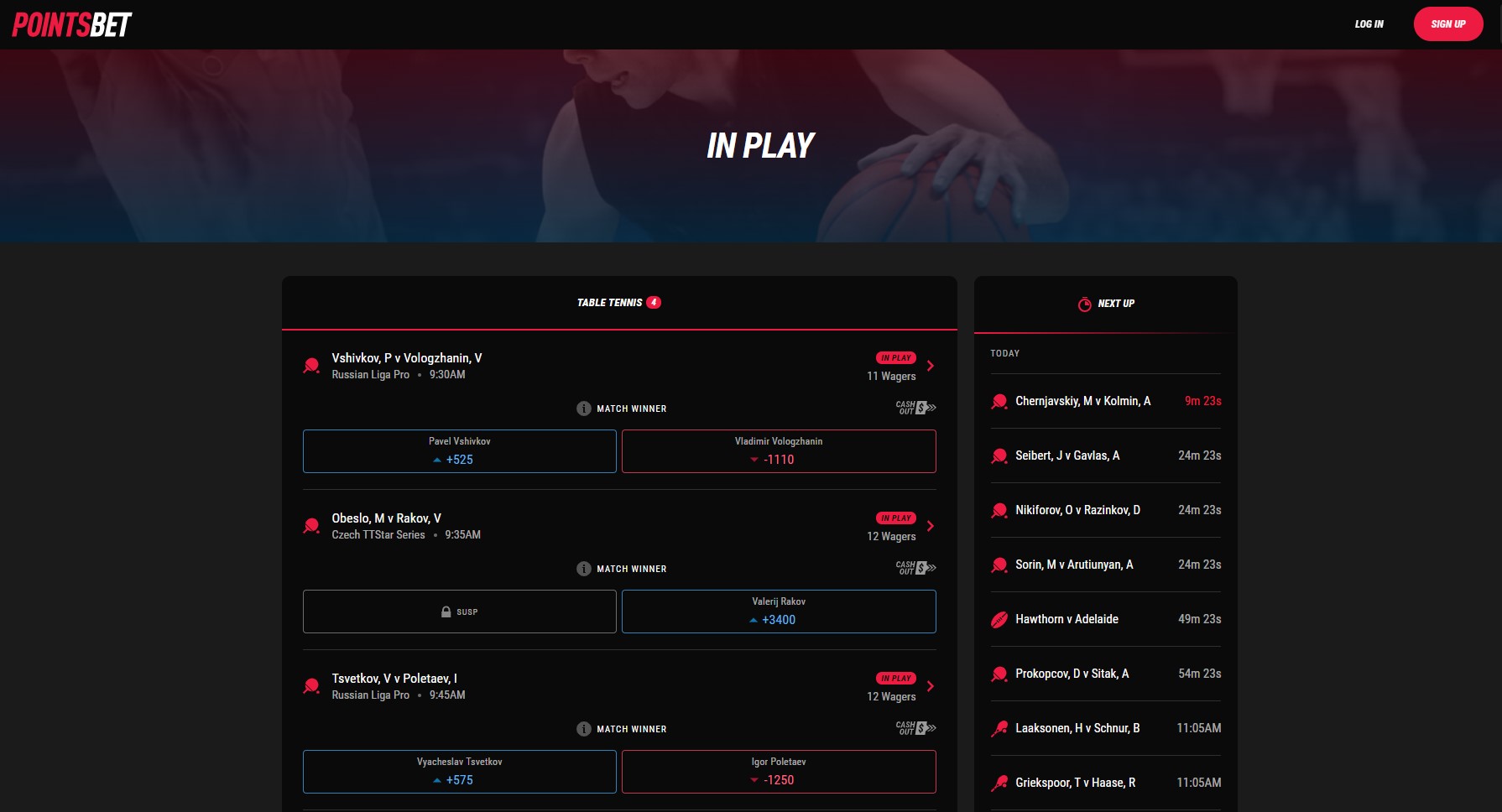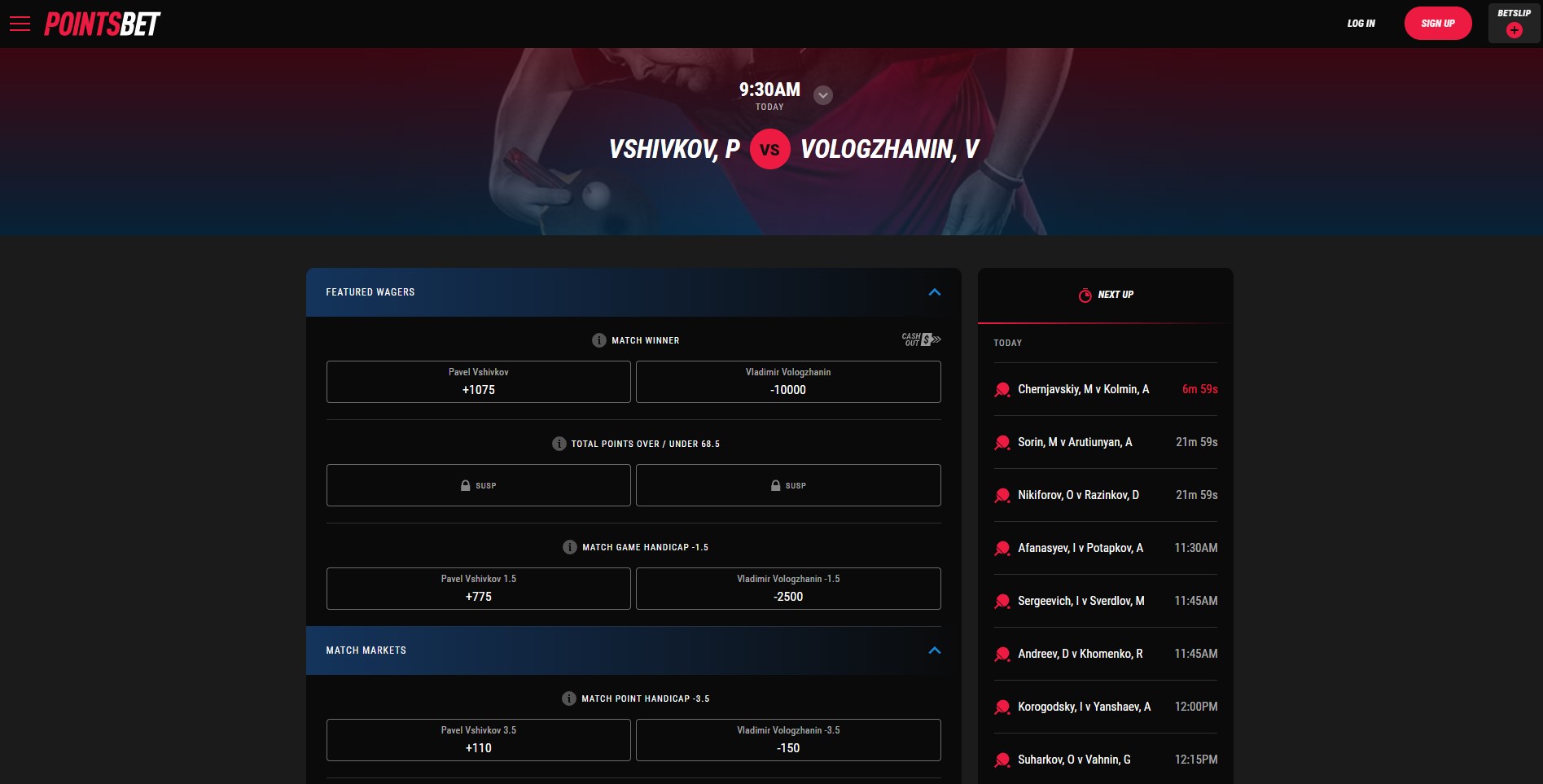 PointsBet live betting allows players to quickly switch between current competitions
The list will stay on the left side of the screen allowing you to move between games quickly and make bets. Odds and new bet types will constantly update while the game is being played.
Many of the betting markets for live games will also feature the cash out function, which allows players to end the wager before it has been officially decided. The amount of your stake that you will be able to return depends on the odds of your bet winning at the time of cashing out. 
This is becoming a very necessary feature especially when live betting, so its good to see PointsBet ahead of the curve. It factors in to what is a technically sound live betting section, but one that could see improvements with being able to follow individual live competitions. 
PointsBet Review Official Site
PointsBet has a great website design that adds simplicity to the complex art of sports betting. There is more to what you first see with PointsBet. The sportsbook does a good job with packing the site full of content without putting forth an overbearing design.
And there is plenty of content available. The site is loaded with different features that lends variety to the way you play. The main layout of the online sportsbook is easy to navigate, with all of the different sections located in the left tab.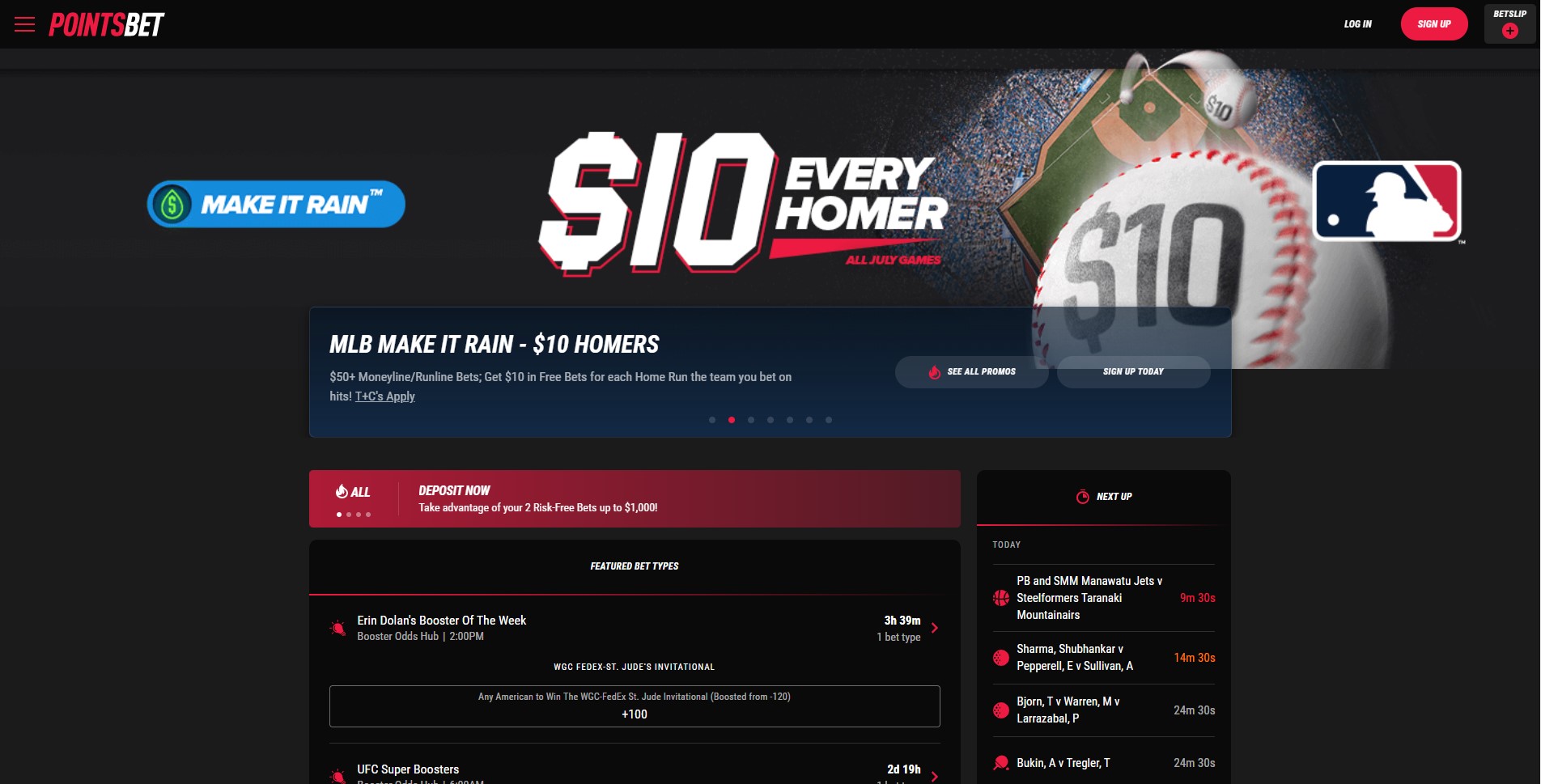 The different sections will also include betting features like 'booster odds' and quick parlays. Booster odds is a PointsBet feature that will take relevant markets and feature them for having higher odds than they were previously listed for. 
The 'Quick Parlay' is another PointsBet feature which allows you to quickly skim through the main markets for different games in each sport in order to quickly put together a parlay. The site pulls odds from all sports and leagues giving you a wide variety without having to spend a lot of time searching.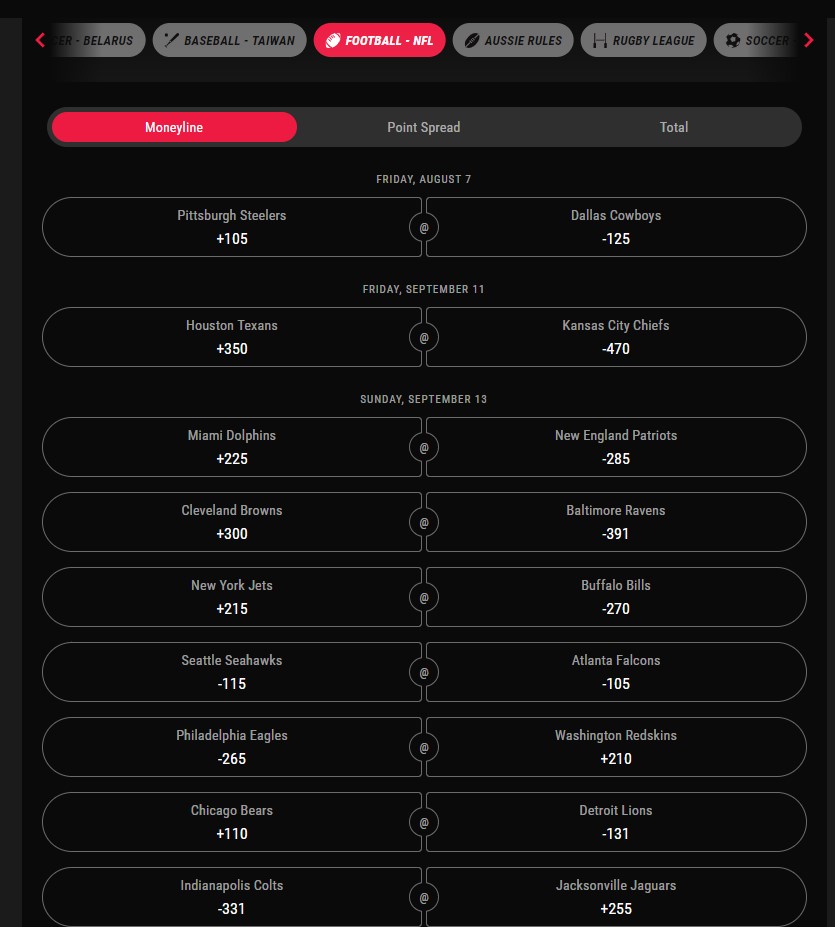 Beyond the normal sports betting sections, PointsBet also has a blog section with different articles, podcasts and updates for everything surrounding sports. With everything packed into this section it is hard to ever miss any news, and also easy to hone your skills while passing the time. 
Registration & Verification
Before beginning to place wagers on PointsBet Sportsbook and enjoying the unique sports betting available, you will need to create and register an account. It only takes a few steps to get started and the process generally does not take that long. 
Go to the PointsBet website and select your state

Click on the red 'Sign Up' button in the top right corner

Complete the registration with accurate information

Wait for confirmation from PointsBet that your account has been created

Make a deposit and begin betting
The registration process on PointsBet follows two sections and it is mainly straightforward. You will need to include general information about yourself and also accept some terms and conditions at the end. You will also create an email and password that you will use to log in. 
There is a space at the beginning of registration that will ask you for a bonus promo code. These are a series of numbers and letters that allow you to opt in to welcome bonuses. You can find bonus codes in a welcome bonuses description in the PointsBet promotions section. 
If there is one available, you need to enter it when registering or else you risk not being able to receive it. You will be notified by email when your account has been approved, after which you are able to log in at any time using your email address and password that you created and begin betting! 
PointsBet Bonuses
Bonuses and promotions on sportsbooks give players special offerings like cash back, free bets and other extras. Who doesn't love getting extra prizes for free? You can always find the current PointsBet bonuses in the 'promos' section. 
There will be a list of everything on offer at the moment, as well as a short description of what each offer entails. All promotions will have requirements and most will have expiration dates, so it is best to always check this section as often as possible. 
Promotions are one of the bright spots on PointsBet. The sportsbook often has plenty of bonuses on offer, and we can safely say there are more than most sportsbooks. Many of the offers with certain leagues or bet types.
The promotions will also vary from unique to common, and from ongoing to one-time. Good news for bettors however is that PointsBet bonuses are often ongoing, meaning you can use them more than once until they expire. 
Welcome bonuses will require you to enter the bonus promo code during registration. However, for other promotions, you will simply have to fulfill the requirements to receive the offer. PointsBet does a great job offering an extensive list of bonuses, and the only problem might be receiving them all!
PointsBet App Review and Download
There are PointsBet apps for both Apple and Android devices available. You can download the Android app directly off of the PointsBet website, whereas the IOS version of the app can be downloaded in the Apple store. 
Both versions of the app are free to download and use. Mobile betting apps give players the opportunity to bet anywhere in legal states without having to leave the house. 
PointsBet Betting App Pros
Layout and design perfectly complement mobile devices

Betting features from the desktop version remain the same

Long list and selection of rewards and promotions

App runs incredible smoothly, and is quick whilst navigating 
Betting App Improvements Needed
Would still like to see live streaming be added to the sportsbook

Number of betting markets can be a little low for the less popular competitions
As much as the simplicity of the desktop version can make the sportsbook look a little bare, it also perfectly fills out the mobile app. The app is easy to use and all different sections easy to find.
The promotions and other features also remain the same on the app, giving you the entire PointsBet experience. The positives of using the app far outweigh the negatives. PointsBet app runs as smoothly as the top sportsbook apps in the country and is all around a solid choice for any bettor. 
Get the free PointsBet App, Download Now!
Customer Support
PointsBet has a couple of ways that you can get into contact with them should the need arise. The first way you can contact them is by email, however the live chat will normally be the quickest way. 
The company is also very active on their social media like Twitter, so you may have a good bit of luck reaching them through there.
Reaching out to PointsBet may not always be necessary, due to the amount of information listed on the site. There are multiple sections including help centers, terms and conditions and house rules that you can access at the bottom of the page.
These will have plenty of information and may answer any questions you may have had. If you have a question about the site in general, then these sections are definitely worth a look. 
Review Conclusion
From our viewpoint, PointsBet is a truly awesome and unique sportsbook especially for bettors who really enjoy gambling. With the feature 'pointsbetting', you will have the opportunity to risk major amounts of money with a chance to win huge all off of one bet.
It is definitely a unique feature, and is sure to draw some big time bettors out of the crowd.
However. PointsBet has plenty of other great features for players who do not want to risk their entire bankroll on one wager.
The long list of promotions and betting options give you plenty of unique ways to profit making normal bets on the site. PointsBet stands out because of its unique, good offerings to all types of players. 
How to Contact PointsBet?
Getting in touch with the PointsBet team can be done through two main options.
For questions that do not require immediate assistance, players can send an email and wait for the reply. The other option is the 24/7 PointsBet live chat, which can quickly help to offer assistance.
Updated: 04.06.2023
Information about the company
Questions and answers
How does 'pointsbetting' work?
The unique 'pointsbetting' feature gives bettors the chance to win or lose large amounts of money that can be decided by only a few seconds. PointsBet will list a number of different betting markets that do not have fixed odds attached.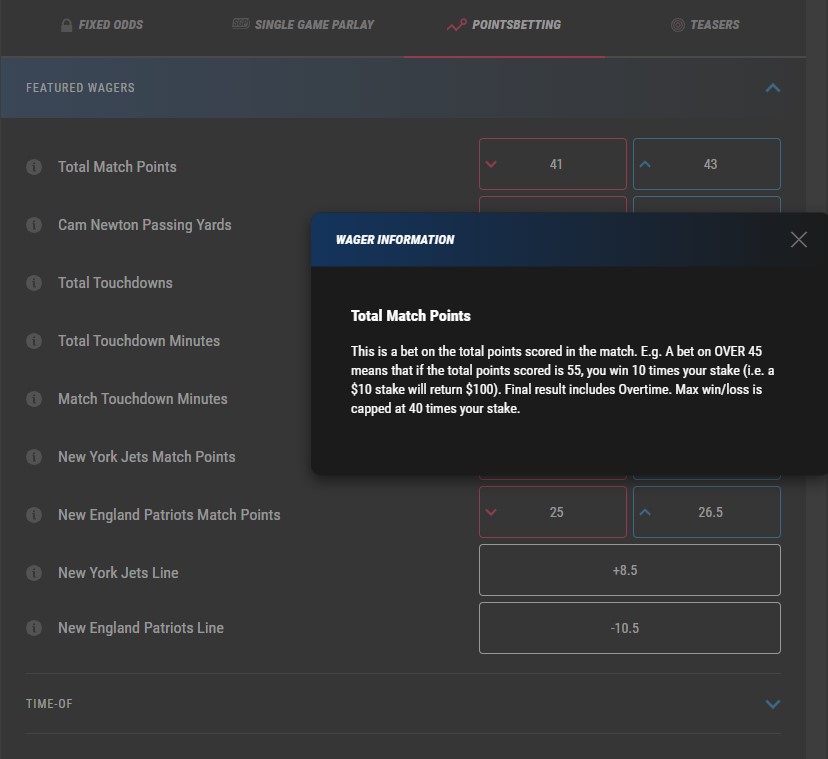 Instead, you will need to choose an over or under amount from the original line. The number of points that you are right or wrong determines the number that your stake will be multiplied by.
Each bet will have a max win and loss level so you will still be able to know how much you can win or lose from a bet.
Each bet listed in the 'pointsbetting' lines will have an info box that will tell you exactly what the bet entails, and how to win or lose.
Once you make one of these bets, PointsBet will withhold a significant portion of the risk from your account. We would not recommend that beginners attempt 'pointsbetting', but is a very exciting way to bet once you learn the ropes. 
Is it possible to use PointsBet outside of New Jersey?
Luckily for bettors outside of New Jersey, they do not have to make the trip to the Garden State just to use PointsBet. The sportsbook has already expanded its operations into other states with even more planned. 
In order to get betting at one of these other states, you will need to register at the appropriate PointsBet sportsbook.
States may have different rules for creating sportsbook accounts, but they will mainly follow the same process. If you are visiting another state that has PointsBet, you can always sign up and play as long as you are within the state's borders. 
PointsBet is currently available online in New Jersey, Indiana and Iowa.
What is PointsBet spread betting?
Spread Betting, also known as betting with handicaps, is a type of bet that rewards underdogs with more points or takes away points from favorited teams, depending on which side you choose. 
These types of bets are especially popular with football leagues like the NFL, but can be found on most sports competitions.
If the spread for a game is 3.5, you will see this number added to one team and subtracted from the other. If you pick the team with the points added, they will only need to not lose by that number or win the game outright for you to win your bet.
The team with points subtracted will need to win by more than the spread for your bet to be successful.