Why Borja Pardo is So Cool
As you may or may not know, on Legalbet you can find predictions from extraordinary people who are experts in sports betting, as well as handicappers. If you can expect a positive result from handicappers who are professionally engaged in sports betting you can end up making bad bets even though they may understand the sport well. This is often the case.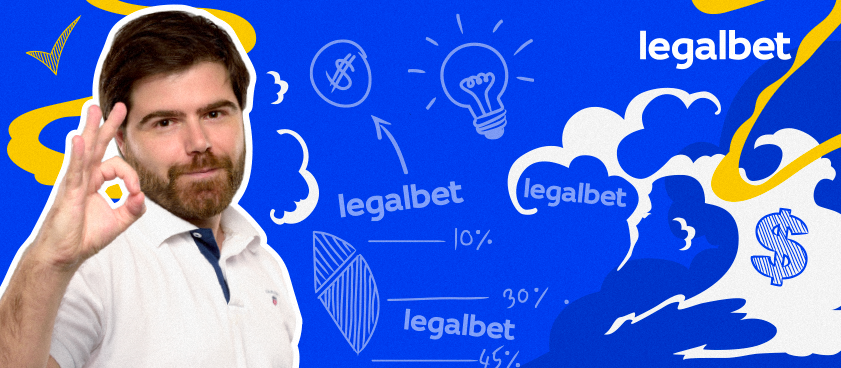 This is a feature of sports betting, it is important to not only have an opinion about which team will win, but also knowing how well those chances suit you in the long run with the odds involved. Usually, handicappers and experienced bettors, for whom are expected to receive a positive result over time, worry about this. This is exactly why Borja Pardo's success is so impressive. Right now, he is the most profitable expert advisor and is in the top five most profitable forecasters on Legalbet. He has already profited more than £1000 at a flat rate of £20 for 750 bets.
If you also consider that he has made his profit primarily on big markets, where sportsbooks traditionally have an optimal line, then you may want to give him a standing ovation. Let's take a look at how he is so good.
Has a Clear Specialization
Borja is a Spaniard by ethnicity, he lives and works in Spain, and therefore it is logical that he has a clear focus on Spanish soccer. First of all, this means La Liga games, but there are also predictions for Segunda and the National Cup. Well, it is clear that he also actively associates with the Spanish teams in European competitions. He remains cool and does not overestimate their strength, and when it is appropriate will also bet against his own teams. Now there are fresh examples of predictions where he bets on Valencia's defeat against Atalanta.
He is well-versed in local soccer, understands the honest chances of his teams, and keeps track of the fitness of the players. In other words, he keeps his finger on the pulse and is almost never distracted by other soccer games. He plays pure outcomes, only not exchanged for reassurance. And it is not just about straight wins as there can also be bets on draws. He sometimes dances with bets on one half, but almost never with the exotic bets on players' goals, for example. Due to this, he overcomes very significant odds, often higher than 1/1, which allows him to cover for failures and be profitable even winning only half of his bets.
Able to Continue Even with Failures
Borja is very smooth and does not allow any almost negative streaks, which means there is no wild spiral downward. Suffice it to say that the overall Pardo statistics on Legalbet have never been negative, only locally in some segments. It is clear that after 750 bets, he has had an unpleasant streak or two, we have managed to find two of them at once – eight losses in a row, one of which was quite recent. However, he managed to return to winning ways and show his strengths.
Disciplined and Stable
The current month of February is indicative. If you look at the results chart, you can clearly see that at the beginning of the month there was a minus, but Borja does not fuss in such cases. He continues to bend his line and play his own style without trying to win everything back at all costs.
Judicious Game
A distinctive feature of Borja Pardo and it helps to keep him in the lucrative plus. He is a great confirmation that you can start to win playing your game and using your opinion on how it should be played. On the whole, we must admit that Pardo has quite a unique style. It is contrary to the opinion of many that he is positive on big markets, avoids the small ones and ends with a very good ROI. At 500 bets or more, an ROI of 6-7% is considered grandmasters, while Borja's is at 8.1%.
Against the background of all the above, it is quite surprising that Borja has so few subscribers, this can be corrected with a single click! Right now, he is our most profitable expert and predictor.