Aleksei Oleinik vs. Chris Daukas: Analysis and Odds on the UFC Fight
The Russian MMA veteran Aleksei Oleinik's return to the octagon will be officially held on February 20, 2021. His rival will be the American UFC prospect Chris Daukas.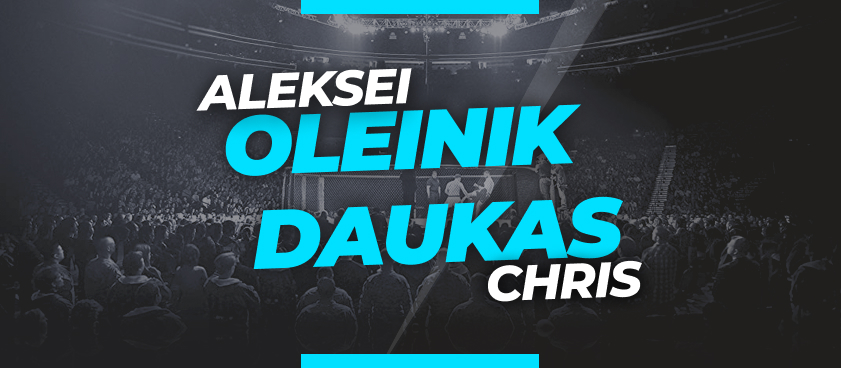 The finer details of the fight including where and at what time the fight will take place have not yet been released. However, initial sportsbook odds have been posted for the February fight, with Oleinik being the slight favorite. 
Analyzing the Initial Sportsbook Odds
In the past five fights, Alexei has only won two while losing three times before the fights were completed. On the other hand, Daukas has only fought twice in the UFC and has won both by way of knockouts. 
Still, sportsbooks believe that the fighting experience and more finely tuned skills of Oleinik will be the decider in this heavyweight matchup. This explains the favorite status, albeit a slight one, being given to Alexei ahead of the fight. 
Tale of the Tape 
| | | |
| --- | --- | --- |
| Aleksei Oleinik | | Chris Daukas |
| 74 | Fights | 13 |
| 59 | Wins | 10 |
| 14 | Losses | 3 |
| 1 | No Contest | 0 |
| 6'1 | Height | 6'1 |
| 240 lbs | Weight | 260 lbs |
| 43 | Age | 31 |
Aleksei Oleinik
74 fights, 59 wins, 14 losses, 1 draw
4th Dan in jiu-jitsu, MSMK in combat sambo, winner of the Russian Pankration Cup, champion of Russia according to PRMMAF, world champion according to FFF, world champion according to ProFC, world champion according to IAFC. Four-time UFC Performance of the Night Award.
The veteran by a longshot, 43-year-old Aleksei Oleinik has signed his fourth fighting contract in a year. In this fight, not only is he the sportsbook favorite, but has also signed a much more agreeable contract with the UFC.
Note that three fights in 2020 and one at the beginning of 2021 is not a record for Oleinik. During the prime of his career, the Russian fighter would hold five fights a year, which is considered to be unattainable by modern UFC standards. 
In recent fights, Oleinik has defeated such opposing fighters as Fabricio Werdum and Maurice Greene. However, his last fight ended as a loss to Derrick Lewis.
What Can We Expect from Alexei Oleinik?
The first thing that we should not expect from Oleinik is a change in tactics. Alexei understands that Christopher will be the most dangerous in the first few seconds of the fight. Therefore, the Russian will try to begin fighting at the net as soon as possible, to avoid punches. 
Oleinik loses to Daukas on both speed and severity of punches. Oleinik will try to use the experience he has in order to create an environment where he can confidently lead the fight.
There is no doubt that Oleinik will try to transfer the fight to the ground by the middle of the first round and will definitely not want to be caught in the standing position for too long. 
What are Oleinik's Chances of Winning
Time is a continuous element, and those years take their toll on any athlete. Alexei is now 13 years senior to his next opponent. The Russian can no longer compete with younger and much faster opponents, and in this upcoming fight this will be even more evident. 
If Oleinik is unable to transfer the fight to the canvas quickly enough, he stands with almost no chance of winning this next fight. His tall arching strikes will be easily noticed by the tall Daukas, who is known for his endurance.
Thus, in this upcoming fight, the sportsbooks have every chance of not correctly predicting the favorite. 
Christopher Daukas
13 fights, 10 wins, 3 losses
Entering into his third fight in the UFC.
Many MMA fans may never have heard of this fighter. Makes sense, as Daukas has only had two fights so far in the UFC. He won both fights, but is still quite a long way from being in the top ten heavyweight ranking. 
Christopher has been slowly gaining notoriety and publicity from journalists however. The main reason being his other occupation, a cop in Philadelphia. At UFC 252, one reporter touched on this subject with a question:
"Is it true that, even after being a signed UFC fighter, you will still not leave your position and continues to work as a police officer in Philadelphia?"
Daukas replied with a smile and confirmed, "Yes, tomorrow at 6:00 I will go in for my evening shift". 
What to Expect from Daukas in the upcoming fight
Police work stands as an important confirmation of a high level of fitness. Despite his weight and physique, Daukas has an excellent punch which he can deliver from both hands. He also has great resilience, which has helped him to survive dangerous groups of punches several times. 
In this upcoming fight, Daukas will try to contain Alexei and put immense pressure on him from the first few seconds. This kind of pressure has become the Russian's main problem in more recent years. 
Chances of Winning for Daukas
Chris will look to have amazing precision and a high energy first round on his side. Oleinik will not be able to withstand a barrage of punches before being forced to the sides of the cage. 
The strength of the American, along with his age, weight and policeman's fearless tactics of "going to the end" captivate the attention of many viewers who see him as this fight's favorite. This time around, Oleinik does not seem to have much of a chance.