Boston vs Montreal NHL Prediction: "This Mistake Could Cost Us Dearly".
The Bruins will take on the Montreal Canadiens tonight at 7:30 PM in Boston.
Boston
As is often the case at this stage of the season, both teams have different problems to solve. The Bruins will be concerned that the top spot is no longer a guarantee. The team holds just a three-point advantage over second place Tampa Bay, who have currently strung together eight consecutive wins and are coming into stride at just the right time. Any defeat now could see the Bruins fall out of first, which is clearly not what the team would have hoped for with the season soon coming to a close.
Montreal
The Canadian club recently experienced an unexpected loss to Arizona after three consecutive wins, further reducing the possibility of grabbing one of two Wild Card spots. "This mistake could cost us dearly," said head coach Claude Julien after the game.
The problem lies not only in the five-point gap the team now faces, but also in the fact that the Canadians have played more games than its opponents. Due to this, the lag could turn into something far worse, and Montreal is now hoping that the whole team can pull it together in order to secure a playoff spot.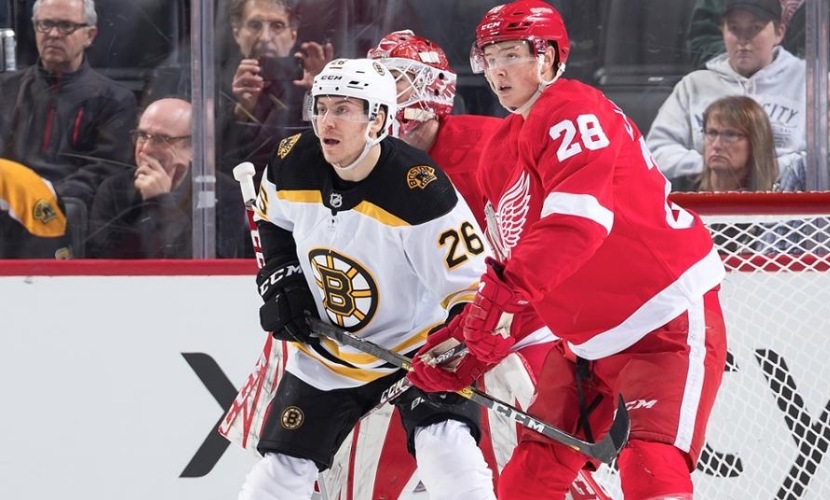 Boston suffered an unexpected defeat to Detroit earlier this season. 
Prediction
The teams have played each other three times this season. Montreal took the first game before getting absolutely thrashed by Boston 8-1 in the second, with the Bruins also taking the third game. Of the last ten games played between the two, Boston has won eight, so it is no surprise that the team is considered the favorite, with the odds on the home team averaging around -132 in three-way bets (Not including OT or Shootout).
With the current balance of power, it seems to me the sportsbooks are giving too much power to the hosts, as the victory of Montreal is still a real possibility. The incomprehensible defeat by Detroit earlier in the season will serve as additional motivation for the home team.
Boston Win in Regular Time: