Bundesliga's return to action provides offers across American sportsbooks
It's official, the German Bundesliga will return to action next week, on 16th of May, after German chancellor Angela Merkel told regional authorities this week that the competition could restart. This is great news for the soccer fans around the globe as they can finally see some quality soccer after the Covid-19 hiatus.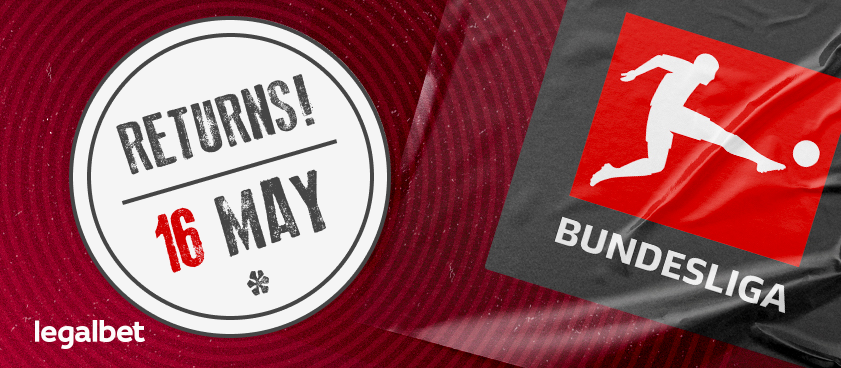 We really hope that more leagues will follow, but for the moment, let's do a short recap with what happened in this 2019/2020 Bundesliga season before the coronavirus pandemic.
Bayern Munich are still favorite to win the league, but we should have a fierce battle for a Champions League spot
Bayern Munich is leading the pack as expected and currently sit top of the league, four points adrift of its eternal rivals, Borussia Dortmund.
It has to be said that the Bavarian side has won the Bundesliga title for the past seven years in a row and it seems that they are on the right course for an eighth consecutive trophy.
Bayern will resume the season on May 17 with a visit to Union Berlin, while Borussia Dortmund will host Schalke at the Signal Iduna Park in a mouth-watering Ruhr derby.
| | | | | |
| --- | --- | --- | --- | --- |
| Place | Team | Points after 25 games | Odds at the start of the season | Sports Betting Odds now |
| 1 | Bayern Munich | 55 | -500 | ↑ -455 |
| 2 | Borussia D | 51 | +500 | ↑ +550 |
| 3 | RB Leipzig | 50 | +1400 |  ↓ +1000 |
| 4 | Borussia M | 49 | +9900 | ↑ +10000 |
| 5 | Bayer Leverkusen | 47 | +2900 | ↑ +15000 |
Although sportsbooks had every right to tip Bayern Munich as the huge favorite to lift the Bundesliga title, we still expect to be an entertaining competition until the end of the 2019/20 season.
There are only six points between the 4th-placed Borussia Monchengladbach and Bayern Munich with nine rounds left to be played. Furthermore, Bayern Munich still needs to face all the sides from the top five, except RB Leipzig.
We also expect a fierce battle for a Champions League place next season, with Bayer Leverkusen adding some pressure on Borussia Dortmund, RB Leipzig and Borussia Monchengladbach.
In addition, one of the most exciting games from the remaining nine rounds will be the clash between Dortmund and RB Leipzig, as both teams are looking to put an end to Bayern Munich's dominance in the Bundesliga.
However, we still need to wait until the 33rd round to see this game and a lot can happen until then.
Who is going to fall in the Bundesliga relegation battle?
The Covid-19 break has actually helped the bottom teams as it put an end to their terrible forms and had some time to re-think the survival strategy.
As most of the pundits expected, the newly-promoted Dusseldorf and Paderborn find themselves in the bottom three teams, but the biggest surprise is definitely Werder Bremen, who had a terrible season.
Bremen have won just four of their 24 games this season and are already eight points behind safety.
| | | |
| --- | --- | --- |
| Place | Team | Points after 25 games |
| 14 | Augsburg | 27 |
| 15 | Mainz | 26 |
| 16 | Fortuna D | 22 |
| 17 | Werder B | 18 |
| 18 | Paderborn | 16 |
As you may know already, only two Bundesliga sides are being sent to the Bundesliga 2 each season, with the 16th-placed team playing a play-off match with the third-placed side from the Bundesliga 2.
Werder still has one game in hand in comparison with Mainz, Dusseldorf and Paderborn, but it will be interesting to see how they will handle the pressure, especially without the support of the fans.
As for Mainz, they are currently safe with four points more than Dusseldorf, but there are still nine games to be played so anything can happen.
They will have a difficult trip to Koln on May 17, but they managed to win a couple of games on the road before the Covid-19 outbreak, so that can give them a little boost of confidence.
Meanwhile, Dusseldorf will take on Paderborn on May 16, which will probably be the decisive match for both teams.
Let's take a closer look at the top scorer race in the Bundesliga, as we were able to see some amazing goals before the break. At this point, we seem to have a battle between Robert Lewandowski and Timo Werner, with the Polish striker leading the race with four goals ahead:
Robert Lewandowski - 25 goals;
Timo Werner - 21 goals;
Jadon Sancho - 14 goals.
Although Sancho is far away from his opponents, we must say that he had an excellent campaign, as he managed to score 14 goals and help his side with an unbelievable tally of 15 assists.
We're excited to see the Bundesliga back in action and there is only one week left until the teams will take to the field (May 16 - 18). Here on Legalbet.com, you can find soccer previews, and also tips and predictions for every Bundesliga fixture in our betting center.
See also: