Double Investment - Four Sports Betting Stocks You Should Be Watching
The introduction of the sports betting industry into America has been a thorough success. Already, in just a few short years more than 15 states have moved to legalize sports betting, with revenues continuing to grow and reach new records.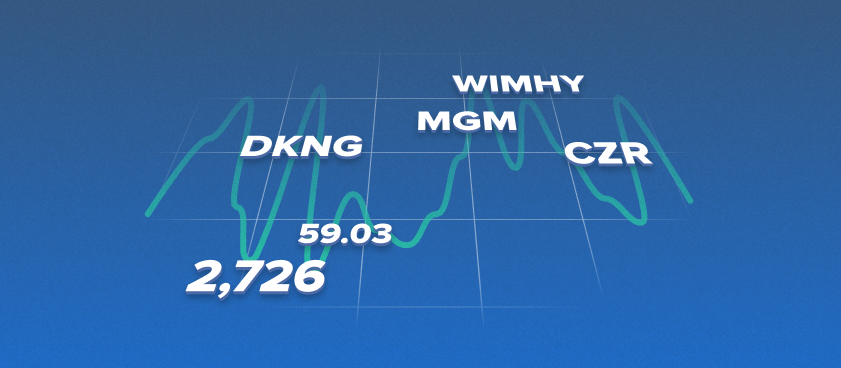 Online and physical sportsbooks in the US have been a mixed bag. They include longtime international sports betting sites as well as freshly introduced products from gaming and media companies. The range of prestigious companies makes it possible for players to get in on the action another way, through the investment into sports betting stocks. 
Sports Betting Stocks with High Potential
Either by sportsbooks going public on their own, or already publicly traded companies venturing into legal wagering, sports betting stocks have recently formed a lively segment of the market. So which sportsbooks are taking action on a different platform? 
Let's take a look at the prominent sports betting stocks you need to know. 
1) DraftKings (DKNG)
This is given the number one, as DraftKings going public was perhaps the biggest splash made for sports betting stocks. Starting as an innovator of daily fantasy contests, DraftKings rather quickly became one of the most popular names in the industry. After the 2018 news of legal sports betting was announced, DraftKings was one of the first companies to enter the market.
DraftKings went live with its online sportsbook in New Jersey in August 2018, and has since expanded into every state where sports betting has been legalized including major markets like Indiana, Illinois, Colorado and Pennsylvania. 
The company is regarded by many as the most popular daily fantasy site and sportsbook, which is why it was major news when DraftKings decided to go public. DraftKings officially went live on NASDAQ in April 2020 through a reverse-merger with Diamond Eagle Acquisition Corp. DraftKings opened at $52 per share, and has seen highs around $70. 
Truth is, that DraftKings popularity is not going anywhere. Not only does it carry a massive fan base, but the majority of that fan base already has experience with DraftKings. The company's daily fantasy site has been up and running in nearly every state since 2011. The transition from one to another is simple, so users in states where sports betting is not yet legal may already be eyeing up the arrival of DraftKing's Sportsbook as well. 
2) MGM Entertainment (MGM)
While DraftKings may be at the top of sports betting, MGM Entertainment is on an entirely different level. The Fortune 500 company has been mainly involved in property and resorts throughout its history, and also swiftly entered into sports betting with its online sportsbook BetMGM. 
The BetMGM Sportsbook is just how you would imagine, bringing the bright lights of Vegas and Atlantic City to the screen, with casino and poker included of course. Not only great products, but with a long reach as well hitting nearly every single legal state so far. This includes Nevada, where it is so far the best developed sportsbook app, contended only by William Hill. 
It's nearly impossible to imagine the entertainment giant not being at the forefront of any industry, and doing so in a big way. Like the complete takeover of Las Vegas. With its MGM Resorts International properties, the company is now constructing the otherworldly MGM Sphere in what will be the pinnacle of future Vegas entertainment. 
Sports betting for the company is likely to continue moving forward at the same pace. When new states decide to legalize the industry, MGM will begin with a head start especially in key states Florida and California. As we have seen in Nevada, the company is serious about moving straight to the top in the big markets. 
3) William Hill (WIMHY)
The only sports betting stock on this list that does not come from other industries, William Hill has been in the bookmaking game since 1934 operating in the UK. That is not to say that they do not have experience with the American market. William Hill has owned Nevada sports betting since its first office in 2012 and operates the most bookmaking venues in the state. 
When online betting became federally legal, William Hill expanded into key states like New Jersey, Pennsylvania and Illinois with its online sportsbook and casinos. It certainly looked as though William Hill was set to be top of competition in the industry, and with the looming buyout of the company by Caesars Entertainment it definitely could be.
The Caesars' buyout would mean a complete focus of the William Hill brand on the US market, and gives the company two angles to work from. On one hand, there are no sportsbooks in the US with as much experience as William Hill. In addition, a powerful name like Caesars (CZR) will help increase their brand recognition among the American public.
As the sports betting industry goes, William Hill is going to continue to be at the forefront. The deal with Caesars will likely be the most meaningful event in the sports betting market for years to come. William Hill has also been actively advancing its physical locations gaining prime spots such as the Prudential Center and Monmouth Park in New Jersey. These locations will be more important in the future for attracting users to the online sportsbooks and apps. 
4) Rush Street Interactive (RSI)
The Rush Street team has been in the casino/gaming industry since its founding in 2012. The company owns and operates the popular Rivers Casino brand, with locations in Pennsylvania and Illinois. Rush Street swiftly moved into sports betting in May 2019 with two different online sportsbooks, SugarHouse and BetRivers. 
Both sportsbooks are ahead of competitors in the industry in a couple of key areas, including live streaming and the sheer mass of sportsbook lines. Available in more than six states already, Rush Street's sportsbook brands have received great reviews and consistently stay competitive due to the high quality of product, physical locations and rewards programs. 
Like DraftKings, Rush Street went public in December 2020, during the midst of sports bettings beginning days, after a merger with dMY Technology Group Inc. was made official. The stock has seen highs near $25 after opening at less than ten dollars. In addition to sports betting, it has online casino and iGaming products.
Rush Street has put forth excellent sportsbook and casino products, and with an iGaming background this is expected. The company has furthermore already made plans to advance its product into new states, when opening. While this may not be as glamorous a stock as the others on the list, it should see gains in the future with the potential to surprise long-term investors.