Ferguson vs. Oliveira: Betting Odds on Ferguson's Return after Gaethje Disaster
The former interim UFC lightweight champion Tony Ferguson has his next fight set against the Brazilian Charles Oliveira, who is coming off of a record seven straight wins. The fight is set to take place on December 12th at UFC 256 in Las Vegas. The main event will begin at approximately 10:00 PM EST.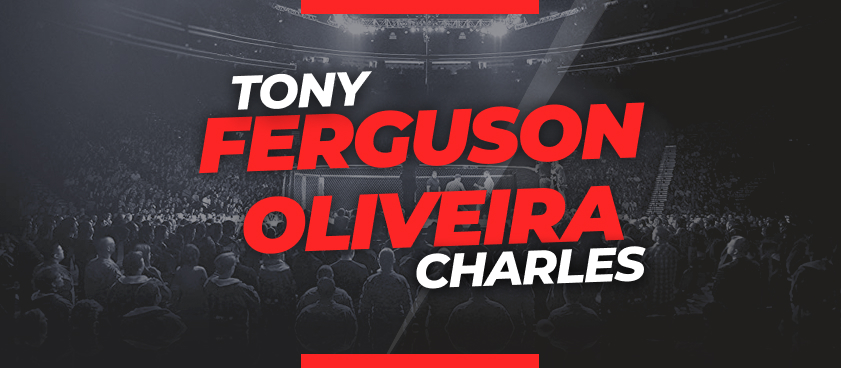 Sportsbooks were quick to publish betting odds on the fight. It comes as a surprise that Ferguson is considered to be a slight favorite, considering the current form of the two fighters. 
Making Sense of the Sportsbook Odds
The Brazilian has a solid seven fight win streak currently intact, with the last fight coming against Kevin Lee in March 2020. Ferguson did have 12 straight wins before his famous disastrous fight against fellow American Justin Gaethje. Those numbers are exemplary by the standards of any division. 
However, the fact remains, that none of Oliveira's victories match the caliber of El Cucuy's last defeat. Sportsbooks have little doubt that Ferguson will be back with maximum motivation for a memorable comeback. 
Ferguson - Oliveira Tale of the Tape
| | | |
| --- | --- | --- |
| Tony Ferguson | | Charles Oliveira |
| 29 | Fights | 38 |
| 25 | Wins | 29 |
| 4 | Losses | 8 |
| 0 | No Contest | 1 |
| 6'0 | Height | 5'10 |
| 159 lbs | Weight | 155 lbs |
| 36 | Age | 31 |
Tony Ferguson
Former interim UFC lightweight champion (2017-2018). Winner of the thirteenth season of The Ultimate Fighter. Former PureCombat Welterweight Champion.
29 fights, 25 wins, 4 losses
The defeat of the eccentric and supernatural El-Cucuy by Justin Gaethje had become a sensation for thousands of fans and analysts alike. The fight even helped to solidify the assertion that Jiu-Jitsu, without the legs inherent in freestyle wrestling, loses all of its advantages.
During that fight, Ferguson did not employ his strongest attributes by not trying to transfer Gaethje to the ground. The fight instead took place in the standing position, which ended badly for the UFC veteran to say the least. 
Once Ferguson had time to recover from the defeat, he returned to social media looking for a fresh opponent to challenge, including the returning Conor McGregor. UFC President Dana White was likely still disappointed at Ferguson for spoiling his chances of finally being put into the Octagon with Khabib Nurmagomedov.
Dana to his credit, however, still gave Ferguson a chance to return and fight for the title. Charles Oliveira, who is currently on seven wins in a row, was the ideal opponent. 
When considering how many punches Tony was able to evade from Gaethje, we can assume that Charles will definitely not inflict the same amount of damage. Wrestling was and remains his go to style, and rare blows are unlikely to knock the strong Ferguson down. 
The main advantages Tony comes with are his supernatural cardio, unique control of his own body, flexibility and sharp punches and elbows. In addition, like Oliveira, Ferguson is a Jiu-Jitsu blackbelt.  This leaves Charles without his desired advantage in this fight. 
As a result of these factors, the fight is shaping up to be a predetermined meeting. A victory for Oliveira in this fight will not help White nor the promotion in any way. From a marketing point of view, Oliveira is useless, his fights just don't sell.
However, Tony's comeback will have millions of MMA fans around the world discussing his next opponent and the title odds. 
Tony must beat Oliveira on all fronts. His coaching staff certainly understands that with a defeat, the chances of a title are lost. This fight will give us a chance to see the most motivated Ferguson we have in history. 
Charles Oliveira
Black Belt in Brazilian Jiu-Jitsu. He has been in the UFC since 2010.
38 fights, 29 victories, 8 defeats, 1 no contest
With so many fights to his name, it seems a given that Oliveira should be considered by now a UFC veteran, and should be a household name by every fan of the lightweight division. 
However, after a closer look at his statistics, its apparent that the current rating means almost nothing. First off, the early fights all took place in his home country of Brazil, and not every promotion recorded the performances of their fighters. Therefore, we do not really know anything about his early opponents. 
Oliveira came to the UFC back in August 2010, and managed to overcome the then outstanding prospect Darren Elkins. Then came the wall, as Oliveira lost to all of the division's top fighters including Jim Miller, Donald Cerrone, Cub Swanson, Frankie Edgar, Max Holloway and Anthony Pettis. 
On the Brazilian's winning side of things, the names there are much less impressive. For example, of the last seven wins, the only one that is somewhat noticeable was against the brawler Kevin Lee. Lee, however, was in such bad shape that he had even previously lost to Al Iaquinta. 
What do we get in the end then? Talented Jiu Jitsu and an average striking technique. Oliveira does not have a single serious advantage against an MMA mastodon such as Tony Ferguson. El Cucuy will be smarter in all situations and will look to quickly punish the Brazilian for his careless standing and terrible hands. 
Problems will arise if the long-armed Oliveira continues to work at a close and uncomfortable distance. Tony will again quickly punish him for such oversights. In the pro column, we have equal BJJ skills.
Lets not forget that the fight between two black belts can become the entire focus of the evening. However, knowing Ferguson's skills and his penchant for improvising, it seems impossible to see a scenario in which he loses in his native element.