Houston Batters Could Face Rough Season: William Hill Release Prop Bets
In something of an unprecedented, but not entirely unexpected move, a new prop bet has appeared on how many times Houston Astros' players will be hit by pitches in the 2020 MLB season.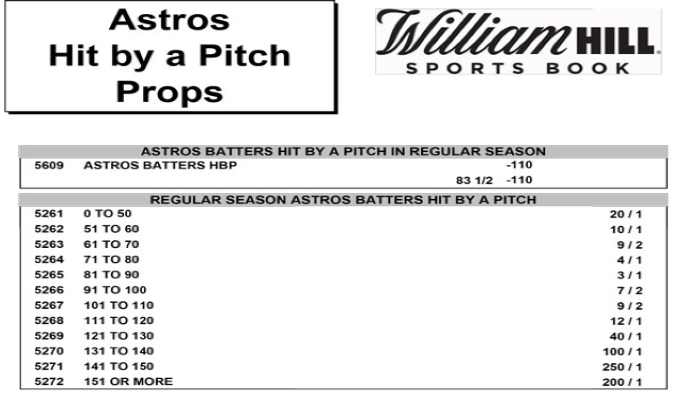 William Hill Sportsbook has set the over/under at 83.5. Only nine teams have been hit by pitches more in the last five seasons, but the over looks like quite a reasonable wager.
The prop bet appeared due to the sign-stealing scandal that was uncovered over an investigation into the franchise during the winter. The investigation found the Astros guilty of using technology to illegally steal signs from opposing teams during the 2017 and 2018 seasons.
The team won the 2017 World Series beating the Los Angeles Dodgers in the series 4-3 and reached the ALCS in the following season. Houston second baseman Jose Altuve also won the AL MVP Award in 2017.
The Astros had been suspected of stealing signs by other MLB teams long before 2017, though this was not confirmed. The fallout from the scandal included the suspension of Astros' general manager Jeff Luhnow and field manager A.J. Hinch from the 2020 season.
The team was also given a maximum fine of $5 million and were forced to give up its first and second round draft picks for 2020 and '21. Players and coaches from the Houston organization have since issued apologies including Altuve.
However, there are plenty of players and managers alike who believe that the Astros got off light, and though talks of the World Series title being stripped have calmed down, the William Hill Sportsbook at least is certainly not expecting Houston batter to have it so easy.
In response to the harsh criticism of the punishment put in place, new Astros' manager Dusty Baker has publicly released a statement urging the league to protect his team's batters.
 MLB commissioner Rob Manfred is also considering an increase in disciplinary measures against intentionally hitting or throwing at batters with a meeting for this week scheduled with MLB managers.
If something is decided and a tougher punishment is put in place, then this could change the prop bets dynamic, however right now the over is certainly tempting.
According to ESPN Stats & Information, teams were hit an average of 66.1 times by pitches in the 2019 season, with the Astros being hit 66 times.
William Hill has odds not only on the over/under but on the exact number of times Astros' batters will be hit by pitches. The odds are set at +450 for the team getting hit 101-110 times and more than 150 times has the odds at +20000.
The wagers are available in the sportsbook's Nevada locations. Both BetOnline and sportsbettingdime.com have also released similar prop bets.