Its Officially On: Logan Paul and Floyd Mayweather Agree to Exhibition Fight
Well, it's now officially not just a meme or a joke, although it will likely continue as such. Logan Paul is going to fight Floyd Mayweather in just his second career fight. The fight date has been set for February 20, 2021. The organizers of the fight, FANMIO, have not yet disclosed the location of the fight.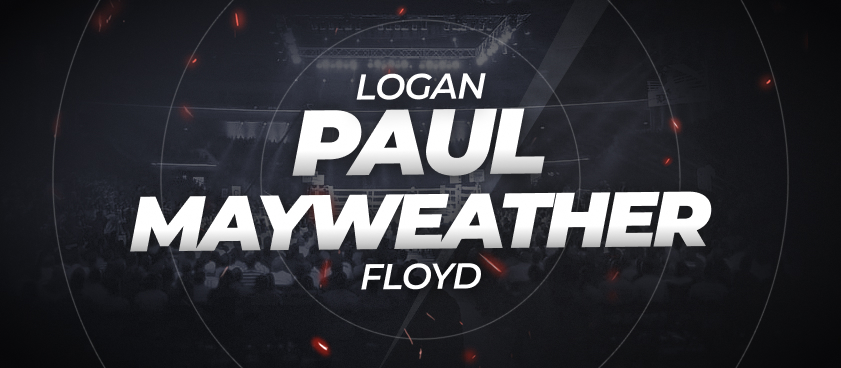 (The fight has been officially postponed due to a variety of factors and will not take place on February 20th. A new date for the fight has not yet been released, but will be updated here as soon as it is.)
The announcement comes directly after Paul's older brother Jake knocked out former NBA player Nate Robinson in the second round of their fight on November 28th. Both Paul brothers received a flurry of offers to fight everyone from professional athletes to other entertainers.
Logan Paul does have a boxing license from the California Athletic Association, so the fight will be an official one. However, the rules for the fight are still an uncertainty at this point. Specifically with the weight requirements, as Mayweather last weighed around 154 lbs while Paul fluttered around 198 lbs. 
Where Did This Fight Come From?
The YouTube stars Jake and Logan Paul started getting into boxing a couple of years ago now with training. The fights really took off when Logan Paul fought KSI on a YouTube live stream back in 2019.
The fight was incredibly popular, reportedly earning more pay-per-view buyers than the majority of professional boxing matches. 
The older brother Jake Paul just had his most recent bout against Nate Robinson in a prelude to the main event, featuring boxing legends Mike Tyson vs. Roy Jones Jr. That fight also did extremely well with both ratings and fans as Paul's estimated earnings are between $5-6 million.
Therefore, it was only a matter of time before boxing continued going down the YouTube route. 
We didn't have to wait long either. The Paul-Robinson fight caused a social media storm of reactions where professional athletes and celebrities alike began requesting fights with the Paul brothers. One stood out among the others though, as younger brother Logan challenged Floyd Mayweather by way of an Instagram video. 
Mayweather quickly accepted the offer and posted the official fight announcement on his Instagram page. The fight details are not yet fully known, however we do know that the fight will be aired on pay-per-view and will take place on February 20th. 
What Logan Paul Brings to this Fight
Right from the beginning, we can clearly see a mismatch between our two upcoming fighters. In one corner, we have Logan Paul, whom together with his brother Jake have become massively successful through social media platforms like Vine and YouTube. In the other, 50-0 record Floyd Mayweather.
Both of the Paul brothers have fairly recently forayed into boxing, with an admittedly high success rate. Jake Paul's recent fight with Nate Robinson was built on the agreement that the fight purses would depend on the success of the event. 
According to Jake, the event was incredibly successful as he took home a seven-figure purse from the fight. Logan Paul will look to make this fight even more successful. If not completely obvious by now, the focus on this fight is not about athletic prowess or talent, this is to be an entertainment spectacle. 
Logan is taking a gigantic leap into boxing with this upcoming fight. The social media star only has one official fight under his belt, in which he lost to fellow YouTube star KSI to a judge's decision. Now, in only his second fight, he will take on Mayweather, whom many consider to be the greatest boxer of all time. 
Does he have a chance? International sportsbooks have surprisingly placed respectable odds on the younger of the Paul brothers. Logan is given odds of about +900 to win the fight. Considering the difference between the fighters, this is an unexpectedly low number. 
Regardless, Logan Paul is primarily there to bring more viewers to the fight. The YouTube star currently has around 22 million subscribers on the platform, a good portion of which will likely follow Paul into the ring in February. 
For what it's worth, Paul stands about eight inches taller and 50 lbs heavier than Mayweather. If he somehow gets the upset of the century and knocks out Mayweather, then things start to become blurry. As of now, Logan is the entertainment half of a fight that is shaping up to become one of the highest viewed sporting events of the year. 
Can Floyd Mayweather's Record be Tarnished?
Floyd Mayweather is one of the most respected boxers of all time. Mayweather currently holds a professional boxing record of 50-0, and has defeated other top boxers such as Manny Pacquiao, Oscar De La Hoya and many more during his career.
He is widely considered to be the greatest boxer in the history of the sport. 
He has been at it for more than 20 years, since his first professional fight in 1996 in which he knocked out Roberto Apodaca. Since then, no other boxer has been able to earn a victory against him, as Mayweather's record sits at 50-0. This will likely be 51-0 (theoretically) by the end of this exhibition fight. 
While his boxing skills are currently unmatched, Mayweather also has an eye for business and increasing his net worth. This is not the first time that Floyd has accepted peculiar challenges in his ring. The fight against UFC star Conor McGregor was a recent one that attracted a lot of attention. 
Mayweather's net worth sits at around $450 million, and this upcoming fight with Logan Paul is a great way to increase that. Though we could say that the fight's true purpose is to bring more viewers to the sport of boxing, the general consensus is that this serves as a great way to earn a massive pay day for both fighters. 
The difference between Paul and Mayweather, however, is that Floyd is the real deal. The question on fight night will be how much of his skills will be unleashed. Even though the fight is mainly for publicity, fans are not going to be satisfied with a lackadaisical fight.
The truth is that while these two are both great businessmen, neither of them are held in particularly high esteem by their peers. A knockout to either would probably leave the majority of the viewers incredibly satisfied by their decision to tune in. 
The Fight Analysis and Prediction
Barring a massive surprise showing from Logan Paul, this fight will basically be in the hands of Mayweather. The boxer with a 50-0 record including 27 knockouts should have no problem controlling every aspect of this fight.
Therefore, we believe that the fight will last exactly as long as Mayweather wants it to.
Now, could there really be a shock upset? This has got to be what everyone was thinking when the fight was first announced. We all know it's an entertainment spectacle in the drive for high ratings and profit. However, is there any way that Logan Paul actually wins this fight?
On pound for pound talent? No. However, we would never rule out the upset. It is entirely possible that Logan Paul throws a lucky punch and pushes Mayweather's record to 50-1. The thought of it alone is bringing on uncontrollable laughter. 
In fact, we believe the fight has a 50% chance at least of bringing us enough laughs to last the rest of the year, and after 2020, we need it. A salute to both Logan Paul and Floyd Mayweather for continuing to add a new dynamic to the sport of boxing, bringing more viewers and increasing the sport's relevance among a younger generation. 
And of course, for the hilarious and entertaining finish that we are all hoping for.