Late Night MLS Playoffs: Seattle Sounders vs. LAFC
Two of the biggest teams in the MLS will meet in the MLS Playoffs on Tuesday night. LAFC will head to Lumen Field to take on the Seattle Sounders in a game that will finish off Round 1 of the MLS Playoffs.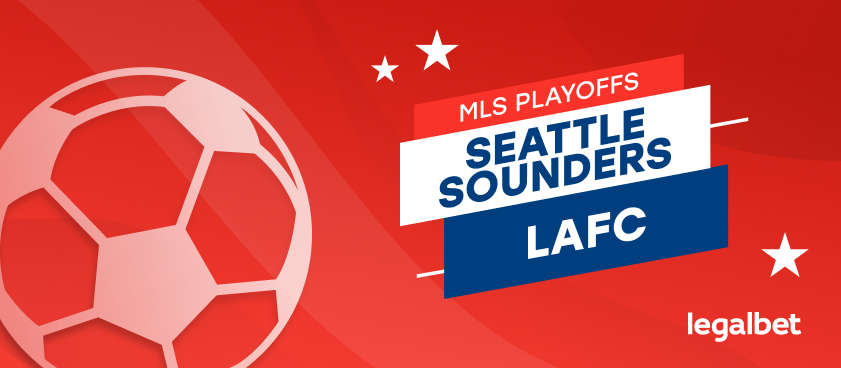 The game between two of the league's most popular teams is unsurprisingly one of the most anticipated games in the MLS Playoffs. While both teams have been given favorable odds for the game, the reigning champion Seattle is the sportsbook's consensus favorite going into the game.
First Impressions on the Western Conference Matchup
This favorite status can understandably be given to Seattle for a few reasons. The team will be playing at home, they finished second in the Western Conference and the team won last year's MLS Cup. These three things give them an assumed advantage going into Tuesday's game.
With all of that being said however, this game may as well be a toss up. LAFC finished seventh but has a very good team. The games the two teams have played each other this year has been a split, with each team winning twice. The tie breaking fifth game will be the most important.
7/27: LAFC 4, Seattle 1

8/30: Seattle 3, LAFC 1

9/18: Seattle 3, LAFC 0

10/11: LAFC 3, Seattle 1
Seattle will also not have fans in the stands, so you can make of the home field advantage aspect what you will. With one of the biggest games to date in the MLS Playoffs, lets preview each team's chances for a victory.
Seattle Sounders
11 Wins, 6 Draws, 5 Losses
After winning the 2019 MLS Cup, Seattle finished up the following season with an excellent performance. The team finished in second place in the Western Conference with 39 points, tied with the first place team Sporting KC.
Despite the great performance and finish this season, Seattle will not be afforded any breaks as the team will face LAFC for the fifth time in 2020 in Round 1 of the MLS Playoffs. While Seattle finished five places above Los Angeles this season, there are only a couple of games between the two.
Going into Tuesday's game, Seattle will have the advantage of playing defensively well consistently throughout the season. The Sounders will need its defense to be sharp on Tuesday, as LAFC have scored more goals than anyone this season.
This becomes more difficult after Shane O'Neill has been ruled out of the game due to concussion protocol.
Defender Brad Smith is also questionable for tomorrow's game. Yeimar Gómez Andrade and Xavier Arreaga have played well the last few games starting for Seattle in its 2-0 shutout win over Vancouver in October.
Offensively, Seattle should be able to match anything that LAFC manages to put up. The team is incredibly balanced from the midfield up, and is rich with top class forwards. Striker
Raúl Ruidíaz and hometown forward Jodi Morris have been excellent this season, each collecting ten or more goals this season.
With a shaky LAFC defense, if Seattle can find space for these two there could be no coming back for LAFC. The most important thing for Seattle will be to stay strong on defense and limit mistakes.
Seattle to Score First and Win
Bet
+160

LAFC
9 Wins, 5 Draws, 8 Losses
The difference that a couple of games makes. LAFC slightly comfortably made the MLS Playoffs this season finishing in the number seven spot. This came after going to the quarterfinals of the MLS is Back tournament after the break.
Offensive prowess has been the story of LAFC in the 2020 season. The team has gotten by with scoring just a little bit more than it gives up. An exceptionally good offense with a disastrous defense will more often than not lead to inconsistency, as it did this MLS season for LAFC.
Nine wins against eight losses is certainly not the perfect season, and the saying doesnt go "offense wins championships". Where LAFC is great is on offense. The team scored 47 goals this season, more than any other team in the MLS. Led by Uruguayan forward Diego Rossi's 14 goals, the team has at times looked ruthless.
Bradley Wright-Phillips and Carlos Vela are also players who have had great attacking seasons. It should be enough as well to give LAFC some hope for breaking down Seattle's defense, despite being without forward Danny Musovski, who is third in scoring for the team.
Where the team has been bad is defensively. The 39 goals allowed this season is among the worst in the league. Against a team like Seattle, who have scored the third most in the conference, LAFC will likely need a little bit of luck to come out on top.
Seattle Over 2.5 Goals
Bet
+210

Seattle vs. LAFC Prediction
When first looking at this preview on paper, it shapes up to be a major shootout between top scoring teams. However, despite both teams having very high-scoring seasons, past meetings show that the scoring when the teams play each other is normally one sided.
Neither team has gotten the better of the other this season, and both will be missing at least one key player. Still, even the smallest of advantages such as consistency and home field tip the scale over to Seattle's side.
LAFC may get lucky and find harmony in the back line on Tuesday, however the defense will be too much of a weak point in a game like this. A shootout would likely benefit LAFC, but Seattle will not allow that to happen and past trends will continue, this time is Seattle's favor.
Seattle Sounders vs. LAFC Where to Watch
When: 10:30 PM EST

Where: Lumen Field Seattle, Washington
Where to Watch: ESPN, ESPN Deportes (Canada: TSN 1/4, TVA Sports)
Online Sportsbooks: William Hill, PointsBet