MLS Playoffs: Inter Miami vs. Nashville SC Betting Lines and Predictions
The second game of Friday night's Play-In Round will feature two teams in a single elimination game, with the winner entering into Round 1 of the MLS Playoffs. The game will coincidentally be played between the MLS' newest teams, as Nashville SC hosts Inter Miami.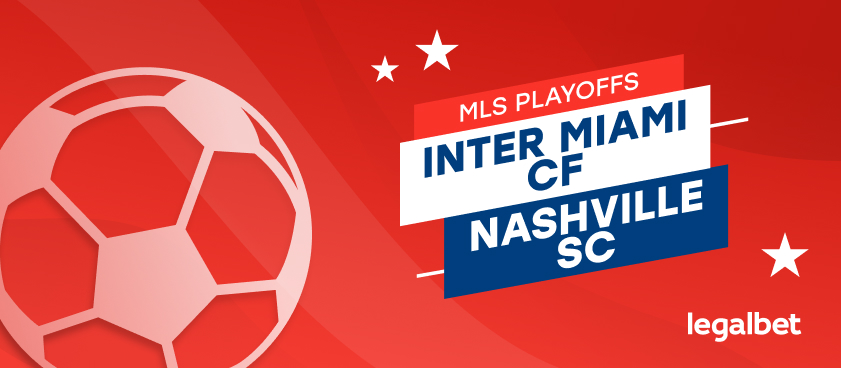 Both teams were part of the 2020 expansion, bringing the league to 26 teams. While neither team has a guaranteed spot in the top six spots in the Eastern Conference, the first seasons for each were respectable with seventh place (Nashville) and 10th place (Miami) finishes. 
Both teams are competing for continued life in their first MLS Playoffs. According to USA sportsbooks, neither team is a strong favorite, with Nashville gaining only slightly better odds. 
Inter Miami
10th Place: 7 Wins, 3 Draws, 13 Losses
The expansion MLS team in the south of Florida has been planned since 2018. The team made massive headlines to world soccer legend David Beckham signing on and taking minority ownership of the club. The former England and Manchester United star had 
When looking at how the club started the season, the tenth place finish is truly a spectacular feat. The first game was a 1-0 loss to LAFC on March 1st, before the team went on to lose the next four games in a row before finally beating Orlando City 3-2 after the long pandemic lockdown. 
If there is any notion of a Cinderella team in this year's MLS, it is certainly Inter Miami. The big turnaround to the club came with the signing of Argentine star Gonzalo Higuain. Inter was able to work its way into the 10th place spot after sitting in 12th with four games left  in the season. 
The singing after the break is a reason to have confidence going into this matchup with Nashville SC. The two teams have met twice during the regular season, and although Inter did not win once, the games were close enough to not give either one a true advantage. 
Nashville 1, Inter 0

Nashville 0, Inter 0
However, it's difficult to understate how important the Higuain signing has been. The Argentine was not present for either of the matches, and despite the 1-0 Nashville win, neither team looked like a true class above.  
Inter Miami Lineups
Inter Miami will look to continue its play of a controlling midfield with eccentric wing play to feed the ball into its forward players. Since the signing of Higuain, the center attacking part of the field is not a big target for wingers fellow Argentine Matías Pellegrini and top scorer Lewis Morgan.
-McCarthy-
-Nealis-Figal-González-Pirez
-Matuidi-Trapp-
-Morgan-Pizarro-Pellegrini-
-Higuain-
Former Juventus mainstay Blaise Matuidi has also been excellent for Inter this season commanding the midfield and helping back on defense on more than one occasion. The team will likely try to command a more attacking presence to match Nashville. 
Forwards Juan Agudelo and Julián Carranza will be possible candidates to come onto the field late in the game for more attacking quality. 
Nashville SC
7th Place: 8 Wins, 8 Draws, 7 Losses
The other new squad in the MLS has not made as big of news as Beckham and Higauin did in Miami, however the team's first season has been far more consistent. Nashville finished seventh in the Eastern Conference standings but was tied on points for sixth, narrowly missing out on a guaranteed spot in Round 1. 
Currently, Nashville is on incredible form after, like Miami, a rocky beginning to the new season. The team has taken eight points from the last five games, and 14 from the last seven. Despite being a new squad and working with an $18 million budget, head coach Gary Smith has been able to put together a solid team from back to front. 
This season the club has shutout five opponents in wins. The centre back duo of Americans Walker Zimmerman and David Romney has been excellent this season, giving the expansion club a solid foundation at the back in its new season. 
Nashville SC Lineups 
Defense will again be the main priority for Nashville in the first playoff game. The team was able to hold Inter to zero goals in each of their two meetings this year, and will be looking to do the same this time around. 
Leading scorer (4 goals) Daniel Rios will almost certainly be starting up top for the team. Forward Abu Dinaldi has not yet been medically cleared, and so Nashville will look to midfield players like Derrick Jones to supply Rios as often as possible. 
-Willis-
-Johnston-Zimmerman-Romney-Lovitz-
-Leal-McCarthy-Godoy-Muyl-
-Jones-
-Rios-
The 4-4-1-1 is seemingly an effective strategy to protect Nashville from Inter's play from the wings. This will be a big test for Jones, as finding room past Trapp and especially Matuidi will be key to giving Nashville chances.
Final Thoughts and Predictions
We have seen this matchup countless times before. The offensive and creative forwards against a backline that does not budge. If the games we have seen before are any indication, it would seem that Nashville will have the advantage as Inter have not even managed a goal in two games against the team.
However, neither of the games were a clear indicator of a superiority in class from Nashville.  Add in Gonzalo Higuain and a oftentimes lackluster offense, it's likely that if Inter is able to get in a goal, that they may not stop and Nashville will not have much to counter them with. 
Prediction: Inter Miami 2, Nashville 0