MLS Playoffs: New England vs. Montreal Bettings Odds, Lineups and Predictions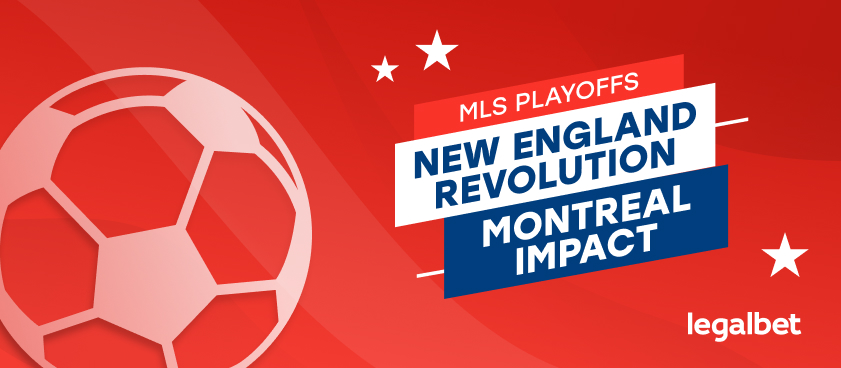 The MLS Playoffs will officially begin on Friday with the Play-In Round game between the Montreal Impact and New England Revolution. The match will begin at 6:30, with a battle of legendary coaches going head-to-head. 
The Eastern Conference eighth seed New England will host ninth seeded Montreal in a single-game elimination round. The Revolution have beaten Montreal the last three games they have played, and will look to do so for a fourth time in a row for a spot in the MLS Playoffs.
New England Revolution
8th Place; 8 wins, 8 draws, 7 losses
Bruce Arena's New England side have been in a run of bad form leading up to this game. The team has only picked up four points from the last five games. The result facing them is a must win game against a team it has seen success against, with a perfect record against Montreal since the MLS season was resumed. 
7/9: New England 1, Montreal 0

9/23: New England 3, Montreal 1

10/14: New England 3, Montreal 2
Each of the past two games have been high scoring, and although Montreal kept it moderately close, the Impact never truly looked like a team equal to New England.
In each of the three games, New England has scored first and controlled much of the game. 
The team went ahead by at least two goals in each of the past two meetings, allowing goals due to lack of concentration or in the final minutes of an already won game. In a single elimination playoff game, expect New England to maintain its class above Montreal for the entire game without affording Montreal much room. 
New England Lineup 
The team will rely heavily on its main forward and keeper, as both have been excellent for the club this season. Canadian forward Teal Bunbury has been excellent for the Revolution this season, especially after the break. 
The striker/midfielder leads the team with eight goals, and New England has relied on the big man's ability to hold up play while showing excellent dribbling and finishing skills inside the box.
Matt Turner, the keeper from New Jersey, is currently holding on to an incredible season with a save percentage hovering around a 75% and six clean sheets.  
New England's lineup likely will not see too many changes, as we might expect to see a 4-2-3-1 system featuring Adam Baska (6 goals) up top. 
-Turner-
-Jones-Farell-Kessler-Buttner-
-Caldwell-McNamara-
-Bunburry-Gil-Buchanan-
-Baska-
With this formation, New England will effectively have multiple goal scoring threats in the front four. Possible subs for the midfield could include both Gustavo Bou (5 goals) and Lee Nyugen (1 goal, 1 assist). 
Montreal Impact
9th Place; 8 wins, 2 draws, 13 losses
When soccer legend Thierry Henry was named the coach of the Montreal Impact in 2019, there was immediate excitement and new expectations. While the team did finish with 26 points and ninth in the standings, it has ultimately been somewhat of a rebuilding season for the club. 
Montreal will hope to make it into a memorable season instead against a New England team that has consistently bested them. Like the Revolution, Montreal has been in a bad run of form lately, which has seen them pick up only six points while losing three games in the last five.
Of course, the game before these saw them lose 3-2 to New England. 
The team has had no problems scoring this MLS season with five players scoring four or more goals. Rather, the problems have been coming at the back of the field, as the team has failed to keep a clean sheet in more than 15 straight games, the last coming against Toronto on September 1st. 
Teams against Montreal have been racking up shots, with Impact keeper Clément Diop having faced 110 shots on goal in 20 games.  In a game where they are the heavy underdog, discipline will need to be a main priority at the back.
Against the quick pacing attack and control of New England, this will be a difficult task for Henry's squad. 
Montreal Impact Lineup
The Impact have had a lot of success with the offensive side of the ball this season. Honduran midfielder Romell Quioto has been exceptional for the team, leading the team with eight goals and second with six assists. 
We can also expect to see midfielders Bojan and Victor Wanyama who have had experience playing with some of Europe's top clubs before moving to the MLS. The team will look to these two and its other top scorers to make up for any undisciplined mistakes made by the defense.
Keeper Diop will likely start, but needs to be better than the 66% save percentage. 
-Diop-
-Brault- Guillard-Waterman-Camacho-
-Wanyama-Sejdic-
-Tojo-Bojan-Quioto-
-Urruti-
While the offensive lineup here is impossible to underestimate, the defense leaves a lot to be desired. Wanyama and Sejdic will have the difficult task of holding off opposing counterattacks and helping the back line at most times. 
MLS Playoffs New England - Montreal Predictions
The attacking prowess of both teams mean we will likely see more than a few goals. However, Montreal will need to dedicate part of its midfield to the defensive back four, which can cut out a lot of attacks. 
In addition, factors like playing at home and previous matchups between the two all point to a New England win. The team let Montreal score two of its three goals after the games had already been comfortably won.
Expect the Revolution to tighten up while relentlessly finding shots on goal against a vulnerable back line. 
Prediction: New England 3, Montreal 1