The 2021 NHL Schedule - NHL News, Schedule and Games - What We Know So Far
Despite the challenging times of putting a complete NHL schedule together, it looks like the professional league has found a way. The announcement was made in mid-December that there will be a season in 2021 of American professional hockey. 
The new 2021 NHL schedule is currently being finalized, with every precaution being taken. We have already seen major changes to the ways the NHL teams and divisions will be aligned. Let's now take a look at what else we can expect from the upcoming season.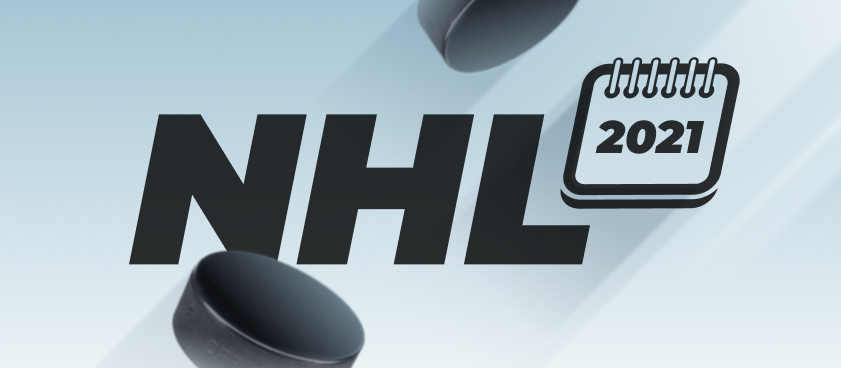 When Does NHL Start in 2021?
We already know that this NHL season will not be a normal one. With the 2021 NHL schedule having been released, we now have a better understanding of what changes we will see. 
The new season of professional hockey is around two weeks away, as the first games of the 2021 NHL schedule have been set for January 13th. On this date, we will get five NHL games including teams like the Colorado Avalanche and the Chicago Blackhawks. 
Start times have not yet been decided, but the teams involved in the first NHL games in 2021 have been:
Montreal Canadians vs. Toronto Maple Leafs

St. Louis Blues vs. Colorado Avalanche

Pittsburgh Penguins vs. Philadelphia Flyers

Vancouver Canucks vs. Edmonton Oilers

Chicago Blackhawks vs. Tampa Bay Lightning
These games will kick off a unique and compact NHL schedule where each team will likely be playing four to five games a week. The league plans to finish the regular season games on May 8th. 
How Many Games in NHL Season 2021? 
The first games of the 2021 NHL season will also give us our first matchups in the newly assembled divisions. Due to the restrictions of travel and concern for player health, teams have been put into divisions based on geographical proximity. There will also be fewer NHL games. 
Starting with the first games on January 13th, the new NHL season will have 56 total games between four divisions, with the regular season NHL schedule ending on May 8th and the 2021 Stanley Cup Playoffs ending sometime in July. 
We have listed a few important takeaway and dates from the new NHL schedule:
January 3rd - All remaining teams begin training camp (Canadian teams on Dec. 31st)

January 13th - Five opening games of the 2021 NHL season

There will be no NHL All-Star game this year

April 12th - Trade Deadline for all NHL teams

May 8th - the 2021 NHL regular season will officially end

May 11th - NHL Playoffs are set to begin
The entire regular season of the NHL has been compacted into four months in 2021, meaning fans will get a lot of hockey throughout the season. NHL teams are already preparing for a grueling regular season where every game will be of huge importance. 
Vegas Golden Knights' owner Bill Foley commented on the reality of a such a compact season:
"There's not going to be a break. There's going to be a lot of back-to-backs. In theory, we're going to play four games a week to get this season done. Maybe even more — five games a week."
One thing seems for certain in this upcoming season, that this compact NHL schedule will lead to some truly exciting and competitive professional hockey. The newly restructured divisions for 2021 will only add to the intense matchups, pushing rival teams even closer together. 
NHL Teams and Their New Divisions 
One of the major changes to the 2021 NHL season will be the newly created divisions due to travel restrictions. These four divisions have restructured the league putting the teams in closest geographical proximity to each other together. 
The biggest takeaway from this change is the reemergence of the classic Canadian division in the North. Each of the seven Canadian teams have been placed in the North division, with other NHL divisions seeing varying changes. 
North

East

Central

West

Montreal Canadians
Vancouver Canucks
Toronto Maple Leafs
Edmonton Oilers
Winnipeg Jets
Ottawa Senators
Calgary Flames
Boston Bruins
Pittsburgh Penguins
New Jersey Devils
Washington Capitals
New York Islanders
Buffalo Sabres
Philadelphia Flyers
New York Rangers
Chicago Blackhawks
Detroit Red Wings
Florida Panthers
Dallas Stars
Nashville Predators
Tampa Bay Lightning
Columbus Blue Jackets
Carolina Hurricanes
Anaheim Ducks
Phoenix Coyotes
Los Angeles Kings
Minnesota Wild
Vegas Golden Knights
San Jose Sharks
St. Louis Blues
Colorado Avalanche
The divisions were done this way to ensure minimal travel between games, as each team this year will be playing their games at home. Depending on your favorite team, you could be seeing new rivalries emerge this NHL season. 
Teams like the Columbus Blue Jackets and Minnesota Wild will find themselves surrounded by entirely new rival opponents, leading to an interesting NHL schedule. Finishing in one of the top four spots to reach the NHL Playoffs will not be easy in any division, with the East and West divisions both dangerous. 
New NHL Playoffs and NHL Playoff Brackets
Just as the NHL schedule and divisions have been amended for 2021, the playoff format will also see some changes. For any team to make the NHL Playoffs in 2021, it will have to finish in one of the top four spots in its respective division. 
The regular NHL season will commence on May 8th, with the NHL Playoffs beginning a few days later on the 11th. With 16 teams, the playoffs will consist of four-rounds of seven games each. 
It will begin with two intradivisional rounds of the NHL Playoffs, which will end with each division sending one team to the semifinals. Once a team from each division has emerged victorious, the four remaining teams will be reseeded based on regular season point totals. 
#1 seed vs. #4 seed

#2 seed vs. #3 seed
The top two teams from here will meet for a seven-game series in the Stanley Cup Finals, which will be sometime from beginning to mid July. 
2021 Early NHL Power Rankings: Sportsbooks Top Favorites
With the release of the 2021 NHL schedule, we now have a better idea of the chances of each team in the upcoming season. The restructured divisions and schedule do bring about concerns of uncertainty. 
However, USA sportsbooks remain confident in their NHL power rankings for each division. Odds have already been set on the favorites to top each division by the end of the NHL season. 
North Division - Toronto Maple Leafs
A favorite has been chosen from the all-Canadian division, which will attract massive interest this season. Toronto is led by star forward Auston Matthews, and edges out Connor McDavid's Oilers to become the North Division's favorite. 
West Division - Colorado Avalanche
This should not come as too much of a surprise, as many sportsbooks are picking the Avalanche to win the 2021 Stanley Cup. Still, the West Division will be one of the most challenging for Colorado with both the St. Louis Blues and the Vegas Golden Knights included. 
Central Division - Tampa Bay Lightning
The Central Division on paper looks like one of the weakest divisions this upcoming NHL season. This only solidifies the choice even more, as reigning Stanley Cup Champions Tampa Bay should have a fairly clean path to the playoffs and a top spot in the division. 
East Division - Boston Bruins
Along with the West Division, the East is one of the more competitive and closest divisions to call. Boston narrowly gets the call over teams like Philadelphia and Pittsburgh. It should be in this division alone where the top four playoff spots are too difficult to call. 
Our Legalbet Futures Bets
We got our NHL picks early this season, with four futures bets going all in on hometown teams to win the Stanley Cup. A reminder as we follow the NHL teams in the states we operate, with stakes laid on four teams in three separate divisions. 
*Odds by William Hill Sportsbook