The Race for the Scudetto: Betting on the 2020-21 Serie A Winner
The second half of the 2020-21 Serie A season began with an assortment of key matchups in the race for the Scudetto. At this point in the season, the Serie A standings have an interesting look. Seven different teams can consider themselves full-fledged contenders to hoist the Serie A trophy at the end of the season.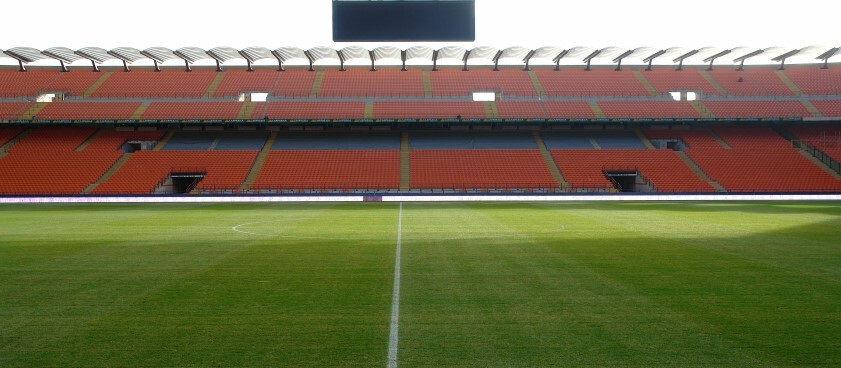 As of now, the sportsbook favorites remain Inter Milan.
Inter Milan to win Serie A
Bet
-153

Let's go through the tight raced Italian league together. Which teams have the highest chances of winning the Scudetto and why?
Serie A Table after 22 Rounds
| | | | |
| --- | --- | --- | --- |
| Place | Team | Games | Points |
| 1 | Inter | 22 | 50 |
| 2 | AC Milan | 22 | 49 |
| 3 | Roma | 22 | 43 |
| 4 | Juventus | 21 | 42 |
| 5 | Napoli | 21 | 40 |
| 6 | Atalanta | 22 | 40 |
| 7 | Lazio | 22 | 40 |
After the 22nd round, Inter Milan finally took first in the standings. Conte's team has recently managed to beat both Lazio and AC Milan, while losing to Spezzia. However, this upcoming weekend could change things for the team.
Inter Milan
Pros : Antonio Conte, balanced line-up, current first place, no European competitions.
Cons : Antonio Conte, heavy reliance on the Martinez-Lukaku forward duo.
Changes in the winning odds compared to the beginning of the season: a drop from +210 to -145.
Closest key game: February 21st vs. Milan (kicks off at 7:00 AM)
Of all of the teams racing towards the Serie A title, Inter has the most favorable conditions. Conte's squad was eliminated from European competitions and the Coppa Italia. Now the team can fully concentrate on winning the Serie A.
If either Lautaro Martinez (11 goals) or Romelu Lukaku (16 goals) are not injured, then it seems no one will be able to stop the team from taking home the trophy.
So why then is Conte also considered a disadvantage? Simply because Conte can be overly emotional and after some criticism (in Italy they love their soccer), he could simply resign, breaking the entire system.
If this happens, then Inter would certainly be looked at skeptically for a title win.
This weekend (February 21), there will be a massive matchup. Both Milanese teams will meet, and the outcome will be fortelling for the team's chances going forward. Let's get acquainted with the sportsbook odds for this mega match.
AC Milan
Pros : Zlatan Ibrahimovic, restoration of leaders, rich roster.
Cons : Stefano Pioli, Europa League, the game against Inter.
Changes in the winning odds: falling from +2400 before the start of the season to +450 at the moment.
Closest key game: February 21st v Inter (kicks off at 7:00 AM).
In the 22nd round of the Serie A, AC Milan unexpectedly lost to Spezzia 0-2, and throughout the entire game created only one chance. Stefano Pioli made a mistake by releasing a lineup full of recovering injured and ill players. Everyone on the team looked bad.
Pioli may be the main reason for Milan's failure this season. The coach does not have a single trophy won nor has he ever had a single shot at one.
However, AC Milan has Zlatan Ibrahimovic. The Swedish striker has returned to Italy to take the Scudetto for himself and his teammates are right behind him with all of Milan's heart and soul.
AC Milan to Win Serie A
Bet
+450

Milan's fate in the 2020-21 season will be all but decided on February 21st in the team's derby against Inter. If Stefano Pioli's side manage either a draw or a win, then the intrigue in this season will be renewed even hotter than before, making Serie A the most interesting title race in Europe.
Roma
Pros: correct play against outsiders, Henrikh Mkhitaryan.
Cons: conflict between Paulo Fonseca and Edin Dzeko, Europa League, loss of points in games against direct competitors.
Changes in the winning odds: an imperceptible drop from +3700 to +2900.
Closest key game: against Milan on February 28 (beginning at 12:45 PM).
Roma this season have been able to masterfly capitalize on their opponent's mistakes. While AC Milan is losing to Spezzia and Inter is not able to beat Udinese, the Romans are taking their points where it counts.
In 22 rounds this Serie A season, Roma has only lost once to an underdog, in the first game against Verona. There was a draw at home against Sassuolo. In all other games where Rome were considered favorites, the team has prevailed.
However, is it really possible to win the Scudetto based only on this? Sportsbooks do not believe so.
Roma to Win Serie A
Bet
+3300

But the match of the 23rd round against Benevento at a party, Roma should win. The game will take place on February 21 and will start at 22:45 Moscow time. The Club of Rome is a favorite of the sportsbooks.
Juventus
Pros : Cristiano Ronaldo, full of experience and self-confidence, Paulo Dybala's recovery.
Cons : Andrea Pirlo, atrophy of creativity, Champions League.
Changing the odds to win: an increase from -118 to +300 at the moment.
Closest key game: against Lazio on March 6th (starting at 12:45 PM).
Unfortunately, Andrea Pirlo has not yet become the new Conte. Under Pirlo, Juventus plays incomprehensibly at times. Seriously Lacking coaching ideas and due enthusiasm. If it were not for Ronaldo (16 Serie A goals), we would not even be discussing the team in the Serie A title race.
Only Paulo Dybala, the most resourceful player in Juventus, can help Pirlo. Due to injuries and illness though, Dybala's play has been limited to 11 games.
This week, Juventus (deservedly) lost in the Champions League to Porto 1-2. It seems that this unexpected event, however, could be quickly reversed in the second leg.
For the first time in the last 10 years, we can actually say that "Juventus" is not the Serie A favorite. The 2020/21 season could be a pivotal season in Serie A, almost a decade old will be broken.
Juventus to Win Serie A
Bet
+400

Lazio, Napoli and Atalanta
It is difficult to consider these three as real contenders for the title. Theoretically, the Roman team Lazio and the Atalantans could win back 10 points from the leading Inter, but in practice it is difficult to imagine such a scenario. Napoli could return to the race if they beat Juventus in a delayed match in Turin.
The reality for these three teams is in the top 4 for the 2020-21 season. Therefore, we suggest that you familiarize yourself with the odds for this outcome.
The most interesting option here is Lazio. The Roman team is unlikely to last until the Champions League quarterfinals (where Bayern are waiting for them) and will throw all their strength into the Serie A.
Simone Inzaghi has proven many times that even with a modest set of resources he can achieve great results. Moreover, the coach recently renewed his contract, and it is better to start a new relationship with the Champions League.
Finally, I would like to wish all of us and the Italian Serie A to remain as interesting and unpredictable as in the current cycle.