The Uncertain Road Ahead for Offshore Sportsbooks
Legal sports betting has been in a rapid incline since it was introduced in 2018. What started in New Jersey has spread to more than a dozen states in some form or another, and is continuing to grow. While legal sports betting in the USA consistently breaks records every month, there is still a daunting fact that remains.
Which is that a large number of Americans continue to play with offshore, unlicensed sportsbooks.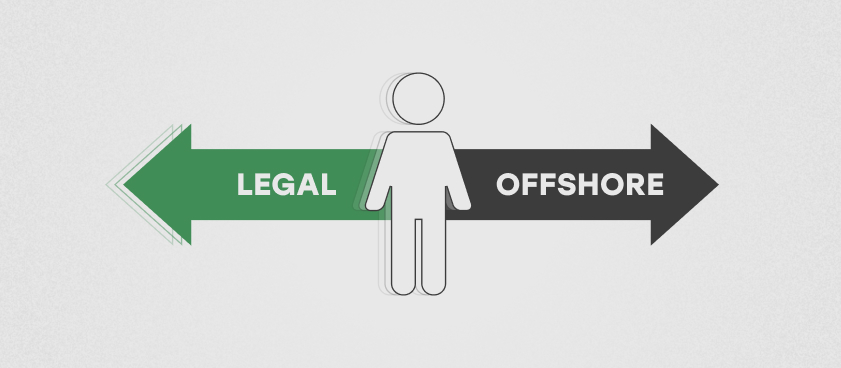 Many bettors in the USA are still playing with offshore sportsbooks who are not licensed in the country. The sports betting industry that America is currently building includes some of the best online sportsbooks in the world.
However, the record-breaking revenue brought from legal sports betting in the country remains a fraction of offshore betting in the USA. 
There are many reasons that someone may continue to play with an offshore sportsbook. Avoiding regulations, loyalty to a longtime sportsbook or the absence of legal sports betting in their state are just a few reasons why many still prefer offshore betting.
As the legal industry continues to develop and expand, can we expect offshore betting to decline? 
The Foundation of Offshore Sportsbooks and Their Impact
For a period that consisted of multiple decades, sports betting in the USA was illegal. In a country where gambling and sports are ingrained into the culture, laws like that were never going to hold up.
Unsurprisingly, people always found different ways to make sports betsand find them they did. Offshore betting decisively became the most popular option for sportsbooks and bettors alike.
The practice of offshore betting is old, with some of these sportsbooks being around since the beginning of the internet. Popular destinations for headquartering these sites became islands near the USA, with Costa Rico being the most popular option. 
Popular offshore sportsbooks include names like 5Dimes, Bovada and MyBookie. And they have remained popular since opening up offshore. The American Gaming Association estimates that $150 billion is wagered each year illegally. 
Much of the problem exists with the easy access to these offshore sportsbooks. They can be found easily online and seem legit at first. The claim these sportsbooks make is that they are fully licensed, though they do not say that they are not licensed in the United States. 
While the legal implications of using these sportsbooks can be a gray subject, the fact is that they are not licensed in the USA and therefore have no right to offer legal sports betting to Americans.
While they dont have the right, they do have the ability and the fact remains that these offshore sportsbooks have been and still are very successful in the American market. 
Why Americans Still use Offshore Sportsbooks Amid Disadvantages
There are plenty of reasons why Americans still prefer or need to use offshore sportsbooks. However, the most common reasons can be narrowed down to a few. The fact remains that while legal sports betting is progressing, it has not yet reached all states. 
The number of states with online sports betting is less than half of the country. For players in those states with no other options, offshore sportsbooks are the most reliable alternative. Nearly all offshore books are able to offer their services to the entire country. 
Of course, this is not the only reason. There are still many bettors in the USA who simply did not change their sportsbook even as betting was federally legalized. Offshore sportsbooks are also not held to any regulations imposed by state governments, which means they have the freedom that legal sportsbooks do not. 
This also stands among the disadvantages of betting with offshore sportsbooks. Without regulation, the offshore market can raise trust issues. Players can be affected by both the US law for playing illegally or by an offshore sportsbook who decides not to pay out what you won.
There is little to nothing players can do in either of these possible scenarios. 
Other disadvantages include things like payment options or lack of mobile betting apps. Payments are usually limited to cryptocurrencies or checks which is inconvenient when compared to the more mainstream payment options offered by legal sportsbooks. 
The possible risks from playing on an offshore site are simply not worth it with a legal sports betting industry developing. Which leads us to ask whether the legal sports betting industry will begin to disrupt offshore sites. 
Will Legal Sports Betting Put an End to Offshore Business
As the legal industry continues to grow, there will certainly bear an effect on the offshore businesses as we know them. What exactly will happen is unknown, though we can speculate with possible scenarios that could play out. 
Legal sports betting has already become fully accepted in the USA. Professional and college sports teams are now partnering with sportsbooks as pro stadiums proudly display their logos. 
The bulk of advertising coming from the legal betting industry along with household names like BetMGM, William Hill and DraftKings offering sports betting, it wouldn't come as a surprise if offshore betting slowly shrunk away. Or if offshore sportsbooks cross over and receive licensing in the United States. 
Every new state that introduces legal sports betting represents a now closed market for offshore betting. This is the general and practical way to look at it. When players have legal options available to them it's hard to see a scenario where they disregard the industry and instead choose an unlicensed, unregulated offshore book. 
Choosing a legal sportsbook is simply much more convenient, reliable and in the foreseeable future will likely even be the more appealing option in terms of betting markets and sportsbook features. American governments could also begin to crack down on offshore betting in a variety of ways. 
This would be a commendable route to take in order to protect sportsbooks that went through the process of getting licensed and are paying taxes in our country. For players who are wary of switching to a licensed sportsbook in the state, now is a great time. 
New sportsbooks are continuously opening making the industry very competitive now. This is incredible for players, as the number of premier online sportsbooks to choose from is very high.
With the rapid speed with which the industry is growing in the USA, we can only wait for the day when all states have legal sports betting, and offshore betting becomes but a distant memory.