Jake Paul vs Ben Askren Odds and Fight Preview
The popular American blogger turned fighter Jake Paul has organized his next bout. The fight will be held against former Bellator and UFC fighter Ben Askren, according to the rules of boxing. Jake Paul will meet Ben Askren on April 17th.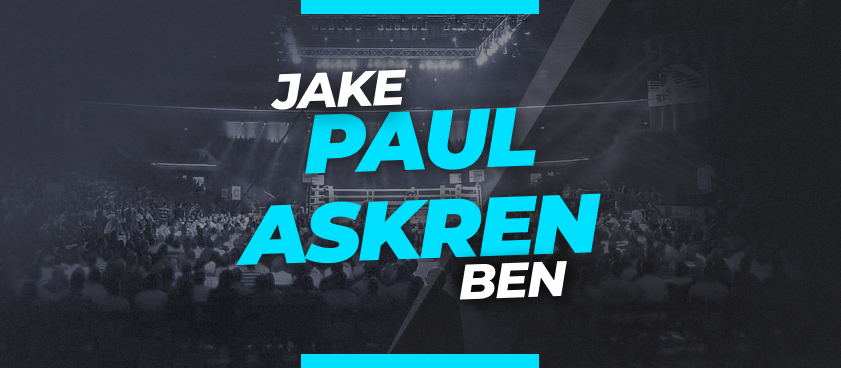 The fight is being held under the Triller promotion company, with the fight's organizer Ryan Kavanaugh keeping the venue and start time a secret for now. Instead, let us talk about the matchup between the two fighters. Does Jake Paul really have a chance to win this fight?
The sportsbooks have already put their backing behind Paul to win the fight. 
Jake Paul vs. Ben Askren Odds
| | |
| --- | --- |
| Jake Paul | -265 |
| Ben Askren | +205 |
There are undeniably many boxing fans who have not yet heard of Jake Paul, and even more who would be surprised to see him a favorite against a former professional MMA fighter. However, we must remember that the Youtuber has already entered the ring three times and finished each of them ahead of schedule. Right now, he is a heavy favorite with -265 odds. 
For Ben, things (at least professionally) are going the complete opposite of Paul. He has formally retired from MMA after losing his last two fights, one coming in just five seconds to Jorge Masvidal. Ben Askren currently has odds of +205.
Paul vs. Askren Boxing Rules
We have collected all of the available information about the regulations and status of the future fight:
The fight will have an official status. Victory, defeat or draw will be marked in the official ranking .

The battle between Paul and Askren will be the main event of the event. 

The meeting will last eight rounds instead of 12. Each round lasts three minutes. 

The boxing fight will take place in 10 oz gloves and without the use of protective helmets. 
Tale of the Tape 
| | | |
| --- | --- | --- |
| Paul (Boxing) | | Askren (MMA) |
| 2 (Professional) 1 (Amateur) | Fights | 22 |
| 3 | Victory | 9 |
| 3 | Knockouts  | 6 |
| 0 | Defeats | 2 |
| 0 | Draws/ No Contest | One |
| 6'2 | Height | 5'8 |
| 192 | Weight | 183 |
| 24 | Age | 36 |
Jake Paul Life and Fighting 
American YouTuber/ video blogger/actor. He became popular thanks to the Vine media platform, as well as acting on the Disney Channel show Bizaardvark. 
From the most annoying to the cutest YouTuber - these are the phrases Jake is described by his fans and haters. The Paul brothers started out with short comedy videos on the once popular Vine platform. There they won the first subscribers, and also earned a good start-up capital.
After the hype from the first Vines began to cool down, the brothers realized that new content should replace short funny videos. Each created a separate YouTube channel, and both continued their scandalous activities.
By and large, all of Logan and Jake's content is vlogs in which they spend money, throw parties, smash furniture, dishes, expensive cars and go crazy for the fun of the public along with a team of friends.
The sudden undertaking of boxing was a pure business decision for a wave of new hype. All that remained for Paul (and his brother) was for them to find other famous opponents from the same spectre of YouTube or media. Logan had his first boxing fight against rapper and YouTuber KSI, and Jake against his younger brother Deji.
Jake Paul Fight History 
In the latter fight, Jake proved victorious and made the decision to continue his boxing career.
The next fight was set up again with YouTuber AnEsonGib, and was already considered to be a professional at this point. After three knockdowns in a row, the fight also ended prematurely when the referee stopped the fight and awarded Paul the victory by technical knockout. 
However, Jake Paul's fight against former NBA player Nate Robinson was by far his most popular. In that fight, Robinson met with the floor three times before being officially knocked out in the middle of the second round. 
This time, Jake faced off against former Bellator champion Ben Askren. Unlike his other opponents, who, like Paul, had no fighting experience, Askren was the champion in a couple of promotions. It's undeniable however, it was not his fists that brought him success. 
Paul's Chances of Winning 
Despite the difference in experience and training, Jake is still the sportsbook favorite. The reason being that his boxing skills are still considered to be more of a threat than the dead striking technique of Askren.
Jake's stamina is not at the highest level, but the power of the blow is surprising. If he decides to go to Askren from the first rounds and tries to break him at the net, then he has every chance of winning. It is also worth remembering the age difference between future opponents is a record 12 years.
The only thing Jake has to do is train endurance and jab defense, even if Ben is not very famous for his punches. If we put aside the skepticism about this fight in principle, we must admit that Paul has a good chance to be the better boxer.
Ben Askren MMA History
Former ONE Championship welterweight champion as well as Bellator welterweight champion.
22 fights, 19 victories, 2 defeats, 1 no contest.
The most boring MMA fighter. This is the title bestowed upon Ben by fans of mixed martial arts. While his striking technique looks downright silly, he has defeated opponents thanks to amazing fighting skills and balance. 
In each of his fights Ben has tried to get his opponent to the ground as quickly as possible. He simply fell at the feet of the tops of his promotions and if he caught a shin, would not let go. Before signing with the UFC, Askren managed to win 18 fights in the ONE championship and Bellator promotions, where no one could beat him. 
However, sooner or later Askren was bound to meet a worthy opponent, which can overcome the "wrestling blanket". The world still has not forgotten how title holder Jorge Masvidal issued the fastest knockout in UFC history with one knee kick to Askren.
Afterwards, Demian Maia finally buried the American's career in the top fighting promotion. 
Ben had not signed a single new contract leading up to the Paul fight, and has been idle for over a year. In the fight with Paul, his athletic motivation is at zero. After all, winning this fight will not breathe a new life into his UFC career, make him popular or help him return to MMA in any way, shape or form.
Everyone understands that the fight is against a young and popular blogger, whose fortune is estimated at hundreds of millions, and is just about money. 
So if you are Askren, why not take advantage of the situation?
Askren's Chances of Winning
It is clear that battles of this type will cause fears among betting fans for a long time due to their unpredictability - both sports and organizational. However, if we take into account only the physical skills and technical base of both participants, it becomes clear that Askren really does not have much of a chance of winning. 
Of course, many will say that any fighter can have a chance… The problem is that even at the beginning of his UFC career, Ben looked like he was wearing gloves for the first time.
His blows have power in finishing off when they fall on the opponent from top to bottom. In addition, his jab will only become weaker in 10 oz gloves and is unlikely to shake Paul. 
Lets not forget that Askren was knocked out for the first time in his life only against Masvidal. 
The big question, given his venerable age, is whether there will be enough stamina for an 8-round boxing match? 
He has only two allies in his wrestling strength and endurance. All Ben has to do is knit Paul into a hard clinch over and over again, which would slow down his attacks and wear them out. Perhaps he will be able to use the ability to close the distance with lightning speed, which may help to avoid overhand from the blogger.
If we take all these factors into account, Askren's chances of winning can be assessed as a percentage of only 30 to 70.