Dmitry Bogdanov: "We Help Sportsbooks Turn Emotions into Transactions"
About the expert:
Dmitry is CEO of the Clickable creative agency. In 2010, he bet on design and won big. He has examined the advertising business top to bottom, and is familiar with the whole spectrum of production and creativity. Since 2017, he's been working closely with the largest sports betting companies in Russia, Ukraine and Kazakhstan. He is a father, a husband and a motorcycle enthusiast.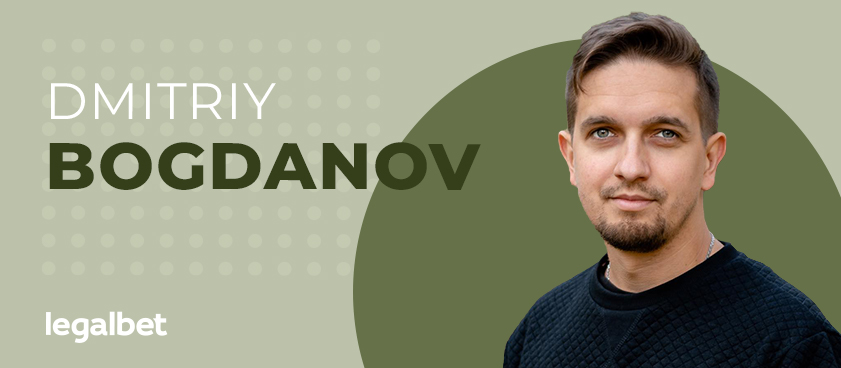 – Please tell us about your company. How did it begin and what does it do?
– You could say that we are now going through a transformation: we are turning from a design studio into a creative agency. Five years ago, we were a team of six people. The studio was created by my friend Alexander Lymarchuk, who had worked in various advertising networks for a long time, and in 2015 he decided to make promotions for everyone, including sports betting. I joined the team in 2016, worked my way up from a designer, adopting and multiplying all of Alexander's experience, and became the company's CEO in 2018. About 10 years ago, Alexander realized that betting is a growing area and that it is interesting to work with guys from this industry. They are in need of advertising all the time, and that's what we focused on.
What are we doing? Basically, we deal with creations and promotions from ad networks and betting companies. A third of the total volume of incoming orders are from the CIS area. We are trying hard to enter Western markets, but there are laws and rules that apply. The Covid19 quarantine has spoiled the case a little. We had a huge number of trips planned for this year which got cancelled, both to the USA and Europe, but it is what it is, as they say.
– Did you know anything about sportsbooks when you joined the company?
– Many designers started with freelancing and some kind of remote work and I'm no exception. I mainly worked on websites and personal sites. I got familiar with bookmaker advertisements on the internet, I understood that there is sports betting and the guys somehow make money on this, but I did not focus on bookmakers. When Alexander proposed that I work with him in this area, it was something new for me, but of course, we dove deeper I quickly became familiar with the market. It is extensive, and interesting because of the possibility to implement so many different creatives.
The design industry is now moving towards pragmatism. It's a functional design – the less design in the design, the better.
If you go to modern websites there is an emphasis on functionality. Obviously, the site should be attractive, but everything is built on content and usability.
We always want to have fun with designs: to draw, come up with something interesting, something that conveys emotion through design. Sportsbooks allow everything, and we like it.
– How is your work organized?
– Do you mean what usually happens? Large sportsbooks go to advertising agencies and buy traffic there. As part of this deal, they need creatives which the advertising agency will spin-off. We select for ourselves a list of agencies working with sportsbooks and have partnered with them. As we have developed and became more independent, we gained courage and began to approach the sportsbooks ourselves. Now we are working directly with sportsbooks.
As a company, we cover everything the sportsbooks need in terms of creativity. Including banners, landing pages, brand stories. We do everything from scratch and we mainly work on annual contracts, this is a long-term relationship that we have. We explore the companies that we work with, interact with marketing, managers, set up processes, find out their media plans and as a result, build our resources and carry out our assigned tasks. Working with sportsbooks means that there are tight deadlines. You need to launch ads before the events themselves, so creating and adhering to a media plan is very important. Of course, it means extra hours.
– Is it a kind of strategic design approach?
– Yes, yes, it is. It's not like we have a design studio and we are here just for beauty, UX, UI, and so on. Rather than that, we stand for design efficiency, for a balance between "beautiful" and "fast", helping sportsbooks to turn the design into conversion, into money, or emotions into transactions.
– How can you evaluate the impact of design on earning money in numbers?
– We would love for sportsbooks to share the numbers with us from every ad campaign we helped them launch. However, when they understand that we are not working exclusively with them, but with many betting companies, they don't provide exact figures but just a review. We respect this position, although receiving feedback on our work over the years has given us huge amounts of experience, which we embody in our work. It is important to do it beautifully, but to do it efficiently is equally crucial. Therefore, we like to say that we are not selling creativeness and design services alone, rather our expertise, which is much more valuable.
I will repeat myself in saying that our experience shows that it is the best to convert emotion into a transaction.
Here is a man wandering around the Internet, and for some reason, this banner caught his eye. Amongst the labryinth of advertisements this banner caught his attention. It is either aggressive/ funny or positive/ negative and it doesn't matter. The man wanted to know what it was. So he goes to the landing page, where even more information is revealed to him in an equally emotional manner. When a person is so emotionally affected, it is more likely that he will go to the endpoint and stay with the sportsbook and make a deposit. Further tests on how to keep a user entertained, is up to the sportsbooks themselves, our task is to win a potential client for the site.
– How do sportsbooks react to such "emotional" offers?
– I will say that not all sportsbooks like this approach. Some already have their own well-established principles and brand image and it means working with them is impossible. Someone are willing to take risks and to experiment, these are the ones who see that the process actually works.
– Does this work for banners as well?
- If the banner evokes emotion, then yes. If we are given the opportunity to develop the entire chain, then we build our offer exactly like this: banner - landing page - final site or registration form. It is clear that in the current situation, with the amount of information and advertising that is present on the sites, it is very easy to get lost. These days people have banner blindness, and they do not pay attention to everything. Fortunately, there are other methods. Nowadays more traffic comes from video, where you can reveal more information in the allowed amount of time. Overall, a video can provide more information and better reveal the message of the bookmaker than a banner can do.
– How do these changes affect your work? Are you starting to produce videos?
– We do not deal with video production in the traditional sense but we often do animation. If there is a banner written in HTML, we will translate the same banner with the same message into a video, accompany it with sound effects, and a narrator. As someone goes through the story and hears the sounds they immediately understand what is being offered to them. If a banner is one sense of perception, a visual one, then a video adds an auditory one. There is no problem for us to make a video or a banner, it depends on what platforms the client uses. It must be said that in our opinion, video is more effective.
– What is more popular recently, social networks or banner sites?
– Now it is about 50-50. Two years ago or even just one year ago there were more banner networks of all formats, HTML, gif, jpeg, etc, but now more and more companies strive to advertise in video format and on social networks, mainly Instagram and Facebook. These are the largest platforms, the most highly customizable ones, the most targeted, and a good SMS user can adjust ads to the point that he knows what person likes to eat for breakfast, and based on this, they can plan what kind of ads to serve there.
Betting companies began to invest a heavier budget on social media. Initially, they were optional, like "hey, let's try Instagram", but now it is obligatory.
If the advert is time critical then short notice projects, where the order came and needs to be placed today, then 100% those will be on social networks because people will see it faster, and respond faster. If the deadline is delayed, for example, it is preparation for a big match, the date is known in advance and is fixed then the advertisement could be placed on different sites, including banner ones.
 - Which sportsbooks have you worked with and what are some successful projects could you highlight?
– We have collaborated with a lot of sportsbooks in the CIS countries, but for obvious reasons for most of them have signed NDAs and I can't disclose this information. I will tell you about the projects that are visible on our site. One of my favourite successful cases that comes to mind is cooperation with the bookmaker "Leon". In general, these are guys who are ready to participate in experiments using emotional advertising, and that is what we specialise in. It was a pleasure to cooperate in this spirit and we have developed a dozen or so advertising campaigns for them. These began with the idea itself through to the implementation of the creatives.
We made an advertising campaign for the "Come to the dark side" theme, and about a dozen landing pages and accompanying banners were created. The main idea was that Darth Vader "Leon" invites everyone, all fans of the Empire, to play and to earn. Go to the dark side, and we also have cookies, that was there too. This is a very nice case where we had a lot of fun, and came up with, as I said, a dozen interpretations of the message. In the end, the guys launched it all for split tests and chose one or two with the best conversion. We have received positive feedback from them and continue to work together today.
– Do you often have to come up with slogans for the pictures?
– Yes. The backbone of our team has many years behind them, so many slogans and messages have been invented by us. Sometimes we are given the task of making such and such a banner, given a complete technical task to do, where everything from the client's side is spelt out from beginning to end. This exists, but we love orders where we are trusted to develop a campaign from idea to visual implementation. And at this point, the team is committed to it 100% and receive joy from it. The ideas are quite bold, and sometimes because of internal brand rules, the bookmaker cannot afford to go with such a message. Then we adapt it a little. But yes, we not only draw but we also develop the idea itself.
– Without specific figures from the sportsbooks, on what principles do you base your work? There is emotion, but what else should be on the banner or in the video?
– I would say being user-friendly is important. An easy to understand and to perceive the message on the landing page that we show is essential. A user does not want to think a lot, he will not search and spend time studying the information. It should be presented quickly and concisely for the end-user to understand. If he is ready to take action, then he must understand where to click or write. There are some generally accepted design principles, for example, the button to join should be on the first screen, you don't need to scroll down to click at it.
In the age of mobile phones, there must be a mobile version. You need to start with it, because most of the traffic goes through mobile phones, and then you can play with different desktop formats from small to large.
The landing page should be fairly interesting, with some animation, perhaps. But animation gives weight, and the landing page needs to load quickly. If we are dealing with bookmakers, then their geo-coverage is very different. In some areas there is accessible high-speed Internet, in others, it is incredibly slow. Everything should open quickly and not bore the person who wants to see the landing page. He has already clicked on the banner and gone over, he will not wait if the landing page takes a long time to load, or scroll through something uninteresting. Everything should be clear, compressed, in one screen, maximum two or three. The first screen should have some basic information and something to trigger action. Then you can paint the whole story such as what benefits a person will receive, what payment options are available, etc.
To summarize, the focus should be emotion, convenience and loading speed.
– How much more complex are mobile stories compared to desktop ones?
– Earlier, when mobile phones and the mobile Internet were just entering our lives, it was difficult to know which area to focus on. On the mobile screen, which is much smaller, you need to display the same information as on the desktop, or slightly reduce it whilst still leaving the meaning. We think about speed so when we design a landing page to display on a mobile device, there will be a display of a pre-prepared mobile version with compressed images, information adapted for a small screen, and in general, the entire landing page weighs less.
– Now that Verkhovna Rada has legalized betting, the President of Ukraine is about to sign the law. Have you already received offers from the bookmakers?
– The deadline has passed very recently, and there has been no "Gold Rush" meaning we have a queue the next day and we do not know how to cope with it. However, I feel that after a little more time there will be more requests because the state gave the green light. New players will appear, the old ones will have to hold the market, and the new ones will aggressively conquer it. They all need some kind of creatives and advertising campaigns. At the moment everything is still associated with the pandemic, COVID-19. The market as a whole suffered, but I think it will gain momentum when all sporting events will resume. There will be a struggle for the market share, but I think we should expect a surge by the new football season, around September or October. This is the time for advertising campaigns, new promotions and such like. In the meantime, everyone is either saving money or working on their marketing plans for September.