Pros
Good selection of sports
Lots of different markets available
Experienced international sportsbook
Cons
No live streaming service
Low betting odds
Review of the bookmaker Unibet from Legalbet
Unibet began in London and is currently available in multiple states like New Jersey and Pennsylvania. On the site, you can find many different types of sports and bets to place on the competitions.
The site keeps the player in the game with live betting, consistently adding new promotions and always alerting you to upcoming competitions. 
Betting/playing can be done on desktop and through the use of its Unibet apps. You can download the Unibet apps for both Android and Apple. Once you have the mobile apps set up it will be possible to bet on the go with maximum convenience. 
The sportsbook software will be run by Kambi, a B2B subsidiary of Unibet. The software company is very experienced and also has partnerships in place with sportsbooks like DraftKings and 888.
Odds — normal
On Unibet Sportsbook, we were able to find margin averages for games in all of the top leagues and sports offered on Unibet. The margin is the percentage of each wager that the sportsbook will keep as a guaranteed profit.
For each different competition, we took the margins from bets on both the moneyline and on the over/under for total points from Unibet NJ. 
Soccer Betting
Average Margin = 6%
From the seemingly endless number of options on to choose from in the soccer section, we were able to focus on five different leagues. The total average margin for soccer was calculated out to exactly six percent.
| | | |
| --- | --- | --- |
| Odds Rating | League for Soccer Betting | Average Margin Percentage |
| Good | English Premier League | 4.61% |
| Normal | MLS | 6.16% |
| Bad | Scottish Premiership | 7.23% |
Tennis Betting
Average Margin = 5.65%
We looked at two major tennis competitions to find the average margins offered for the sport of tennis.
| | | |
| --- | --- | --- |
| Odds Rating | Tournament for Tennis Betting | Average Margin Percentage |
| Normal | French Open Qualifiers | 5.92% |
| Normal | ATP Hamburg | 5.38% |
Hockey Betting
Average Margin = 4.52%
Here we looked at games from the NHL, the league that Unibet primarily features on its sportsbook.
| | | |
| --- | --- | --- |
| Odds Rating | League for Hockey Betting | Average Margin Percentage |
| Good | NHL | 4.52% |
Basketball Betting
Average Margin = 4.46%
Many different leagues were available for the sport of basketball on Unibet. We were able to look at three of the top leagues and found the total margin average for the sport to be 4.46%. 
| | | |
| --- | --- | --- |
| Odds Rating | League for Basketball Betting | Average Margin Percentage |
| Good | NBA | 4.39% |
| Good | EuroLeague | 4.52% |
Other Competitions for Betting
Baseball (MLB, Japan NPB) = 4.97%
Football (NFL) = 4.54%
MMA (UFC) = 5.08%
Betting options — good
Unibet also has brand new sports betting guides on the site that are made specifically to teach you betting on US sports and competitions. There you can learn about the different betting types featured on the site and how they work. 
There is a lot to take in here, as Unibet features lots of different betting markets. Below are the different types of bets available on Unibet Sportsbook. 
| | | | |
| --- | --- | --- | --- |
| Money Line | Parlay | Straight | Teasers |
| Spread | Over/Under | Live | Future |
| Prop | Asian Handicap | Result | Odd/Even |
| Period | Each Way | Double Chance | Goal Minutes |
Some of the most popular bets are money line and betting on the spread. However, with the Unibet weekly parlay bonus, it's not a bad idea to put a few bets together once in a while and go all in.
Live — good
Unibet has a very good live section that can match up with just about any sportsbook in the country. On the home page of the sports betting section, there is a box in the center showing the number of live events currently going on.
For each game, there is also a short description of the type of tournament it is, as well as some information about the format of betting that is being used. For example, for a golf tournament you will see two ball, 18 hole bets, etc. 
When clicking on a live event (depending on the sport), you will be brought to the match center for this game. All of the bets will be listed down the center separated by the bet type as well as a new section for 'action bets' which update constantly throughout the game.
Unibet Live Betting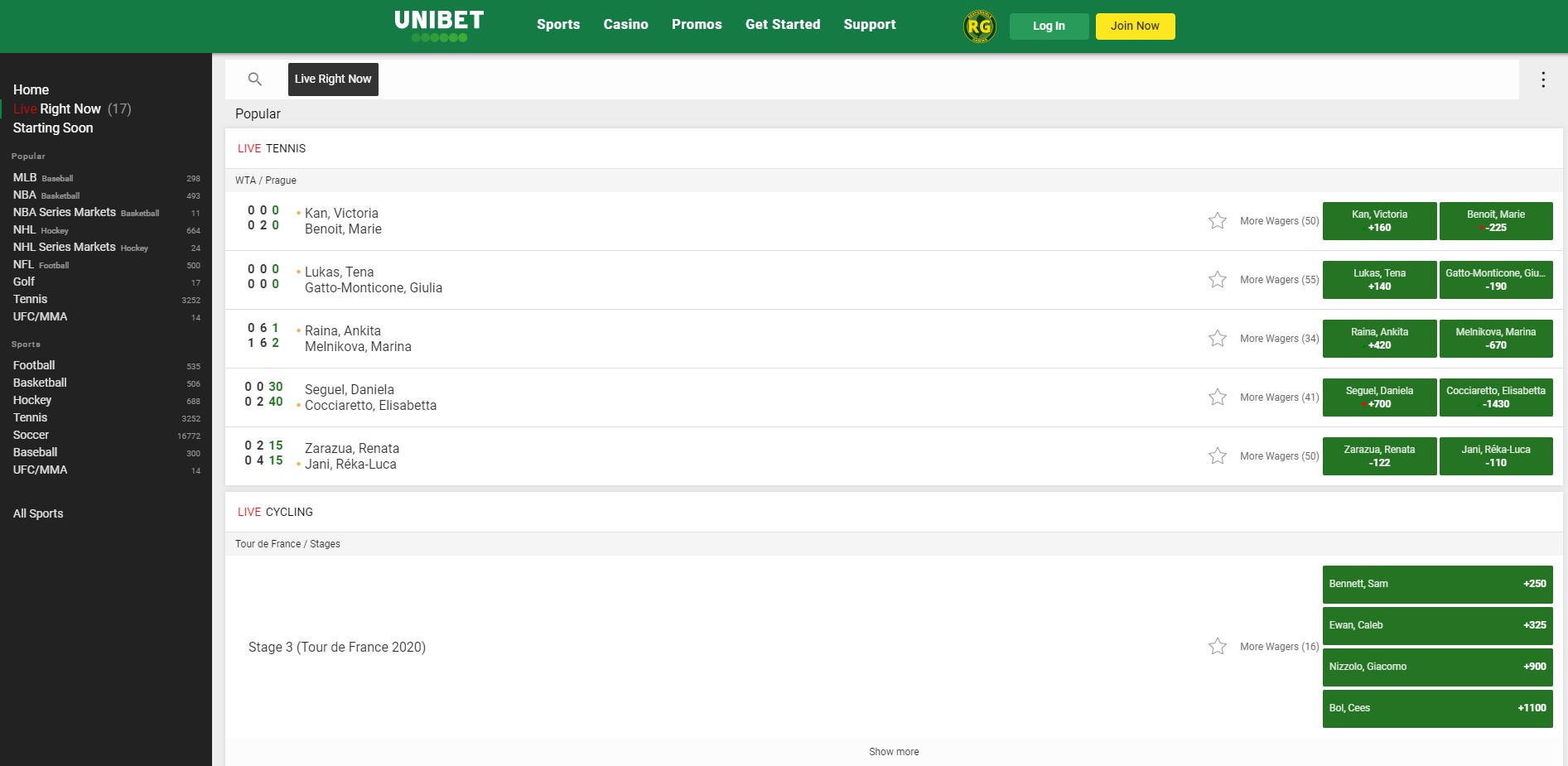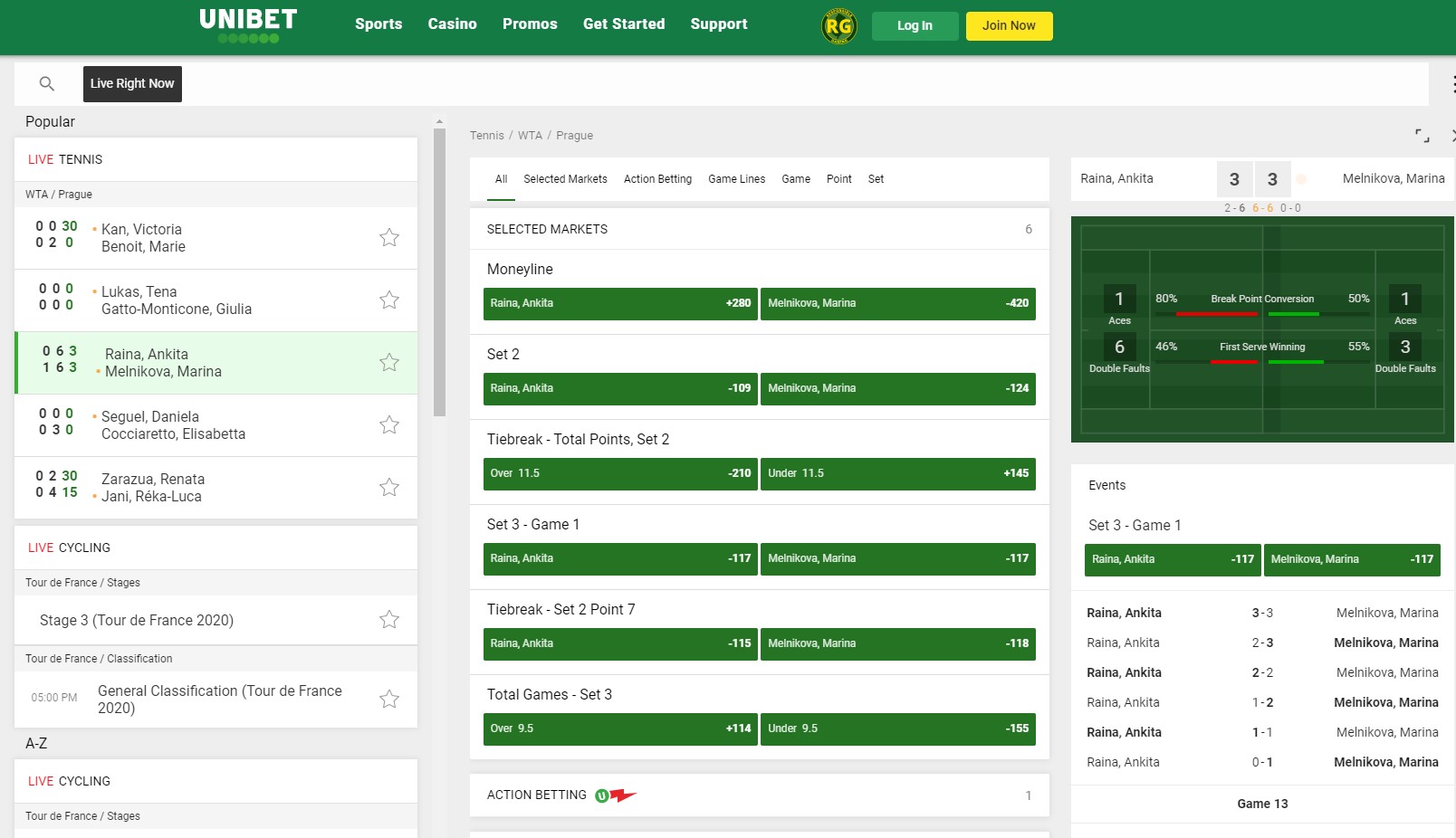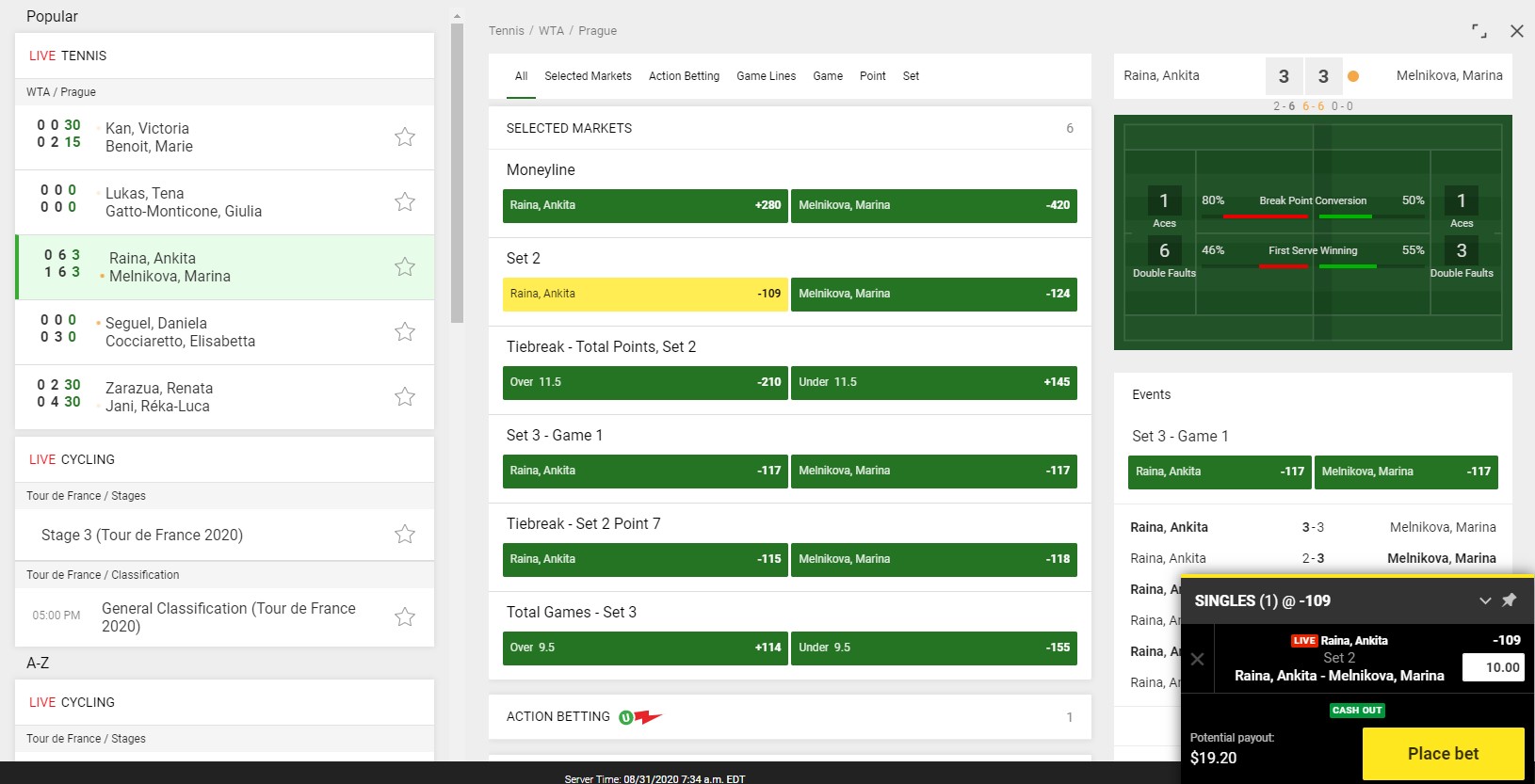 There is also a live scoreboard to the right of the odds. The scoreboard will show the player the match score and certain statistics pertaining to the game. For tennis they will show who is serving, the percentage of first serves won by the players, how many aces each player has, etc.
The scores and odds update in real time. There is no live streaming yet on the site, but there is enough present for the player to comfortably make live bets even without a television or stream present.
Unibet Casino & Poker
Sports betting is not the only section available on Unibet NJ or Unibet PA. In both states, if you sign up for the sportsbook then you will also have access to the online Unibet casino. 
The Unibet casino is a full-fledged online gaming portal just a click away from the online sportsbook.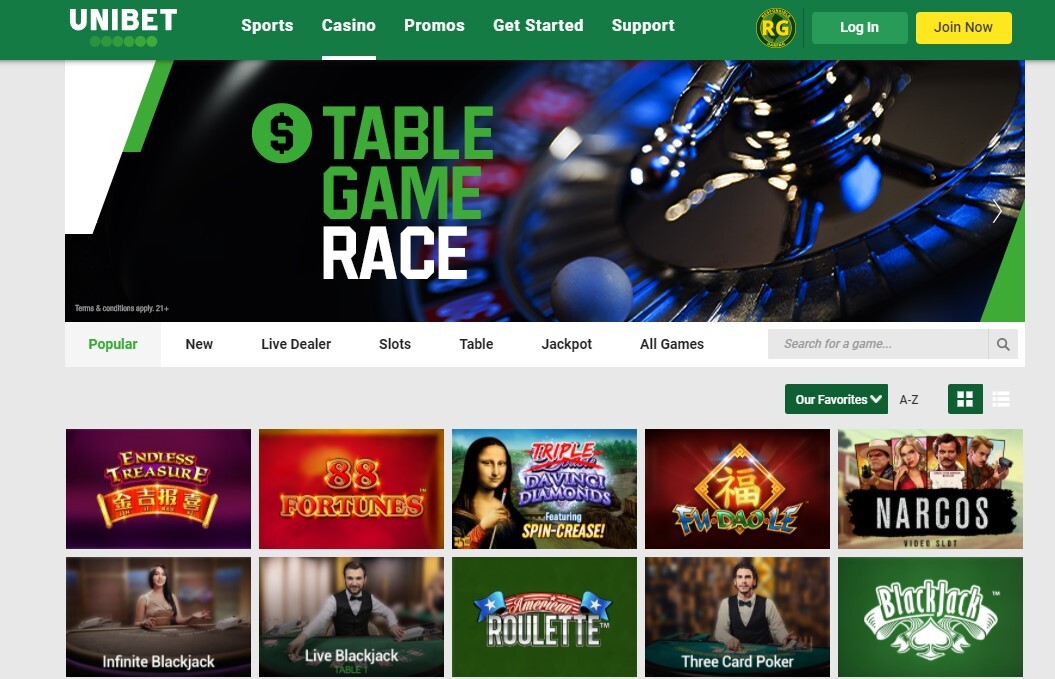 The online Unibet casino is easily accessed simply by clicking on the 'Casino' tab at the top of the screen on the desktop version, or simply by finding it in the menu tab on the Unibet App. 
This section operates under one account with the online sportsbook. So players who sign up for the online sportsbook do not need to make separate deposits and accounts to use the Unibet casino. You can find the online Unibet casino at both Unibet NJ and Unibet PA. 
Its a great addition for the Unibet app and sportsbook to include a full casino section. The section is filled with different slot machines, table games and multiple variations of Unibet poker.
All of these Unibet casino offerings can be played for real money or for practice at anytime.
Unibet Official Site
In truth, there are not many noticeable differences between the Unibet NJ and Unibet PA versions.This in regards to the look and layout of the Unibet sports betting site. The sportsbook follows a green and yellow color scheme and features upcoming competitions down the center of the home page.
Unibet Site Overview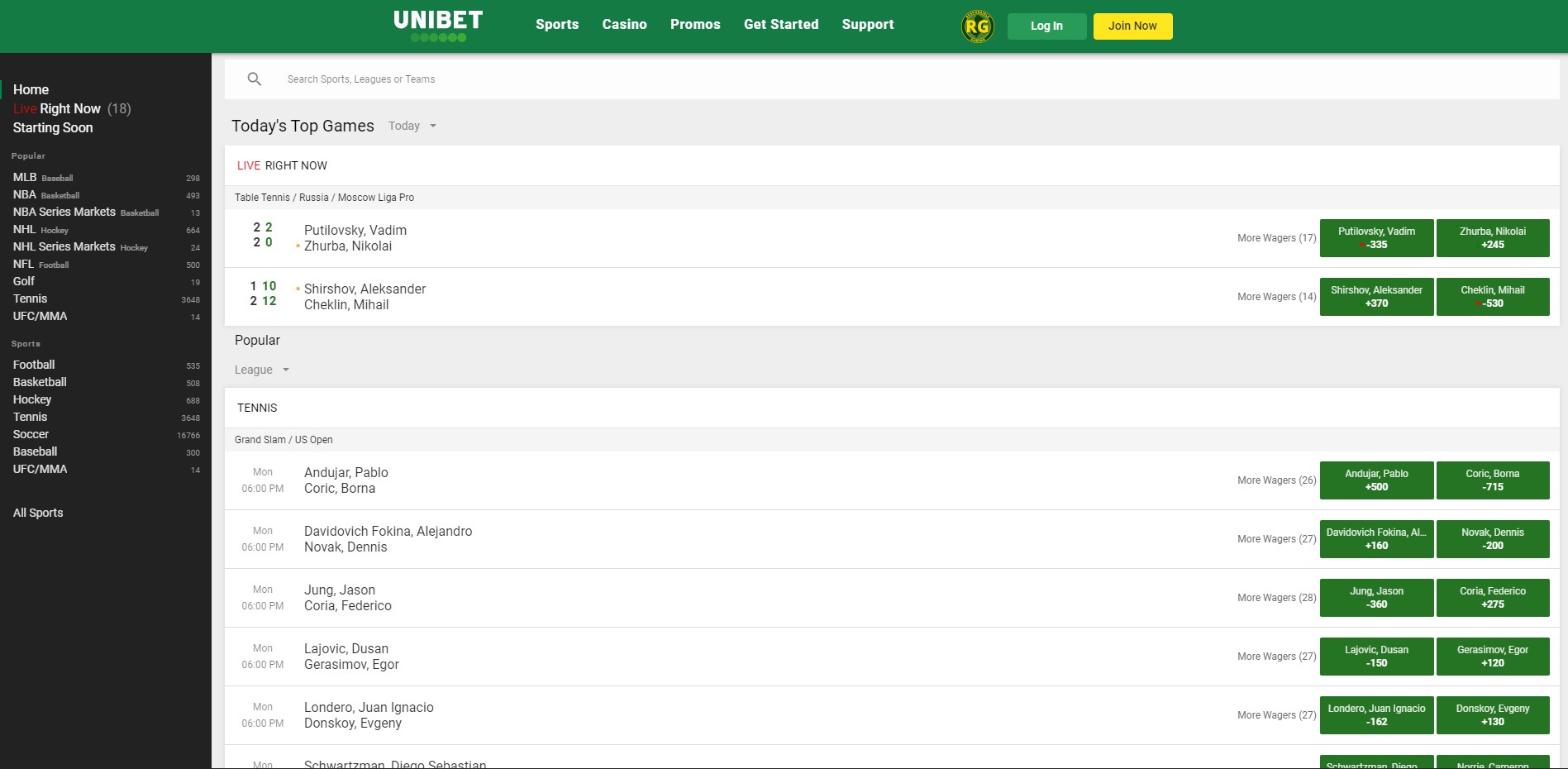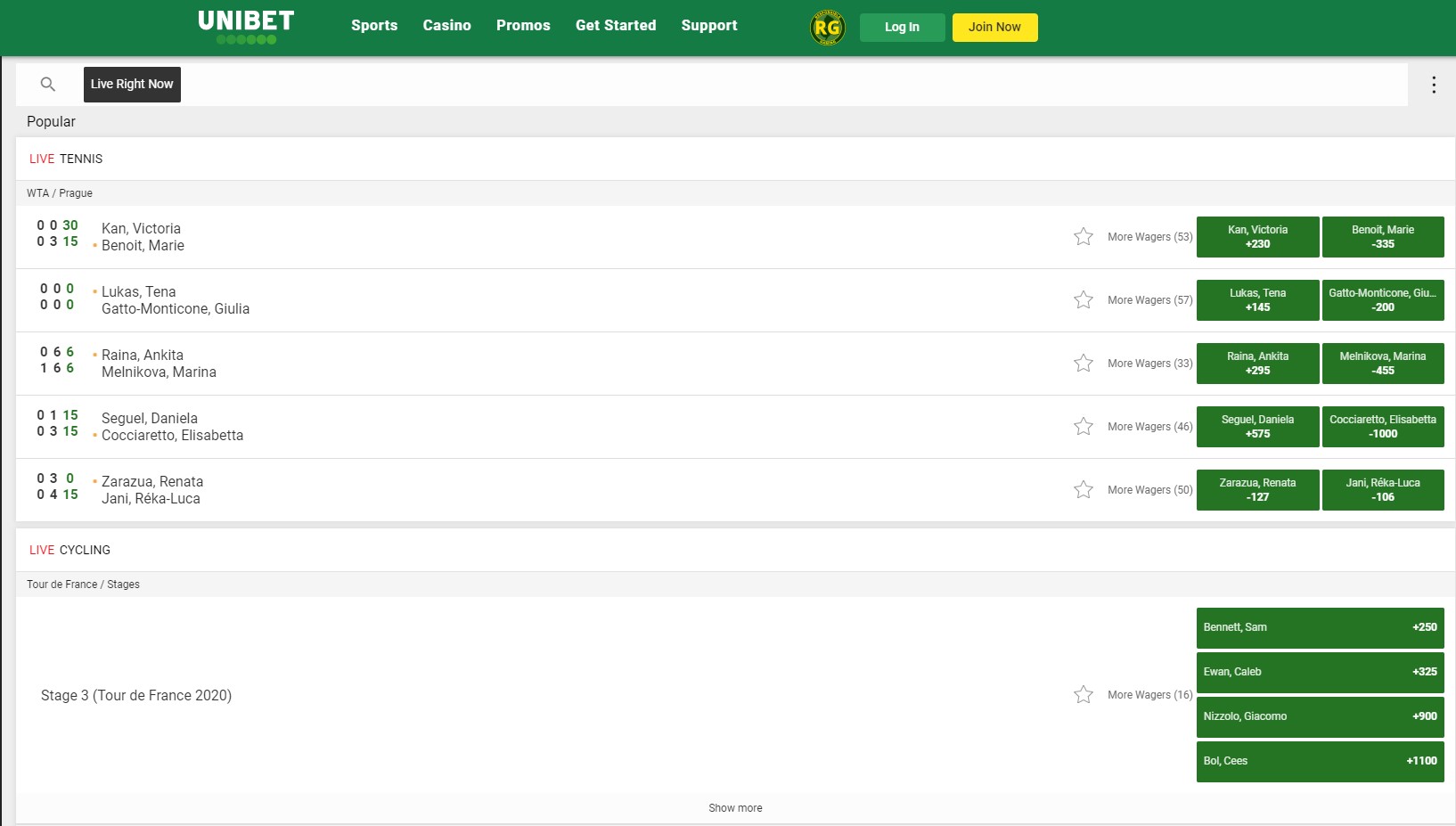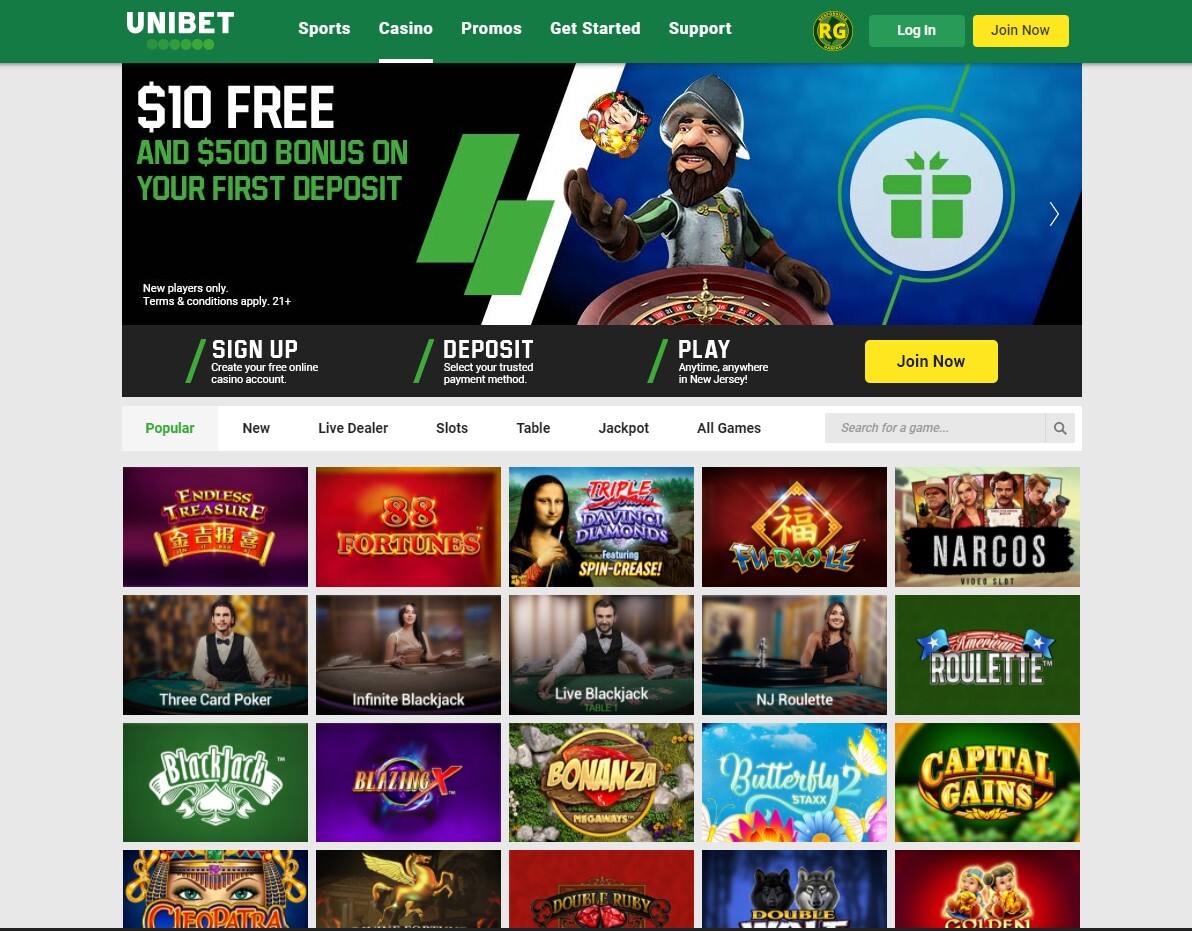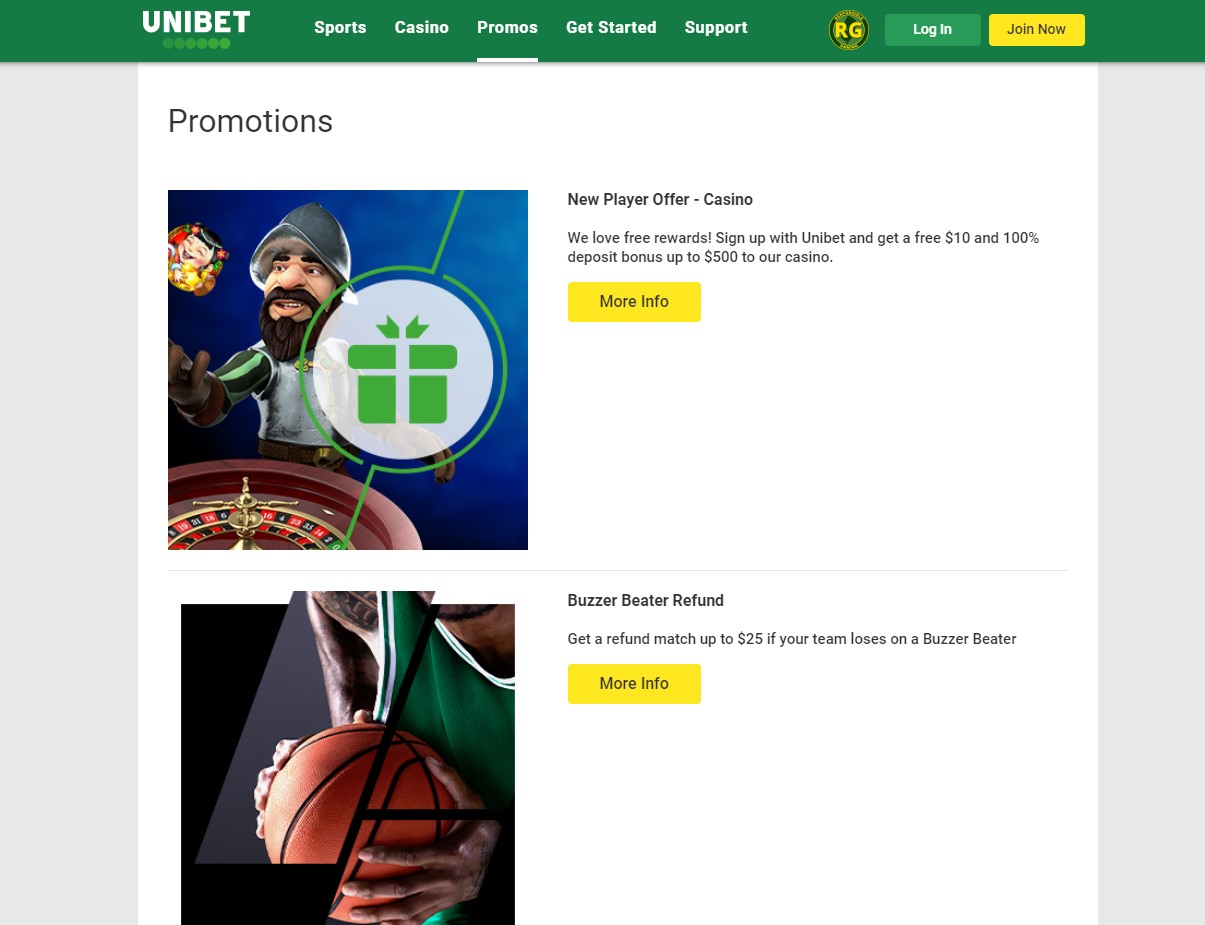 However, the USA versions of Unibet are not as jam packed as the international versions of the site. The most obvious options missing are the horse racing section, along with bingo and poker. 
On Unibet, you will have two main sections for sports betting and Unibet casino. In the casino section, Unibet poker is also available however.
We believe the other sections will be eventually added, but with that being said sports betting on the site does include more than is immediately noticeable at first glance.
There is a both a live betting section for games currently being played and a starting soon section.
Both of these sections make it incredibly easy to browse different events or to narrow down your search for a specific game, league or sport. This is especially true with starting soon games, as you can filter the event order by league or time.
Unibet also has a section for promotions and special offers on the site as well as a USA sports betting guide. In these sections you can both learn about different types of bets and take advantage of any current bonuses that Unibet has available.
Registration and Verification
Signing up and registering an account at Unibet is the first step in being able to bet on the site. The signup process does not contain anything too out of the ordinary and is not very time consuming. 
The signup sheet will ask for account and personal information as well have you agree to a few terms and conditions at the end.
In general, completing the registration process can be done following these steps:
Click on the red 'Bet/Start Playing' button from this review

Fill out the registration form for your state with accurate information

Wait for the verification email from Unibet stating your account has been approved

Log in to your new account, make a deposit and begin playing on Unibet!
In general, the entire process can be completed in around five minutes or so. The terms and conditions at the end of the process detail the rules for playing on Unibet. There will also be some relating to the federal and state regulations, which of course will depend on where you are signing up.
Unibet may have welcome offers available for new players. You should always check to see which bonuses are available and write down the Unibet bonus code. There is a place during registration where you can enter this Unibet promo code if necessary.
Finally, Unibet will verify your information and confirm your account. If for some reason during Unibet's verification, it finds something that does not match your identification provided, they may ask you to correct the information or to provide additional documents.
Unibet Bonuses, Promo Codes
Sportsbook bonuses and promotions are one of the best things about sports betting. Unibet NJ and Unibet PA sites do feature a decent amount of bonuses.
There is almost always at least a welcome bonus as well as ongoing promotions for all users. 
Money made from a Unibet bonus can only be withdrawn after the requirements have been met. There could be any sort of requirements including playthrough, wagering or other requirements. 
Types of bonuses and promotions you can find on Unibet:
Parlay Boosts
Free Bets
Profit Boosts
Matched Deposits
Risk-Free Bets
Prize Giveaways
Reload Bonuses
Matched Bets
The weekly parlay boosts are often available on Unibet, and are great promotions that can be consistently used. This gives you the chance to make three parlays each week that if won, will have the profits boosted by 10%, 20% or 30% depending on the number of legs in each parlay.
Some offers will require you to opt in with a bonus code. Unibet bonus codes are a series of numbers and letters associated with a certain promotion. For example: UBSPORTS500. You can find these in the description on the bonus's page in the 'promo' section. 
For welcome bonuses, you can enter the relevant bonus code during registration to receive the offer upon completion. If a bonus code is available for the promotion, it is vital that you write it down and enter it. You may not be able to receive the bonus at all if you do not include it. 
Unibet promotions are not only for sports betting, as there are offers for Unibet casino and Unibet poker also available. 
Unibet Review: Deposits And Withdrawals
Depositing into and withdrawing from Unibet can be done at any time after an account has been created. The minimum deposit amount on Unibet is ten dollars. Making a deposit or withdrawal on Unibet can be done following a few simple steps. 
Log in to your account with your username and password
Find the cashier section or deposit button at the top of the screen and click
Select deposit or withdrawal; choose a method of payment
Enter in the amount you wish to deposit or withdrawal
Verify your information and confirm your transaction
You can deposit on Unibet using a range of online and in person methods. When making a withdrawal or deposit, you may need to provide additional documentation to verify your identity. 
Most of the same Unibet deposit and withdrawal methods will be available in each state. The withdrawal methods are all fairly quick, as Unibet will review and process your withdrawal within 72 hours.
| | | |
| --- | --- | --- |
| Payment Method | Deposit | Withdrawal |
| Visa/Mastercard | Yes | No |
| PayPal | Yes | Yes |
| Online Banking | Yes | Yes |
| Play+ Card | Yes | Yes |
| PayNearMe | Yes | No |
Withdrawing bonus money can only be done after meeting the wagering requirements for that specific bonus. Winnings accumulated from Unibet bonus funds can be immediately withdrawn, but only if the player cancels the bonus or promotion.
You will have three separate accounts for holding money on Unibet; unlocked, locked and bonus. Your winnings from bonuses will be placed into the locked account unless stated otherwise. 
Only after wagering requirements are completed or the bonus is cancelled will these funds be transferred to the unlocked account, and made available for withdrawals.
Unibet Sports Betting App
The Unibet app is available for both Android and Apple devices. You can download the IOS version directly from the Apple store, whereas the Android version must be downloaded off of the Unibet website.
You can get both versions of the Unibet app for free. 
Unibet App: The Positives
Follows website design with same bet types and odds

Live betting section with match tracker is very good

Customer service live chat included on the app

Graphics are clean and fit nicely 
Unibet App: Things That Can Use Improvement
Must allow a lot of phone permissions for Unibet App

Unibet app can be very slow at times

Difficult and drawn out withdrawal process
While the Unibet app overall is acceptable, there are still vital things that need to be improved on.
However, many of the overall negatives of this betting app have to do with the casino portion, as the sports betting side of things matches up well with other mobile apps.
You can find almost all of the same bets on Unibet app as on the desktop version. The live betting section is just as clean as well. The match tracker follows every single happening in each game and fits perfectly in the top half of the screen.
Whenever you need to either ask a question or settle a dispute, there are a few different ways that you can get in touch with Unibet NJ or Unibet PA. You can either call the Unibet phone line or send an email to the customer support team. There is also a live chat feature available on both the desktop and the mobile apps. The live chat and phone line are both always available.
Updated: 04.06.2023
Information about the company
Questions and answers
What makes Unibet sports betting so great?
Beyond the live betting section and the promotions, the number one positive thing about Unibet is the high number of sports and ways to bet.
There are around 34 sports that Unibet has on tap that can be made available whenever there are bets available. This is definitely more than average and when combined with a large variety of bet types you have plenty of ways to play.
How to get a Unibet free bet?
Unibet free bets are one of the many different promotions that are made available on the site from time to time. The best time to look for these is when you are signing up one the site, as they are usually included in welcome offers.
However, they can also show up for existing users who complete various requirements. It is always a good idea to check the 'promos' area to find out about new promotions.
How to use a Unibet bonus bet?
Once you have completed the requirements for receiving a bonus bet, you can wager the money like normal by selecting the bonus funds. Free bets, however, may come with their own terms and conditions. 
One of the most common restrictions are the odds that the market must have. For example, Unibet may specify that the odds must be -500 or higher in order to use your bonus bet. Other rules could specify a specific sport, league or game you must bet on.