DraftKings Fantasy Sports: Picks and Strategies on Football, Basketball, Golf
From small beginnings to one of the most well-known fantasy sites in the country, DraftKings is at the front of every player's mind when they begin to think about fantasy competitions. The company has even expanded to physical locations with the DraftKings Fantasy Sports Lounge and the DraftKings Fantasy Sports Zone.
Signing up for DraftKings Fantasy: 
Click on create an account on the DraftKings Fantasy home page
Enter information such as name, address, phone number, etc.
Download the app along with geolocation services so DraftKings can verify your location
Make a deposit and enter promo codes to collect any bonuses offered
Look through the DraftKings sports and contests schedule and start playing
DraftKings was founded in 2012, making it the second daily fantasy sports provider by Jason Robins, Paul Liberman and Matthew Kalish in Watertown, Massachusetts. Since then, DraftKings has received funding from many companies including GVC Capital and Accomplice and has entered into partnerships with the likes of the National Hockey League, Major League Baseball and ESPN.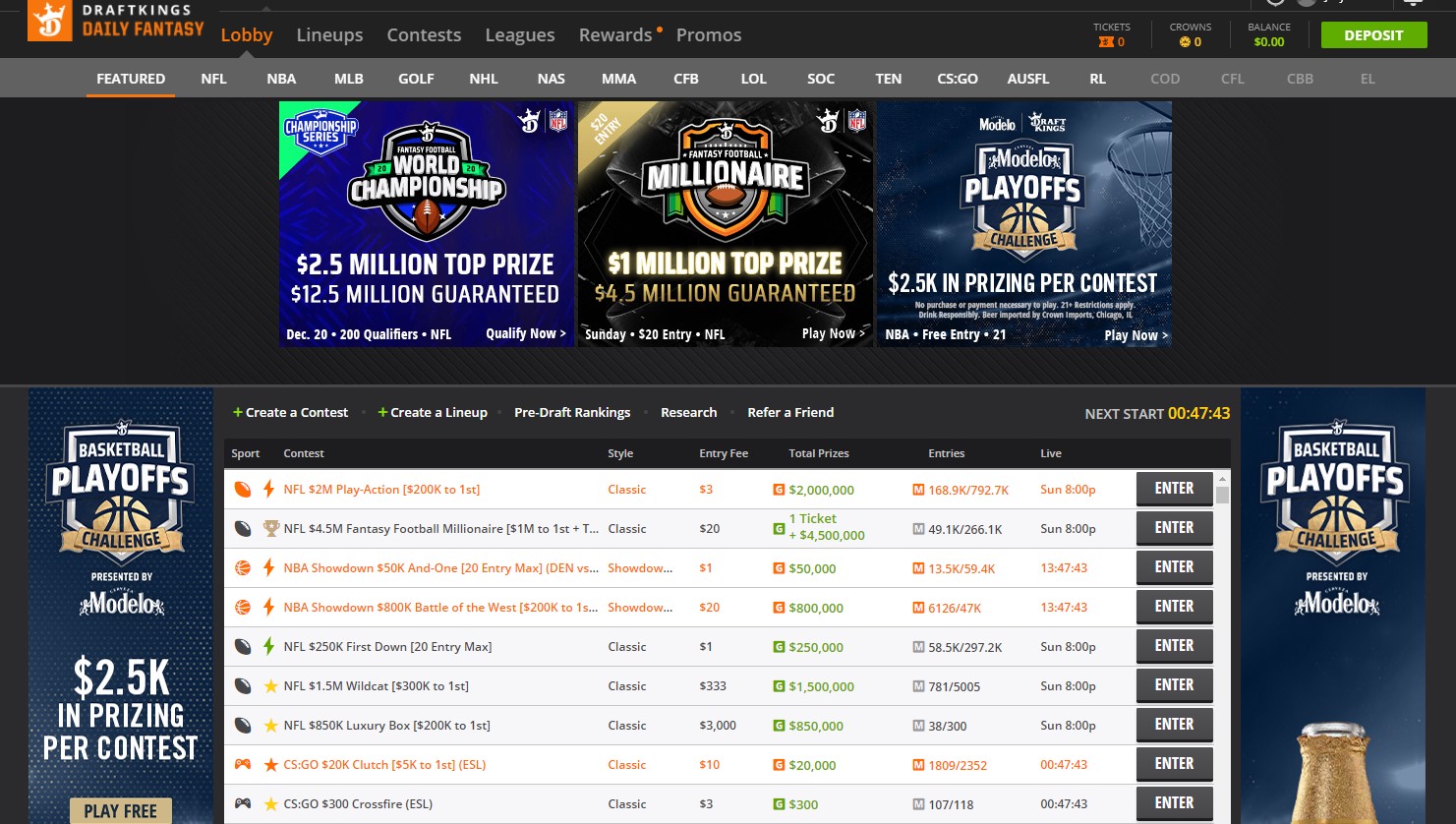 There was a brief attempt at merging of DraftKings with rival and fellow powerhouse fantasy sports provider, FanDuel. The proposal was eventually turned down the Federal Trade Commission (FTC) eventually ruled against this idea, as it would have granted the two a monopoly status with 90% of the Daily Fantasy Site market.
DraftKings Fantasy Review
The way it works is based on the fantasy sports system of points rewarded in response to athletes' actual performances in games. For example, if LeBron James is playing the Toronto Raptors one night and scores a high number of points in the game, the player who has James on their fantasy team will benefit. However, DraftKings specializes in daily fantasy contests.
There are some main benefits to DraftKings daily contest style rather than a season-long league: 
The ability to draft a new lineup for each contest
No need to deal with major injuries
Cash prizes are paid out daily once the contest ends
You do not have to deal with trades and free agent markets
You can enter into multiple contests at once
Today, DraftKings operates in 41 out of the 50 states and has over 8 million users. The company's logo is instantly recognizable as the capital 'D' with the crown on top. DraftKings Fantasy site is very well put together and features different sections including daily contests, leagues even a casino section.
The competition runs deep with the guys at DraftKings, as one of the more amusing sections on the site is titled 'DraftKings vs. FanDuel', where the company points out the major benefits of using their product rather than its rivals. Just about every major sport that you could hope for is listed on the site and available for fantasy contests and seasons, with some not being offered at other major fantasy sites:
Football
Basketball
Baseball
Golf
Hockey
NASCAR
MMA
Soccer
College Football
College Basketball
League of Legends
XFS
EuroLeague Basketball
Tennis
Each of these sections of sports will have their own page full of information to help them to get started competing in that sport. There are also different bonuses and leagues available for each of the different sports. Daily contest can be found on the main page and are featured from each sport, listed according to the time that they start.
Once you select a contest and pay the entry fee, you will draft a lineup based on a salary cap that you will be given. Your fantasy lineup will be matched against players from all over the world who entered into the same contest. The results will be determined by how many points the team you drafted accumulates. Cash prizes will be given out to players depending on which place they finished in.
In some contests, the players finishing in the top half of the results will receive a payout, whereas others will be more exclusive. Always make sure to read the rules for each contest before entering a team. Players also have the ability to create their own contests within the DraftKings Lobby. The system will ask you to fill out some information about your contests such as sport, game type, etc.  
When creating your own contest, you will also need to determine how many entrants there can be, the cost of the entry fee, prize structure and of course the contest name. If you made the contest private, there will also be the option to invite other players of your choosing.
DraftKings Fantasy Picks
One of the best ways to ensure you draft the best lineup in each contest is to look at fantasy picks. These differ by site; however, the main goal is to give you advice on which players you should pick for your fantasy team. These will be based of off the projected points that each player will get in the upcoming game as well as how much their salary cost.
Some players may have high projected points, but if their salary is also to high it might not be worth it, especially since the salary is guaranteed but the points are not. Similar to betting on sports with stronger teams for very low odds, you must instead focus on finding a good value. DraftKings Fantasy's "Playbook" section has a lot of great information for this.
Included among the things in the "Playbook" Section:
News articles detailing latest sporting events
DraftKings Twitter feed
Relevant DraftKings podcasts
Updated Tweets from league experts
Injury updates for players
Different picks and predictions
Articles to help you learn about fantasy sports
This section really gives the player the opportunity to completely immerse themselves in the fantasy sport or sports of their choosing. Everything here is provided to help each player draft the best fantasy lineup at DraftKings.
There are eight different leagues with their own sections under the DraftKings "Playbook" tab. They will all feature the same sections with the same detailed information. The best advice before entering any contest would be to take a look at this tab and do so before continuing to draft.
Sports available in the DraftKings Playbook section:
NFL
MLB
NBA
Golf
NHL
MMA
NASCAR
Soccer
DraftKings Fantasy Football
This is perhaps the most popular section of fantasy sports on DraftKings. Fantasy football is what really propelled the popularity of fantasy sports to the threshold in America. Each week millions of players log on to DraftKings in order to set their fantasy football lineups and test out new strategies.
DraftKings offers both daily fantasy contests for football as well as season-long leagues. The section will have different sets of predictions and contests for fantasy football. Many of the contests will be reoccuring, and have become instantly recognizable among fans. 
Popular DraftKings Fantasy Football Contests: 
Weekly Millionaire Maker: Everyone who plays fantasy football needs to know about this one, as it is the largest fantasy football contest you can find, with $7 million in total payouts including $1.2 million for the first-place finisher. Being that this contest is so well known, and the prizes are so big, there will be a lot of entrants each week, making it more difficult to win. However, with this type of contest it only takes one win to be set. Entry Fee: $20.
NFL Blitz Fantasy Contest: Though this tournament boasts a much higher entry fee, there is a smaller field of competition to even it out. The total amount of prizes given out in this tournament is at $1,000,000 with first place receiving $150,000. Out of all the entrants, the top 20% will receive a payout. Entry Fee: $300.
Weekly Play Action Contest: The entry cap for this contest totals out at 575,000 which means you will have a decent number of competitors to go against. Though the entry fee is quite small there is a silver lining. Every player that finished in a prize place will at least double their money, which is a little over 20%. Entry Fee: $3.
There are also different types of contests types for DraftKings' NFL section.  These can include different rules for scoring, forms of drafting and other interesting differences. Knowing the contests types and rules is very important before entering into a contest.
The four types of DraftKings NFL contests: 
NFL Classic
NFL Tiers
NFL Showdown Captain Mode
NFL In-Game Showdown H2
NFL Classic is quite straightforward. The players will draft a lineup of nine players from a selected pool of players and whoever's team scores the most will win. The players must be from at least two different NFL games and the salary cap is set at $50,000.
When playing an NFL Tiers contest, the entrants must select players from different tiers based on the athlete's ability. DraftKings will select which players go in each tier, and the number of tiers varies based on the contest. Due to this nature of selecting teams, there is no salary cap.
NFL Showdown Captain Mode features similar systems of drafting and win criteria as the NFL Classic mode does. The main difference here, however, is that entrants have the ability to draft a player designated as captain to their fantasy football lineup. Any player drafted can be captain for a higher cost, however there can be only one per team.
DraftKings Fantasy Basketball
Fantasy basketball operates much in the same way that the DraftKings' NFL fantasy section does. There is a page that has all of the relevant news, predictions and articles to help players to get started competing in the contests and setting the perfect fantasy basketball lineup.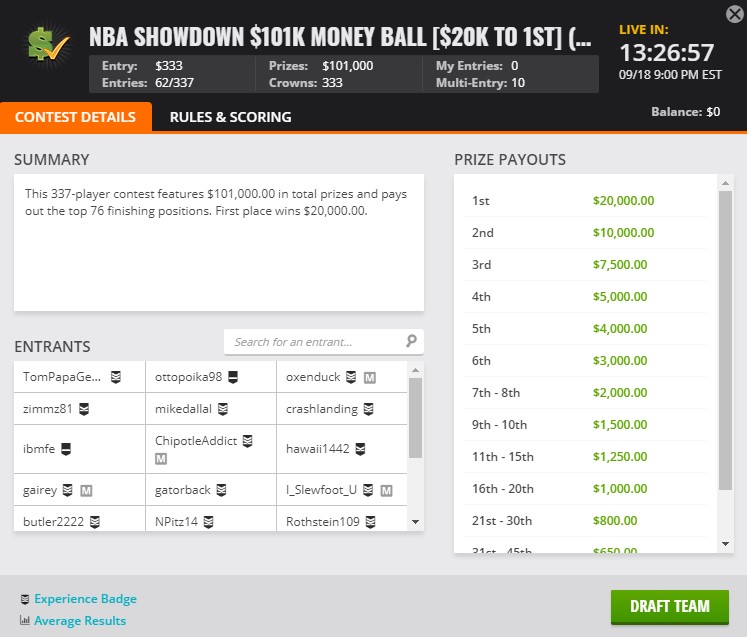 A look in at DraftKings NBA Showdown Contest
Many of the differences between the two can be explained by the differences in sports. For example, points in fantasy basketball are scored at a much higher pace than scoring in fantasy football. So, you can see scoring almost every minute of the competition, making it very exciting. There are also a couple of statistics you can look at that which will give you a good idea the scoring potential of each drafted player.
These include minutes and shot attempts, which are easy to explain. The more minutes the player is on the court, the more opportunities they will have to score points, and the more shot attempts a player has the more points they will score, in theory at least. The fantasy basketball lineup on DraftKings is normally set at eight players.
Basketball contests will appear on the home page as well when they come up in line with the other sports. There are three different types of NBA contests for DraftKings' NBA Fantasy. The contests are quite similar to the NFL section and will have similar titles and rules.
DraftKings NBA Fantasy:
NBA Classic: This contest type has a salary cap set at $50,000 and is the most straightforward type of NBA contest. The winners are determined by the number of points that their team accumulates. Players will draft teams of eight players who must be from two different NBA games.
NBA Showdown Captain Mode: Similar to the other contests with one exception, each entrant has the opportunity to designate one player as their captain. The player designated as captain will score 1.5X the normal number of points. The salary cap will still be set at $50,000, however the player you select as captain will cost more than the others.
NBA In-Game Showdown H2: There will also be a designated captain in this type of contest, however only points scored in the second half and overtime of games will count towards the team totals. The salary cap for this tournament will also be placed at $50,000.
With the exception of the captain in the last two contests, the system of scoring stays the same throughout. The points accumulate quickly in basketball, especially since there are chances to grab multiple points every minutes of the games. 
DraftKings Fantasy Basketball Scoring: 
Point

+1 Pt

Made 3pt Shot

+0.5 Pts

Rebound

+1.25 Pts

Assist

+1.5 Pts

Steal

+2 Pts

Block

+2 Pts

Turnover

-0.5 pts

Double-Double

{Max 1 Per Player: Points, Rebounds, Assists, Blocks, Steals}

+1.5 Pts