Yahoo Fantasy Sports: competing in Football, Baseball, Basketball, Hockey and Daily Fantasy
One of the most popular fantasy sites, Yahoo stays true to the traditional fantasy sports and does so well. However, the site has also adapted to the new style of daily fantasy contests and hosts its own section for it. Yahoo Fantasy has become a go to site for fantasy sports news and contests, and signing up can be done by following a these simple steps.
Signing Up for Yahoo Fantasy:
Register or create a Yahoo Email
Choose which Fantasy sport you wish to play
Create a league for this fantasy sport
Make the rules and settings for your league
Invite your friends to join the league
Start drafting and competing
The leagues can either be played for cash or for fun.Signing up for a fantasy league means that you will draft players for your team and compete against the league you are in, competing against a new person each week from your league. Points will be determined by how well your players compete in their actual games.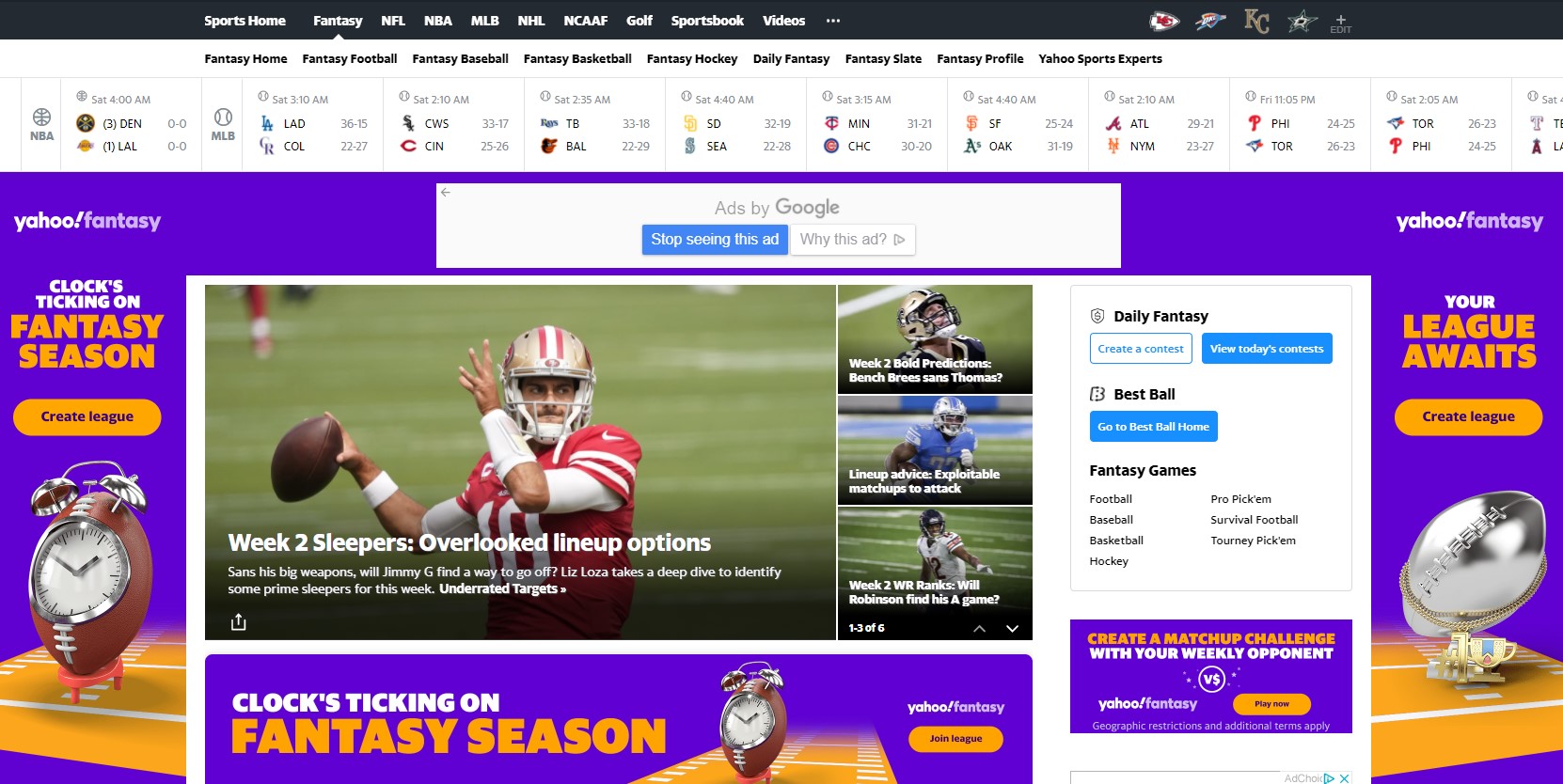 A mix of news, scores and upcoming contests on the Yahoo Fantasy main page
Yahoo Fantasy Sports Review
Yahoo launched its fantasy section relatively early in 2009. The change was not too drastic for the site, as its Yahoo Sports page had been in commission since 1995. However, the addition was momentous, as it laid out the fantasy sports format we know today. The launch featured free fantasy baseball for Yahoo users, making it one of the few sites of its kind to be free.
The league featured player drafts; real scores based on players performances as well as a plethora of information important to fantasy baseball. The entire opening was a big success, and the company now dedicates a complete section to fantasy sports and daily fantasy contests.
| | | | |
| --- | --- | --- | --- |
| Football | Yahoo Fantasy Experts | College Football | Daily Fantasy |
| Baseball | Basketball | Tournament Pick 'em | Hockey |
The home page of Yahoo Fantasy is set up with the same design as other sections on the site, with lots of news and interesting articles. For Fantasy, this is the same but specifically for Fantasy Sports. You can find sporting news specifically surrounding the impact these articles will have on your teams and leagues. This includes information about trades, injuries and which fantasy players you should pick up.
For fantasy baseball for instance, which covers the MLB, you can always see the top three most added players by fantasy users. There are also news articles specifically focusing on fantasy baseball as well as Yahoo's own sports articles, which are more focused on the fantasy side of things.
Some of the most important information you can find on Yahoo Sports:
Fantasy advice articles from experts
New rule changes and updates for the following season
Player injuries and updates
Important fantasy dates for the season
New trade rumors and fantasy impacts
Yahoo Fantasy Mock Drafts for football, baseball, etc.
Once you have chosen a league to play in and have gotten started this page will be like a college textbook to you. Playing in fantasy league means you will be competing head to head against the other players in your league. The fantasy season will coincide with the leagues actual season in almost every aspect.
The season will start when the actual season does, and playoffs will also begin at the end of the season. The players on your team will be given points in relation to how well they played in the actual game. For each sport, there will be a different scoring system in place with three main  ones for the leagues.
Head-to-Head - weekly matchups competing with stat totals
Points Only - accumulated point totals for the entire season
Rotisserie - accumulated statistics totals for the entire season
For example, the default number of points awarded for a passing touchdown on Yahoo is four points. So, if your quarterback throws a touchdown in the game you will automatically be awarded a minimum of four points for that player. The total points your team wins will be compared to the total number of your opponent's points, whoever has more points will win the competition.
Yahoo Daily Fantasy
Once you have created a Yahoo email account and signed in, you will be eligible to participate in Yahoo's daily fantasy contests. There is a section under my teams and leagues where you can find the daily fantasy contests for today as well as the option to create your own. Yahoo Daily Fantasy works in a similar manner to fantasy leagues, except the contests are usually only for one night of games.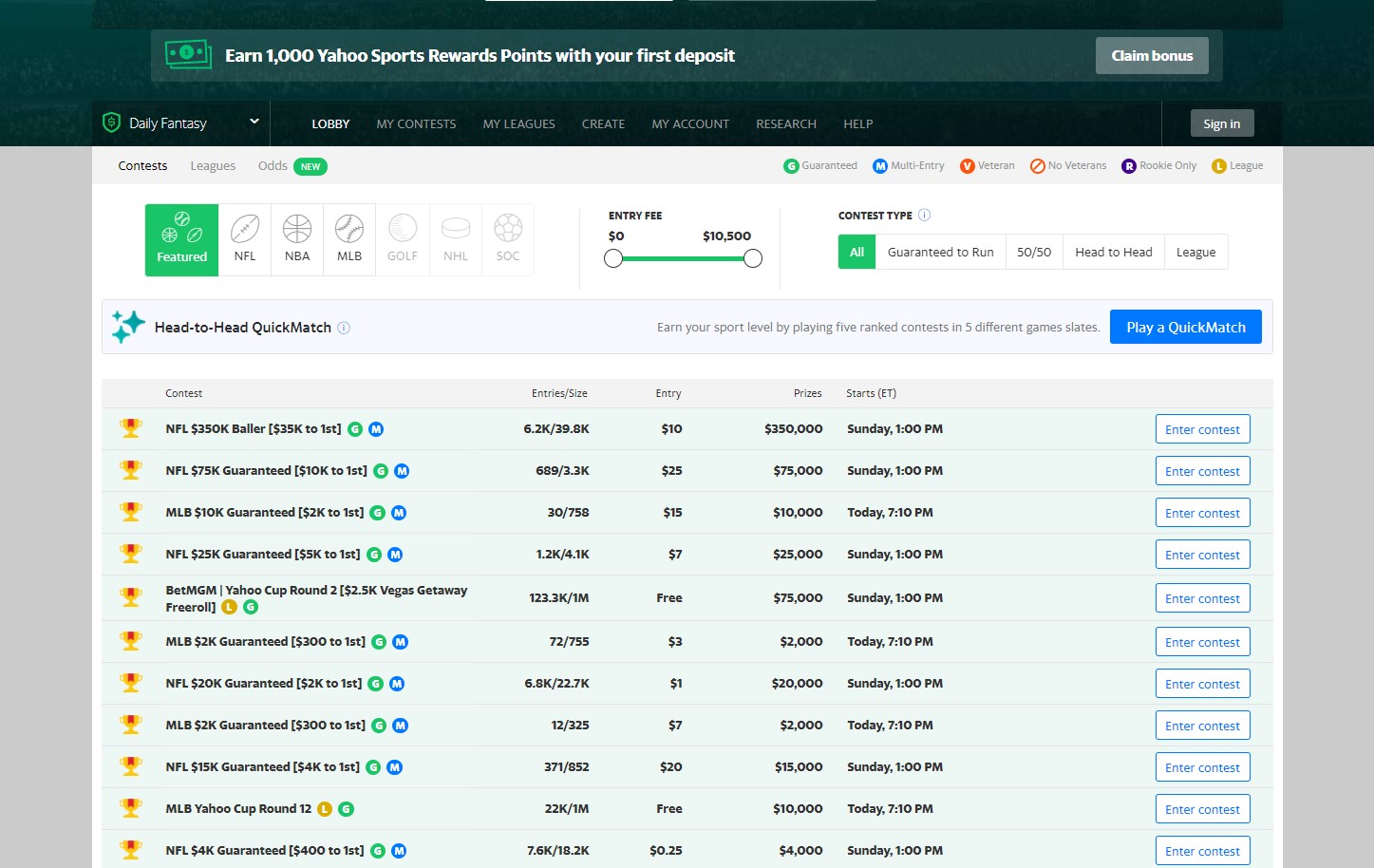 Pros of Daily Fantasy Contests:
Do not have to deal with long-term injuries
Opportunity to enter multiple contests a day
Money won is paid out within the day.
Draft multiple lineups with a better chance to win
No trades or free agency
Contests and games begin when you choose
Upon depositing (PayPal), you are free to begin choosing contests to compete in. Viewing today's contests will take you to Yahoo's incredible home page for the daily fantasy section.The center of the page will take you through all of the contests being held on that day. Next to each contest listed you can see the date and time of the contest, the total prize amount and how much entry into the contest costs.
Each contest available will have varying degrees of difficulty. Some tournaments will be only for rookies , or those who just started playing fantasy contests, whereas others will simply state no veterans. You will be awarded a status based on how many contests you play and win. Entering and competing in the contests is quite easy.
Go to the Yahoo Daily Fantasy section
Read the rules for each contest and select one
Draft your lineup based on the salary cap 
Pay the entry fee and wait for the competition to begin
Once you select you lineup and pay the entry fee you are completely entered into the competiion. You can now go to the 'My Contests' section of the page and see all of the contests you are currently entered into. The points your team scores will depend on how well the athletes that you have selected are doing on the site. When you win a contest, you will have the prize money deposited directly into your account.
Yahoo Fantasy Baseball
This is the sport that started it all on Yahoo, and it is still given some preferable treatment on the site. In the Yahoo Sports fantasy baseball section, there is constantly new fantasy baseball news coming out no matter what time of the year. In this section, you can find season-long leagues, daily baseball contests and plenty of other information and features combining the fantasy games with real MLB news.
The leagues also get helpful updates every season, with the goal of making the perfect league format always in mind. On the fantasy baseball section on Yahoo you can find player injury updates, expert tips and predictions and also relevant baseball news that is written with fantasy leagues in mind.
One cool thing you can find in the Yahoo fantasy baseball section are leaderboards with the top players from both leagues and daily contests, since baseball is available for both formats. For league baseball, you can find anything you need in this section including in-league trades, teams, managers and rosters as well as an email league and message board.
Different league types for Yahoo Fantasy baseball:
Rotisserie (Pro, Public and Private)
Head-to-Head (Pro, Public and Private)
Points Only (Private)
Head-to-Head Points (Private)
Head-to-Head One Win (Private)
Head-to-Head Weekly Points (Private)
In the league default settings on Yahoo for head to head leagues, you will have a maximum roster size of 21. You will need to fill every starting position on the field, as well as two utility players, two starting pitchers, two relief pitchers, four general pitchers, five bench players and there are two spots for injured players as well.
The playoffs for leagues will take place in the 23rd, 24th and 25th weeks of the season. For rotisserie-style leagues you will need all of the same positions, with both types using a live standard draft.  Points scoring will be determined by the type of league that you choose. For the daily fantasy baseball contests, the number of players and point totals will be different depending on the type of contest.
Yahoo Fantasy Football
Almost synonymous with the start of the NFL season is the beginning of a new fantasy football campaign. The sport is by far the most popular for fantasy with some players paying attention to their fantasy leagues than to the actual NFL season. Yahoo features both season-long leagues and daily contests for Yahoo Fantasy NFL and NCAA football.
In a default fantasy football league on Yahoo, you will have a maximum roster size of 15 players. The starting roster will consist of one quarterback, two wide receivers, two running backs, one tight end, one flex position, one kicker and one defense and special teams. The playoffs for this league will be held in weeks 15 and 16.
Highest scoring plays for the default football leagues:
Each Passing TD – 4 points
Each Rushing TD – 6 points
Each Receiving TD – 6 points
Each TD Return – 6 points
Each Off-Fumble Return TD – 6 points
Defensive:
Each Defensive Touchdown - 6 points
Kickoff and Punt Return Touchdowns - 6 points
Shutout - 10 points
1-6 Points Allowed - 7 points
7-13 Points Allowed - 4 points
35+ Points Allowed - -4 points
Between leagues and Yahoo's Daily Fantasy Football contests, there are some differences. The roster size in the daily contests is only at nine and a little simpler. The roster/ starting lineup will consist of one quarterback, two running backs, three wide receivers, one tight end, one flex position and one defense.
Point scoring is also different being much more finely tuned in the daily editions. Among the differences are .04 points for every passing yard your roster throws for. There are also .5 points given to your team for every reception they have. Just like the contests for many other sports, you will have a $200 salary cap to draft your team for each contest.
The players within your lineup all must be from three different teams at least and no more than six players playing for the same team. Prizes will be given to certain places based on the rules of each contest. Both the season-long leagues and the daily contests will require the player to have expert foresight and drafting abilities to beat the opponents.