ESPN Fantasy Sports Review: Ultimate Beginners Guide
If there is one sports company in the entire world that does not need an introduction, it is ESPN. The company has been doing sports broadcasting and media for decades and are known in countries over the world.
The massive media company offer fantasy sports for all of the top American leagues and sports, including some international leagues as well. 
How to get started playing at ESPN Fantasy:
Go to the ESPN site
Click on the signup button or log in
Enter the information requested
Click on the sport of your choice
Click on the start a league button
Enter information and invite your friends
When Americans think about sports, ESPN is undoubtedly one of the first things that comes to their head. The iconic duh nuh nuh duh nuh nuh rings through every athletes and sports fans head as naturally as birds chirping to a tree.
The company was started in Bristol, Connecticut by Ed Egan, Bill Rasmussen and his son Scott in 1979.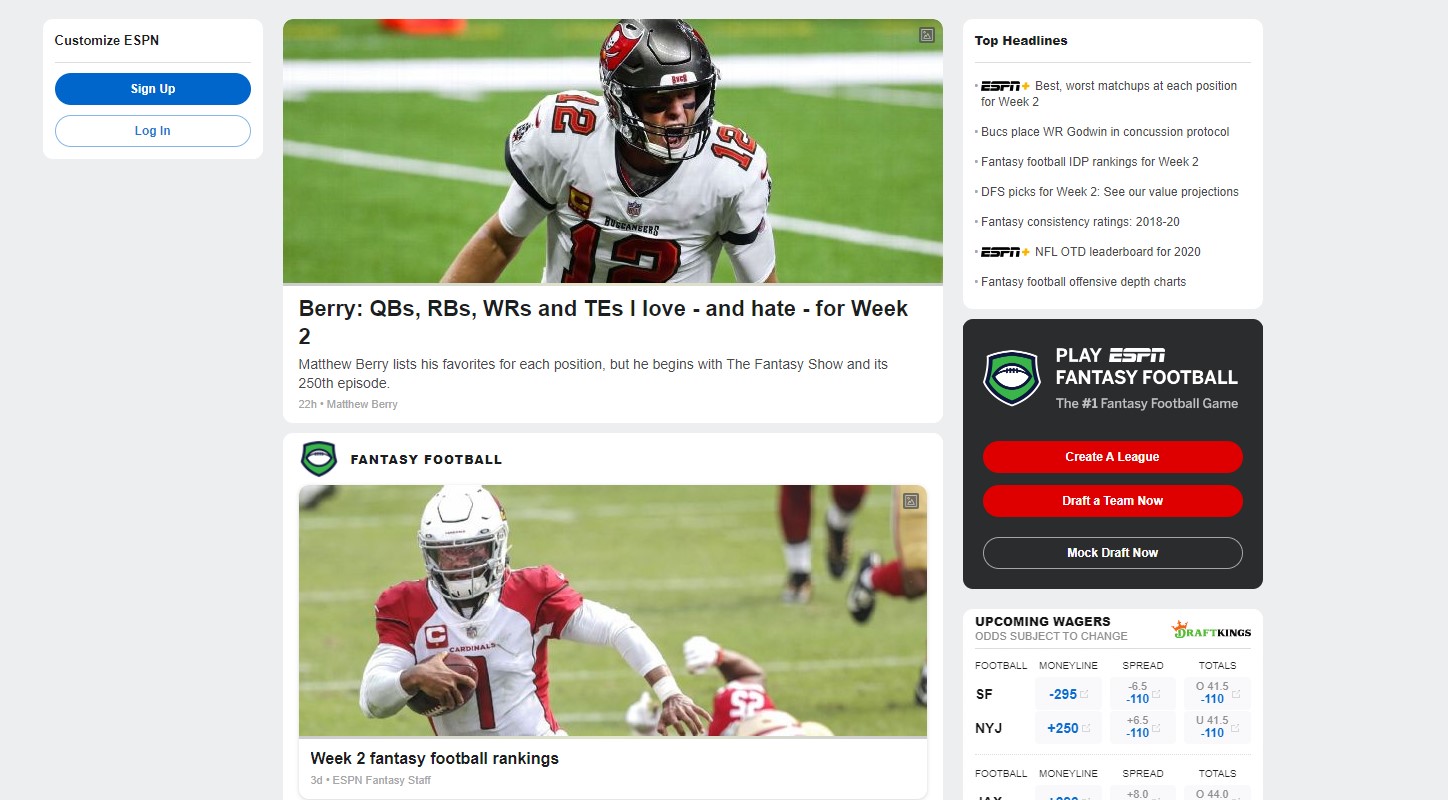 It today has offices in New York, Miami, Seattle, Charlotte and Los Angeles and is available to 86 million television households. ESPN also has multiple related channels including ESPN 2, ESPNU and networks for the major NCAA conferences like the SEC and ACC.
The company also broadcasts in Australia, Brazil, Latin America and in the United Kingdom. ESPN joined the fantasy sports trend with its own fantasy section and has since become one of the games major players.
The ESPN Fantasy section is quite flawless matching the rest of the site. It would be hard to find a site that features so much information in such a satisfyingly navigational way.
The fantasy section of the site features multiple sports as well as top of the game ESPN content free for all players. Included in the fantasy section for each sport are projections, depth charts, rankings, schedules and more.
All of these combined help to make ESPN an unsurprisingly good option for fantasy sports and news. 

ESPN Fantasy Sports and Games
If there is one place that knows sports, then it has to be the worldwide leader in it right? ESPN Fantasy offers leagues covering the most popular sports in America, save for soccer. All of the leagues and sports feature lots of customizable options for different things including scheduling, league options and draft variants. There are mock drafts for each of the sports as well.
Each sport has its own fantasy page, where you can find all the information available for the fantasy leagues available in the sport. For example, the football page will be packed with information on the NFL, including projections, rankings and other updated news straight from ESPN.
Fantasy sports league owners will have the option to either create a free standard league with set rules and regulations, or they can choose to pay for a 'League Manager' league where the creator can customize all sorts of options to create a completely unique league.
For the free option, points are totaled in two different systems and your league will choose one. The Rotisserie scoring system will rank the position that your team finishes in each category of statistics.
The points will then be awarded based on which place your team finished in each category.
For the head to head point scoring system, the creator will choose a set number of categories for each league. the player will again face opponents with the winner of each category being awarded a point.
Whoever wins the most categories will win the matchup each game. The same system exists for statistics instead of points as well.
Fantasy Sports and Extras on ESPN:
Football
Baseball
Basketball
Hockey
Soccer
All-Star Pick 'Em
Streak
ESPN Fantasy Football
Undoubtedly the biggest draw for sports fans at ESPN is the fantasy football section. The fantasy section follows the NFL only, as there is no addition of NCAA football as of now. Scoring will be given for things like passing and receiving yards, field goals, defensive takeaways and more.
Roster positions for ESPN Fantasy Football are what you choose.
ESPN allows the player to heavily customize your football league, allowing for as few or as man positions as you choose. Defense is really where ESPN pushes the envelope, as most fantasy football leagues will only offer a D/ST position, which covers all of the positions in the defense.
However. players can customize the league and add more if they choose. 
ESPN Fantasy Offensive Positions
Quarterback
Running Back
Running Back/ Wide Receiver 
Wide Receiver/ Tight End
Tight End
Utility
Players can add defensive positions like DT, DE, LB, CB, S, DL, DB or 'Defensive Player Utility' to their leagues as well. In addition, you can also draft kickers, punters and even a head coach. The customizations at ESPN really make you feel like you are building your own league.
ESPN Fantasy Baseball features teams and players from the MLB. The season and points for your league will follow the actual happenings in America's professional baseball league. Therefore, you will have 162 games to compete against your friends.
Scoring will be determined by a multitude of in-game stats including walks, hits, strikeouts and home runs.
The fantasy section for ESPN hockey focuses on the NHL.  With a roster of 22 players per team, positions for standard ESPN Fantasy Hockey, the player needs to start nine forwards, five defensemen, one utility, two goalies and five bench players in the seventeen active spots.
The points scored in the standard league head-to-head system are based on:
Goals
Assists
Plus/Minus
Penalty Minutes
Power Play Points
Average Time on The Ice
Shots on Goal (SOG)
Goaltender Wins
Goals Against Average (Goalie)
Save Percentage (Goalie)
Streaks is a very simple game that anyone can with an ESPN account can play. To play, go to the streaks section and look over the list of games and events they have listed and start picking.
The ESPN lineup will have all of the games for the day listed with boxes and you will choose who will win. You can win in one of two ways, either by having the longest streak or by recording the most wins for the month.
ESPN Fantasy Projections
Among the large amount of information that you would expect to find at ESPN, there is a section in each sport completely dedicated to helping you draft the best lineup possible every season.
On 'ESPN Projections', you will find statistics for each player's past season and projected statistics for their upcoming season. This is an extremely helpful tool to get you prepared ahead of time and is one of the first things you should look at.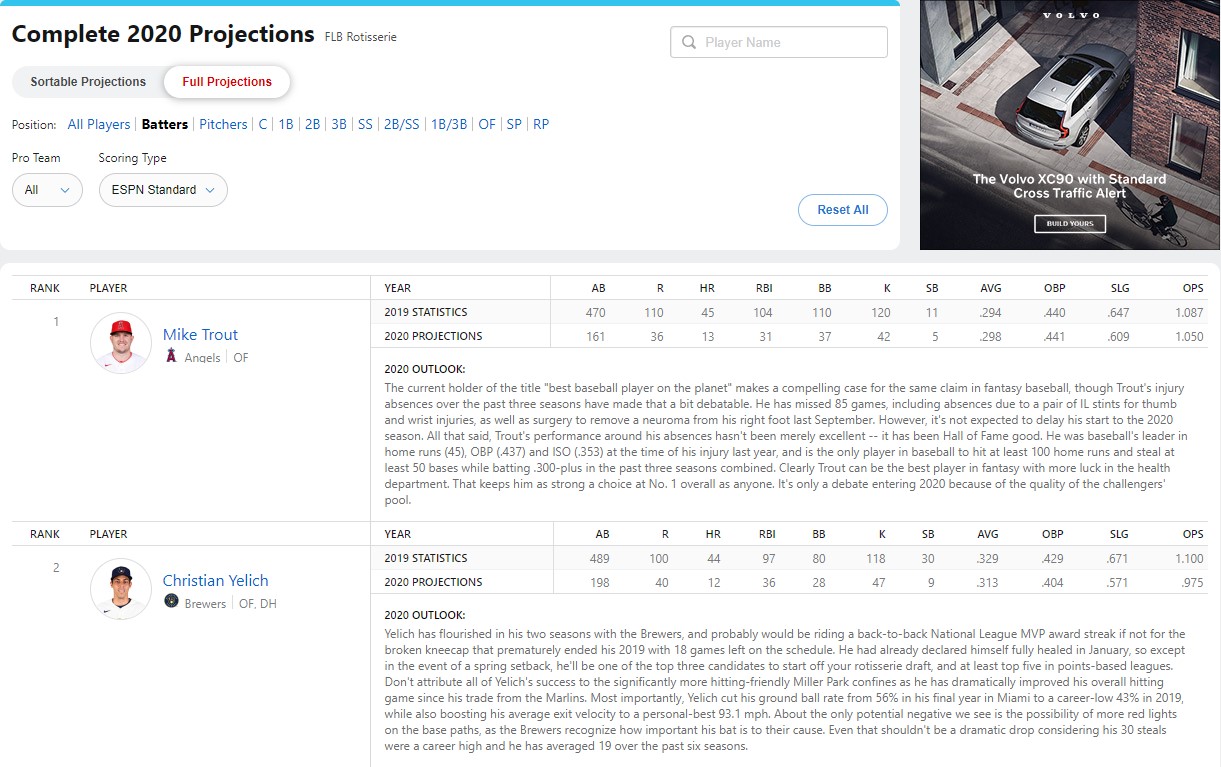 Statistics included in the projections are of course different by sport. In basketball for example, you can find projections for each player's game minutes, FG%, FT%, rebounds, points and more pertaining to each athlete's sport.
The projections are all for the standard fantasy leagues, and an added bonus is the rankings.
The players will all be ranked from first to last based on each player's projected success by the team at ESPN. The profile displayed here is absolutely incredible and truly gives you an in-depth look at the current form and potential for next season with plenty of different staristics and information.
Rankings
Statistics - past seven days
Statistics - past couple of months
Weekly projections
Outlook projections with in-depth analysis
You can also get updated news and take a look at a chart that shows the players goal production or points production throughout the season or by months. Overall, this is a great section and part of ESPN fantasy.
Having so much vital information packed into a small and easily readable place is a definite advantage that the worldwide leader in sports carries.   
ESPN Fantasy Soccer
Fantasy soccer was the latest addition at ESPN to its lineup of fantasy sports. It was added in 2018 and features head-to-head leagues. The game is free to play for all registered ESPN users. The fantasy section for ESPN soccer is done uniquely, and it is hard to understand it with a good amount of coverage that they feature.
Leagues included in the section are MLS, La Liga, Premier League and more. Each team for Fantasy Soccer is made up of eight players. You will have two forwards, three midfielders, two defenders and a goalkeeper.
So, four different positions will 14 categories of scoring for the outfield players.
Scoring for ESPN Fantasy Soccer:
| | |
| --- | --- |
| Goal | A player on your team scoring a goal will net you 10 points |
| Assist | making that critical pass or cross is five points |
| Chance Created | one point |
| Appearance | one point |
| Shot on Goal | 0.5 points |
| Tackle Won | 0.5 points |
| Interception | 0.5 points |
| Block | 0.5 points |
| Clearance | 0.5 points |
| Completed Pass | 0.1 points |
| Foul | 1 point |
| Yellow Card | 2 points |
| Red Card | 5 points |
| Penalty Miss | 5 points |
Drafting your teams is done using the tiered system. This means that for every position, you will select a player at each position from each different tier. So, for midfielders you will select a Tier 1 midfielder, Tier 2 midfielder and a Tier 3 midfielder.
The teams change and you will pick from the tiered system every week and set your team.
You will also pick a captain for your team who will have their points doubled for the week. Overall, the fantasy soccer section at ESPN could be a little better and more up to date, but since it is new, we will cut it a little slack.
The games are still very enjoyable and that is all that really matters at the end of the day.