FanDuel Fantasy Football, Basketball and Other Fantasy Sports Information
FanDuel is the other side of premier Daily Fantasy Sites next to DraftKings. The company has been around since 209 and was the first site of its kind to offer daily fantasy sports. FanDuel has come from the backyard of the five co-founders to what is considered by many to be the number 1 daily fantasy sports contests site.
To get started competing on FanDuel, there are a few steps to follow:
Enter FanDuel, click on the Fantasy Sports 'Play Now' button:
Enter your email, pick a screen name, and password. If you have a referral name enter it here.
Collect your free bonus for signing up
Select your favorite sport and play a free contest on FanDuel
Enter a little more information to confirm your location
Make a deposit and choose a contest to play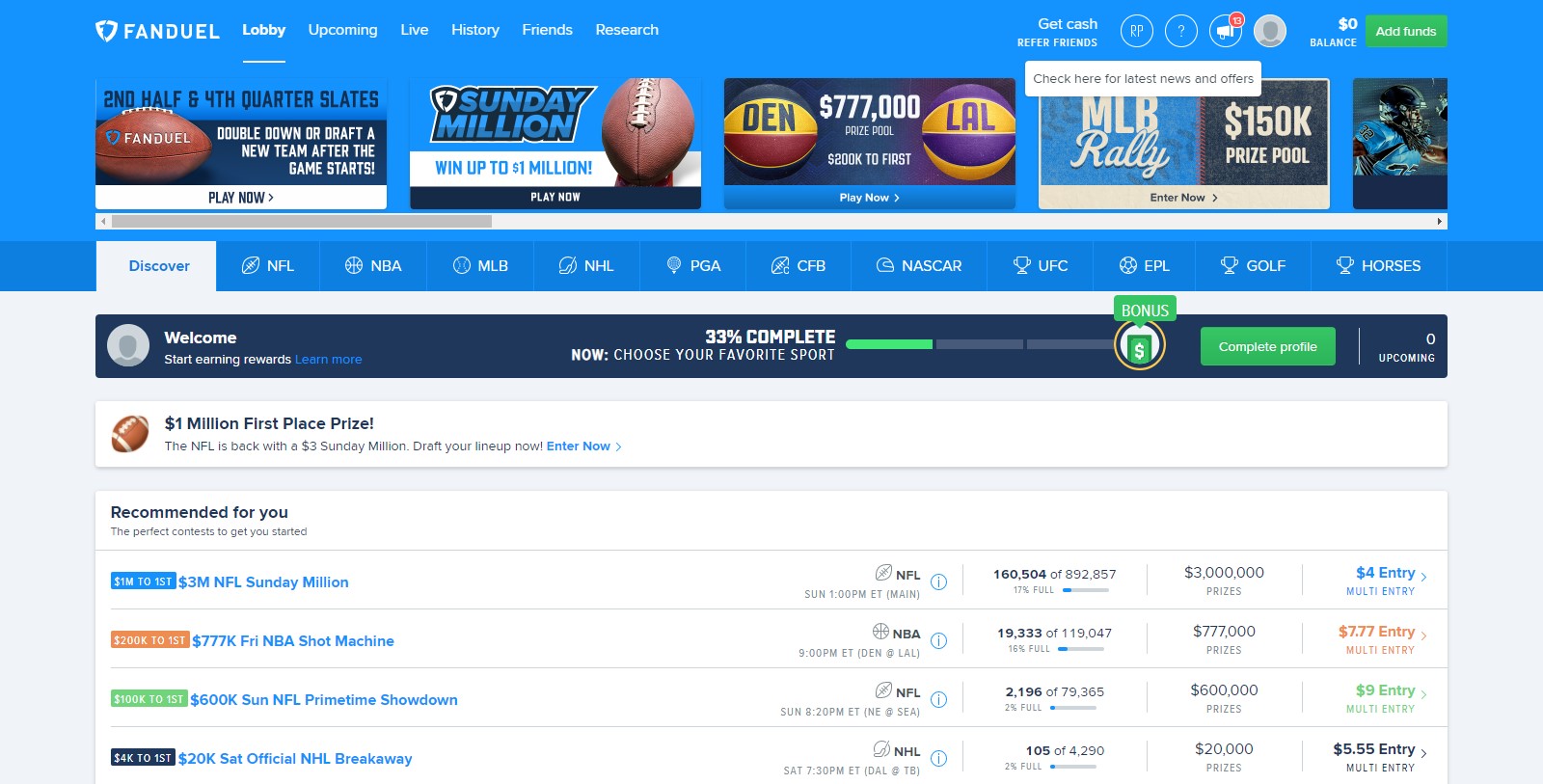 FanDuel Fantasy Review
As we stated, FanDuel was the first site to offer daily fantasy contests and much of the site is still centered on that today. Although, the company has since expanded into both sports betting and horse racing. Sports betting came in 2018, FanDuel was acquired by the major Irish/British sportsbook Paddy Power Betfair. Through the deal, Paddy Power now holds a 61% controlling stake in the company.
A few days after the deal had gone through, FanDuel's first sportsbook was opened up at the Meadowlands Racetrack in New Jersey and at the Valley Forge Casino Resort in Pennsylvania in 2019. FanDuel has not been shy with its intentions and moves its sports betting to new states seemingly right after sports betting is legalized there.
The company today is headquartered in New York and operates paid contests and fantasy games in 43 states as well as sports betting as well as online horse racing in multiple different states. The fantasy portion of the site features over six million users. 
FanDuel Legal Sports Betting: 
Pennsylvania | Valley Forge Casino Resort
New Jersey | Meadowlands Racetrack
Indiana | Blue Chip Casino Hotel & Spa
Iowa | Diamond Jo Casino
West Virginia | The Greenbrier
New York | Tioga Downs
Mississippi | IP Casino/ Sam's Town Casino
The design of FanDuel's Fantasy site is very well done, and really encourages the player to jump right into the action. Going down the home page, you will find all sorts of information and contests to get you started. The contests are separated by categories including 'Trending', 'Biggest Prizes' and 'Rookie Only Contests'.
Tips and articles for beginners are also available to help you better understand how things work. The contests boxed information tells you the name of the contest, how much the entry costs and what time the event starts. Clicking on any of the contests will take you to the tournament page and allow you to start drafting.
There is also a countdown of all the tournaments. Each contest on FanDuel has an entrant limit and you can watch live on this home page as they fill up. This really makes the contests feel live and gives the website a pulse. While there is not as big of focus on it, there are also season-long leagues available for the player to compete in.  
This is the perfect option if you and your friends are looking for a site to host your fantasy sports season. To start, one player will need to create a league, set the rules of the league and then invite friends to your league to compete. In these leagues you can determine what the prize will be for the winner. The league can either be just for fun or for a cash prize.
Fantasy sports/leagues that are available on FanDuel:
NFL
NBA
NHL
MLB
Soccer
College Football
Golf
Tennis
NASCAR
WNBA
College Basketball
FanDuel also has a research section on the site. This is where all the important information to help you make the best FanDuel lineup. There is a long list of articles featured to help the player keep up with fantasy news like which players are having good form, top fantasy scorers and predictions for upcoming contests.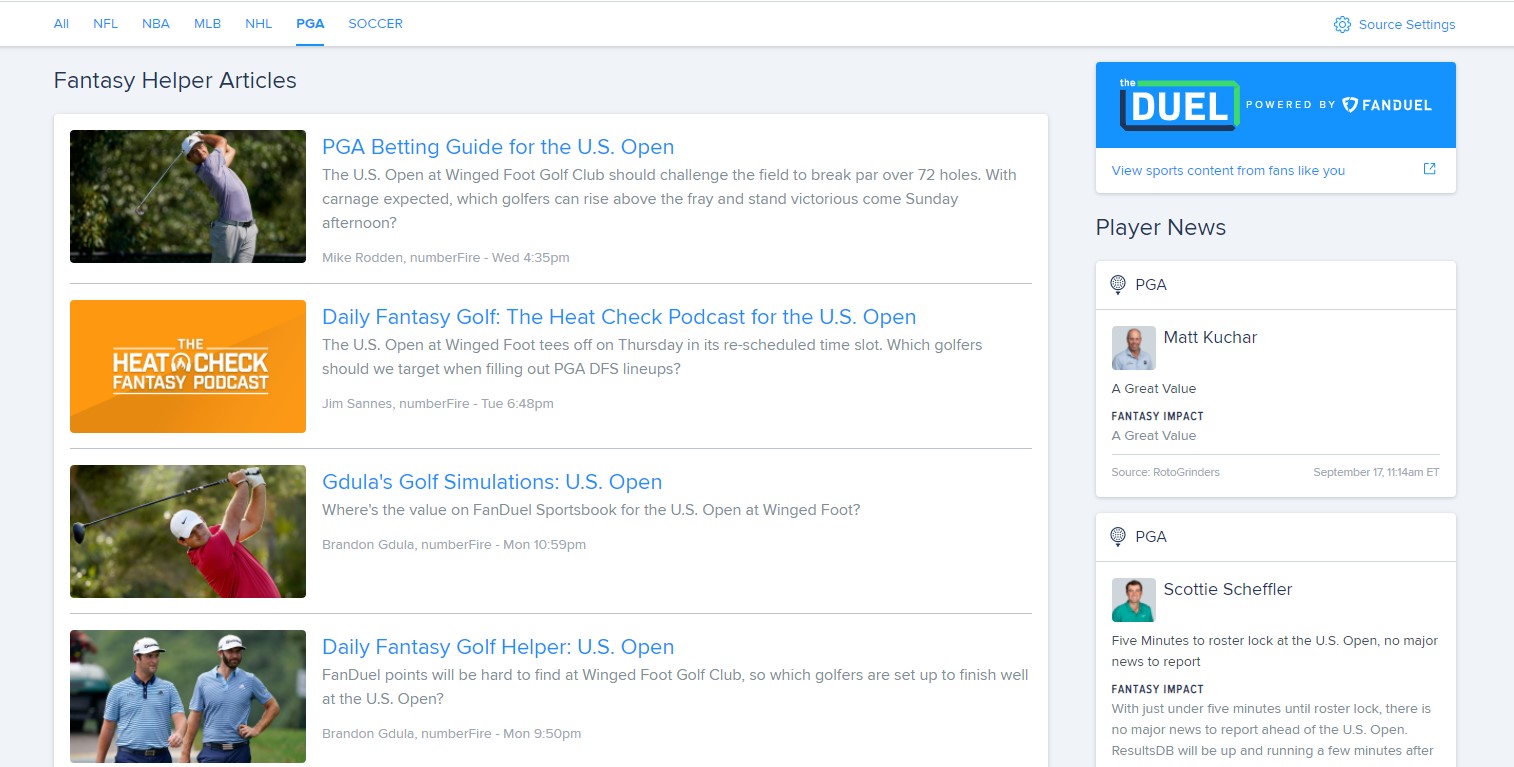 Most of the news will be in direct relation to FanDuel, like citing which players you should pick up for which contests. You can separate the news by league or sport to find more relevant information. The best part of the section is the player news. This is the most fantasy-based information on the page.
This could be anything from their performance last game to an injury update. FanDuel will give the update, and below it lists how this directly affects his fantasy performances. A really good tool to have for daily contests, but an absolute must for season-long fantasy sports. There are different types of daily fantasy contests at FanDuel that the player can compete in with different formats and rules. 
A look at popular FanDuel cash contest types:
Head to Head contests: These are perhaps the most popular type of contest on FanDuel. This is where you are pitted against one other user on the site. If the team that you draft scores more than your opponents than you win. A popular strategy to implement when playing head to heads is to enter multiple entrants against multiple opponents. This will give you more variety as you can draft different lineups which in turn creates more chances to win.
50/50s: In this type of tournament you are not trying to beat just one opponent but half of all the players who entered the contest. If you finish in the top half of the leaderboard, then you will win. The prizes will be the same for all players in the winning half of the field. These can include varying number of contestants, but each 50/50 contest needs to completely fill in order to be played. This can be a popular form of contest type due to the high chances you have to win (50%) every time you play.
Beat the Score: In this contest you are not competing against anyone, instead you are just trying to reach and beat the listed score. If you beat the targeted score, then you will split the payout with all of the other winners. The point total you will have to beat will vary with each contest. Before choosing these contests, you will be able to look at the score you need to beat in order to win, so you can determine before entering the contest's difficulty.
Multiplier Contest: These contests give you a chance to make the most out of your money upon winning. There are different subsets of this contest type, including multiplying your stake by 2X, 3X and 4X. In order to win this tournament type, the player must finish in a certain spot in the listing.
FanDuel is easily accessible no matter where you go. The company has apps for both Apple and Android products as well as its mobile versions. To deposit on FanDuel, you can use most of the major credit cards like Visa, Mastercard and Discover. You can also use a PayPal account. For withdrawals you will need to use your PayPal account, unless you would rather a check be mailed to you.
FanDuel Fantasy Football
FanDuel is prepared for NFL fantasy with a complete sectionfeatured on the site. It features both daily competitions as well as the traditional season-long fantasy contests. The season long leagues have more of a FanDuel twist on them, as instead of drafting one team for the entire season, there is the option to play in one league and draft a new team every week.
FanDuel also stocks its section with all the necessary information you need to begin. This includes projected point totals and rankings for all the top NFL players. These update for each week's games and for every position so you will always have a solid reference for when you draft.
The option will be there for you to create your own league for the season and begin playing. The setup for the NFL will be the same as the other leagues where you provide a league name and control the other league settings.
Best tips for successful fantasy football seasons: 
Draft with your head: We all have favorite teams that we root for every Sunday, however just because a player from your favorite team is available does not mean you should draft them. Always use your head and take the best player even if he is on the rival team.
Don't forget the rookies: The players entering their first NFL season could potentially have a huge upside. Even the best will likely not be drafted in the higher rounds, meaning you get a star player for a low draft pick. However, always remember that most players don't find massive success in their rookie season.
Wasting high picks on kickers is not allowed: Seriously, this one should be obvious, however in every league, every year there is someone who picks a kicker a round that is not the last. It is a rookie mistake, and some people don't learn. Kickers scores are hard to predict, and the competition is so tight that none should be picked before the final round.
Prepare for the Draft: Make sure that you do your homework and understand which players you want to take and in which round. You can go as far as you want with this, including understanding which players should be available in each round based on mock drafts or analysist's words. No matter how much preparing you do, it will certainly give you an edge over opponents who did none.
Daily NFL contests will feature the same contest types as the other sports. You will be able to enter into these contests, draft a team and compete against other players in the same contest for cash prizes. The points your team accumulates will be determined with a system of scoring based on in-game events. For example, if your defense records a sack your team will be awarded one point.
Players will need to fill one QB position, two RB positions, three for WR and one Superflex, which can be any one of the positions listed, including a TE. In the XFL, there will be one QB position, one RB, 2 WR and TE and two flex positions. The flex positions here can be any of those positions except for quarterback.
Highest Scoring Plays for FanDuel NFL Fantasy: 
| | |
| --- | --- |
| Offense/ Special Teams | Defense/ Special Teams |
| Rushing touchdowns = 6pts | Opponent-fumbles recovered = 2pts |
| Field-goals from 0-39 yards = 3pts | Return touchdowns = 6pts |
| Passing touchdowns = 4pts | Extra Point Return = 2pts |
| Field-goals from 40-49 yards = 4pts | Safeties = 2pts |
| Field-goals from 50+ yards = 5pts | Blocked Punt/Kick = 2pts |
| Receiving touchdowns = 6pts | Interceptions made = 2pts |
| Own fumbles recovered touchdowns = 6pts | 0 points allowed = 10pts |
| Kickoff return touchdowns = 6pts | 1-6 points allowed = 7pts |
| Punt return touchdowns = 6pts | |
FanDuel Fantasy Basketball
Fantasy basketball is without a doubt one of the most exciting fantasy sports you can take part in. The game itself is so fast paced that the scoring in fantasy is constant. There are two main leagues for fantasy basketball on FanDuel. You can enter into season-long campaigns or daily contests in both the NBA and the WNBA.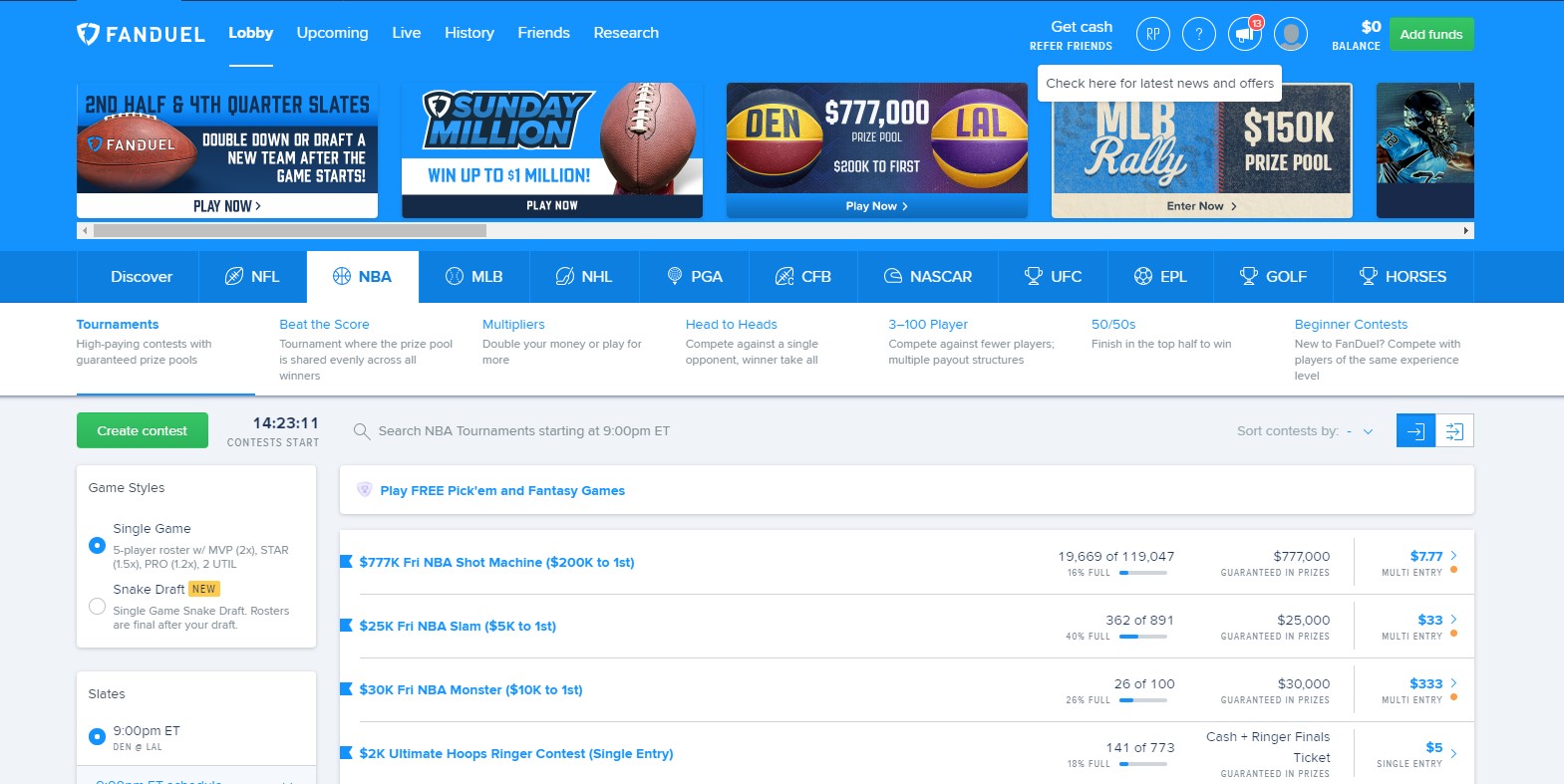 The contest types do not vary from the other sports much, but we can include 'Partial Fixture' games in the lineup. This contest type is just as it sounds, where you will draft a lineup and compete for only half of the game. The lineups for most NBA and WNBA contests are two PGs, two SGs, two small forwards, two power forwards and one center.
The main things that you should look for when you are making your NBA fantasy picks for tonight's games are speed and minute times. Players who normally play a lot of minutes in games will have more opportunities to score you points, which is the most important thing. Players who are known for scoring lots of points will obviously do well, as points are exchanged straight up in FanDuel fantasy basketball.
For example, 2-point FG are worth two fantasy points and 3-pt FG are worth three points. Steals and blocks are hard to get in the NBA, but if you find a player with a knack for getting them then that is a major boost. Both are worth three points for each one, so with a few on your side it could be the decision between a win or a loss.
Point scoring totals for FanDuel fantasy basketball:
3-pt FG=3pts
2-pt FG=2pts
FT=1pt
Rebound=1.2pts
Assist=1.5pts
Block=3pts
Steal=3pts
Turnover=-1pt