CBS sports: Fantasy Football, Baseball, Basketball, Hockey, Racing and Golf
CBS is one of the major media networks in America. It covers multiple departments including CBS News, CBS Live and CBS Sports where it has a heavy focus on the NFL, SEC, NCAA Basketball and various professional gold tournaments like the PGA Tour. The news and updates on the site are excellent at keeping players ready for the next competition. 
How to sign up for fantasy sports at CBS:
Go to the CBS Sports web page
Find the 'Fantasy' tab at the top of the screen
Upon clicking, go to the Log-in button and enter
Press the option to create an account below the log in
Enter all of the information required and register!
The company itself is one of the oldest media networks in the country, beginning on the radio in 1927 and becoming a pioneer moving to television in 1941. The CBS Sports department has covered many major events throughout the years, including Super Bowls, FIFA World Cups, Tour De Frances and more.
CBS Fantasy Sports Review
CBS began its fantasy section in 1997, making it one of the first to do so. The company partnered with and later acquired a fantasy sports online producer Daedalus World Wide Corporation. Daedalus' products are still the foundation for the fantasy sports offered at CBS today.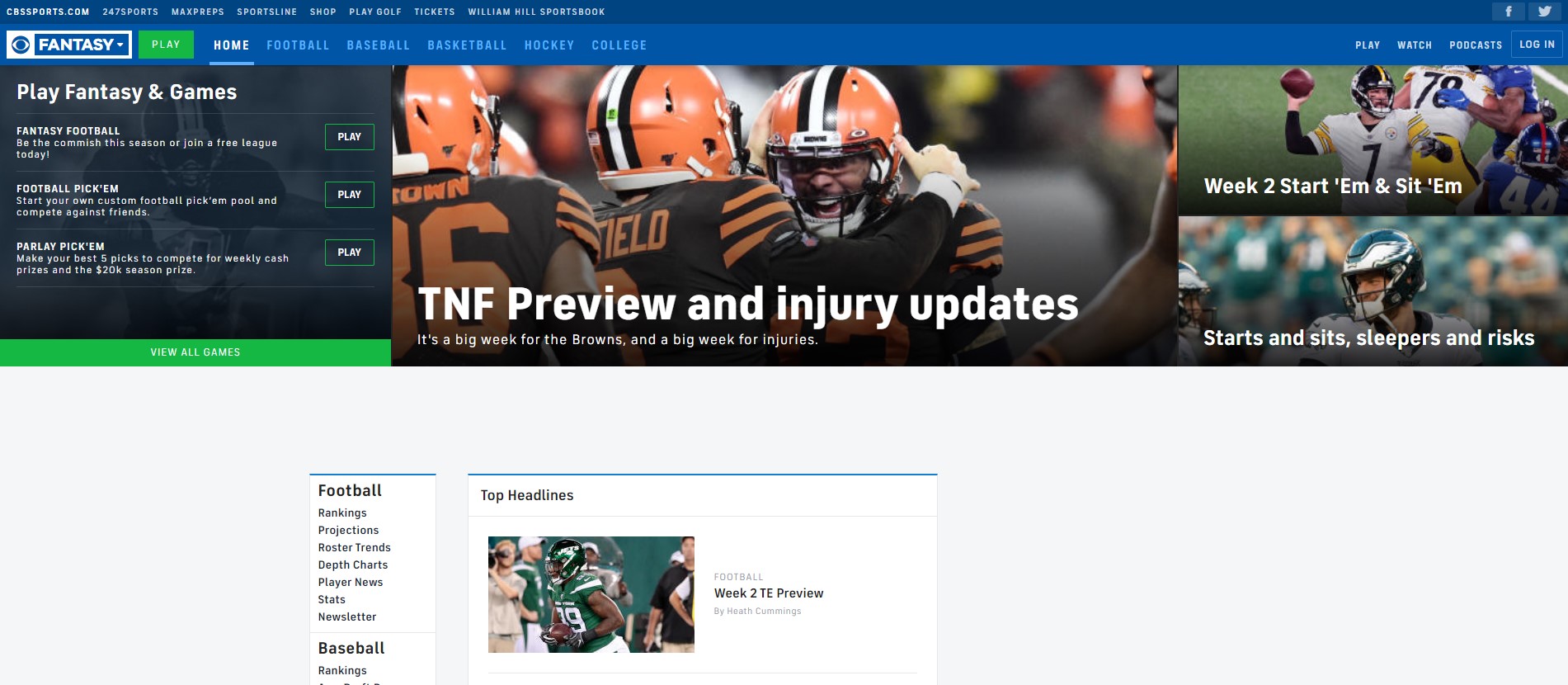 The fantasy section on CBS is unsurprisingly more media focused and offers plenty of great material to help you succeed in your league. The actual fantasy games focus on the traditional form meaning that you will play season-long leagues in the sport of your choice. The media and updated news on the site is terrific.
CBS truly makes its site the perfect place for all that you will need for fantasy. CBS Fantasy also allows for smooth transitions in between seasons, meaning that you can play in the same league with the same people for multiple seasons turning you into a franchise owner. Note that this option is only available through the premium leagues.
Extra offerings on CBS Fantasy Sports:
Fantasy Football Mock Drafts
Pick 'Em College, Parlay, Bowl Games
Bracket Games
Regular podcasts and CBS Sports analysis
Player rankings, game predictions, team news
Though there are no daily fantasy contests, there are games that you can play for cash. For example, the 'Bowl Pick 'Em' is a contest where the winner takes home $5000. If you enter, will need to predict who will win each of the bowl games, and the player with the most correct guesses will win.
The mock drafts are available for all sports and feature different styles and settings. Most of the fantasy mock drafts need about 10-12 people. There is an entire section on CBS Fantasy dedicated to helping the player to get ready for drafts. The tiered ratings will also help the player immensely with drafting.
The different tiers in one RB ranking:
Super Elite
Elite and Climbing
2020 Is a Big Year
In the Wrong Tier
Old/ And or Not That Good
Tier 1 Stashes
Tierless
Although not every tier article has this exact format, it is never surprising to find good pieces like this on CBS Fantasy. You can already see how this would help with your next mock draft, as the tiers help you to know when you should be drafting each player. There are both standard and auction drafts that the player can enter into.
The last section besides the help page is about the players that you will be drafting. This includes news articles, rankings and even the most viewed player profiles on the site. These draft sections are available for each of the sports offered on CBS Fantasy and are very in depth. Each sport will feature similar sections with information.
| | | |
| --- | --- | --- |
| Rankings | Injury Report | Projections |
| Depth Chart | Roster Trends | Player News |
There are also some slight differences between the sports, some obvious like probably pitchers for the MLB. The CBS fantasy football section will have more options including its own fantasy hub and fantasy games. It is worth noting that you can download a CBS Fantasy app as well. The mobile app for CBS Fantasy allows you to do the same things that you could on the desktop version.
You can check the scores of your team, participate in live mock drafts for each sport and more. The way that CBS combines its media clout with fantasy sports is truly on display in the mobile app. It is a must download for players with consistent fantasy advice videos, articles, game projections and of course updated news and performance predictions from top sports writers.
CBS SportsLine Fantasy
This is a section with a focus on fantasy sports in general, and not just with CBS. It is divided by the two main styles of fantasy sports: Daily Fantasy Contests and Season-Long Fantasy with all leagues included based on the time of year. 
This differs from CBS Fantasy in two major ways; first, the emphasis on Daily Fantasy Contests in addition to season leagues and second is that CBS SportsLine is a paid service. Joining SportsLine gets you access to premium content that will assist you even further in both Daily Fantasy Contests and Season-Long Leagues.
For example, in the month of February you will find sections on the NHL, MLB and the NBA. Most of the content is free, however there is also the option to purchase a monthly subscription to up your fantasy game. With the subscription you get access to predictions from major Vegas experts, computer simulations for games and contests and news to prepare you among other things.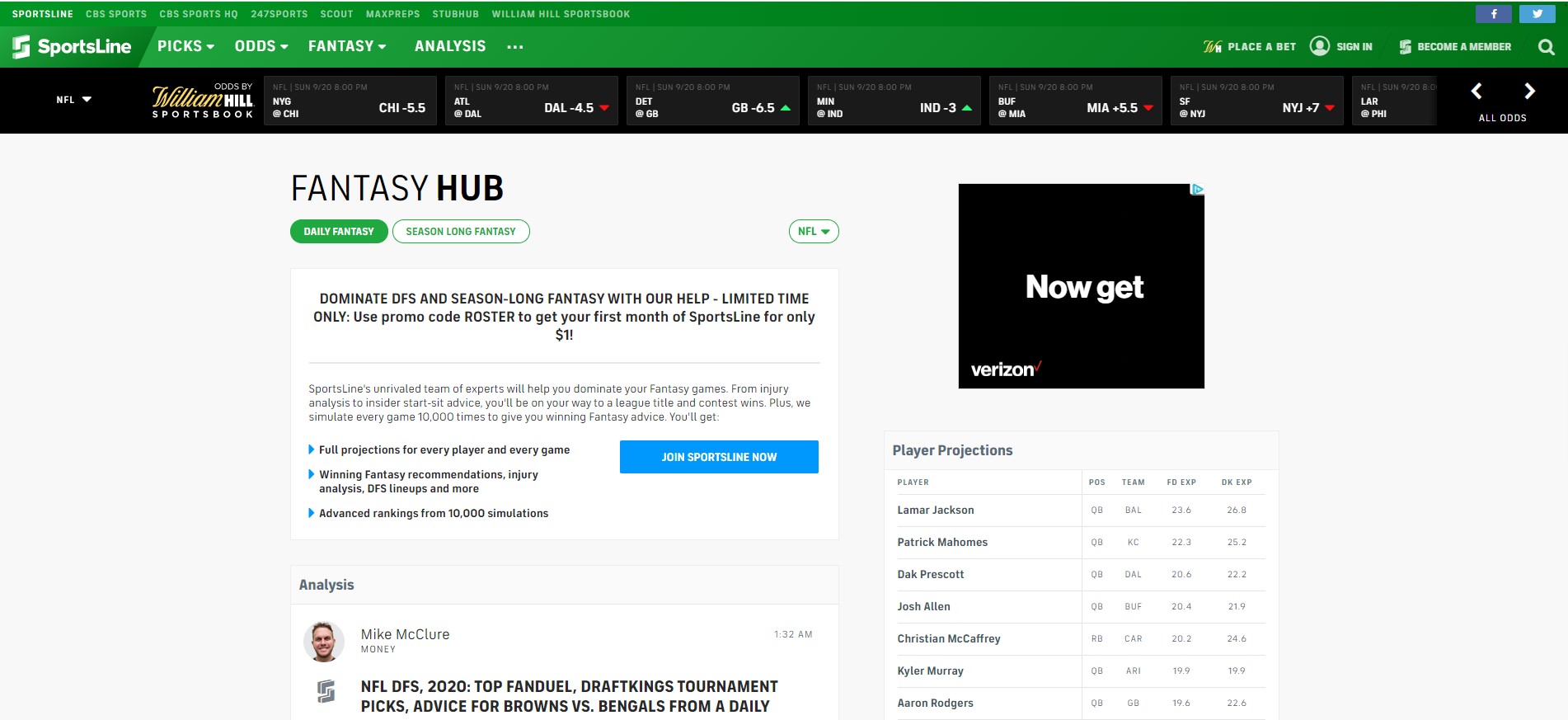 However, on the main SportsLine page you can also receive free predictions and news articles. There are also projections for players in daily contests. The premium optimizing tools will tell players when to draft an athlete, give you unique news about which players are underrated that you should include and also have standard historical scoring statistics for different leagues and sports in the way of Excel files.
CBS Fantasy does not feature daily contests, so instead they focus most of this information specifically on two of the biggest Daily Fantasy providers DraftKings and FanDuel. For the season-long leagues section there is much of the same content, with more of a focus on CBS Fantasy. Injury analyses, start-sit advice and more.
CBS Fantasy Football
The fantasy football section at CBS is jam packed with news articles and player rankings. You can join a league to compete in CBS Fantasy Football for an entire season, or more if you wish to continue with the same team. The league used for competition are the NFL and all of the content will be geared towards the professional league.
Top Scoring for standard fantasy football (Offensive):
All touchdowns: 6 points
Offensive fumble recovered for a touchdown: 6 points
Field goal: 3 points with a 2-point bonus for field goals made from 50 yards or more
Rushing, passing and receiving two-point conversion: 2 points
Top Defensive Scoring:
Defensive touchdown: 6 points
0-6 points against: 8 points
7-13 points against: 6 points
0-49 yards: 12 points
50-99 yards: 10 points
100-149 yards: 8 points
150-199 yards: 6 points
You will still have all the other offerings that the other fantasy sports on CBS have. This is significant because some sports will have certain content while others will not, but CBS fantasy football will have all possible content every day of the year. The standard leagues that you can join are free and open to anyone over the age of 18. 
If you choose to go with the standard league, you can have up to 12 teams with a minimum of four needed, and your options for drafting are either auto draft or snake system. There are other differences as well, including the options to customize playoffs, more statistics and player reviews, league history and the option to schedule the entire season.
Although the standard league is more than enough for fantasy fans, the premium gives you complete control over the league. The standard league starting positions for CBS Fantasy Football are QB, two RBs, three WRs, TE, K and D/ST. In order to keep better track of your league, you can sign up for weekly emails that CBS calls E-Reports.
CBS Fantasy Baseball
The fantasy baseball page on CBS has all the news and content needed to increase your success in the league. The CBS Fantasy writers are very good at what they do, and they constantly post new information. The articles on the site are not only helpful, but interesting to read as well.
The fantasy baseball on CBS works in mostly the same way as the other sports on the site. There is plenty of information about the sport on the fantasy baseball page. The sport and leagues are played through the MLB. The premium leagues for fantasy baseball normally cost $179.99 however there are promotions and discounts from time to time.
The starting lineups for teams depend on whether you are playing a Rotisserie League or Head to Head leagues as there will be a lineup maximum for each position. However, all the regular positions will be there with the addition of middle infielder and corner infielder in the Rotisserie League. The premium leagues will give you the options to completely customize your league with different methods of scoring, player pools, scheduling and a lot more.
For standard head to head leagues, the scoring is as follows:
| | | | |
| --- | --- | --- | --- |
| Single | 1 point | Win | 7 points |
| Double | 2 points | Save | 7 points |
| Triple | 3 points | Quality Start | 3 points |
| Home Run | 4 points | Strikeout | .5 points |
| RBI | 1 point | Base on Balls | -1 point |
| Run | 1 point | Inning Pitched | 3 points |
| Base on Balls | 1 point | Hits Allowed | -1 point |
| Stolen Base | 2 points | Earned Runs | -1 points |
| Strikeout | -.5 point | Hits Batsman | -1 points |
| Caught Stealing | -1 point | Loss | -5 points |
 The different prizes depend on the plan that you purchase, if you choose to do so. For the Gold League, the first-place finisher is awarded $150, in the Platinum League $600, Diamond League is $500, for the Double-Diamond League it is $1000 and finally for the Elite the first prize is $5000.
In general, playing fantasy sports on CBS is easy with lots of customizable options and plenty of good informational material for players. Fans of traditional fantasy sports with added games and prizes will have no problem getting the most out of their leagues on CBS.