Types of Horse Bets and Strategies for Beginners
Horse racing and gambling have long been part of the culture of America. Beloved horse racing movies like 'Seabiscuit' and 'Let it Ride' have only helped to raise the popularity of horse racing today.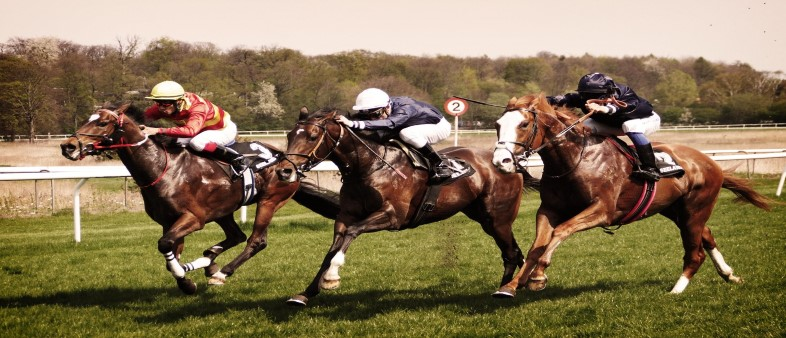 The best place to start betting on horse racing is of course at the racetrack. Like a lot of sporting events, watching horse racing live is more exciting than on TV. 
The most famous horse race in the world "The Kentucky Derby" (the major race in horse racing's Triple Crown), takes place here every year and is the third most wagered on sports event in the US.
There are also certain things you should understand about horse racing bets before making them. This, like betting in any other sport involves doing a little bit of research if you want to have a legitimate shot at winning consistently betting on horse racing today.
Important Features of Horse Race Betting
Any player can bet on anything and still have a chance to win, no matter how likely the bet is to succeed or not. However, to bet successfully and make money takes more time and knowledge of at least the basics.  
There are some peculiarities that apply to horse racing as well as betting on the events. Therefore, we will provide basic horse racing tips to get started. When betting on a horse race, one of the first things you should look for is what kind of track the race will be on.
Like tennis courts, there are different surfaces for holding horse races. There are venues with dirt tracks and venues with turf tracks.
There are also those that have both. Dirt tracks are usually a mixture of dirt, sand, clay and gravel, whereas turf tracks are essentially racing on grass. There are also synthetic horse racing racetracks made from rubber, however, most horse races today in America will take place on the former two.
The Main Features of Dirt Tracks
Take more of a toll on the horse's physical condition
More affordable and the most common form of horse racing today in America
Quick sprint from the horses right from the beginning
Dirt tracks, when wet, can cause mud to fling in horses faces, causing them to quit
And Turf Tracks
More popular in Europe and many smaller racetracks in America will not have them
Larger focus on positioning at the beginning before entering full sprint
Favors horses with better stamina and better movement/ positioning
Heavily affected by rain, requiring more energy from horses
Turf racing is more common in Europe, whereas dirt horse racing tracks are the standard in America. Horses can switch back and forth between different types but there is usually only one specialty.
Horses will be bred on one of either of these tracks depending on the horse's preference and abilities. Therefore, certain horses will perform better depending on what surface the track is. Study the past performances of horses on certain horse racing tracks as well as the track that they train on to get a good understanding.
How to Read a Horse Racing Program
A horse racing program contains a lot of information packed into a small card or form. To someone who is just starting to bet on horse racing, it is difficult to understand where the most valuable information lies.
These can include a plethora of information such as the horse racing schedule, the entries for each horse race and lists of the jockeys and numbers of each participant. The horse racing program gives you a great variety of information for winning bets on horse racing.
Here we can look at the most vital information from the horse racing program:
Entries, Jockeys and Owners. This is the first thing that you should look at when reading through a horse racing program. It will also likely be the most clearly legible writing on the entire sheet.
There will also usually be a picture of the silks that each jockey will wear, which are essentially their uniforms. Extremely important, as once you know what they are wearing you will be able to identify them throughout the race.
Performance Records. Although not a full analysis of the horse's previous races, you will be provided with their racing records up until this point. These will be broken down into categories like yearly performances, lifetime records, the amount of success on dirt tracks vs. turf tracks, etc. as well as the horse's value.
Specific Performance Records. This takes the previous section and expands on it into greater detail. You can find the horse's times, position finished and the time they finished at in each of the races listed. As we mentioned earlier the type of surface can heavily impact a horse's chance of winning and is important to note.
Codes and Symbols. Race codes are surprisingly a big part of the sport, and while learning them all can be difficult it is useful. The codes can tell you everything from the conditions of the track to different rules for each specific race.
There will also be symbols that describe the track layout including things where the downhill turf is or where hurdles are and more. There are three different types of race type codes but the three most used are handicap (Hcp), Starter Handicap (Shp), Stake (Stk).
The Different Types of Horse Bets
With the popularity of horse races in America along with the culture of betting that goes with it, there is a long list of different types of horse bets. Most of these are completely specific to horse racing as well, despite the similarities between the horses and auto racing like NASCAR. 
The names of horse racing bet types may be confusing at first, but are actually pretty simple to understand. While some sites may divide the various horse racing bet types into numerous categories, we think it can be done in two. 
Lets go through the main types of horse bets in each of the two categories.
Straight Wagers on One Horse
These are definitely an entry-type bet for newcomers to horse race betting. This is because these are the simplest to understand and to make. Like normal sports betting, a straight wager is a single bet on the outcome of a race. 
In horse racing, there are three main types of straight wagers:
Win -just as it sounds. For this bet you will attempt to pick the winner of the race.
Place - to win this bet, the horse you bet on must finish in first or second place.
Show - like the last bet, only this time a third place finish is also a winner.
Combinations and Exotic Bet Types
Unlike the straight wagers, this category of horse racing bet types is expansive, varied and bets here can be extremely difficult to win. These bets do not only depend on a single outcome, rather, multiple events will need to be correctly predicted to win these bets. 
Thus, most of these are for players with an advanced understanding of horse racing and betting. 
The exotic and combination bet types of horse races are also some of the most popular. They will appear on all sportsbooks with horse racing sections so learning what they are is a must.
Let's go through some of the most exhilarating combination and exotic horse racing bet types:
Exacta - Picking two horses to finish first and second in the race in the correct order. To make it even harder, try the Trifecta (first three horses) or the Superfecta (first four horses). 
Quinella - This bet takes a little bit of the difficulty out of the exacta. To win a quinella, you need to correctly pick the two horses that will finish first and second but in any order. 
Daily Double - In order to win the daily double, the bettor needs to correctly predict the first place finisher in two consecutive races.
There are more of these types of bets that can be made on horse racing, but these are some of the most common. The daily double in particular has multiple variations (Pick 3/ Pick 4/ Pick 5), which basically adds the number of consecutive races where the first place finisher must be chosen. 
Both straight wagers and the exotics/combinations can be found in any horse racing section on an online sportsbook. Next, we will examine how to place a horse racing bet both online and at the track. 
How to Place a Horse Racing Bet
Betting at the horse racing track is easily the most enjoyable form of horse racing betting. There is no better place to really experience betting on horse racing than to do so at the track.
To get started making bets on horse racing today you should look for venues near to you and at sports betting sites or locations that offer bets on horse racing. At the horse racing track there are a few different ways to make a bet, however the most common is to go to the ticket window and place your wager there.
To do this, there are some very simple steps to follow to start betting on horse racing today:
Decide beforehand the type of horse racing bet you are going to make along with the logistics of the bet
When approaching the window, tell the worker the name of the race as well as the racetrack where the race will take place.
Tell them the dollar amount you plan to wager and what type of market you will wager on
Next, you will tell them the horse's number in the race. If you are making multiple bets or betting in a market that allows for multiple horses on your ticket, then there will be multiple numbers.
Finally, make sure to check your ticket. This is to ensure that the teller got all the information correct so you do not get stuck with a bet you did not want to make.
There are other ways to make bets on horse racing as well. In states where sports betting is legal, there are many physical locations as well as online sportsbooks that offer bets on horse racing. Some will even have live bets on horse racing.
Placing a bet on an online sportsbook is quite a bit easier than at the track. If the sports betting site offers bets on horse races, then they will be listed with the other sports or in a racing section of the sportsbook.
From there you can look at the horse racing schedule, tracks and entries and choose your market and place a bet. Some of the bigger sportsbooks will have a section for horse racing separate from the base sports betting page. These will usually include online horse racing programs as well.
What is a Trifecta in Horse Racing?
The trifecta is one of the hardest of all horse racing bet types today (the superfecta is more difficult). It comes with some of the highest odds for horse racing meaning a high payout for even the smallest of bets.
Hitting a trifecta is almost as rare as winning the Triple Crown in horse racing.
In order to win this bet, the player must correctly guess the horses that will finish in the first three places. However, they must also guess the order correctly. That means guessing which horse will finish first, which will finish second and which in third. Essentially three bets in one.
This is available for both horse racing as well as greyhound racing and normally the minimum stake is $.50 or a $1.00. The trifecta is a pari-mutuel bet where all the winnings are split by the winners. This is a popular form of betting at the horse racing tracks.
For this type of bet there are no clear strategies or tips to use, as the outcome is based on getting three outcomes correct, instead of just one. The horse racing tracks are not the only place to make these bets, as some online sports betting sites will also offer trifecta bets for horse races.