How to Choose a Sportsbook: Guide for Beginners
The number of legal online sportsbooks is gradually growing: since the fall of PASPA in 2018, online sportsbooks have been continuously launching mobile betting in different states. So, how can you know which sportsbook will work best for you and what criteria should you use when evaluating them?
We focus on several factors that are crucial to you when choosing a sportsbook.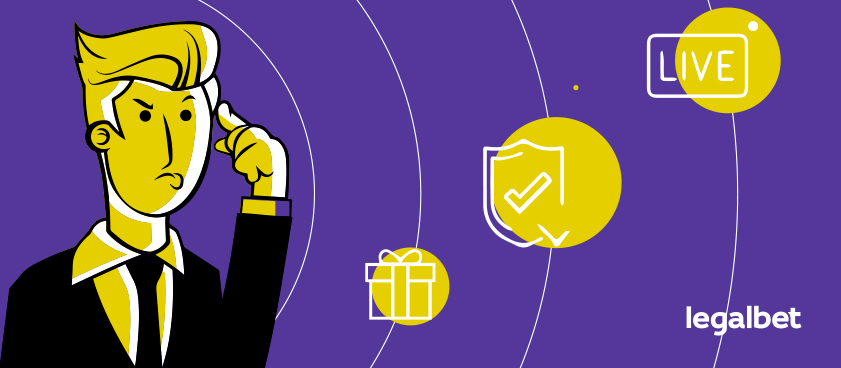 We will not sort the criteria for selecting a sportsbook by importance. Some bettors will be primarily interested in which sportsbook the most players use, some in the availability of bonuses and some will be willing to forgo all of these for the sake of high odds.
Each of the criteria mentioned will be the most important for someone, and the order can therefore be considered random. Attention should be paid to the characteristics themselves.  

How to understand which sportsbook is more popular? You can of course read reviews about sportsbooks. However, the disadvantage here is that people write bad things more often and willingly, which can violate (sometimes significantly) the objectivity of the overall review.
Nevertheless, if the same thing is repeated in many different reviews, you can form an idea of the main advantages and disadvantages of the sportsbook.
It is also possible to read the complaints that betting enthusiasts leave on profile sites. It is important not to pay so much attention to the very presence of complaints (every company has various claims arise about it), but to whether or not the sportsbook listens to complaints and actively seeks to resolve them.
At Legalbet, we make this easy.
We select sportsbooks from our general list, go to the review pages and scroll down to the complaints section. Here the total number of complaints and the number of those that the sportsbook was able to resolve will be displayed. 
The easiest way to understand which sportsbooks are the most popular is to take a look at the User Rating on our site, compiled of real sports bettors who frequent Legalbet. The more users that play at a certain sportsbook, the more popular it is considered. For objectivity of this rating, a special system for receiving votes is implemented. 
Of course, the general indicator of popularity is more of, rather, the "average room temperature in a hospital" than an objective criterion.
However, there are at least two reasons proving that the criterion here is important.
First, if most choose one particular sportsbook, there are reasons for this. Secondly, there is nothing more objective than a player who has chosen to play with a sportsbook, but also that continues to play there. 

The odds that you get on a sportsbook are important for all players, both beginners and experienced players. Everyone wants to bet on higher odds so that the possible payout is increased. 
Payout = Stake X Odds
The quality of the odds depends on the sportsbook's margins (percentage of the guaranteed profit for the sportsbook from each bet). The lower this margin is, the higher and more attractive the odds will be on every bet for every player. And vise versa. 
How can you understand which sportsbooks will have the highest odds? Everyone can find out empirically by comparing odds on the same competition from different sportsbooks. Of course, the process will require both effort and time.
In addition, it should be understood that the margin size can be different for each sport offered, the margin size can also be different for various tournaments.
That is why Legalbet has the Odds Rating, where we take real odds from different sportsbooks from the lines of the most popular sports and calculate the average margin with our own unique formula. When this is done, the differences become clear.
At the same time, you can see which sportsbooks give the best odds on games in football, hockey, basketball and baseball. 

This is often an important criterion for experienced players, but it may also be of interest to players who are already looking to diversify their game and not be limited to betting on the outcome (win/loss/draw) every time.
Or even those who want to practice betting on the less popular tournaments or leagues like amateaur or international.
If you don't know which types of bets do exist (except for the most popular), we can give you a good idea: a lot of these bets are covered in the article "Types of Bets".
For those of you who are only just starting to make bets and develop your skills, we recommend that you start with the most basic and popular bets which can be found on any sportsbook. 
In the Rating by Lines, the highest places are occupied by the companies with the highest number of lines available and the widest variety of bets. As a main criterion in its preparation, the variability of bets on handicaps and totals in soccer, as well as in football, baseball, basketball and hockey were taken into account. 
An important point to note: the wider the betting line, the higher the probability of an error in the odds for non-standard events. Some players try to use this and make bets on deliberately incorrect odds.
However, it should be understood that most often such bets will still be calculated by the average odds, or even by odds of -100000 (i.e. the sportsbook will simply return your stake)

Live bets, or inplay betting - they can be written differently, but will always be the same concept - bets that can be made during the game or competition. For those interested in reading more about the specifics of these bets, we recommend reading the 'Betting School' article titled 'Live Bets During the Game', especially since it has some valuable tips for beginners. 
It is not always the pre match lines that you should consider in a sportsbook, but also whether or not it will be suitable for live betting. The sections for these types of bets can differ dramatically within US sportsbooks, with some live sections complete with statistics, live streaming and more. 
For those of you who want to save personal time searching around for the best live section, we suggest paying attention to the 'Live Rating' for all US sportsbooks.
While compiling this rating, we look at such criteria such as the number of available bets for live games, the acceptance and speed of wagers, as well as special features that go along with each of the live competitions.
It should also be remembered that, like anything else on a sportsbook, that different players will prefer different things. For this reason, the sportsbooks that do everything exceptionally will make it to the top of our list, and the most important things that we have noticed that players look for will be graded at a higher level.

Since the legalization of mobile betting in some states, sportsbooks have noticed a consistent trend of preference for betting on mobile devices. Some of these sportsbooks have reported that up to 80% of all betting with them is done on mobile. 
On many of the US sportsbooks websites, there will be places to download the apps as well as special offers available specifically for mobile betting. Almost all sports betting sites will be going mobile in the US, however you can still check up on whether the sportsbook you are interested in is offering mobile betting on our Legalbet list. 
Note that all mobile apps can be downloaded for free. In states where mobile betting is legal, it will like having the entire sportsbook available on your mobile app. You can register with the sportsbook, make payment transactions, bets and withdraw winnings. 
In the Legalbet list, the quality of each product is not taken into account (which is why this is a list, not a rating) - this parameter remains at the personal discretion of each player. However you will still be able to find sections for the mobile app in our Sportsbook Reviews.
Furthermore, we have entire articles detailing the mobile app offering of a certain sportsbook, which can be found in the 'USA Sports Betting Apps' section. 

We do not know whether the inclusion of a welcome bonus can be considered as a main criterion for new players when choosing a sportsbook, however we know that most players like us enjoy bonuses, and therefore we may also include this parameter in the material. 
A variety of bonuses are offered by many sportsbooks. Depending on the state you are signing up in, either many sportsbooks will be offering bonuses or it could be difficult to find just one bonus. Legalbet regularly publishes updated information about new bonuses for players on every sportsbook that we cover. 
These can be found in the 'Bonus Rating' on the site. This information will contain the type of bonus offered and the maximum amount available. We remind each newcomer: before agreeing to receive a welcome bonus, carefully read the detailed conditions of the offer! 
In our sportsbook reviews, we delve into the finer details of the current bonus being offered. This includes all of the main terms and conditions, how to receive the bonus and the bonus promo code that you will need, if necessary.
Bonuses will be rated on not only the amount or type, but also how appealing the terms and conditions are as this will be a major factor of what makes a bonus worthwhile.  
Having chosen a sportsbook, there is immediately a question of how to begin and sign up on the site. On Legalbet, we have a Betting School section specifically to help users to begin playing on the site. All instructions for each sportsbook will be posted in the 'USA Sports Betting' section. 
We also recommend:
·        How to register on an online sportsbook: instructions for beginners