NFL Draft Schedule and News: Bet on the NFL Draft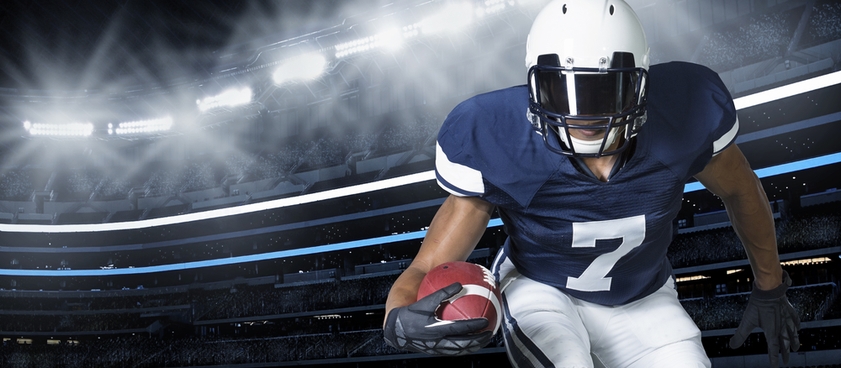 The NFL has confirmed its intentions to hold the 2020 NFL Draft at its scheduled time. While other leagues are canceling events months away, the NFL is committed to making sure the 2020 NFL Draft goes off without a hitch on Thursday, April 23rd. However, this year's draft will be unlike any we have ever seen in the history of the NFL, or any other sport for that matter
NFL Draft Goes Virtual
The original plans for the 2020 NFL Draft were to hold the event in Las Vegas from April 23rd to the 25th. While the dates have not changed, the venue certainly has. Due to the current Coronavirus pandemic, not only will the 2020 NFL Draft not be held in Las Vegas, it technically won't be held anywhere.
The 2020 NFL Draft will be a "fully virtual" event and will be the first of its kind in major sports. 
 NFL Commissioner Roger Goodell notified all 32 NFL teams on April 6th that the 2020 NFL draft will be conducted in a fully virtual format. Due to current COVID-19 regulations, the NFL has to keep club facilities closed indefinitely. Therefore, teams were told to prepare to conduct draft procedures outside of their team facilities.
 Team personnel responsible for representing their team on draft day and those making selections were advised to be in separate locations. Picks will be made via telephone and the internet. This is also how teams will communicate amongst each other for trades and other purposes.
NFL Mock Draft: Rumors and Picks
As we get closer to the 2020 NFL Draft, now just a couple of weeks away, more and more news and rumors are circulating amongst teams and players. With the lack of scouting options (pro days, personal workouts, etc.) due to the Coronavirus pandemic, this year's draft may be one of the most unpredictable drafts in recent years.
Not only that, but the talent level is very high and deep in a number of positions, which could also make for plenty of shock scenarios come April 23rd.
It is rumored that Tua Tagovailoa has reportedly failed a physical for a number of teams leading up to the draft. Before his injury last season, some thought Tagovailoa was going to be the top pick in the upcoming draft.
He soon slipped to the second projected pick. Then it appeared the Miami Dolphins would be targeting Tagovailoa with the 5th overall pick. Now with the recent news about his physicals, it appears the Dolphins are contemplating moving on from the idea of drafting Tagovailoa.
The Detroit Lions 3rd overall pick is perhaps the biggest early pick trade target. The Lions are not interested in drafting one of the top quarterbacks in this draft class.
Teams like the Los Angeles Chargers and Miami Dolphins are certainly looking for their next quarterback in this draft. The Lions may be able to trade down with one of these teams, pick up some draft capital and still draft their targeted player in cornerback Jeff Okudah.
Odds on Top Players in the 2020 NFL Draft to go 1st Overall:
Despite Drew Brees being near the end of his career, the New Orleans Saints apparently aren't interested in drafting a future quarterback with their first pick in the draft. The Saints currently have the 24th overall pick.
Instead of building for the future, New Orleans may be looking to draft a player to help them in their "win-now" mode. The Saints could also potentially trade down for a player or additional draft capital. Brees just signed a two-year $50 million deal last month. After which, he is expected to retire.
2020 NFL Draft Order
1. Cincinnati Bengals 
2. Washington Redskins
3. Detroit Lions 
4. New York Giants
5. Miami Dolphins
6. L.A. Chargers 
7. Carolina Panthers 
8. Arizona Cardinals 
9. Jacksonville Jaguars 
10. Cleveland Browns 
11. New York Jets 
12. Las Vegas Raiders 
13. San Francisco 49ers (From Indianapolis) 
14. Tampa Bay Buccaneers
15. Denver Broncos 
16. Atlanta Falcons 
17. Dallas Cowboys 
18. Miami Dolphins (From Pittsburgh)
19. Las Vegas Raiders (From Chicago)
20. Jacksonville Jaguars (From L.A. Rams) 
21. Philadelphia Eagles
22. Minnesota Vikings (From Buffalo)
23. New England Patriots
24. New Orleans Saints 
25. Minnesota Vikings 
26. Miami Dolphins (From Houston)
27. Seattle Seahawks
28. Baltimore Ravens 
29. Tennessee Titans 
30. Green Bay Packers 
31. San Francisco 49ers 
32. Kansas City Chiefs 
 There are six teams that do not have first-round picks in this year's draft: 
Chicago Bears
Indianapolis Colts
Buffalo Bills
Houston Texans
L.A. Rams
Pittsburgh Steelers
2020 NFL Draft Top Picks
The Cincinnati Bengals have the number one overall pick in the 2020 NFL Draft. Some rumors floated around that they could potentially trade down their pick for a lucrative deal but the Bengals have put a stop to that rumor.
They are expected to take LSU quarterback Joe Burrow with the top pick. However, there is one player who could potentially be drafted over Burrow.
Ohio State defensive end Chase Young is perhaps the best all-around player in this year's draft. He is a day-one starter and is talented enough to be a future All-Pro.
Young is the type of player that can change a defense from the moment he steps in the locker room. He will be an immediate focus for opposing teams and can change the outcome of games on his own.
Young finished his junior season with 16.5 sacks and six forced fumbles. He also had countless quarterback hurries and disruptions. Like previous Ohio State defensive ends before him in Nick and Joey Bosa, Young should be a top-three pick.
It seems like Burrow is a lock to go to Cincinnati but if any player can take that honor from him it will be the talented Chase Young.
2020 NFL Draft Top QBs
The 2020 NFL Draft class has a ton of quarterback talent. We could see as many as four or five quarterbacks go in the first round of this draft alone. From pocket passers to scrambling quarterbacks, not only is this quarterback class talented, it is diverse.
Joe Burrow is the most talented quarterback in this draft and he showed it with his incredible senior season. Burrow led the Tigers to a National Championship and won the Heisman Award along the way. He torched the SEC, the country's toughest conference, and broke numerous records. Burrow will be a starter from day one.
 Likely Pick: #1 overall to the Cincinnati Bengals
Justin Herbert is the second-most NFL ready quarterback in this draft class. He has experience leading a top collegiate team for years and he has the talent to go with it. Herbert has run NFL-style offenses in his career and his arm talent is second to only Burrow. His football IQ is also among the best in this draft class.
Likely Pick: #2 Washington Redskins or #5 Miami Dolphins
Tua Tagovailoa was the beneficiary of playing with the most talented wide receiver group in the country. A wide receiver group that will see two first-round picks in this draft (Jerry Jeudy and Henry Ruggs III). Tagovailoa was having an excellent season before his injury but the severity of that injury has some teams on edge. If the rumors about his failed physicals are true, Tagovailoa will be dropping down the draft board before he climbs it.
Likely Pick: #5 Miami Dolphins or #23 New England Patriots
Jordan Love has had his stock climb the most since the end of the 2019 college football season. Before the most recent college football season started, he was expected to be among the top quarterbacks in this draft class but he is continuing to impress. Love is a talented and athletic quarterback who loves to sling the ball around, which can get him into trouble. He is perhaps the biggest boom or bust player among all quarterbacks.
Likely Pick: #23 New England or second round
Jacob Eason has been an up and down prospect since the start of the 2019 college football season up until the weeks leading up to the 2020 NFL Draft. Eason was expected to be among the top talents in this draft class but he hasn't really impressed as much as the four quarterbacks above him. Eason is a physically gifted athlete at 6'6" 231 pounds. Eason has the arm talent to compete with any other quarterback in this class but his pocket presence and ability to read defenses is his weakness. 
 Likely Pick: #23 New England or second round
Images From Shutterstock