How to Make Winning College Football Picks
Saturdays are known for one thing in the world of American sports. The long lineup of games combined with the rivalries make Saturdays a special day for college football. There are plenty of ways for people to enjoy the Saturday NCAA football games, and now we can add legal sports betting to them.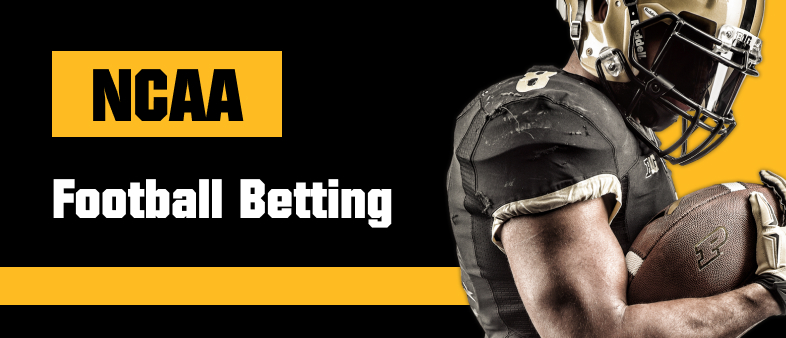 Sports betting adds a new dynamic to college football whether by counting on the Top-25 teams to control the games or betting on the big upsets. Conference rivalries and new players are just a couple of the things that provide the major excitement for betting on college football in the NCAA. 
NCAAF betting is really no different than betting on the NFL, despite there normally being fewer markets. Throughout this guide we will  talk about some of the nuances of betting on college football, strategies that should be implemented and give you the necessary information to make winning college football picks.
How to Bet on College Football Odds
To get started making bets on college football odds, you must first make sure you are in a state that has legal sports betting. To check this, we have a states page listing all of the legal states as well as updated information about future legalization in other states.
The next step is to choose a sports betting site, or multiple sites to wager on. Selecting a sportsbook is important and can be difficult, but here at Legalbet we provide complete sportsbook reviews in every state to make it easier.
One of the most important aspects to choosing a sports betting site are the odds that they give on a regular basis. You will also want to consider the number of markets available for each game and whether or not they carry the complete college football schedule.
Some online sportsbooks will only feature the main markets such as the moneyline, with only one variant of the totals and handicap. However, each sportsbook is different with the number of betting lines that are featured on the site.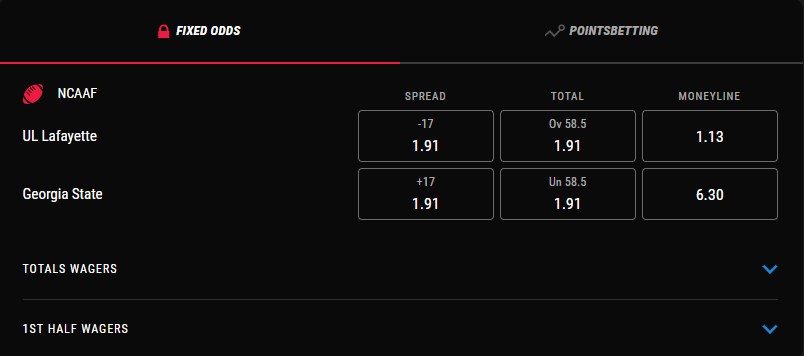 The main college football betting lines from PointsBet Sportsbook
However, with the popularity of college football players can find available bets on almost all games. These will include regular game lines as well as things like futures bets, which are long-term wagers.
When you have found the game you want, you can add any available betting market to your accounts bet slip. The last step will be to place your stake (choose an amount to bet) and confirm the bet. 
College Football: Ranking the Best Bet Types
Some of the markets that exist for college football betting will be similar to other sports and to NFL betting in more ways than one. Unfortunately, however, the number of markets for NCAAF can be extremely limited on many American sports betting sites. 
On most sites, they will only list the main markets on the league page.
However, opening a specific game could have a larger variety of bet types including for quarters and halves and a few variations on the odds and numbers for totals and the spread bets. Futures bets are also usually available for markets such as who will win their respective conference or whether Alabama's quarterback will throw for a certain number of touchdowns. 
Bet on the Outcome (Moneyline)
This is the simplest bet that the player can make on college football scores. Here all you have to do is select one of the teams to win the game. If they end up doing this, then you will make a profit on your bet.
The games will depend on the overall quality of the entire teams playing, rather than only a few factors. 
Here we can see what a typical moneyline looks like in the NCAAF. Not different from other sports or leagues. The positive number will indicate the underdog, whereas the negative denotes the favorite. In the above example we can choose to wager on Utah to win at odds of -265 or on Oregon with the odds of +190. 
Betting with Handicaps (Spread Betting)
As already mentioned, the spread is not as useful in the NCAA as it would be in the NFL dur to the volatility and gaps between college football scores. Betting on the spread is essentially a moneyline bet but with added or subtracted points to even out two teams of different quality.
The perceived weaker team will have points added at the end of the game to its final score, signified by a (+) sign.  
If the above game ended 46-28 in favor of Pittsburgh, then Syracuse would still win a spread bet, as the final with the spread would instead be 49.5-46 Syracuse.
Meaning that the favored team will have points taken away from its final score at the end and will have a (-) sign in front of its name, depending on which side you take. If after adding or subtracting the points at the end of the game, the team you chose to back still wins, than you have won your bet. 
The reason it is not as useful is due to the probability of the number of points a team wins by and using the spread to exploit this. The spread bet can be made in any college football game, however handicapped number will be wildly diverse with each game.
Most will fall into the ten-12 range, but they can also exceed +30 / -30. 
Betting on Over/ Under (Totals)
These wagers are a lot of fun and round out the main market bets. They can be used for many different statistics but the main-line totals will almost always be on the total points. Most sports betting sites will likely offer multiple lines for this market.
There is also the possibility of totals markets for each team individually. The same rules apply, however, for one team instead of both. 

If Pittsburgh scored 28 total points in this game, then the under bet would win. Any number 36 or over for Pittsburgh will win the over bet, while 35 points or less wins the under.  
The premise is again quite simple. All you must do is correctly predict whether the team's combined score will be more or less than the given number. This is determined by a number of factors, but the main outcome will likely be determined by the defensive competence of both teams. 
Offensive-minded teams will have off days where they are not able to put together many scoring drives. Teams with a solid defense however will likely be more likely in keeping the scoring low on a regular basis. The phrase defense wins championships has been proven correct over and over again for this reason. 
Futures Betting
Long term wagers can also be regularly found on college football games. These are bets where you can predict a future outcome of an event like who will win a league championship. Futures bets also include wagers on player's season statistics, where a team will finish in the college football rankings, and more. 
Betting on who will win each conference and on the Heisman Trophy recipient are two of the most common for college football.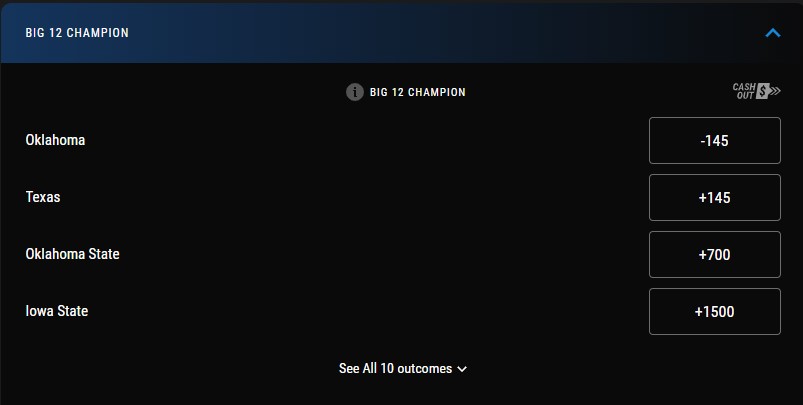 Betting $100 on Texas to win the Big 12 would return a $145 profit if won. All betting lines from PointsBet Sportsbook, operating in New Jersey, Illinois, Indiana, Iowa and Colorado.
There are a few advantages to using futures betting. The main one being a big potential payout if the player is able to correctly choose the winner. The sportsbook will also allow players to choose more than one option here allowing for a better chance to win.
The payouts are usually so high that you can profit by picking the right one even if two or three of your other choices fail.
The biggest disadvantage of betting on futures comes with the amount of time the player needs to wait before the potential payout. The money will be automatically taken from your account and the player will be without for possible weeks or even months.
This can be a long time to wait when you are used to getting your payouts in a few hours. 
College Football Betting Trends
These are a couple of trends that affect college football games every season and help to characterize the way we make bets on them. 
Varying Competition. On any given Sunday in the NFL any team can beat any other team regardless of record differences. They are all professionals who have been chosen to play in the highest leagues. For this reason, the spreads offered for NFL are almost always set at 3.5 or 7.5. 
College football is a little different. The schools have different funds set aside for football and the top players will consistently choose the best programs to play for. Even some big schools can be notoriously bad at football. Kansas, for example, is a top basketball program in the country, however they have not had a football season with more than three wins since 2009. 
This is mainly due to college's focus and prowess in only one sport. Kansas, for example, is a top basketball program in the country, however they have not had a football season with more than three wins since 2009. 
This can lead to a big difference in the talent between teams. Which of course calls for a difference in the spreads offered for each game.
In every college football season, you will be seeing spreads that reach even more than +30. To get an idea of to what extent these spreads affect the major teams success in the NCAA, we will take a look at some of the preseason top-25 teams win percentage and margins from the 2017-18 season.
We will compare them all against an average 16-point spread to find out how many games were affected. There will be a .5 added to all pushes, making them losses instead:
| | | | | | |
| --- | --- | --- | --- | --- | --- |
| Rank and Team | Win Percentage | Win Record | Average Win Margin | Against the Spread | Win Percentage Against The Spread |
| No 1. Alabama | 100% | 13-0 | 28.92 | 11-2 | 85% |
| No 2. Ohio State | 91% | 11-1 | 31.4  | 7-4 | 64% |
| No 3. Florida State | 54% | 7-6 | 21.71 | 4-3 | 57% |
| No 8. Washington | 82% | 11-2 | 28.73 | 9-2 | 82% |
| No 11. Michigan | 75% | 9-3 | 16.44 | 6-3 | 67% |
| No 14. Stanford | 69% | 9-4 | 18.22 | 4-5 | 44% |
| No 16. Louisville | 77% | 10-3 | 25.1  | 6-4 | 60% |
| No 20. Kansas State | 62% | 8-5 | 19.38 | 3-5 | 38% |
| No 23. Texas | 50% | 6-6 | 22.00 | 2-4 | 33% |
| No 25. Tennessee | 39% | 5-8 | 19.8 | 2-3 | 40% |
So this major impact that we see spreads have in the NFL will not be present for most college football games. This means that if you are going to take a market from the main line you are down to two options. Moneyline and totals betting.
However, there are other markets available.
Less Money Wagered. This is important because the odds movement will be more impactful than in other sports. Due to various reasons, people will not bet on college football as much as they will on the NFL. Odds are set by the sportsbooks, but moved over time due to public and sharp betting.
When there is a low total amount of money staked, the odds will be more easily influenced.
Single sharp wagers that would only slightly more the odds on an NFL game could drastically change the odds for an NCAAF game. Even lower wagers have the opportunity to move lines on these games.
On games with a low pool of money wagered, sharp presence will be much more evident. You will see the odds take big leaps or dips due to a large sum placed one way or the other. One strategy available in these situations is to follow the sharp money.
Like previously stated, many are doing this for a living and have loads of experience. 
How to Make Winning College Football Picks Today
Focus on Only One Conference
We are not just talking about for a single game, or even a single game day. We mean taking one conference (if you already follow one then keep with it), and focus solely on that conference throughout the season and if it goes well carry it over to the next season and so on.
Betting on sports and games that you know nothing or very little about is never a good idea. Once you start following one particular conference you will gain a much better understanding of the teams and games that you are betting on.
With around ten teams or so, you will be able to track all of their games. 
If you are watching these teams play each other every college football season, you will have a much better insight on what is likely to happen in their next matchup. There are more advantages to doing this like becoming more familiar with players, coaching tactics and how the teams play at home and away.
Bet On Low-Profile Games 
There are a few big advantages to betting on the games that are not going to break any viewing records. The biggest and most advantageous for the bettor is that the sportsbook, or people setting the lines will just like the rest of the public not give them as much attention as the bigger games. 
Professional bettors take advantage of this all the time, even betting on obscure sports like fencing or handball because sportsbooks don't know as much about them. As much as it feels like there is a robot setting all of the odds for every sport and every game it simply is not true. 
The sportsbook knows that people will be betting on the popular games so that is where their attention will be focused. However, this gives you, the bettor, a big advantage if you are able to do some homework on some less popular conferences and teams.
The sportsbook might heavily underestimate a team who has really been finding its form lately or forgo other relevant factors.