Legal Illinois Sports Betting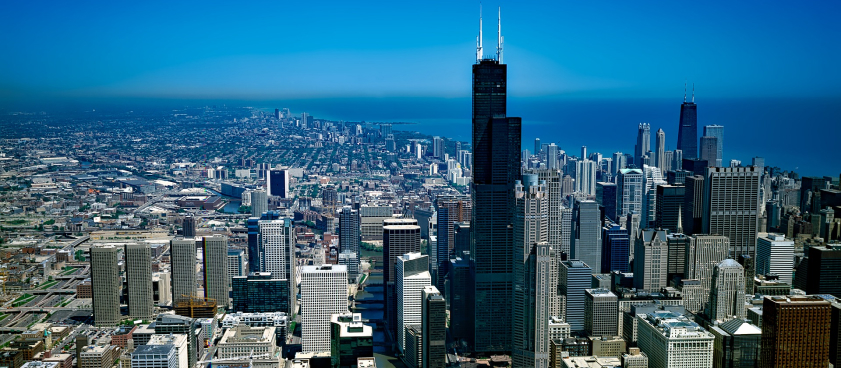 One of the states that carried the most anticipation for online legal sports betting finally arrived on March 9, 2020 with the first official bet placed with BetRivers at River Casino Des Plaines.
What made the launch slightly disappointing were the laws surrounding the industry. While online sports betting is indeed legal, questionable regulations have been made. 
However, the dedication of Illinois sports fans paired with the massive professional sports teams situated in the state will explain why the anticipation of legal sports betting in Illinois was so high. 
Illinois has legalized both physical and online sports betting 

Sportsbooks and professional sports leagues can request that bets on certain events not be accepted

No wagering allowed on in-state colleges and teams

Sports betting is taxed at 15% 
Let's unpack what we have just seen here. There are a couple of good things, online betting is legal and bets can be made at the professional sports stadiums which is the perfect place to do it. 
There is no betting on in-state colleges or teams. This has also been implemented in other states, most notable in New Jersey. While it does hurt that Illinois players cannot bet on their favorite universities, it is understandable on some levels. 
"In-person registration is required until the first online-only operator has been granted a license; Sportsbooks and professional sports leagues can request that bets on certain events not be accepted"
This is how the Illinois sports betting industry was originally set up. However, due to the extremely slow start in large part to the covid lockdown, Illinois Gov. J.B. Pritzker eased the rule and allowed for players to sign up on mobile devices. The rule change unsurprisingly worked, as over 90% of bets were taken on mobile devices at the beginning of the state's sports betting. 
The second is something that we have not seen in any other state and likely (hopefully) won't. This allows both sportsbooks and professional sports and leagues to request prohibiting taking bets on certain events.
Which means that if sportsbook A has a major promotion for a Chicago Bears game that is doing well, sportsbook B can request that no bets be allowed to be taken on Bears games. 
Hopefully, this last requiremens can be amended or fixed, as the potential for Illinois sports betting is truly high, as long as the laws don't get in the way.
Online sports betting in Illinois
Though sportsbooks opening in the state do not need to have physical partners to launch their brands in Illinois, the ones who are currently operating do and there are no online-only sportsbooks that will be available in the foreseeable future. 
Though Illinois is not home to an abundance of casinos throughout the state. The ones there are distributed somewhat well.
The situation is not nearly as drastic as a state like Nevada, where almost all of the casinos are in two cities, but we would still like to see an online-operator come along and open up online registrations. 
| | | | |
| --- | --- | --- | --- |
| Sportsbook | Casino/Location | Mobile Betting App | City |
| | Rivers Casino | Yes | Des Plaines |
| | Hawthorne Race Course | Yes | Stickney |
| | Grand Victoria | Yes | Elgin |
| Penn National | Hollywood Casino | No | Joliet, Aurora, Alton |
| | Casino Queen | Yes | East St. Louis |
| | Par-A-Dice | Yes | East Peoria |
| Churchill Downs | Arlington Park | No | Arlington Heights |
| | Fairmont Park | Yes | Collinsville |
Best Illinois mobile betting apps 
Mobile sports betting apps are the most convenient way to play the game, as they allow players to bet from anywhere in the state. Looking for the perfect Illinois mobile betting app can be tricky, as there are a lot of good options available. There are a lot of factors to consider when searching for the best mobile betting app. 
We have tested out all of the apps currently available in the state of Illinois and evaluated the different features and positives of each. To make the selection process a little easier, we include some of our favorites below. 
PointsBet Sportsbook
One of the United State's newest sports betting apps, PointsBet has wasted no time launching in multiple states including Illinois. The Australian- based sportsbook stands out with its own unique brand of betting called 'Pointsbetting'. 
This betting rewards players with higher payouts the more correctly they guess. For example, if a player bets over on the totals, there would be a better payout for every point over the totals number is scored.
There are also plenty of different bets available for 'Pointsbetting' that you will not find anywhere else. Fixed odds betting is also included in the mobile app as well as live betting, promotions and a rewards program. 
BetRivers Sportsbook
An absolutely top quality sportsbook and betting app in all aspects. BetRivers is a perfect fit in Illinois being the product of Chicago-based gaming company Rush Street Interactive.
The BetRivers sportsbook and mobile app has opened up in multiple states now and the betting experience is excellent throughout. 
Live betting is especially good, thanks to instant bets, action bets and live streaming all being available. The 'Jackpot Parlay' feature gives you the chance to automatically put random parlays together with high odds.
The mobile app functions well and can do everything the desktop version can. This includes great promotions, a large selection of betting lines, iRush rewards and a lot more. 
William Hill 
The most experienced betting app to come to the state of Illinois is William Hill, who have been in the business since 1964. Coming out of England, William Hill has also been in the US for a long time, notable in Nevada where it operates more than 100 betting shops in the state. 
William Hill features a very well-rounded sports betting app, which functions extremely well. The site is known for the classic style of betting, without deviating from the standard too often. What you can find on William Hill is therefore an honest offering of sports, quality promotions for betting and great customer support. 
Registering an Illinois sports betting account 
Registering a sportsbook account in Illinois will need to be done in person at least for the foreseeable future. This is unfortunately going to be the case until a masters license is granted to an online-only operator. 
To register the account, players will need to carefully evaluate the sportsbook reviews, find out where each sportsbook is located and then head to the physical location and sign up. 
Players visiting Illinois can also sign up at any of the licensed physical locations in the state. Mobile betting apps can also be downloaded from anywhere. 
Illinois FAQs
Which sports can I bet on?
Though the state of Illinois does have some questionable restrictions on sports betting, the actual sports that will be available for betting will remain largely untouched.
The major American sports will unsurprisingly consist of the majority of betting lines, however some sportsbooks may surprise players with the amount of sports actually available.
Football

Baseball

Hockey

Basketball

Collegiate sports

Tennis

Golf

Boxing

Table tennis 

Horse Racing

Rugby 

Olympics 

MMA

Winter athletics

Cricket

Entertainment
Are there any exclusions?
There are a few more restrictions in Illinois than appear in other states. The rules regarding sports betting in Illinois are admittedly not very bettor friendly. A notable restriction includes not being allowed to make bets on collegiate teams or universities. 
In addition, bets are allowed strictly on sports games. This means that there will be no political or entertainment bets on any Illinois sportsbooks. eSports betting will also not be included at this time, though all of these regulations are subject to change in the future. 
Which professional sports teams are in Illinois?
Illinois and more notably Chicago have one of the most extensive and storied history of sports in the country. Teams in Chicago like the MLB's Cubs are a fan favorite even in states thousands of miles from Illinois. Illinois has sports teams in each of the USA's professional leagues. 
These teams can all be bet on, and players should keep an eye out for special promotions featuring the hometown favorites. 
Chicago Cubs (MLB)

Chicago White Sox (MLB)

Chicago Bears (NFL)

Chicago Blackhawks (NHL)

Chicago Fire (MLS)

Chicago Bulls (NBA)
Illinois Sports Betting Revenue Tracker
| | | | |
| --- | --- | --- | --- |
| Month 2020 | Total Handle | Revenue | Taxes/ State Revenue |
| August | $139,764,080 | $7,233,360 | $1,834,065 |
| July | $52,524,820 | $3,623,985 | $585,623 |
| June | $8,281,803 | $368,651 | $59,446 |
Check out other states with legal sports betting!
You can find updated profiles of all US states with legal sports betting along with rule updates, online sportsbooks and more here. This page will give you an updated outlook on the United States sports betting industry. Clicking on any legal state will bring you to that state's home page.