Pros
Great customer service options and ratings
Promotions section is unique and competitive
Large selection of sports and bet types
Cons
Live betting lacks streaming, match tracker
The app could do more to incorporate Barstool media
Review of the bookmaker Barstool Sportsbook from Legalbet
Barstool Sports was late to launch its USA online sportsbook, however the company has plenty of experience in the sporting industry. The company was founded as a sports and entertainment blog in 2003, in Massachusetts.
It has finally progressed to a popular news site, podcast and an online sportsbook which launched in Pennsylvania in September 2020.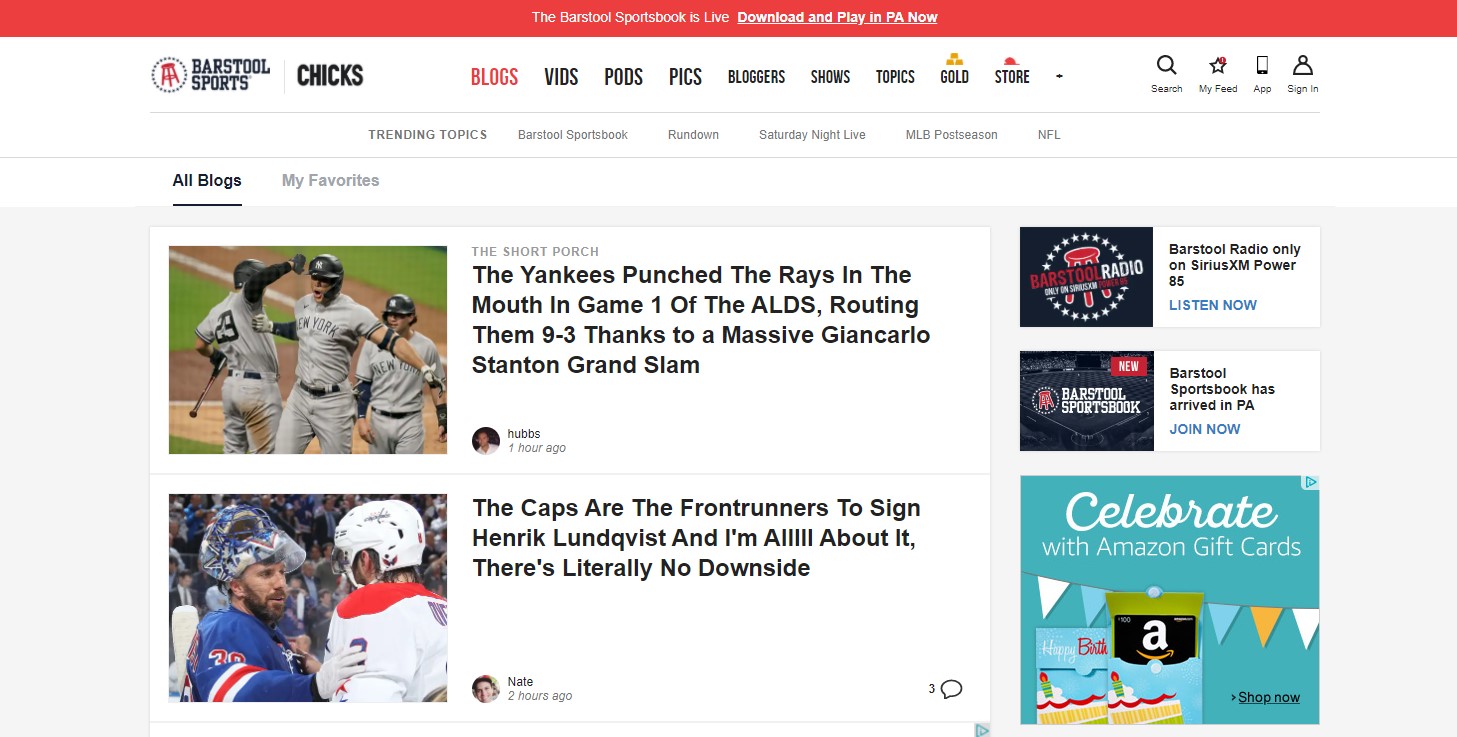 The Barstool Sports blog and podcast has become massively popular
The sportsbook came as a fresh offering to an already profitable sports betting market. The mobile app itself is well designed and features a centered focus on American sports and leagues.
The team has also embedded its news media into the sports betting app, following fellow sportsbooks FOX Bet and theScore. With the impressive selection of sports comes an equally impressive selection of bet types. 
| | | | | |
| --- | --- | --- | --- | --- |
| Moneyline | Correct Score | Over/Under | Odd/Even | Period Bets |
| Parlay Bets | Spread Betting | Double Chance | Futures Bets | Each Way |
| Prop Bets | Time of Score | Live Bets | Teasers | Round Robin |
These bets can be found for most of the competitions featured on the site. Barstool Sports also offers some unique ways to bet on the app. Round robins and teasers can be found once markets have been added to the bet slip, where you can also find customizable parlays.
This is a convenient way to select specific markets from the bet slip to make parlays instead of needing to use every market in the bet slip at once. 
Barstool Sports came into the sports betting industry late, but the long period of preparation has paid off as the brand has launched a top quality betting app. The app is complete with unique betting features, a full promotions section and a live betting section.
The company may have entered the market late but will stand to make a lasting impression with its sports betting app. 
Betting options — good
Barstool Sportsbook has plenty of different options for making bets. The common betting types like the moneyline, over/under and spread betting are all available on the sportsbook. However, there are plenty of other different bet types that a player can make. 
Moneyline
Correct Score
Over/Under
Odd/Even
Period Bets
Parlay Bets
Spread Betting
Double Chance
Futures Bets
Each Way
Prop Bets
Time of Score
Live Bets
Teasers
Round Robin 
These betting types will be available for most competitions. Parlays, teasers and round robin bets can be made by adding multiple competitions to the bet slip.
Teasers and round robins will be available for certain sports like football or basketball.
Barstool Sportsbook also allows for players to set their own totals and spread numbers.
This can be done by opening the bets for any competition and finding the main lines. From there, players can adjust the numbers for each of these two main bets.
For example, the main totals may be at 36.5 for an NFL game, but the number can be adjusted to be a higher or lower total. This feature is also available for individual team totals as well. 
Barstool Sportsbook Official Site
The mobile betting platform launched by Barstool Sports is a breath of fresh air for the USA sports betting industry. The brand manages to keep all of the important features intact and makes navigation easy while at the same time bringing a fresh look to the site.
Simple but effective describes the sportsbook, with plenty of features maintained by a simple design.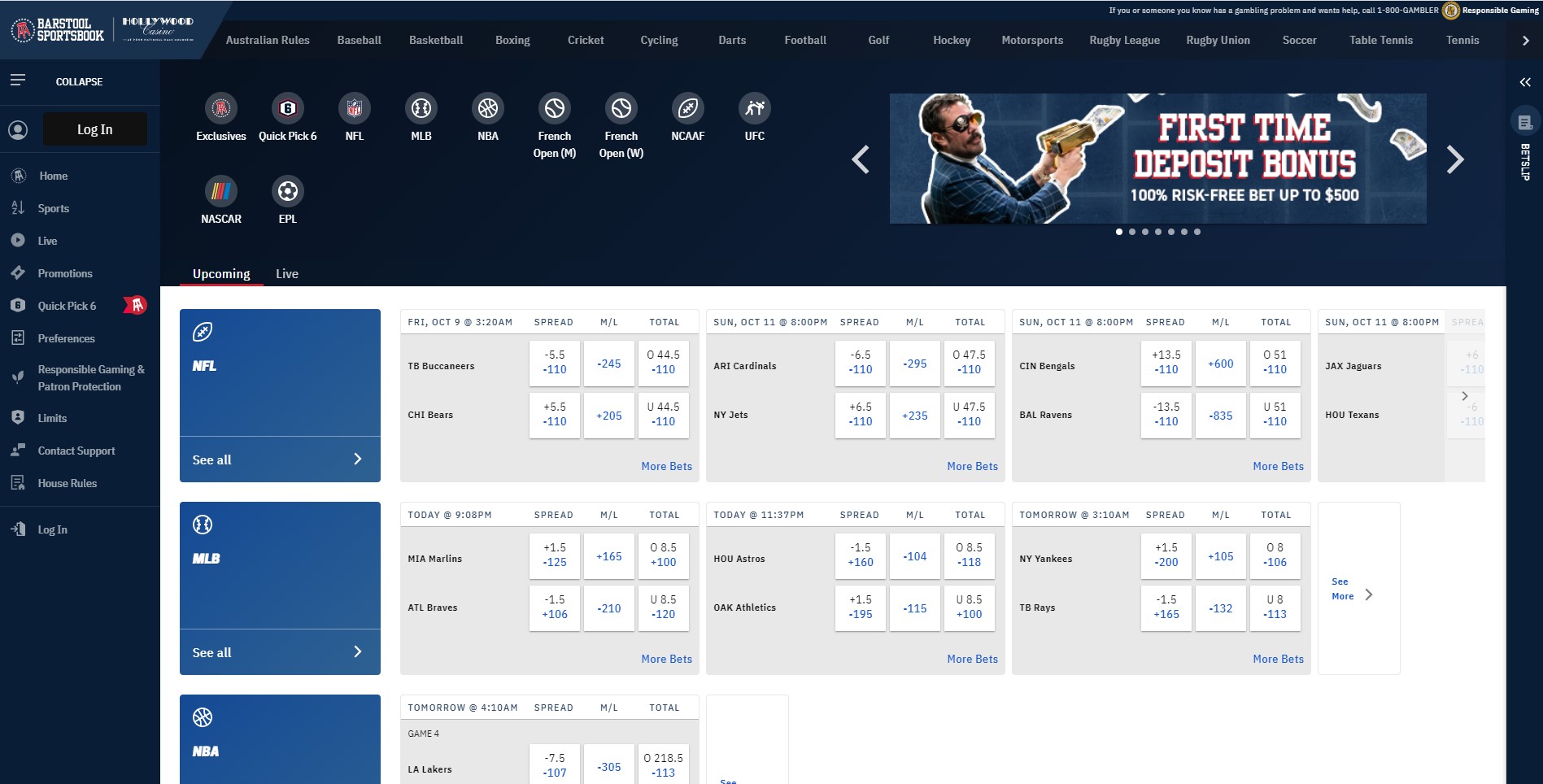 The home page serves as the main stop for navigation through the app, as many of the different sections can be accessed through tabs on the top or bottom of the screen.
Barstool Sports has made it clear that the sports betting app is its own, and has incorporated a lot of the same elements that has made the company so popular.
One of these includes using the Barstool Sports' team in promotions and bonuses offered on the app. Other features included in the betting app are quick picks parlays, live betting, promotions section and plenty of different sports to bet on.
Many of the sports on Barstool are American, though international competitions can also be found. 
Baseball
Basketball
Boxing
Cricket
Cycling 
Darts
Football
Golf
Hockey
Motorsports
Rugby
Soccer
Table Tennis
Tennis
UFC/MMA
Volleyball
Live betting is a separate section on the site and features many games from the sports listed above. The live betting is good on the app, though could use some improvement, mainly more statistics and ways to follow the game.
However, overall it does more than the average live section with scores, quick odds updates and lots of betting markets for each game. 
Registration & Verification
Registering a Barstool Sports account can be done and completed all on the mobile app. To get started, players will need to download the betting app and go to their account information.
From there, a 'register now' button will appear and players can click on this to begin signing up. The registration process will take players through a few different sections.
Barstool Sportsbook Registration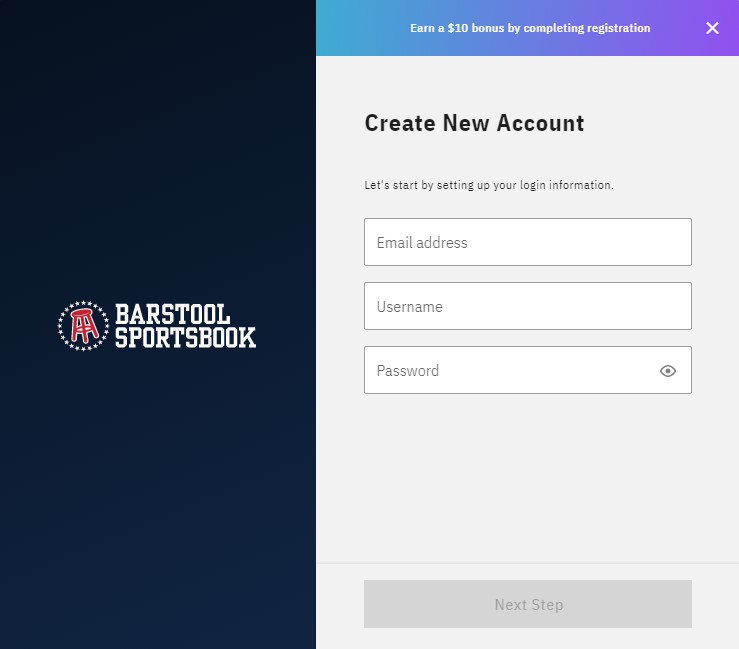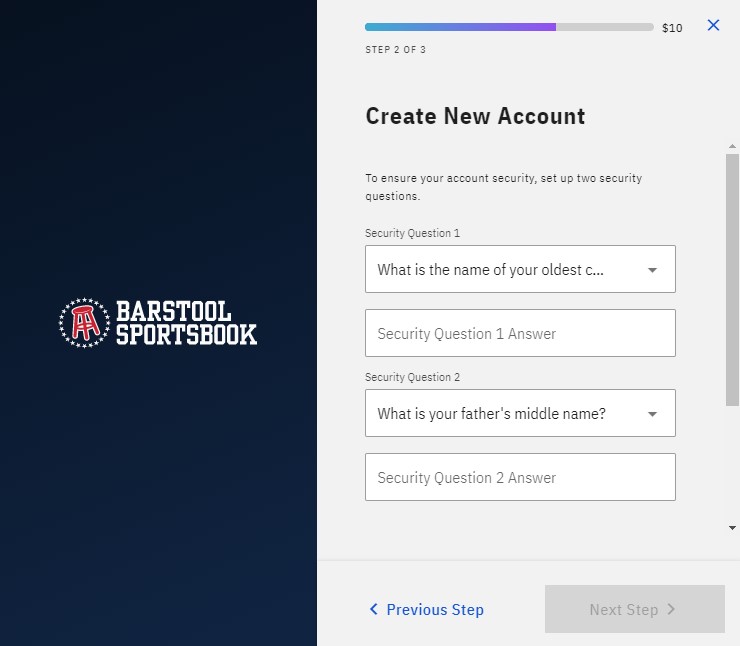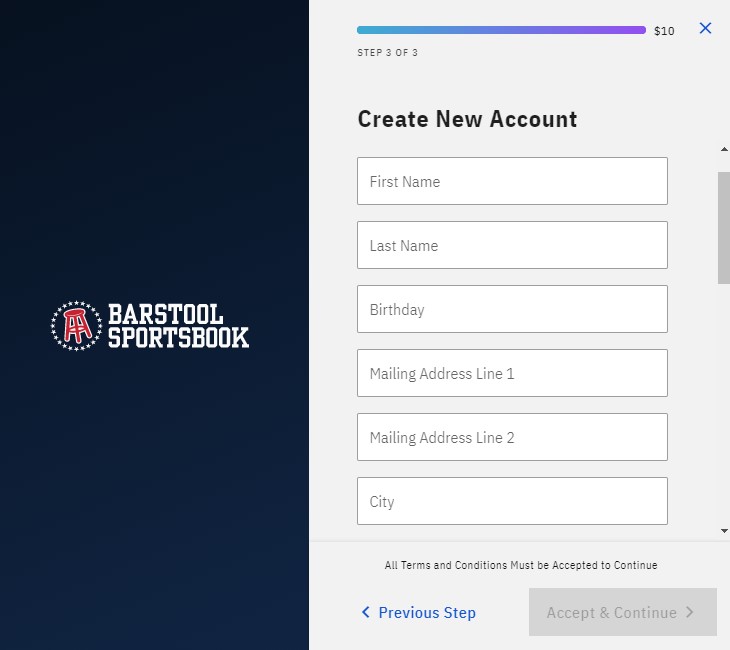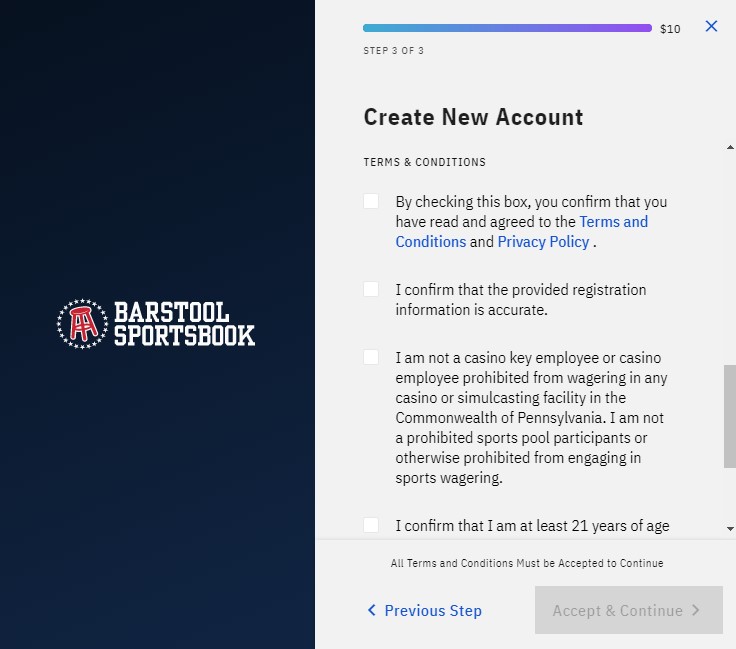 Account registration is a simple process that goes through basic information. The entire signup process should take around five minutes, and since everything is done on the app account approvals will mean you can immediately begin playing.
There are terms and conditions that need to be agreed to at the end of the registration process. No matter the state that the signup is for, there are a few very important things that will remain the same between each. 
There will be a minimum age that players need to be to bet on the site (age is often 21)
Players will only be able to wager on the app from inside a legal sports betting state
Must not be a key employee working at any of the state's recognized prohibited institutions
These three things are explained in much more detail in our sportsbook registration section, which can be found in our betting school. Each state will have different rules however these will be mainstays that can be found in just about every state.
Once you have completed the registration players can look for an approval notification in their email.
Barstool Sportsbook Bonuses
Since the beginning, Barstool Sports' betting app has featured a promotions section with different offers for new and existing users. Bonus offers are a feature available on most sportsbooks apps that can benefit and help you profit in a variety of ways. Sportsbook bonuses will constantly update, so there is a large variety of offers that can be available. 

Bonuses will also largely represent the sports that are being played at the time. For example, in the summer players will likely see more bonuses for baseball instead of hockey. There will often be multiple promotions featured at once, and, unless stated otherwise players can take advantage of as many offers that are available. 
The promotions section on Barstool Sports app can be found in the pull out tab in the top left corner of the sportsbook. The betting app has an impressive variety of offers, including unique promotions exclusive to Barstool. The bonus section is competitive and many of the promotions give players good value for betting. 
Deposits & Withdrawals
Payments on Barstool Sports are made easy, as in legal mobile states players can complete all transactions on the mobile app. The deposit and withdrawal options are quite common for USA sportsbooks.
The selection at this point is limited, however the options listed are all popular payment methods that should be able to satisfy the majority of bettors.  
The important thing is that Barstool has multiple methods available for both deposits and withdrawals, as well as different options that can be used for both. Play+ cards are an extremely popular way of funding and withdrawing from a sportsbook account, and are available on many sportsbooks in the US.
Minimum deposits and withdrawals can vary depending on the method selected
Pay with Cash (PayNearMe)
Bank wire transfer
Credit/debit (Visa, MasterCard, Discover)
Barstool Sportsbook Play+
ACH/eCheck
The minimum deposit amount for these methods will likely be ten dollars, however it could be lower. Bank transfers and Play+ Cards can be used for both deposits and withdrawals. The Play+ Card is extremely popular with sportsbooks, and is usually a pretty good option for payment methods.
While the selection of payment options is not currently a vast one, we expect to see more options like PayPal and Skrill in the suture. 
Updated: 04.06.2023
Information about the company
Questions and answers
Barstool Sports started out as a sports and entertainment blog covering a variety of topics, but with a main focus on American sports. It was started in 2003 in Massachusetts by David Portnoy.
The company is headquartered in New York and has since expanded its offerings into merchandise, podcasts, radio talk shows and most recently, into sports betting. 
The Barstool brand has become beloved for its entertaining approach to sports and pop culture, most notably from two of the most eccentric characters El Presidente and Dan 'Big Cat' Katz, both of whom are predominantly featured on the sports betting app.
Today Barstool works closely with investor Penn National and continues to grow and expand into new areas.  
What are the best features of Barstool Sports betting?
Betting on the Barstool Sportsbook comes with plenty of great features that help to enhance the experience of wagering. One feature that immediately stands out on the app is the abundance of bet types available on Barstool.
All of the common betting types are offered, but additional markets like customizable parlays as well as teasers and round robin bets give players a great deal of variety. 
In addition to the large selection of bet types, there are also a high number of different betting lines available for each competition. This includes under the radar leagues and sports as well as live betting.
For many games, players can customize their own over/under or spread bets. These two features combined allow users on the sportsbook a great betting selection. 
Where is Barstool Sportsbook located?
Though Barstool Sportsbook started out only in Pennsylvania, the brand has made clear that it has plans to eventually launch in multiple legal betting states.
Plans were quickly made after the initial launch to open operations in both Illinois and Michigan. As of now, there are multiple physical locations where players can bet in person at Barstool Sports. 
Hollywood Casino at Penn National Race Track, Grantville, Pennsylvania
Hollywood Aurora, Hollywood Joliet Casino, Aurora/Joliet, Illinois