Pros
Well designed app that is easy to navigate
Great and full selection of American sports
Low margins equaling great odds on most competitions
Cons
No live betting section
Missing a promotions section
Review of the bookmaker BetMonarch from Legalbet
BetMonarch was one of the first five online sportsbooks to launch after sports betting was legalized in Colorado. It became the fifth mobile sports betting app in the state when it went online shortly after sports betting became legal in Colorado in May 2019. 
Four other online sportsbooks launched on the same day as Colorado sports betting on May 1st. BetMonarch betting app is the product of the Monarch Casino Resort Spa in Black Hawk, Colorado. Its parent company Monarch Casino and Resort, Inc. is based in Reno, Nevada and has its own betting app Atlantis Sportsbook in the Silver State. 
The product is unique in that Monarch designed and produced the betting app without a partnership from major gaming or software companies. We have seen this done a few times in other states, with the results varying. However, BetMonarch is a well put together sportsbook, which boasts high speeds and smooth transitions. 
Top reasons to use BetMonarch Sports betting app:
Well designed app with quick loading times

Most popular American sports all included 

Good selection of domestic and international leagues

In-house app with lots of room for additions and improvements
Like other sportsbooks who have gone this route however, there are a couple of major sections missing from the app. We have seen this with the other in-house betting apps as well. Most notably missing from the app are live betting and promotions sections. 
These have been a staple of American sports betting since its legalization, and it's tough to see them excluded. Despite the exclusions of these sections, we still find a very functional sports betting app. The app is made well, and there are a good number of leagues for the popular sports to bet on. 
Odds — normal
BetMonarch has a decent selection of sports available on its betting app. The ones that are featured are completely American themed, with not many outright international sports to be seen.  The leagues included will also be the most popular ones so you can expect all games for the NBA, MLB, NHL and NFL to be available.
However, you will also be able to find international league offerings on the app for sports like baseball, soccer and others. Overall, this is a good basic set of sports that will definitely deliver with bets on the biggest competitions. 
Auto Racing

Baseball

Basketball

Boxing

Football

Golf

Hockey

MM/UFC

Soccer

Tennis
Betting options — normal
Many of the bet types that you would expect to see on an online sportsbook are featured on BetMonarch. These include everything from moneyline bets to futures and props. One notable type of betting that is missing however is the ability to bet on live games. 
Although this section could be added in the future, it remains a major exclusion to an otherwise good selection.
Moneyline Bets

Over/Under Bets

Prop Bets

Teaser Bets

Handicap/ Spread Bets

Futures Bets

Parlay Bets
BetMonarch Official Betting App
All of the betting with BetMonarch will take place on its mobile app or at the retail location in Black Hawk. The betting app was done in-house by the Monarch Casino and Resorts, however it bears a similar design and layout to many major sportsbooks across the country. 
The greatest difference between the mobile betting app and betting in person is that on the mobile app the minimum bet is only one dollar. Lower than many Colorado sportsbooks.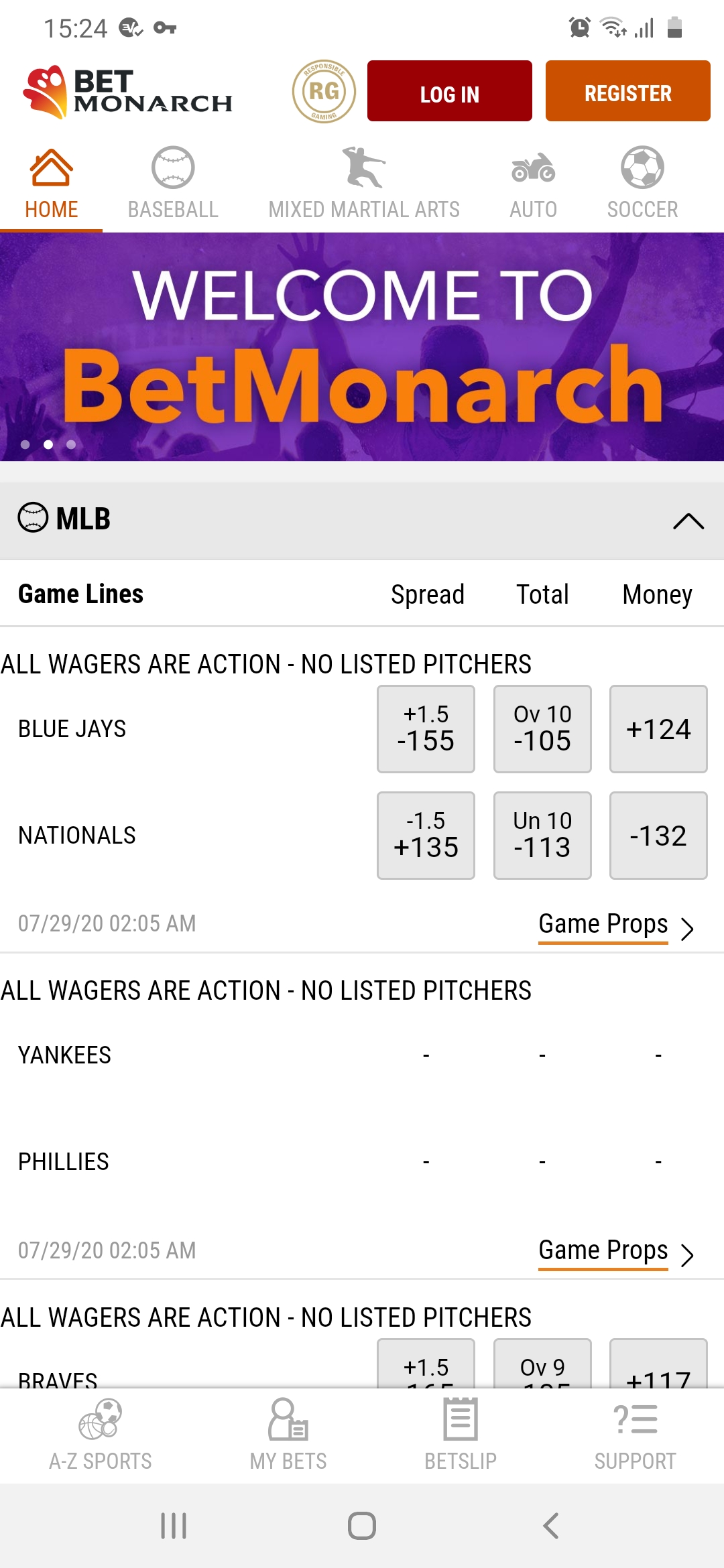 There are not many sections included other than sports betting, so the main focus for bettors lies with how easy it is to find the games that you are searching for. The good news is that this was apparently the idea of BetMonarch as well.
The mobile application makes it easy to drop in to any sports and pick out a specific game.
BetMonarch also takes the scheduled approach to listing competitions down the center of the main screen or in a particular sport. The games that appear on the main page will be listed according to the earliest start times.
This is incredibly helpfulfor navigating to a specific competition.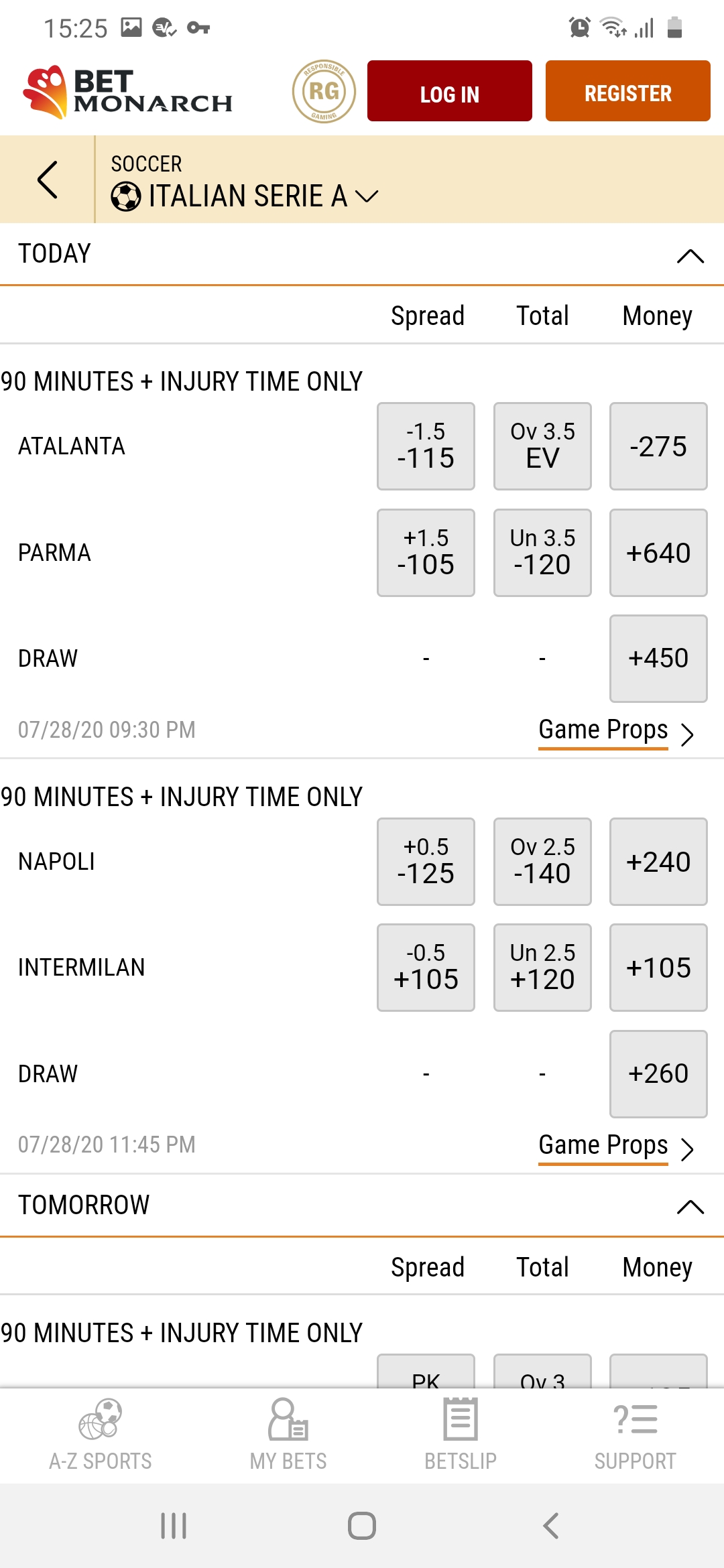 The BetMonarch app runs well and is very easy to navigate. At some point though, this has to come down to the simplicity of the app, without having all of those added sections. 
Betting with this app comes down to finding available competitions and placing wagers with not much else included. That being said, this is something that BetMonarch is able to do very well, offering one of the finer in-house developed apps we have seen. 
Registration & Verification
The registration process on the BetMonarch mobile app can be completely done from anywhere in the country and is completely on the app. Each version of the app can be downloaded in different ways, however both can be found on the Monarch page. 
You can go to this page and click the link to begin downloading either the IOS or Android version of the app. Once either version has been installed onto your device, you will be able to begin the registration process. This process takes place on one page and can be completed in a few steps.
Click on the 'Register' button in the top right of the screen

Fill in the information accurately and agree to the terms and conditions

Once done, wait for BetMonarch to examine and verify your information

After logging into your account, you may make a deposit in the banking section

Start searching for competitions and making bets
After the registration process has been completed, BetMonarch will need to verify the information that you have provided. This is done through the use of your Social Security number and usually takes a few seconds. 
 Once your account has been approved, you will receive an email confirming your account. After this, you will be able to log in from anywhere in the state using your email address and password.
Deposits & Withdrawals
All deposits and withdrawals on the BetMonarch app will take place in the banking section. You must have registered an account and be logged in to access this section. Once you are logged into your account you may go to this section at any time and make a transaction online. 
Right now, the deposit and withdrawal methods are quite limited on the app, but the methods that are included arguably can cover almost all bettors. These are the standard options at the moment and will likely have a few more join them in the future. 
Deposits
Credit/ Debit Card

Bank transfer
Withdrawals
ECheck

Direct bank transfer
These deposit options are the basic standard for sportsbooks across the country, and cover a large percentage of players. In addition, deposits and withdrawals are expected to be available at the retail location in Black Hawk.
When doing this you will need to arrive at the location during its normal business hours and provide photo identification.
Customer Support
To help out with any disputes or questions that may arise when using the betting app. These will all take you outside of the app to the Monarch Casino page.
There you can find house rules for betting and different articles of information that may help you answer any questions you may have. 
There are currently a couple of ways that you can personally get in touch with BetMonarch. This includes traveling to the retail location and talking with one of the guest services workers. However, you can also use the phone number listed on the site to get in touch with someone from customer support. 
Review Conclusion
As the app sits, it is a very good design and features a simple and enjoyable way to make bets. The app features a clean design as well as a full selection of American sports to bet on. BetMonarch is certainly not without problems, as the absence of live betting and a promotions section leave a lot to be desired. 
However, for making basic bets and for an in-house designed app, this one functions incredibly well. The odds on the sportsbook are also some of the best in Colorado and are consistently backed by low margins.
We would recommend this app if your main focus is simply betting on sports and you are willing to wait until other features come forward. 
Updated: 04.06.2023
Information about the company
Questions and answers
What are the best features of BetMonarch?
Since we as bettors always look for the lowest odds, we would have to put this as the best feature of BetMonarch. The margins on the sportsbook are incredibly low, which consistently leads to great odds on many competitions. 
The design and quick transitions of the app are also among the top positives of the BetMonarch app. When using this app, you don't have to worry about missing out on an important bet because you could not find it, as all sports and games are incredibly simple to navigate to. The selection of American sports on the app is another good  feature we would include. 
How to contact BetMonarch?
To get into contact with BetMonarch you need to hit the support button on the bottom of the screen in the app. This will take you to the main page where you can find the location's phone number. Alternatively, you can also make the trip to the physical location in Black Hawk to get answers to any questions you may have. 
How does betting work on BetMonarch?
Sports betting takes place entirely on the BetMonarch mobile betting app. Once you have downloaded your version of the app and completed registration, you will be able to log in and make bets on your favorite sports games. 
BetMonarch is the product of Monarch Casino Resort Spa and operates out of Colorado, following the state's laws and rules for sports betting. This means that you will be able to bet on mobile from anywhere within the state. Getting started betting on the app is simple after following a few necessary steps. 
Register or log in to your BetMonarch account  
Make a deposit into your account
Select the odds of the game or competition you want to bet on
Choose the amount you want to stake on the market 
Place the bet on the market of your choice
Once you have placed the bet on the market you will need to wait for the game to finish. If your bet is successful then you will win an amount of money based on how much you have staked combined with the odds given for the market you chose. The profits will be placed into your account total, which can be withdrawn at any time.