Registering at DraftKings
DraftKings started out as one of the biggest daily fantasy sports providers, with the name being instantly recognizable throughout the country. Today, the company has expanded to both sports betting and online casino. offering them in multiple states. 
The company was founded in 2012 in Boston, Massachusetts with its first product a one-on-one baseball competition based on that year's MLB season. Today it is the number one daily fantasy sports provider in the United States.
The company began its foray into sports betting in New Jersey with the launch of its app on August 6, 2018. Later in November of the same year, DraftKings opened a land based location for its sportsbook at New Jersey partner Resorts Casino Hotel in Atlantic City. 
DraftKings continues to be one of the biggest names and competitors in the New Jersey betting scene. Its sportsbook has also expanded into other states as well including Pennsylvania, Indiana and West Virginia. 
1) Step One: Sportsbook Registration
One of the unique things about DraftKings is that if you already have an account with the fantasy sports side of the site, you can log in to the sportsbook as well using the same credentials. DraftKings may ask you to provide additional information once logged in.
However, if you are not yet signed up you can begin to create an account. You can begin this process by clicking on the light green 'Log In' button in the upper right hand corner of the screen. Under the login information there is a link for you to instead sign up for an account.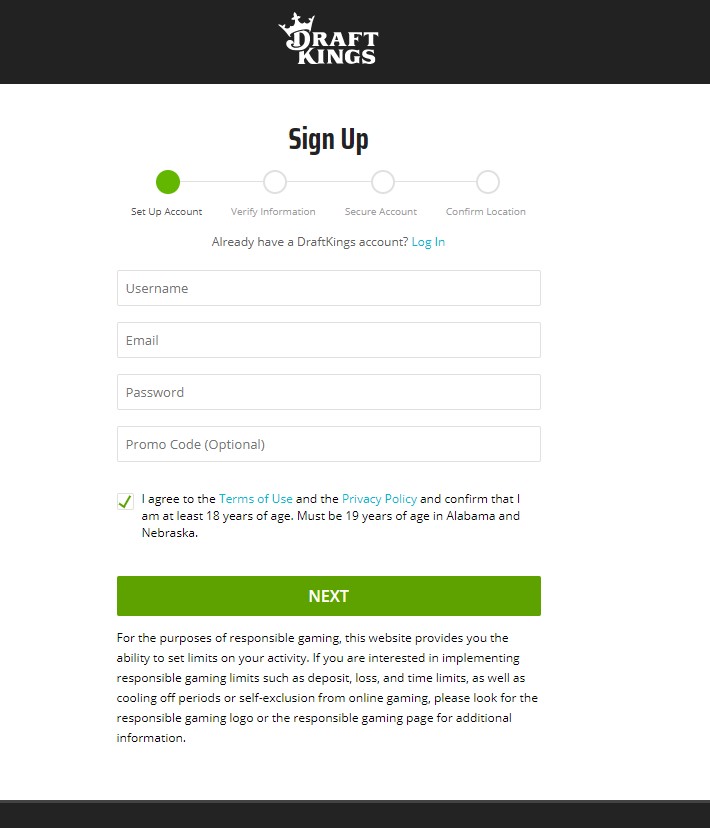 Clicking on the link will allow you to begin the process. When going through the registration form, it is very important that you carefully enter all information correctly and up to date. There are four different sections included in the registration. None of them will have too extensive of necessary information and can be completed quite quickly. 
The four sections included in the registration process:
Set up Account

Verify Information

Secure Account

Confirm Location
One the registration process has been completed, DraftKings will review the information that you have entered. The most important thing is that they verify the information that you provided is correct.
This will normally be done within a short period of time, but could take longer depending on the situation. Once everything has been reviewed DraftKings will send you an email stating that your account has been verified and is active. 
2) Step Two: Complete Registration - DraftKings and New Jersey Terms and Conditions
The first out of the four registration sections will be straightforward and similar to creating an account on any website. This is where you will set up your account information.
The second section will ask for some personal information such as your name, home address and birth date. The other thing you will need to enter is the last four digits of your social security number. The registration process will end with terms and conditions. 
Although you only need to be 18 in order to play the daily fantasy sports, you will need to be 21 in order to legally bet on sports in most states. This is due to the state's laws on gambling and sports betting.
In order to log in to sportsbook accounts and to place wagers, you must be physically located within the state of New Jersey. Sportsbooks in the state will employ the use of geographic location technology that will help to locate the user when attempting to log in or when placing bets.
However, this does not necessarily mean that you need to permanently live in New Jersey for you to create an account. If you do not live in New Jersey but are currently there visiting you can still enter your real home address and create an account. Due to geolocation, sportsbooks will be able to verify your location which allows you to play whenever you are in New Jersey. 
The registration process will not allow you to continue and you will need to fix the errors outlined by DraftKings. If DraftKings is still not able to identify you it will request that you upload additional documents and will lock your account until you do so. 
Finally, the very last step in the registration process will require you to once again verify your location. After this is done and if there are no further problems you will have successfully created a DraftKings account. 
3) Step Three: Deposit into your account
Now that registration is complete, there is now only one thing between you and placing bets on DraftKings or competing in daily fantasy competitions. This is of course, making a deposit into your account. 
Sportsbooks will always have a different number of methods for depositing, though the methods are usually the same on each site. The minimum deposit on DraftKings is five dollars.
Deposit methods available on DraftKings:
Credit or debit cards

Online Banking

PayPal

Wire Transfer

Play+ Card

Cash 
DraftKings makes it incredibly convenient to deposit cash at physical locations throughout the state. You can also make deposits at the DraftKings' physical locations like Resorts Casino in Atlantic City, NJ. With the use of PayNearMe however you can also deposit money into your DraftKings account at participating locations in your state. 
The maximum deposit using this method is $500 per day. This is an incredibly convenient method as there are plenty of these participating locations throughout multiple states.
4) Step Four: Making Bets
After being the most successful daily fantasy sports provider in the country, it is no surprise that the sportsbook at DraftKings is just as impressive. Being an American company that already had a lot of experience in sports, DraftKings was able to almost flawlessly enter into sports betting. 
These include the most popular American sports such as football, baseball and basketball as well as popular sports for betting like cricket, soccer and MMA events. Bet types include moneylines, parlays, over/unders, props, futures, live bets and teasers. 
DraftKings UFC Betting Markets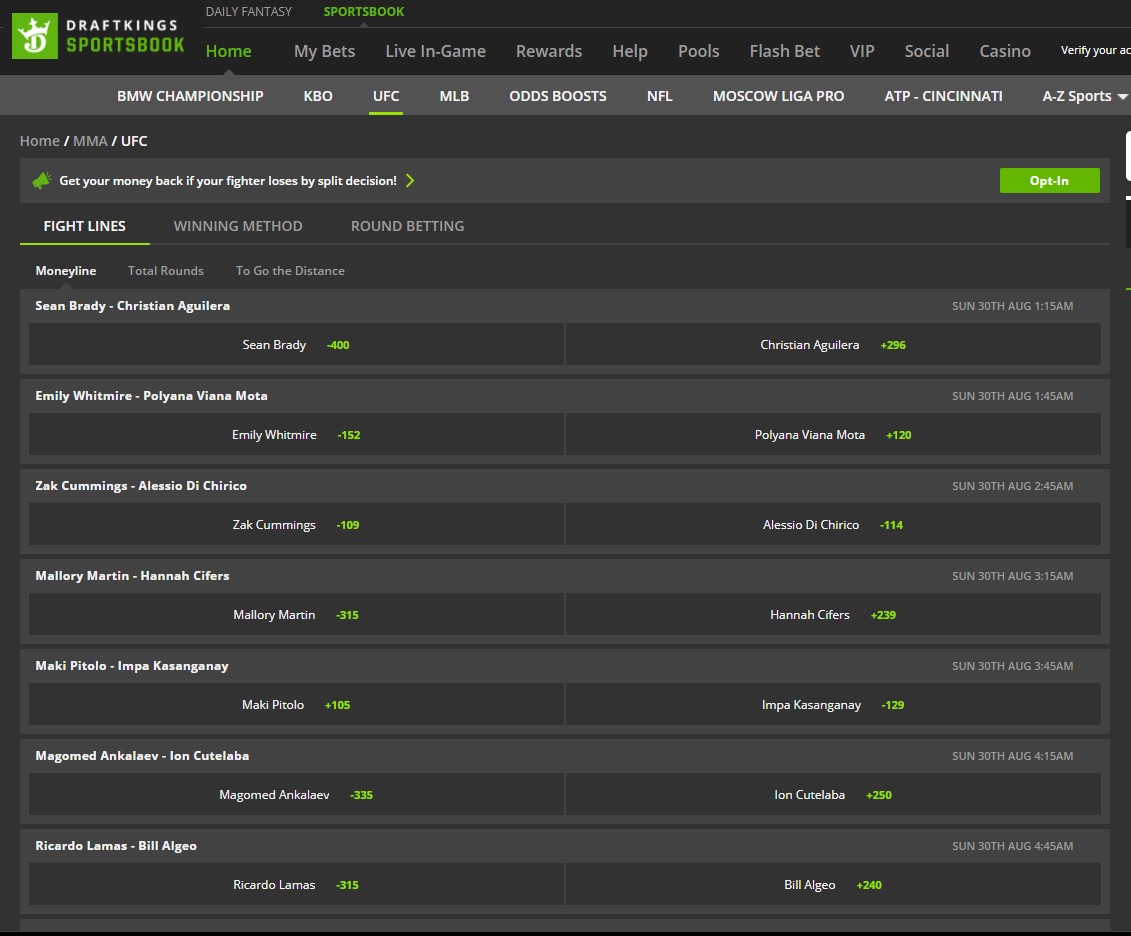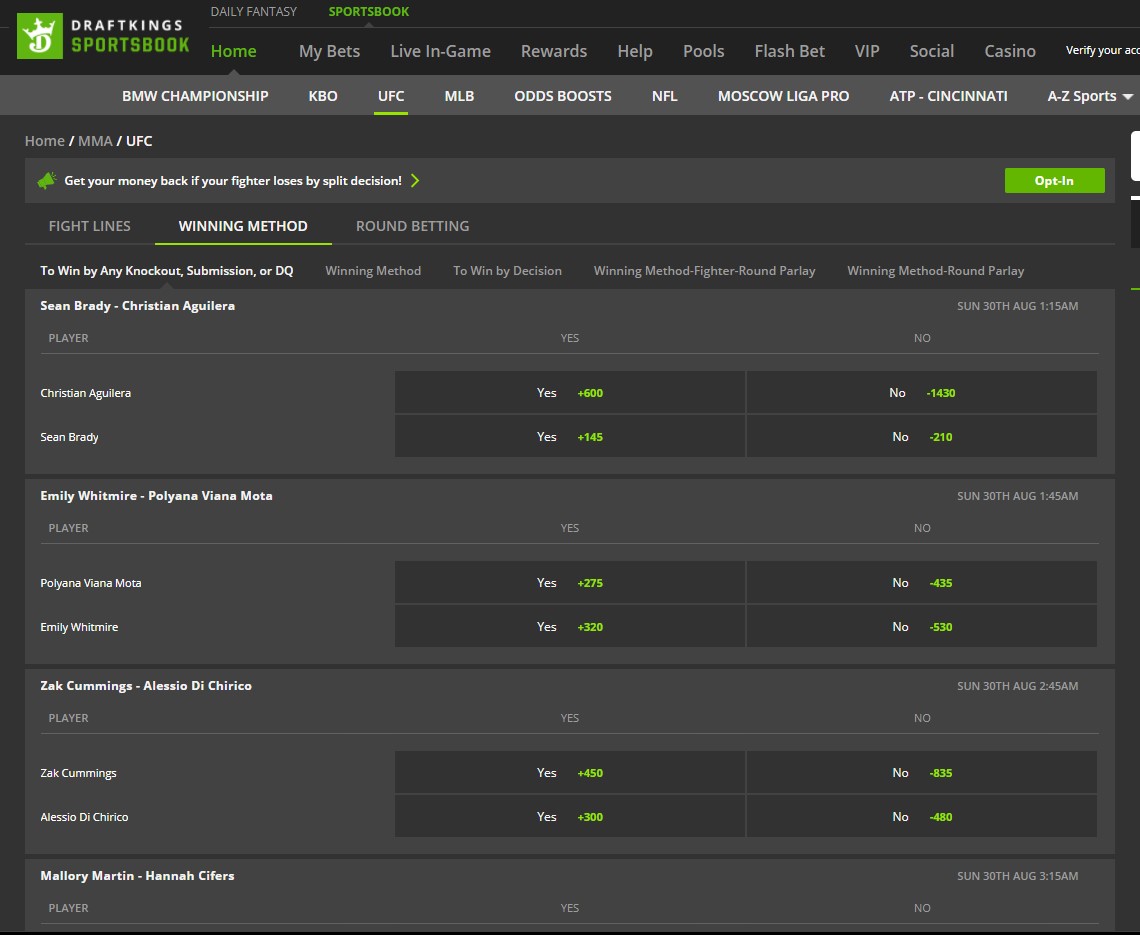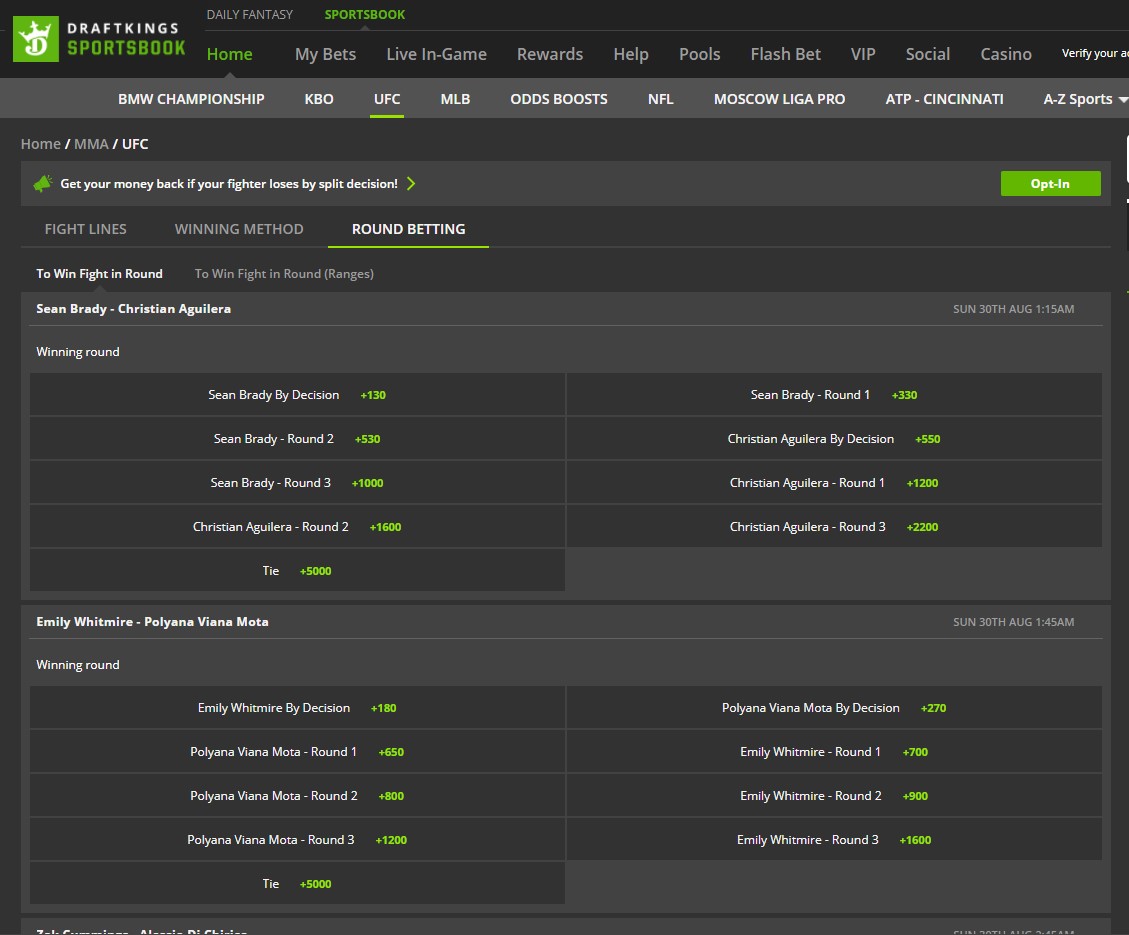 The sportsbook is also tied in seamlessly with the fantasy section, making it possible to both bet on sports and enter daily fantasy contests with just a couple of clicks.
There is a live betting section on Draftkings where you can make bets on the games as they happen. Going to this section will display all of the games being played live separated by sport and all of the odds listed below each game. 
All of the current promotions will be listed on the left side of the screen. Simply click on one to pull it up and to take advantage of it. Bonuses and promotions are available for the sportsbook, daily fantasy contests and the casino section.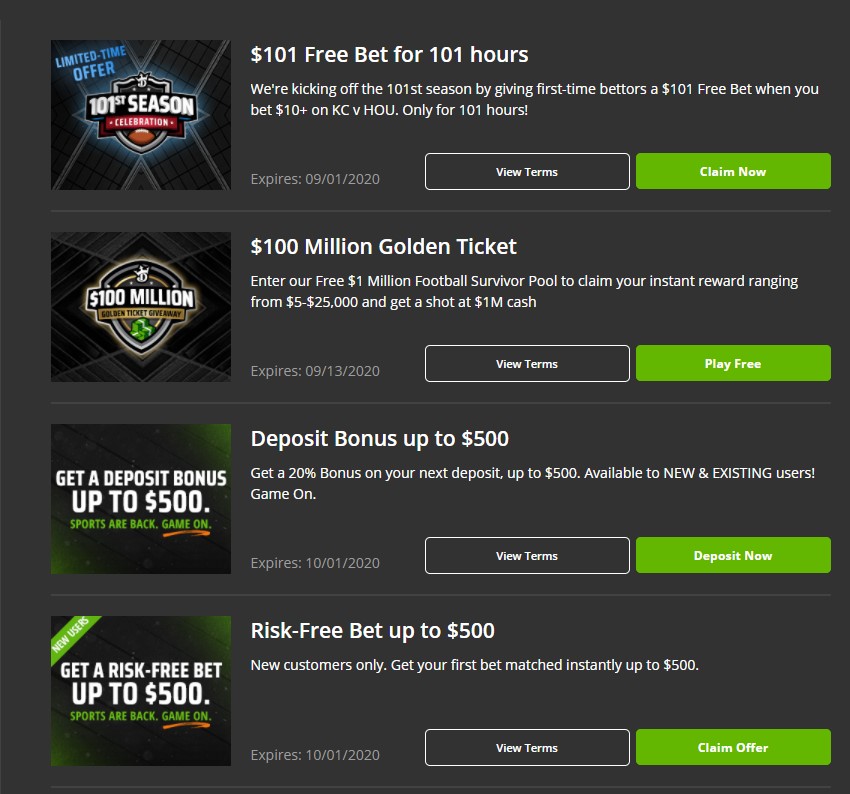 5) Step Five: Making Withdrawals
At any time during your time wagering or playing on DraftKings, you can withdraw funds from your account. To do this you can go to the withdrawals section of the site once you have been logged in. 
Like deposits, many sportsbooks will have a varying number of options for withdrawals, but the methods will be more or less the same with minor changes between the sportsbooks. There are currently four methods for withdrawals on the site. 
Withdrawal methods on DraftKings:
Check

PayPal

ACH/ Online Banking

Cage pick up
Both PayPal and online banking are normally processed quite quickly but you should allow at least a few days for everything to be returned. Check will likely always be the slowest method of returning your funds. Most times, the entire process will take from seven to ten business days.
This is the quickest way for making withdrawals as you can verify yourself in-person making the process a lot less stressful. When using any of the above withdrawal methods, DraftKings has the right to request additional documentation to help verify your identity. 
There are mobile apps available for DraftKings Sportsbook for both Android and Apple devices. You can download the IOS version of the app for free in the Apple Store.

To download the Android version, you can go to DraftKings app page and select 'download'. You may need to go to your device's settings and allow downloads from the current source. After this is done just click install and begin betting on your Android device!