Registering at FanDuel
Before becoming the popular licensed sportsbook operating in so many states today, FanDuel was the originator of daily fantasy sports and already one of the biggest names in America. The company was founded in 2009 and was acquired by Paddy Power Betfair on July 11, 2018.
This paved the way for Fanduel to expand into sports betting. Shortly after, FanDuel became the fourth sportsbook to open up in New Jersey. The company partnered with the Meadowlands Sports Complex in East Rutherford.
Since its opening, the FanDuel sportsbook has dominated, leading all other sportsbooks in the state in revenue the majority of months. FanDuel Sportsbook is now also available in other states such as West Virginia, Pennsylvania and Indiana.
1) Step One: Sportsbook Registration
Before placing bets on FanDuel you will first need to complete registration and create an account. Once you are on the FanDuel Sportsbook main page, in the upper right hand corner there is a green button labeled 'Join Now'. Clicking on it will take you to the first section of the registration process.
FanDuel will need to verify all of your information in order to confirm that you are eligible to place wagers on sports in New Jersey. Failure to fill out the correct could mean that your account will not be accepted.
Registration on FanDuel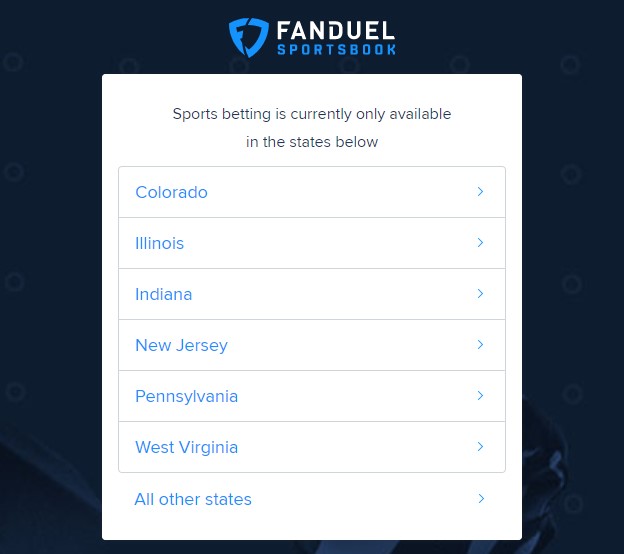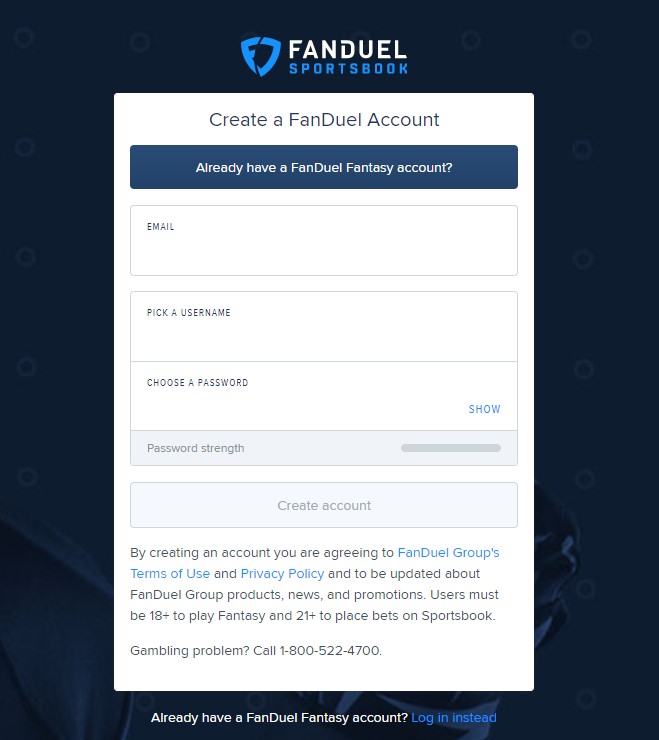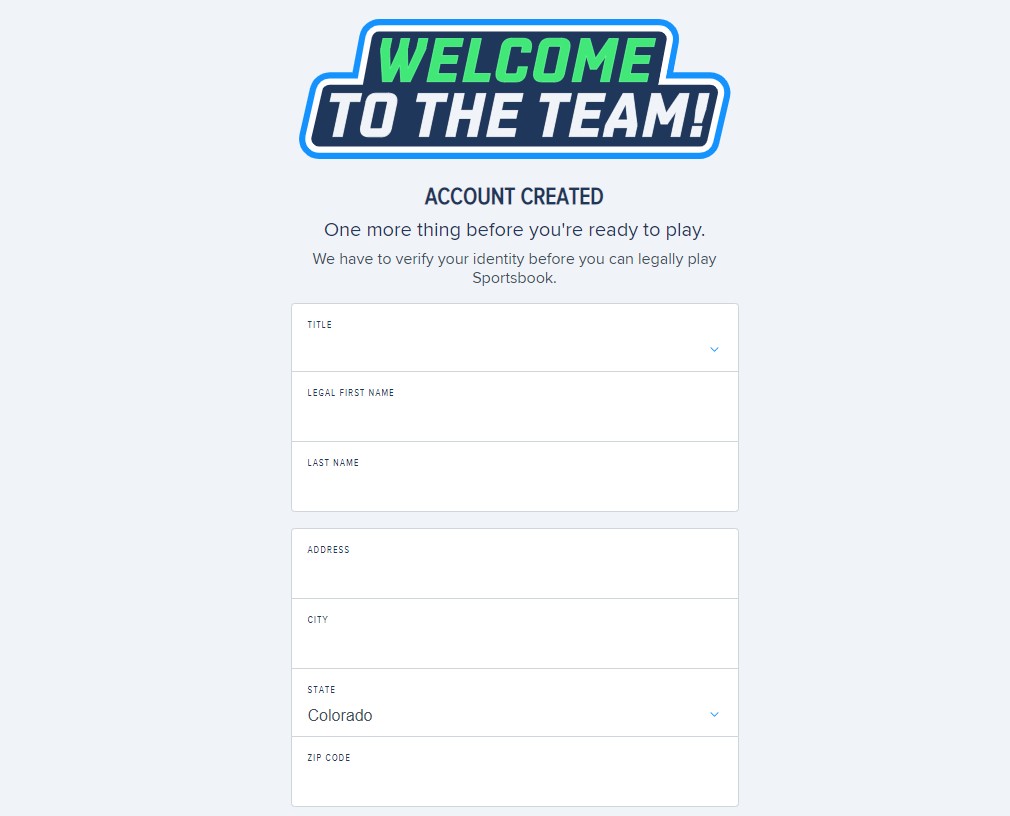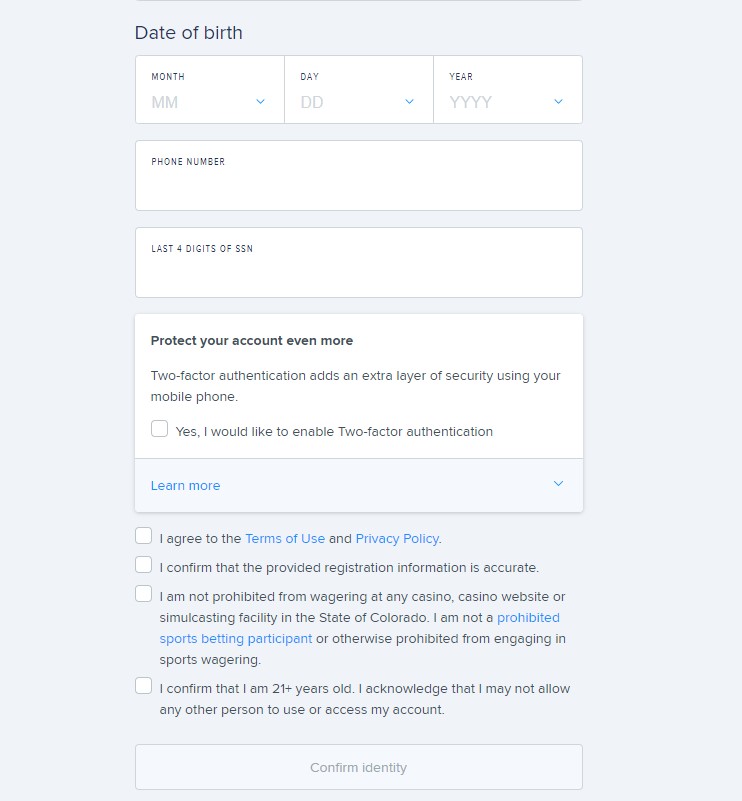 As you are going through the sections in registration, it is important for you to understand a few things.
These are directly related to both federal and New Jersey state laws that will be required for all sportsbooks in the state. These include your age, location and occupation. Meeting the requirements associated with these three things is vital.
The registration at FanDuel will be separated into these sections:
Account Details

Contact Details
The terms and conditions will be the last thing in the registration form, where you can confirm that your information is correct and agree to the necessary rules and regulations.
Before beginning the registration process you should be 21 years or older, live in or be located in New Jersey and not be a key employee of any casino operating in the state or professional sports organization.
After completing registration, you will have to wait while FanDuel verifies and confirms your information. It will use the last four digits of your social security number for this. Once this is done, FanDuel will accept your account and notify you through the email address you provided.
2) Step Two: Complete Registration - FanDuel and New Jersey Terms and Conditions
FanDuel packs its registration process down into two sections. In the first section, you will start with basic information such as your name, username, email address and date of birth.
In most states, the legal age to gamble is 21. If you enter a date indicating you are under the age of 21 you will not be able to continue. Furthermore, FanDuel will verify that you are legal gambling age for your state, so entering an incorrect age will not work.
The second part of registration begins with your home address. This is another main point as it is both federal and state law that all bets placed in New Jersey must be done from within the state's borders. You will only be allowed to create one account and access it through one household, or IP address.
It is important to note that you do not have to live in the state you are signing up for in order to create your FanDuel account, however to make sports bets you must be physically present in the state. When visiting a sports betting state you can still create an account and access it the entire time you are in the state.
The reason you are able to do this is because sportsbooks including FanDuel will make use of geographic location information. This tool will verify your location periodcially while using the sportsbook or mobile betting app. 
Agreeing to the terms and conditions is the last part of the registration process. There are four boxes in total that need to be checked. The first is agreeing to FanDuel's terms and conditions and its privacy policy.
3) Step Three: Deposit into your Account
Once you have finished registration and your account has been accepted by FanDuel, you will then be able to deposit funds into your account.
There is a possibility depending on the time of your account creation that you will have bonus funds already on your account. However, to get started playing immediately playing for real winnings you will need to deposit real money.
Each sportsbook will have different methods available for depositing. The more options a sportsbook has gives you the opportunity to find the best method for you. FanDuel features a good amount of deposit methods, including some of the most popular. 
Deposit methods available on FanDuel Sportsbook:
Visa

MasterCard

FanDuel PrePaid Card

PayPal

Cashiers Checks

Money Order

Personal Checks

ACH/ E-Check

FanDuel does not charge any additional fees for using an online banking transfer. However, some banks may see the transaction as a cash advance and may charge you a fee when depositing. It is best to check first with your bank to discuss any additional fees that might come when going through them.
Using PayPal is the most recommended option for a couple of reasons. Firstly, your deposit will instantly register after completing the process.
Secondly, this method can be used for both deposits and withdrawals and have a very high approval rate. PayPal is an online wallet that is widely accepted by USA sportsbooks and includes an app that can be downloaded for mobile devices. 
4) Step Four: Making Bets
FanDuel has done a tremendous job expanding from daily fantasy sports into sports betting. As an American company coming from daily fantasy sports, FanDuel is already vastly experienced and in tune with the American market. 
This is represented by the feel and look of the sportsbook. The number of sports you can bet on is also among the best when compared to other top sports betting sites. 
FanDuel Betting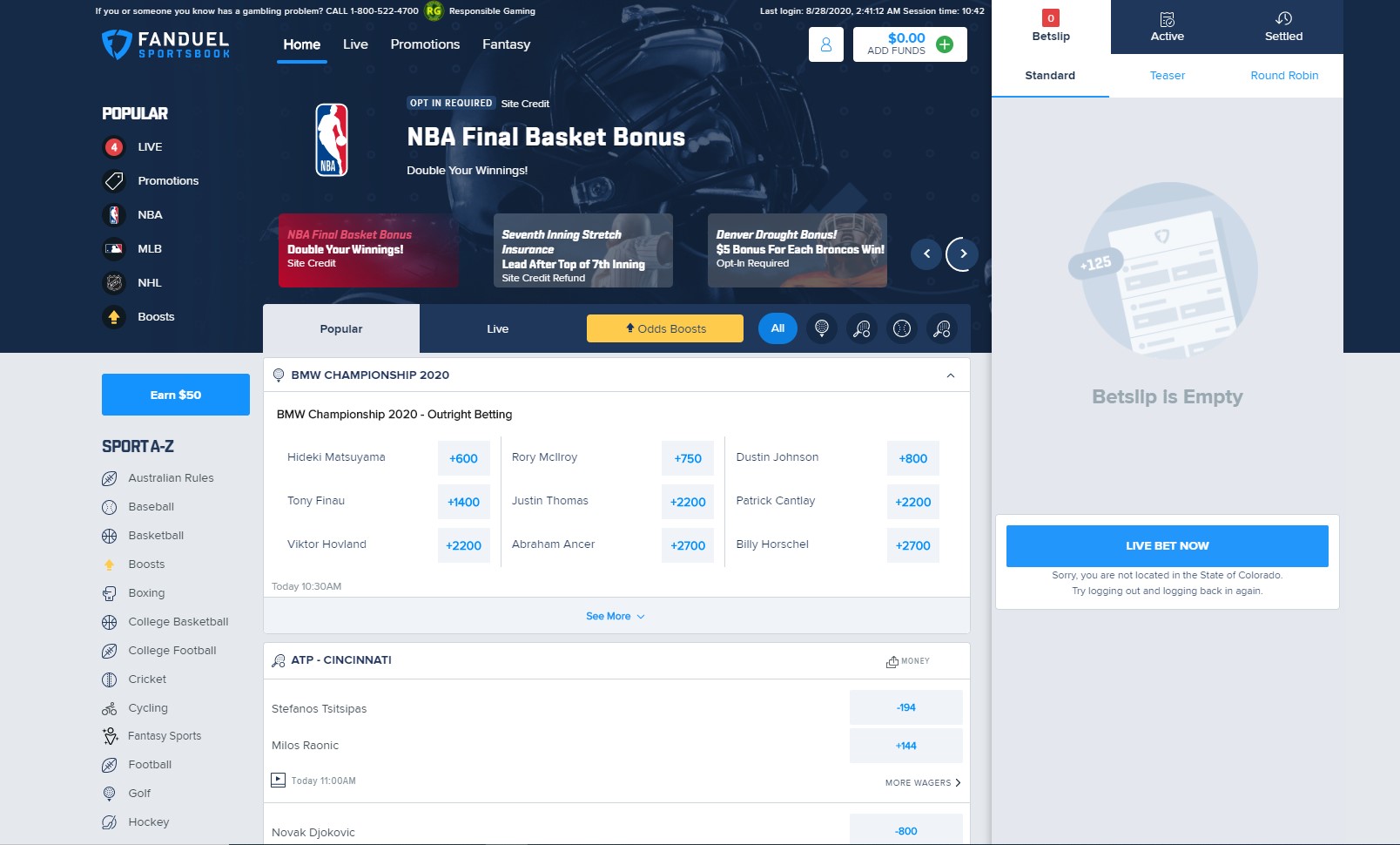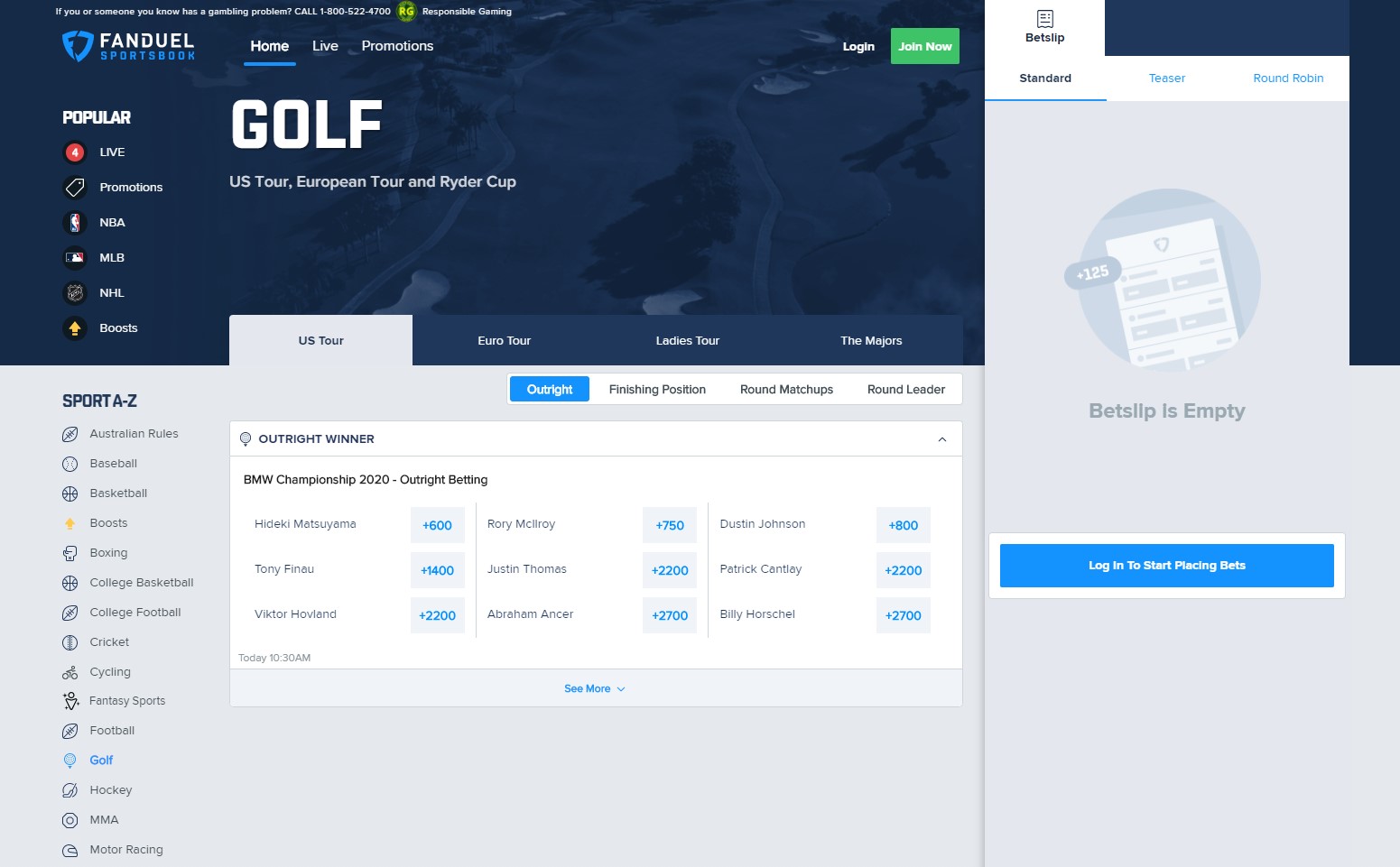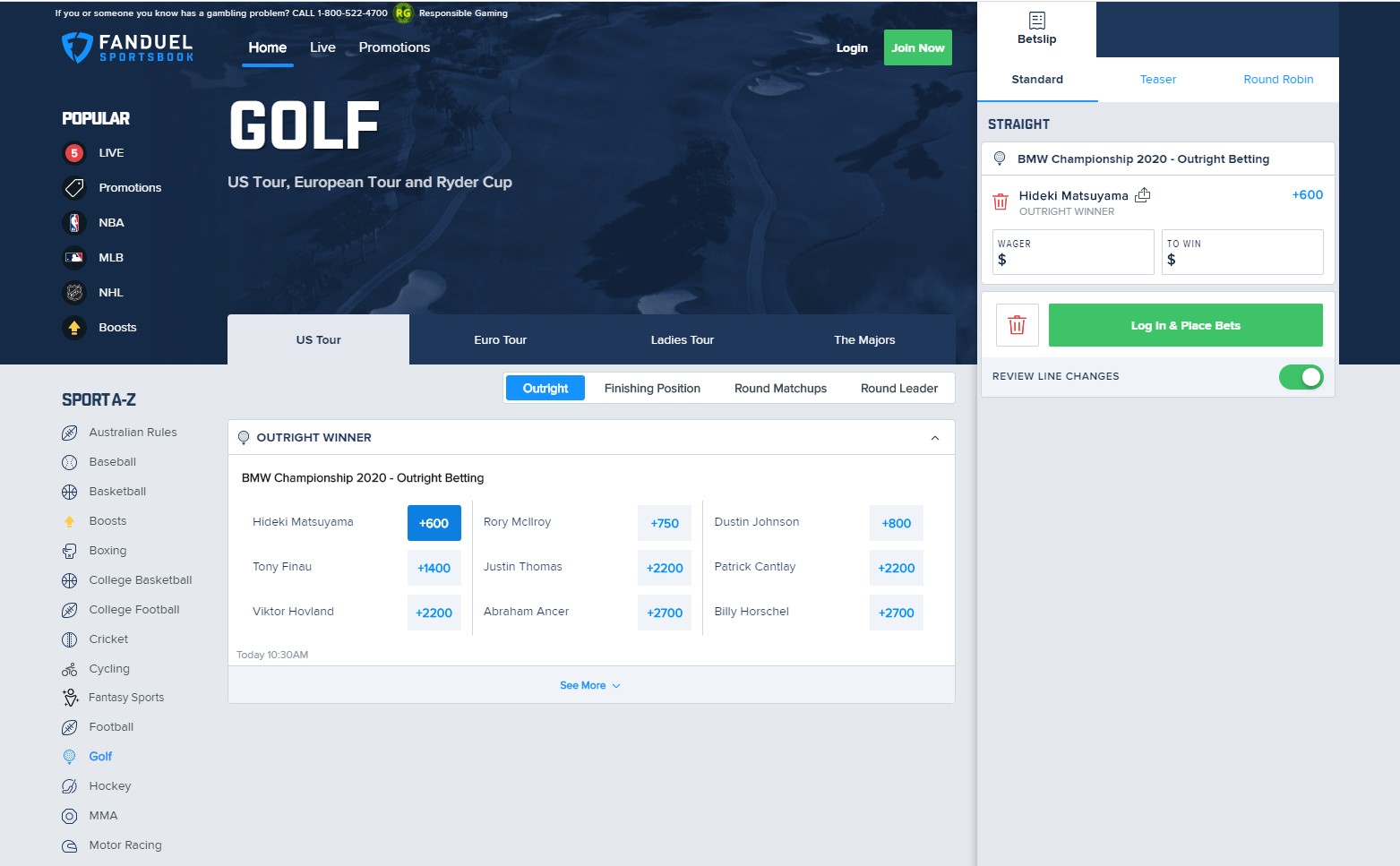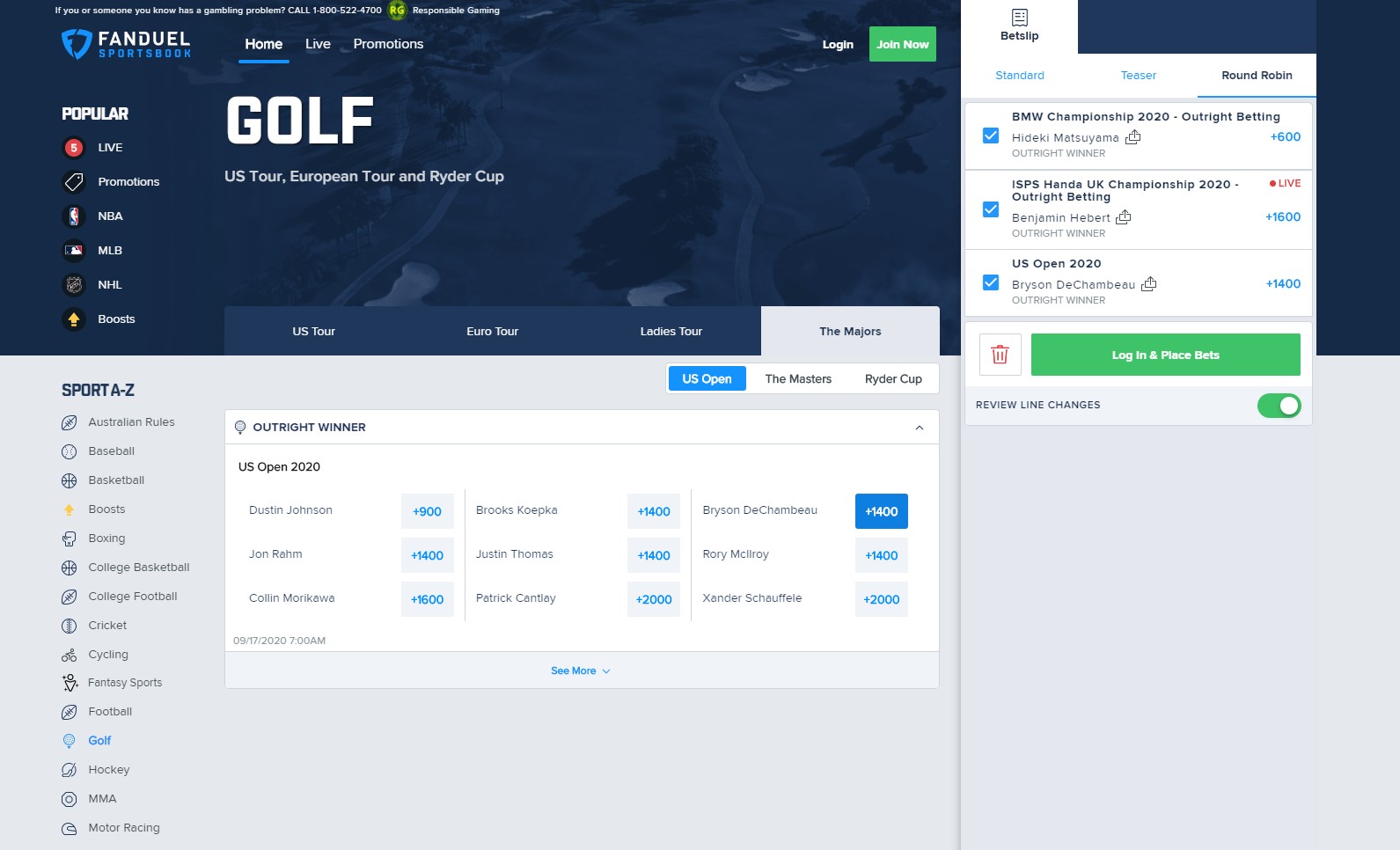 There are 13 sports in total available for betting including favorites like football, basketball and baseball with some lesser talked about sports as well like cycling, table tennis and darts. The sportsbook also features a lot of different lines and markets for all sports, not just the popular ones. 
Some of the betting markets on FanDuel:
Moneyline

Over/under

Handicap

Prop

Live bets

Futures

Parlays
One of the best parts of FanDuel Sportsbook is the live section on the site. The first thing that should be noted is yes, there is live streaming. This is available for all users who have an account and are logged in. The live section is on the top of the list on the left side of the main page screen. 
There will also be a section with all of the games that have live streaming. Due to FanDuel's partnership with the NHL, you will be able to live stream all of the league's games on the site, among other sports.
FanDuel also tends to feature a lot of good promotions beyond just the welcome bonus. Promotions can be accessed by clicking on the tab of the same name at the top of the screen.
5) Step Five: Making Withdrawals
After spending some time betting on the site, you can withdraw funds from your account back into your pocket. Withdrawals can be made by going to the withdraw section on the site after you have logged in. FanDuel offers more than average sportsbooks in terms of withdrawal methods, with a total of five. The times that it takes for FanDuel to review your request and for it depends on the method that you choose. 
Withdrawal methods available on FanDuel:
PayPal

FanDuel PrePaid Card

Cash at Counter

Check

ACH/eCheck
Using PayPal to withdraw is the quickest online method, as the review and receiving of your funds only takes up to 12 hours. The FanDuel PrePaid Card can take up to 24 hours, while ACH/eCheck takes three to five business days. 
You can also withdraw funds within the hour by going to FanDuel's physical location at the Meadowlands Sports Complex. This can be done during the location's normal business hours. No matter which method that you choose, FanDuel has the right to ask you for additional documentation to verify your identity. 
FanDuel Sportsbook has apps available for both Apple and Android devices. These can both be downloaded for free. The IOS version of the app can be downloaded from the Apple store.

The Android version must be downloaded directly from the sports betting site. To do this go to the FanDuel Android page and click on the download Android app for your state. You will need to allow downloads from unknown sources in your settings. Once downloaded, go to the app and click install.