New Jersey Sports Betting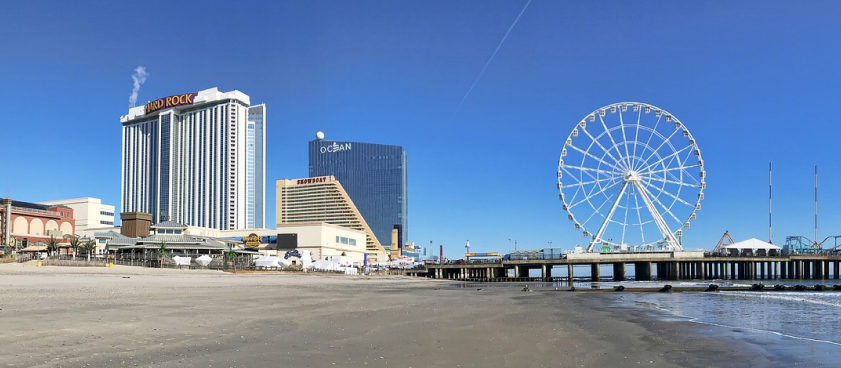 "We, the people of the State of New Jersey, grateful to Almighty God for the civil and religious liberty which He hath so long permitted us to enjoy, and looking to Him for a blessing upon our endeavors to secure and transmit the same unimpaired to succeeding generations, do ordain and establish this Constitution."
New Jersey was the true driving force behind legal sports betting in America. Less than two months after PASPA was struck down, sports betting was legalized in New Jersey on June 14, 2018.
Governor Phil Murphy made the first sports bet at Monmouth Park signifying the true beginning of New Jersey sports betting. The Garden State wanted sports betting and it is easy to see why.
Within one year the revenue from New Jersey and especially Atlantic City sports betting had become the highest in America, surpassing Las Vegas and Nevada.
New Jersey Sportsbook Bonuses 
There are no signs of stopping, as top sportsbooks have all set up shop in the state and offer lucrative welcome bonuses to attract even more new players to the scene.
The top sportsbooks in New Jersey invite new sports bettors with welcome bonuses:
Sportsbook

Welcome Amount

Description

Current Promotions

$160

Free $10 bonus | 100% matched deposit up to $150.

Free Throw Dough
PointsBet
$1,500
Two risk-free bets up to $1,500!
Good Karma, Parlay Boosts
BetMGM
$500
$500 risk-free bet
Weekly $10 free bets
SugarHouse
$250
100% matched first deposit up to $250
NBA Horse Challenge,
VIP Rewards

$270

Two free $10 Bets | $250 risk-free bet

Profit Boost, 
Weekly Parlay Boost 

$500

$500 risk-free bet

Pick 8

$1000

Risk-free bet | 20% matched deposit

Odds Boost

$500 

$500 risk-free bet

Keep the Cash

$120

$20 risk-free bet | 100% matched deposit up to $100

$100 Free Bet Giveaway

$100

100% matched deposit up to $100

Early Payout

$1000

$1000 risk-free bet

Bet $5, Get $20

$310

$10 free cash | 100% matched deposit up to $300

Weekly Football Challenge
Where and How to Bet in New Jersey
New Jersey sports betting has quickly become massive in the United States. It alone competes on a monthly basis with Nevada and consistently outperforms all other legal states.The total revenue of the state from its start was last seen at over 5.8 billion in February 2020.
The lucrative sports betting market in New Jersey is no secret and has attracted some of the world's and country's best sportsbooks.
When it comes to sports betting in New Jersey, Atlantic City is the place to go. Many of the state's top casinos operate in the gambling paradise Atlantic City.
For online betting, it is up to each state to decide for themselves whether to allow for mobile betting or not. Knowing what we know about New Jersey's love for sports betting, it is not really surprising that mobile betting is legal.  
New Jersey has rolled out sports betting on all platforms, allowing for statewide mobile sports betting. All of the biggest New Jersey sportsbooks have mobile betting sites, where you can place bets from anywhere within the state borders.
| | | |
| --- | --- | --- |
| Physical Location | Partners | Mobile Operator |
| Oceans Casino | William Hill | William Hill |
| Resorts Casino | DraftKings, FOX Bet | Resorts |
| Meadowlands Sports Complex | FanDuel | FanDuel |
| Monmouth Park | William Hill | William Hill |
| The Borgata Hotel | BetMGM | BorgataSports |
| Ballys, Harrahs, Caesars | Caesars  | Caesars |
| Golden Nugget Casino | PlaySugarHouse | Golden Nugget |
| Hard Rock Hotel | Bet365, Unibet | Hard Rock |
New Jersey Top Sportsbooks
Even in a market as robust as New Jerseys, top sportsbooks will always become apparent. Here we list some of the best and most successful sportsbooks in the state, along with a short review and some of the best features on each site. 
William Hill Sportsbook
William Hill is one of the world's most renowned sportsbooks. It can be accessed through desktop, or by using its apple or android apps. The experience from William Hill comes into play as each version of the site has smooth transitions and features a slick style and design. 
Once you enter into the desktop's home page, click on the register button in the top right. The mobile sportsbook covers all of the popular American sports and leagues, with competitive odds and margins. Another great thing is the number of promotions that are usually featured on William Hill Sportsbook.
William Hill is constantly updating promotions to match the current sports seasons. 
William Hill Sportsbook Features: Mobile App (Android, IOS), Quick Withdrawals, 24/7 Customer Support, Large Selection of Sports/ Bet Types, Monthly Promotions, Multiple Physical Locations, Sportsbook Rewards System
SugarHouse Sportsbook
SugarHouse Sportsbook is one of New Jersey's finest, as it does everything exceptionally well on the site and mobile apps. The online sportsbook is available for both desktop and has mobile apps for Apple and Android devices which are free to download and bet on.
The live betting section on SugarHouse is complete with live streaming, as well as unique betting types like pre-packs and bet-builders. The number of lines on SugarHouse is astounding, and can safely be called one of the largest sportsbooks in the state.
Promotions on the site are constantly offered, including both welcome and ones for existing users. There is also a rewards and loyalty program, where the more you play the more prizes you can earn. 
SugarHouse Sportsbook Features: Mobile App (Android, IOS), Massive selection of betting lines. Great features like 'Jackpot Parlay' and Pre-Packs, Linked Casino Section, Live Streaming Available, Constant Promotions on the Site, Unique Betting Features and Odds Boosts, Rewards and Loyalty Program
888sport
888sport is a massive international sportsbook with a great reputation. The sportsbook has a desktop version as well as mobile apps. To sign up for the desktop, simple click on the 'Bet Now' button on the main signup screen.
You will need to enter information including your address and date of birth. On the site, you can find lots of great promotional offers and a large number of different leagues available. Unique bonuses on the site include a little bit of everything like free bets, parlay and money back bonuses and promotional prizes.
888sport is known for promotions giving away free bets, and these are consistently posted on the site. 
888sport NJ Features: Sportsbook Rewards System, Mobile App (Android, IOS), Sports Betting Guides, 24/7 Customer Support, Physical Location, Yearly NFL Promotions, Round Robin Betting
Click here to learn more About Round Robin Betting. The strategic bet type to help you make better parlays and improve how you make sports bets. 
BetMGM Sportsbook
A great name in entertainment and a popular sportsbook in Atlantic City. The BetMGM sports betting site looks great and features a large number of leagues for nearly every sport. There are also good promotions and an incredibly low margin.
BetMGM is far ahead of other New Jersey competition when it comes to the types of sports featured on the site. Sports you will have a hard time finding elsewhere such as lawnball, lacrosse, bull riding and others are available. 
These are in addition to a large selection of sports including the most popular like basketball, baseball and more. BetMGM also offers consistent promotions throughout the year. 
BetMGM Features: Linked Casino/ Poker, Physical Location, Mobile App (Android, IOS), Frequent Promotions and Odds Boosts, Unique Sports Available, Rewards Program, Quick Withdrawals, 24/7 Customer Support
Unibet Sportsbook
To get started using Unibet's New Jersey sportsbook, there is a 'Join Now' button in the top right of the screen. There are three sections that you will need to fill out. The site features smooth transitions and a lot of different markets for American sports.
It brings many of the same features that made the international version so great. You can pick from many betting types and there are normally good options for making parlays. Among the bonuses often available on Unibet are free bets or matched deposits when you create an account.
There are also other promotions such as parlay and odds boosts periodically featured on the site.  
Unibet NJ Features: Mobile App (Android, IOS), Weekly Parlay Boosts, New Jersey Devils Ticket Giveaways, Round Robin/ Teaser Betting, Linked Casino, Second Chance Multiplier, 24/7 Customer Support
Bet365
Another one of the world's most popular sportsbooks.  It features a large number of bonuses and an even larger number of sports. The site has been well adapted to the American market, and includes two sections (poker, casino) in addition to the sportsbook.
However, that is not all as Bet365 has a lot of promotions and bonuses available, many of them unique. Some the more unique bonuses that you can find on any sportsbook are Bet365's 'Early Payout' offers.
For example, if you back a hockey team to win a game, you can get your bet paid out immediately if that team goes three goals ahead. This bonus also works for soccer games and the NBA/WNBA. 
Bet365 Features: Linked Casino/ Poker, Live Streaming, Super Bowl/ Kentucky Derby Yearly Promotions, Low Minimum Deposit, 24/7 Customer Support, Virtual Sports Games, Consistent promotions section
Click here to learn More About sports betting. We go over what they are, how to make them and different strategies to improve your sports betting skills. 
New Jersey Sportsbooks and Betting Locations
When it comes to USA gambling, Atlantic City is one of the top three destinations in the country. The city alone hosts many of the top sportsbooks and casino locations in the state. Many sportsbooks are also active on social media.
Each state will have different laws regarding which sports are okay to bet on. Luckily for New Jersey residents, the state has some of the most relaxed sports betting laws in the country outside of perhaps Nevada.
The biggest restriction on the range of bets that you can make are college teams. The state prohibits all bets on in-state colleges like Rutgers and Seton Hall games. This includes all of the sports pertaining to these colleges such as football, basketball and baseball games.
Many states do not allow wagers only on in-state colleges, so if you travel outside of New Jersey to another legal sports betting state you should have no problem betting on these two schools.
Sports and Leagues to bet on in New Jersey: 
| | | | | |
| --- | --- | --- | --- | --- |
| Baseball | Basketball | Boxing | Champions League | Darts |
| Europa League | Football | Formula 1 | Golf | Hockey |
| MLS | NASCAR | NCAA | NFL | NBA |
| NHL | MLB | Premier League | Snooker | Soccer |
| Cricket | Rugby | Tennis | MMA/UFC | WNBA |
Odds and Pricing in New Jersey
Finding the best odds is one of the key factors when choosing a sportsbook. The lines are set by specialists who work for each sportsbook based on the perceived possibility of each outcome happening.
Most sports betting sites will have a specialist in each sport, with some having them for each league.
Once the lines are set, they will move up and down depending on the amount of bets being placed on each side. If people are betting on one side a lot more than the other, then you will see the odds on this side start to get much lower to reflect that.
The main goal of each sportsbook is to receive an equal amount of money wagered on both outcomes, so that they profit no matter which side is correct. Remember that the bigger the difference of chances between two sides, the more the sportsbooks stand to either win or lose.
The first odds set by the specialists will not differ that much between the sportsbooks. Many of the differences between the starting market prices on New Jersey sportsbooks can be explained by the margin that each sportsbook has.
The margin is the percentage of each wager that the sportsbook takes as profit, no matter if the bet wins or loses. Margins will usually range from four to ten percent, with the lower margins representing a greater benefit to sports bettors.
New Jersey Laws and History
The road to legal sports betting in America was a long one filled with many obstacles. The state that led the charge was none other than New Jersey. It began in 2009, when the Garden State attempted to pass legislation to legalize sports betting.
In response to this legislation, the four major pro leagues and the NCAA sued the state on August 7, 2012. Outside the courtroom, some league officials voiced varying degrees of support. However, inside the courtroom New Jersey lost the battle as the U.S. Third Circuit Court of Appeals ruled in favor of the leagues.
Then, led again by former Governor Chris Christie and State Senator Raymond Lesniak, New Jersey passed a bill on August 18, 2014, allowing for casinos and racetracks such as Monmouth to begin taking bets.
The state once again lost the case by a decision of 2-1 in August 2015. That hearing was vacated making way to an even bigger defeat for New Jersey, when nine out of 12 judges voted against the state in the following February.
The Supreme Court was the final option.
Surprisingly, the Supreme Court decided to take on the case, and on May 14, 2018 voted 6-3 in favor of New Jersey giving each state the choice of whether or not to legalize sports betting.
New Jersey Sports Betting Q&A
Some of the most important questions and full answers for New Jersey sports bettors can be found here.
Are there any restrictions on the types of wagers that can be made in New Jersey?
The official answer is that all wagers offered by sportsbooks and casinos must be done in accordance with the New Jersey Division of Gaming Enforcement. The New Jersey DGE is in charge of all sports betting in the state, and it reserves the right to ban a certain type of wager or sports at any time.
Right now, when betting in New Jersey, the biggest prohibited wagers/ sports include all bets on colleges within the state like Rutgers and Seton Hall as well as high school events.
There is also a ban on Esports betting and on political betting (both currently being challenged). 
New Jersey is one of the most open states when it comes to sports betting, and all sports, wagers and events outside the regulations are fair game.
How can I bet online in New Jersey?
For most New Jersey residents, there exists the unfortunate fact that many of the state's top physical casinos exist in Atlantic City. That is made nearly a nonissue, due to the fact that mobile betting is legal throughout the state and many of the top sportsbooks have mobile betting.
In order to make online bets, you should first review everything about a sportsbook, as you will not want to create an account on one that you will not enjoy. This can all be done in one place here at Legalbet.com, where all New Jersey online sportsbooks are reviewed.
After finding the best site for you, simply follow the links to New Jersey sportsbooks and begin the registration process. You will need to provide certain things like your name, address and payment information.
With the federal and state laws, you will also need to prove that you are located within the state whenever accessing your account. This can be done by following each sportsbooks instructions on how to activate geolocation. After that, simply deposit and start making bets!
Where Can I bet on Sports in New Jersey?
Every casino and racetrack is able to offer sports betting. There are currently ten retail sportsbooks that players can wager at which are located at state racetracks and casinos. More than twelve sportsbook apps also make it possible to bet online from anywhere in the state.
Sports betting is also available in the Prudential Center in Newark, courtesy of William Hill Sportsbook. 
What are the requirements to bet in New Jersey?
In order to place bets in New Jersey, you must be at least 21 years or older and be located within the state. Notice, you do not have to be a resident of New Jersey.
Online sportsbooks will use geolocation, so if you are traveling to New Jersey for the weekend for example, you should be able to open up an account and make bets as long as you are there.
Lots of the top sportsbooks are also available in multiple states. William Hill, Unibet, SugarHouse, and DraftKings are just a few of the sites that are up and running in states other than New Jersey.
The online sportsbooks have little variance between the states, and you can easily switch over to the New Jersey version of the online or mobile site if you happen to be in the state.
Does registration differ between online sportsbooks and physical locations?
Yes. Note that the online account that you register is separate from one at a physical location, even if it is the same sportsbook. Registering and depositing into an online account means that your funds and winnings will be kept there, although there are some exceptions. 
However, you will often be able to deposit and withdraw your winnings from the physical location to your online account at many areas. You are not required to register an account at a physical location. The only exception to this rule is if you are wagering $10,000 or more.
When you are in the sportsbook, cash and cards are accepted for betting.
Who to contact with further questions?
There are a few places you can go if you have more questions after reading through this page. If you have already chosen a New Jersey sportsbook, then you can go directly through them to have your questions answered. 
This is the best option as each sportsbook has different rules and regulations, so you can get specific information pertaining to your sportsbook.
Many of the online sites will have phone numbers, emails and even live chats that you can access during normal working hours. You can also go through the New Jersey Division of Gaming Enforcement with questions for general information about New Jersey sports betting.
There are different contacts for different genres of questions. For example, questions about wagering or law changes. The contacts are all listed on the official DGE site.
Super Bowl Betting in New Jersey
The biggest sports betting event in America by far is the Super Bowl. According to the American Gaming Association more than 26 million Americans legally bet around $6.8 billion on the game in 2020.
Naturally, as a bettor you will want to take advantage of America's biggest sporting event and find the perfect place to bet on the game. Luckily for you, in New Jersey all of the major sportsbooks will have plenty of markets available for the game. Wherever you decide to go, you will want to get there early so you can get a seat. 
If you cannot, don't worry. New Jersey mobile sportsbooks will feature a large number of bets on the game that you can make right from your living room, bets that can be placed even during the game! 
Super Bowl prop bets are the most exciting part of betting on the NFL's championship game. Check out the craziest things you bet on during the Super Bowl on New Jersey's mobile sports betting sites.
Sports Betting References
Betting takes a lot of skill and a little bit of luck. Or it could be the other way around depending on how you look at it. There are a lot of different things that you need to pay attention to. Starting out it can be overwhelming the number of factors that exist in sports betting.
In our 'Betting School'. you can find lots of guides and strategy books to help your sports betting skills. Here we will even place some guides for new bettors that will help to give you a solid base for making better sports bets.
Deposit Methods in New Jersey
Each sportsbook in New Jersey will have their own list of options for depositing and withdrawing money on their sites. Although many of the most popular options appear on multiple sites.
PayPal
Mastercard
Visa
Skrill
Bitcoin
American Express
ACH Bank Transfers
PayWithCash
Online Bank Transfers
In addition, most sportsbooks will gladly accept cash at their casino locations. Once you go to one of the New Jersey physical locations you will be able deposit cash at various points throughout the casino like the cash cage, betting windows or betting kiosks.
New Jersey Sportsbooks: Sponsors and Social Media
Although the major professional leagues were originally against the proposition of legal sports betting, they have since been forced to adapt. Many leagues and teams are even entering into partnerships with major sportsbooks for sponsorships and a way to engage with their local markets.
You can also find a lot of news and updates for New Jersey sportsbooks on social media platforms such as Twitter, Instagram and Facebook. 
| | | |
| --- | --- | --- |
| Sportsbook | Partnerships | USA News |
| | New Jersey Devils, UFC, NHL, NBA, CBS Sports, Anthony Joshua, Tottenham Hotspurs, Prudential Center | William Hill signed with the New Jersey Devils in October 2018. It will also be opening the William Hill Sports Lounge in the Devils' own Prudential Center.  |
| | New Jersey Devils, Martin Brodeur, UFC, PSG, Liverpool, Henrick Lundqvist, Philadelphia Eagles | In September 2019, Unibet entered a multi-year sponsorship deal with the New Jersey team. Unibet also named hall of fame Devils goalie Martin Brodeur as its brand ambassador.  |
| | New York Jets | 888 extended its sponsorship deal with the New York Jets for the 2019-20 season, with no news on future deals. |
| | Boston Celtics, Philadelphia 76ers, Indiana Pacers, MLB, XFL, NBA | On February 13, 2020 DraftKings signed deals to become official partners of the NBA's Celtics, Pacers and 76ers. |
| | NHL, MLB, Pat McAfee, New Jersey Devils | The NHL made FanDuel an official sports betting partner with full rights to NHL streaming on the site. |
| | NBA, MLB, NHL, MLS, New York Jets, Yahoo Sports | The New York Jets named BetMGM as an 'official gaming partner' in a multiyear deal in 2018. |
| | UFC, NBA, XFL, Philadelphia 76ers | In November 2019, FOX Bet became the first online sportsbook to sign a deal with the NBA through the Philadelphia 76ers. |
| | NFL, New Jersey Devils, Philadelphia 76ers, ESPN, Philadelphia Eagles, Baltimore Ravens, Chicago Bears. | Breaking the NFL's distance from sports betting, the league named Caesars as the 'official casino sponsor' in January 2019.  |
| | MLB, Stoke City, Athletic Bilbao, Espanyol, Real Betis, Getafe | Bet365 became the MLB's fifth gaming operator in September 2019. |