MGM's M Life Rewards Hits Online Sportsbooks and Betting Apps
The online sportsbook and mobile apps for BetMGM are some of the most active in the country, operating in over five states already including Nevada, Indiana, Colorado, Illinois and New Jersey. The company just updated its famous M Life Rewards Program to include online sports bettors in on the perks.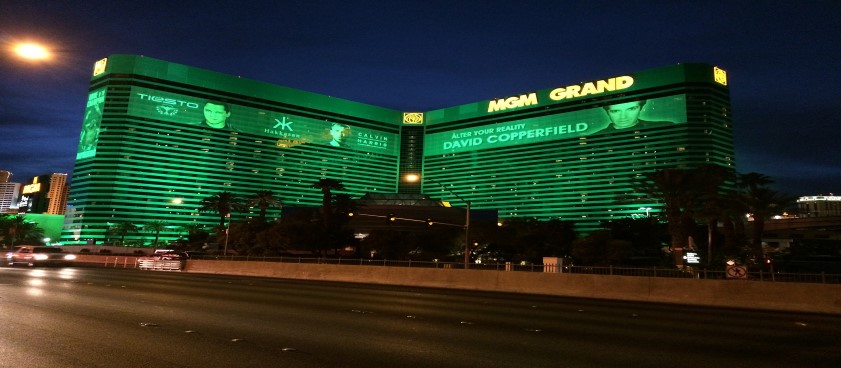 The MGM company has always been focused on gaming and entertainment properties. When sports betting was finally legalized, MGM wasted no time in launching its mobile sports betting apps in New Jersey. The BetMGM mobile sportsbook app has been popping up in nearly every legal state since. 
BetMGM was already one of the USA's premier and most popular online sports betting sites and mobile apps. All versions of the sportsbook offer features like live streaming, lots of payment options and a long list of sports to bet on. In addition to playing, BetMGM users can now earn as well.
BetMGM sportsbook users can now even get rewarded for each bet they make, after a new update in November fully integrated the online sportsbook into the M Life Rewards Program. Users will no longer need to be in Las Vegas to receive points and tier credits. The rewards are now online in every state where BetMGM operates. 
The M Life Rewards Expansion and Updates
The BetMGM Sportsbook is now also included in the M Life Rewards Program, rated among the best programs in Nevada and New Jersey. Players can now earn iRewards Points for placing bets on the sportsbook's mobile apps or on the sportsbook's desktop version.

This gives players two different variations of earned points for each bet they make on the online sportsbook, allowing users to reap the benefits from anywhere BetMGM has legal sports betting. Both of these variants will complement and benefit the other, with prizes being included on the mobile apps and in real life.  
The iRewards Points will be accumulated by players each time they make a bet, and can be used in the online loyalty store for real life purchases or to enter into contests. These points can be earned from gaming in the casino, sportsbook or poker sections of the site. 
Sports betting will yield some of the highest iRP outputs, which will also be determined by factors like odds selection, bet type and current tier status. Players will also receive tier credits on each sports wager, which will help them to move into one of the higher tiers. 
Each of the five tiers will also help you to receive a higher percentage of iRPs on every sports bet. This previously only included casino wagers:
| | | |
| --- | --- | --- |
| Tier Status  | Tier Credits Needed  | iRP Reward Boost |
| Sapphire | up to 19,999 | N/A |
| Pearl | 20,000 | 10% Bonus |
| Gold | 60,000 | 20% Bonus |
| Platinum | 160,000 | 30% Bonus |
| Noir | Invite Only | 40% Bonus |
Tier Numbers currently reduced to help players make a higher tier status for next year
Each of these tiers will also have additional perks like exclusive discounts and deals, priority check ins and other offers which are good for the following year. 
With the sportsbook included, now is the best time to take advantage. On January 1, 2021, BetMGM will set all tier points to zero giving players the opportunity to build a tier status that will last from February 1 – January 31 in 2022. 
BetMGM Online iRewards Store
The mobile aspect of the rewards program is now more apparent than ever, it is no longer a necessity for bettors to have to visit one of the MGM retail properties toexchange reward points. Online sports betting is now included in the iRewards program, and the MGM iRewards store is available both on desktop and mobile betting apps. 
For each sports bet made either in person or online, players will receive iRewards points which can be exchanged online. Once logged into your account, players can check their rewards points totals and view different prizes available in the online store, which can be accessed even from the mobile apps. 
Now MGM bettors in more than five different states can earn top prizes for wagering online at BetMGM. In person wagers at MGM locations will also be added to the online account. The online store has a major selection of prizes to choose from.
These include things like free entries into poker tournaments or free sports bets as well as electronics and other accessories. The BetMGM online store can be accessed by clicker on account information and selecting rewards and loyalty status.
New Players on BetMGM Sportsbook: Start Getting M Life Rewards
So how can new players get started making legal sports bets and earning rewards? Simply by finding BetMGM Sportsbook in your state and creating your account! After registration, the inclusion into the M Life rewards program on BetMGM will be automatic.
Players will automatically be placed at the sapphire tier level for basic level iRPs and tier credits.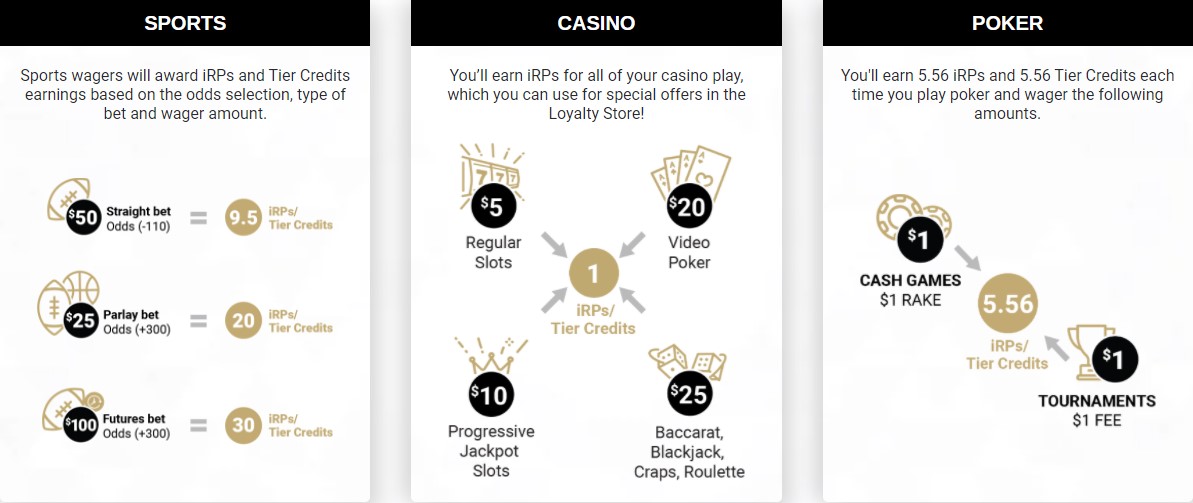 This means that from the very first bet on the sportsbook, you will be earning both iRPs and tier credits. Starting January 1st of 2021, these points will go towards a tier status for the year 2022. Each of the sections on BetMGM are fully integrated into one account and each will earn both sets of points.
As a player, switching between the casino, sportsbook and poker room can be done seamlessly on the mobile app with a simple tap. No matter where you play both in the country or on the BetMGM mobile app, MGM will reward you with points and tier credits. 
BetMGM was already one of the best sportsbooks out there, and its rewards program consistently makes the list of top casino loyalty programs in the country. Combining the two and giving more players than ever access is a massive bonus for fans of BetMGM. 
New players on the sportsbook can also sign up now and get another welcome bonus on the sportsbook. The current welcome bonus offered by BetMGM is a risk-free bet worth up to $500, which will immediately begin adding credits to the player's reward account.
The new promotion can be received by signing up now and placing the first wager on BetMGM.