How to Bet on UFC Fights
The UFC is the premier company for mixed martial arts fights. The company was started by a group of men in November 1993 and is headquartered in Las Vegas, Nevada.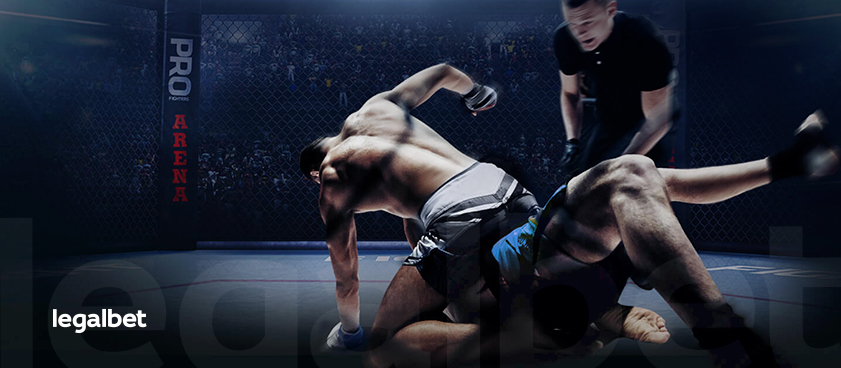 Sold at one point for $4 billion and continuing to rise, it's safe to say that the company has surpassed expectations in terms of popularity and appeal. The UFC shows no limit to the global outreach retained from the fights, and today is more relevant than ever. 
The UFC features fights between two trained mixed martial artists, each of whom has their own professional style of fighting that they have trained in. Our UFC betting guide will help you to gain a better understanding of basic MMA betting.
Since MMA fights in the UFC are the most popular in America, all US sportsbooks will have UFC betting lines and odds on their sites. 
Money Line/Match Bets
Over Under Round Bets
Prop and Victory Bets
Pairing Complementary Bets
UFC betting lines are unique themselves, but can be understood quite easily once you get started wagering. When you find a legal US sportsbook to bet at, you can look in their list of sports and find a section for UFC or MMA.
Once you click on the section for UFC, there will be a schedule of all the upcoming fights.
Find the fight that you want to wager on and browse the available markets. 
UFC Main Betting Types
The bet types listed above are some of the most popular, and the ones that you will see available on the majority of fights. While many of the betting markets listed will have similarities with other sports, the UFC bet types will have their own slight differences that beginners will need to be aware of.
Moneyline - The moneyline is a betting type available for almost all sports, and is the main bet for many events. In UFC betting, this is simply a bet of which athlete will win the fight. Fighters in the UFC can win a fight in a number of different ways including submission and technical knockout. For moneyline bets, it does not matter how the fighter wins or in which round, only that they win. 
Over/Under Round Bet - This is another main bet type for many different sports and competitions. A full UFC fight will last three five-minute rounds, whereas a title fight will be a little longer at five five-minute rounds. However, fights will rarely last all rounds as the athletes can be locked into submission, knocked out or otherwise unable to continue before the final round. 
An over/under bet on the rounds is the player's attempt to correctly guess whether there will be more or less rounds than the number the sportsbook gives. If the sportsbook sets the number of rounds at 2.5, then you will bet whether there will be more or less than 2.5 rounds in the fight.
Any number of rounds three or more will win the over, while if only two or fewer rounds are completed bets on the under will be successful.
Prop Bets - Potentially the largest variety of bets falls into the prop bets category, as there are infinite possibilities, depending on the sportsbook. Prop bets are defined as any bet that does not directly affect the outcome of the event. The bets listed are usually quite explanatory, so the possible outcomes will rarely be ambiguous.
However, since this covers so many possibilities it's hard to know what to expect in this category, though there are some more common UFC bet lines for prop bets. 
Method of victory - (TKO, Submission, knockout, etc.)
Fighter to win in a certain round
Fighter to win inside the distance - fighter must win the fight before the final round
Fight to go the distance - all rounds of the fight finish without a winner, the winner is than to be determined by judge's decision
Won't go the distance - the fight will be finished before the end of the final round
Pairing Complementary Bets - This is a betting method that combines different types of bets that compliment each other, giving players a better chance to win more bets and return a bigger profit. Pairing complementary bets usually begins with a single UFC betting market. For example, a bet on a certain fighter to win the match.
You can then begin to look at other bets that will complement this first bet. For example, possible bets might include for that fighter to win by a technical knockout, or for that fighter to win in the second round giving you the chance to win multiple bets. 
UFC Betting Odds
The UFC betting lines listed on a sportsbook will all be accompanied by odds, signifying both the chances the sportsbook gives each market to win and the amount you stand to make from each stake.
Betting with American sportsbooks will have by default American odds, however, there are different types of betting odds that can be shown.
American Odds
British Odds
European Odds
These types of odds will all be written differently, and will have different methods of converting them into profit. You can read more about these odds in our school of betting. We will talk about the American odds briefly here as they will be the most common.
First of all, understanding the UFC betting odds is simple. Next to each UFC betting line, there will be odds next to them. Clicking on the odds will select that bet and place it into your bet slip.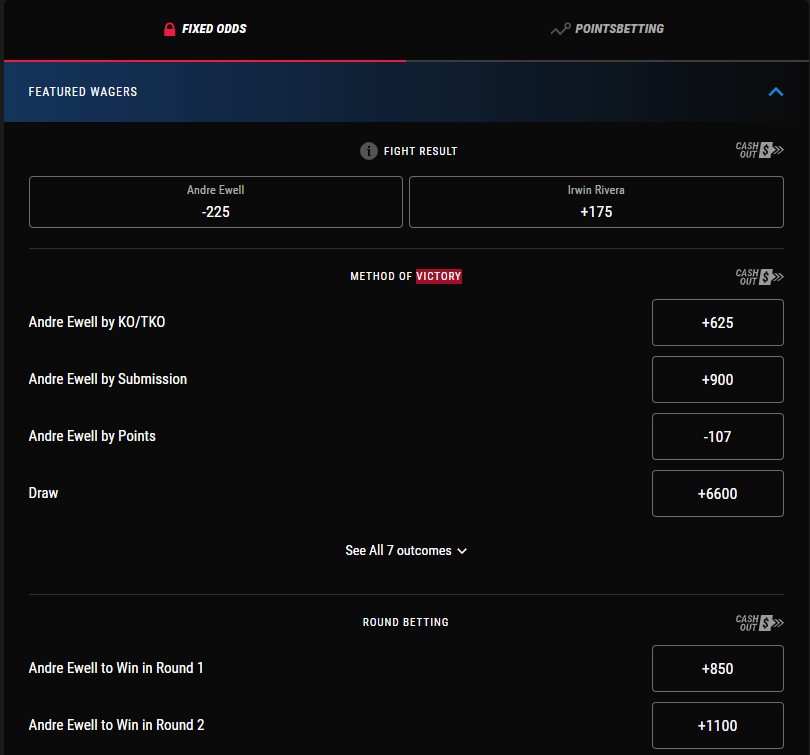 UFC betting odds from PointsBet Sportsbook
American odds are listed as a whole number with either a plus or minus sign in front. The sign in front will signify two things:
Whether the team/athlete is favored in the match or is the underdog
How much money you will need to bet to return the desired profit
Seeing a plus sign in front of the odds means that the market is given less of a chance to win. The higher the number, the lower the chances. For example, +100 has a better chance of winning than +140, according to the sportsbook.
The negative sign indicates that this market is favored to win, and here the higher the number the better the chance. Here, -310 has a higher chance than -210. 
The other thing you will be able to tell from looking at the plus or minus in the odds is how much you need to bet to hit the desired profit. To put it simply, there is a general rule for both the pluses and minuses. The rule will remain the same no matter which number you substitute in for the odds. 
+150 - in order to return $150, the player needs to bet $100
-210 - in order to return $100, the player needs to bet $210
UFC Betting Tips
Betting on UFC is noticeably different from other sports with the main reason being that instead of betting on a collective group or team, you are only betting only on the individual. There are a lot of advantages to this when looking at UFC bets online.
Studying and relying on one individual is easier than trying to understand the training, mental state and physical form of a group of individuals. Based on that principle, we present our UFC betting tips designed to maximize your winnings on the fights. 
Study the athlete's fighting style - in the UFC you will have fighters that all have their base fighting speciality, as well as significant training in other areas to fall back on. Tae-Kwon Doe, wrestling, Ju-Jitsu, boxing and many more different styles have come and gone through the UFC octagon. What you will find is that some styles match up better against others. Understanding these will give you an immediate advantage when analyzing the fight.
Look at current form and interviews - since the focus of a fight is on two athletes instead of teams, the spotlight will be much narrower allowing you to understand a number of things about your fighter. There will be multiple press conferences and for major bouts, fighters may even do interviews and release training tapes. From these you can gather where the athlete is at physically, mentally and even how they are training for this specific fight. 
Weight class - Just like switching up and taking on fighters with a different fighting style provides a major difference, so does changing weight classes. Changes in weight class require the fighter to adapt to harder hits and different speeds and styles. It's best when analyzing the fighter's previous record to note which weight class they typically fight in and what the weight class of the next fight will be. Stepping into a new weight class can be difficult for most fighters. 
Other UFC Betting tips and factors to be aware of:
Injuries - keep track of current or past injuries that may affect the fighter
Flight time - travel time can take a toll on fighter's overall style or endurance
Ring rust - this is the amount of time that has passed between the fighter's last fight, which can have an affect on their return to the ring
Select fighters - just like betting on your favorite sports teams, picking a few fighters to bet on will over time give you a much better perception of their abilities, and chances against each opponent.
Best UFC Betting Sites
Since the UFC is an American company considered to be the premier MMA fighting division with mass amounts of appeal, almost every US sportsbook will have UFC betting lines and odds on all of the fights.
Some of the best sportsbooks for UFC feature all of the fights and feature each fight in multiple sections with unique betting features for each. 
SugarHouse Sportsbook
One of the very best sportsbooks in both New Jersey and Pennsylvania, SugarHouse has its own section specifically for UFC fights. This includes a schedule of all of the upcoming fights with UFC betting lines for each on the final outcome.
With live streaming available, SugarHouse is able to live stream some of the UFC fights. SugarHouse has been offering sports betting since August 2018, making it the third sportsbook to go live in New Jersey. 
William Hill Sportsbook
A sportsbook that is known internationally as well as having a long history in the USA, William Hill has UFC betting lines on all of the major events. The fights are often featured in the William Hill trending events section.
Each of the fights will have outcome markets on the winner of the fight, as well as including UFC betting lines in the live 'InPlay' betting section. William Hill has been offering sports betting in the US since it first opened in Nevada, and offers sports betting states like New Jersey, West Virginia, Nevada, Indiana, Iowa and more. 
BetMGM Sportsbook
The MGM name has a long history in the state of Nevada, where the UFC was formed. The entertainment company has also featured fights at its physical locations in the past. The company's sportsbook
BetMGM operates in multiple states and also has UFC betting lines and odds of fights in multiple divisions like UFC 253, 254 and the UFC on ESPN series fights. BetMGM also features live streaming and cash out which can both impact the betting experience on UFC.
Unibet Sportsbook
One of the more well-known international sportsbooks, Unibet started its American operations in New Jersey on September 10, 2019. An experienced international company now already working in multiple US states.
The sportsbook has a complete schedule of upcoming UFC fights with betting lines and odds. For MMA betting on Unibet, UFC is the premier league for betting. Other features on the sportsbook include a promotions section full of great betting offers and a live betting section. 
PointsBet Sportsbook
The Australian based sportsbook PointsBet has a section for MMA, which includes UFC betting lines and odds. The complete schedule features the top fights from the division with bets on the main outcome.
The UFC betting lines and fights are also featured in the PointsBet live betting section. Also available for the UFC fights is the ability to cash out bets on the site.
This allows you to end bets on UFC early and return a portion of your stake, depending on the odds at the time of cashing out. PointsBet began in NJ in January 2019 and operates in multiple US states.