How to Bet on NFL Games and Win: NFL Betting Tips and Advice
NFL Betting Trends for the Best Sports Bets
The NFL season is the one that gets American bettors the most excited. Starting with the NFL Draft all the way up to the Super Bowl, the sport is by far the most popular in the U.S. with 15% of Americans placing wagers on it throughout the season.
If you are looking to get in on the action, we have good news, as our NFL betting tips, trends and advice will teach you how to bet on NFL games with success in no time. To gain a better insight into just how popular NFL betting is, here are the usual top five biggest sporting events for betting in the USA: 
Super Bowl

March Madness

Kentucky Derby

NFL Thanksgiving

World Cup Final
How to Bet on NFL Games 
Betting on NFL games is surprisingly easy. Even most international sports betting sites not based in America will offer NFL betting lines on games. The first step is to choose the legal sportsbook to start betting on. Players are not limited to just one, and many use multiple betting sites. 
NFL games are played on Monday, Thursday and of course on Sunday, when all but two games are played. The NFL betting lines will likely be listed days or maybe even a week before the actual game. If you are in a state that allows mobile betting, many of the sportsbooks in the state will likely have mobile applications in addition to the desktop versions.
Choose a sports betting site to register at. Once you have registered an account and made a deposit, simply make your way to the NFL section, choose a market and place your bet. Making profitable bets is another story however and something every player strives for. Now let's investigate how to beat the sportsbook with our NFL betting tips. 
NFL Best Betting Tips and Advice 
When it comes to NFL betting, there are a plethora of strategies that both beginners and experts like to use. There are also peculiarities about the sport that lead to opportunities for bettors. The first thing that a player should do after deciding to bet on an NFL game is to look at how the two teams match up against each other.
You can even do see matchups multiple weeks in advance by looking at the NFL schedule. Most teams in the NFL every season are either primarily offensive or defensive, with very few being able to balance them out. Knowing which side each team leans to will give you a massive advantage in multiple NFL betting lines, especially on the totals.
If two offensive teams are playing each other, you can expect there to be a high-scoring game and total over whereas two defensive teams will be close to a stalemate and therefore warrants a total under. The current form of a team is also something you can take into consideration. There are other factors that determine the chances of each bet every week.
Current form of a team
Injuries to key players
Previous matchups between the teams
Home field advantage
In the playoffs, even the best teams only need to lose one game to be out, as compared to a series where better teams have a bigger advantage. Flukes and upsets happen, and when they do you could be left stunned that your dominant team has just had their season ended by a team who barely snuck into the playoffs. For this reason futures bets for the NFL are extremely volatile and a major risk. 
There are NFL Draft betting lines as well on some sites. These can be a little easier to predict, although they are still not cut n dry. The best way to make these is to look at a team's main need and the player that matches that need. However, there are two main obstacles. NFL managers love taking players that they don't really need, and other teams can take that player before the team you bet on does. 
NFL Betting Trends 
The most important trend to know for the NFL, when betting on the spread, is that 30% of all NFL games are won by either three or seven points. NFL spread betting is one of the most popular makets. In short, spread betting means that each team will either have points added or subtracted from their final score that day, depending on whether they are perceived to win or not.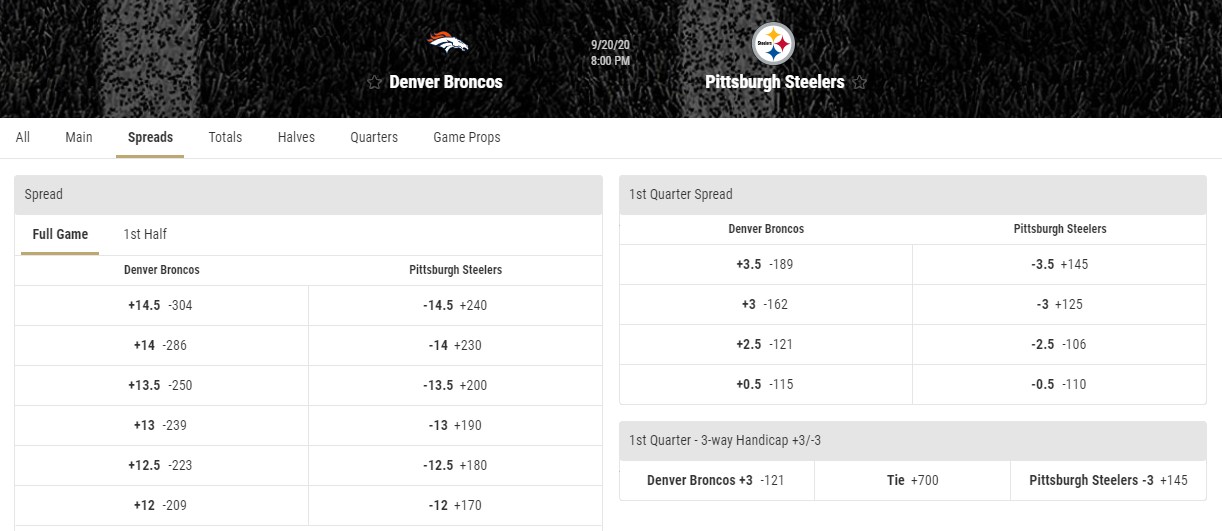 NFL spread betting on the BetMGM Sportsbook
Your bet will be won or lost based on the final score with "the spread" factored in. Since the most common margins of victory as written above are three and seven, you should think twice when you see a spread of 3.5 or 7.5. Though the favorite may be able to beat the other team, there is still that very good chance the spread will keep you from a win.
Another trend that is well known in all sports is that the home team has an advantage over the away team simply due to playing in familiar surroundings. In the NFL, the home team will win the game between 55 and 60 percent of the time. It's a small advantage, but an advantage none the less and one that holds up.
However, this advantage is lowered when two teams from the same division are playing each other. This is not only because they will play at the divisional opponent's stadium at least once a year. Rather it is about the proximity in which divisional rivals play. Right now, in the NFL, there are 15 divisional matchups where either team will travel less than 450 miles to the other team.
Since 2002, home teams playing close proximity divisional rivals have won less than 50% of the time. 
Baltimore Ravens, Pittsburgh Steelers, Cleveland Browns, Cincinnati Bengals (AFC North)

Buffalo Bills, New York Jets, New England Patriots (AFC East)

Philadelphia Eagles, New York Giants, Washington Redskins (NFC East)

Chicago Bears, Green Bay Packers (NFC North)

Oakland Raiders, San Diego Chargers (AFC West)

San Francisco 49ers, Los Angeles Rams (NFC West)
Other factors such as cold weather games can affect outcomes. The turnovers will skyrocket, and the points scored will fall. The home teams will have a major advantage in these cold weather games, as the average margin of victory for the home team goes from 1.6 points in warm weather games all the way to 9.4 points in games played in under 10-degree weather. 
Where can I legally bet on NFL Games
With the nationwide legalization of sports betting in America in 2018, legally placing bets on NFL games and events has never been easier for Americans. Multiple states have legalized sports betting to different degrees. These range from sports betting at physical locations to statewide mobile betting. 
If you are in a state that allows for legal sports betting, then it is almost guaranteed that all the legal sports betting sites will have NFL betting lines on their sites. Here are a few of the most popular (in the most states) online sports betting sites in America that feature NFL bet lines:
All reviews of legal USA sportsbooks can be found on Legalbet!
This goes for over/under bets on NFL scores, moneyline bets on NFL games and some will even offer wagers on the NFL Draft, among others. Many of these states will have legal mobile sports betting with sportsbooks able to feature mobile applications. However, if your state has legal sports betting but not mobile betting you will have to use different options.
In this case, you can visit the sportsbook's physical locations which are mainly located in their partner casinos. Some sportsbooks will also have sports betting kiosks throughout a state where you can quickly stop by to turn in a bet. As new states begin the process to legalize sports betting, newer ideas are being thrown out. These include betting in bars or restaurants and even at sports stadiums.