Basic Knowledge on NHL Playoff Odds, Picks and Betting Lines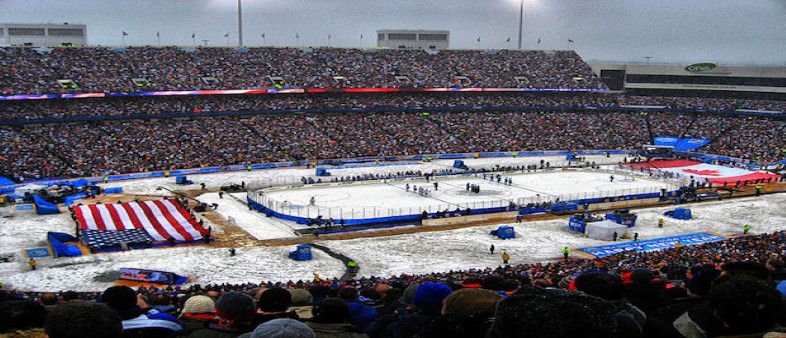 It is no secret that the American hockey season only truly begins to heat up come the NHL playoffs. Some fans will even forgo most of the NHL regular season schedule and only begin to watch when the first-round of playoffs begin. 
NHL Standings for Teams with the Most Stanley Cups:
Montreal Canadians 23

Toronto Maple Leafs 13

Detroit Red Wings 11

Boston Bruins 6

Chicago Blackhawks 6

Edmonton Oilers 5

Pittsburgh Penguins 5

New York Islanders 4

New York Rangers 4

St. Louis Eagles 4
Betting on the NHL can provide the player with some difficulties, as the league itself is very competitive. In the NHL Playoffs, the competition becomes even tighter. However, due to this fact the player will also find high odds in the NHL, even on the favorites. 
There are two different conferences and four different divisions in the NHL. In order to advance to the NHL Playoffs, a team must place third or higher in its respective division. 
Then, the next two teams in each conference with the highest amount of points will also be taken, giving both sides of the NHL playoff bracket eight teams total from each conference. 
The playoffs are played in series of seven games. The odds in NHL Playoffs will almost always be over +100 for each team. Though it can be hard to predict these games, there are sites that do extensive research and offer picks resulting from their information. 
One site that provides lots of good information for betting on the NHL is Oddsshark, where you can find NHL score predictions, public betting percentages and even computer-generated results for each game., among other information.  
NHL Betting Lines 
The betting lines in the NHL will be the exact same as the NFL betting lines. You will find three different markets, which represent the majority of all NHL bets made. 
The markets that make up the NHL betting line:
NHL Moneyline: This is the go-to bet for many bettors as it is the simplest bet to place on NHL games. All the player needs to do to win this bet is correctly predict who will win the game. The odds will normally still be high for NHL moneyline bets, so you can make these bets even on the favored teams with a good potential payout. Players can even prepare for certain games days in advance by looking at the NHL schedule. Starting lineups, where the game is played and past matchups between the teams are key stats to look for when betting on the NHL moneyline. 

Total Points Over/Under: This market gives the player a total number of goals for each NHL game. The player needs to correctly predict whether the actual number of goals scored will be higher or lower than the number provided in the line. NHL scores have been increasing in recent years. The style of NHL games has changed with a smaller emphasis on strength and power, to a higher focus on speed and agility. The average number of goals scored in the first half of the 2018-19 season was 6.1 goals per game. Starting goalies and their save percentages are the main things to look at when preparing to wager on this market. Goalies nearly every game will face many shots on their goal no matter which team they play. The ones with higher save percentages show that no matter how many shots they face they will be able to keep their opponent's scoring to a minimum.

NHL Puck Line: The puck line is the same as betting against the spread in the NFL. The main difference here is that the spread between two NHL teams will remain at 1.5 almost exclusively due to the league's competition, even more so when the NHL playoffs arrive. The main premise of betting on the NHL puck line is that one team will have 1.5 added (the underdog) to its final score and one team will have 1.5 subtracted (the favorite) from its final score. What this means is that if you are to place a bet on the Pittsburgh Penguins at -1.5, the Penguins will have to beat it's opponent by two goals or more to win your bet. Conversely, if you take the Ottawa Senators at +1.5, the team needs to either win the game or lose by less than two goals for you to profit. 
There are also markets allowing the player to combine two of these NHL betting line markets together. Obviously, you cannot combine the puck line and the moneyline, but you can take either one of them combined in the bet slip with the over/under. 
There are usually also varying point totals and puck line with odds to match. For example, if you are given 5.5 on the betting line there will usually also be lines for 4.5, 6.5, 7.5 and so on. The safer that your bet appears, the lower the odds will be. 
When it comes to the NHL playoffs, in the 2019 postseason teams allowed their opponents an average of around 2.8 goals per game while scoring around the same, so an average of about 5.6 per NHL game in the playoffs. 
Trends for NHL Playoff betting:
Home teams in the Stanley Cup Finals have won 68% of games since 2006

Teams who win the first game in a playoff series will sweep the opponent 17.8% and will win in game five 20.5% of the time. 

The Edmonton Oilers have the best series-winning records, advancing in 68.6% of playoff series 

Teams playing at home in NHL playoffs have won 55% of the time since 2006

In the past four seasons leading up to 2018, teams win regular-season series against an opponent beat that same opponent in a playoff series 68% of the time. 
Betting lines for the NHL also have many sites offering their free predictions on these markets. Making the best use of these sites is essential for winning bets on NHL games.  
NHL Picks 
Picking which team will win an NHL game is a very difficult task. Like other American sports leagues, there is so much talent that even the team that is last in the NHL standings can beat the first-place team. 
We have previously mentioned oddsshark for NHL betting, however they are certainly not the only ones. There are dozens of sites that offer free NHL predictions including major sites like the NHL section at ESPN. 
These sites will the list the NHL games to be played that night and give their full analysis on which bets you should make based on their own research and information.
Some of the things you should look for on NHL predictions sites:  
Wide variety of games 

Listed odds from multiple sports betting sites

List of meaningful trends for each game

Correct and relevant information

Strong picks and clear reasons for making them

Good records of experts giving the advice

Predictions and picks for multiple markets
Many predictions sites will have some of these things but finding one who meets all the criteria on one site can be a difficult task. 
Picking one with experts who have a long record of placing sports bets and winning is a key feature that not all sites can offer, however it is extremely important. Anyone can give their NHL picks, but when you are playing for money it is good to have a little extra insurance. 
There are other things that these sites can offer as an added bonus for the player. Things such as NHL schedules and standings, NHL scores and especially live NHL streams. 
Many of these sites offer their information for free, however paid experts also exist. Make sure to do your own research on these experts (although most will happily boast their stats) to see if its worth the price they ask. The best advice would always be to start with free sites at first. 
Some of the best handicappers for NHL picks (by ROI):
Jeff Hochman: W/L |235-148| ROI 18.34%

Alex Smart: W/L |230-170| ROI 13.38%

Frank Sawyer: W/L |142-99| ROI 11.99%

Cole Faxon: W/L |99-80| ROI +11.65%

Mark Wilson: W/L |133-107| ROI +9.68% 
The more you bet on sports, the more that you will realize that winning is not really everything. Of course, you need to win to make money, but look at the records of the experts above. 
The best win-loss record sits at just over 60%, which is shockingly good for sports betting. The most important thing for any player to remember is to find good value in the odds.
Be sure to look for games where the odds do not entirely match up with a team's chances of winning. With NHL games this can be difficult but there are always opportunities to be found, these NHL experts are great examples of that.