theScore sports betting app
All mobile betting on theScore sportsbook will take place on the two versions of the mobile apps. There is no mobile desktop version, so players will need to either download the Apple or Android version of the mobile app. You can find the opportunity to download the Android version of the app by going to theScore's official website.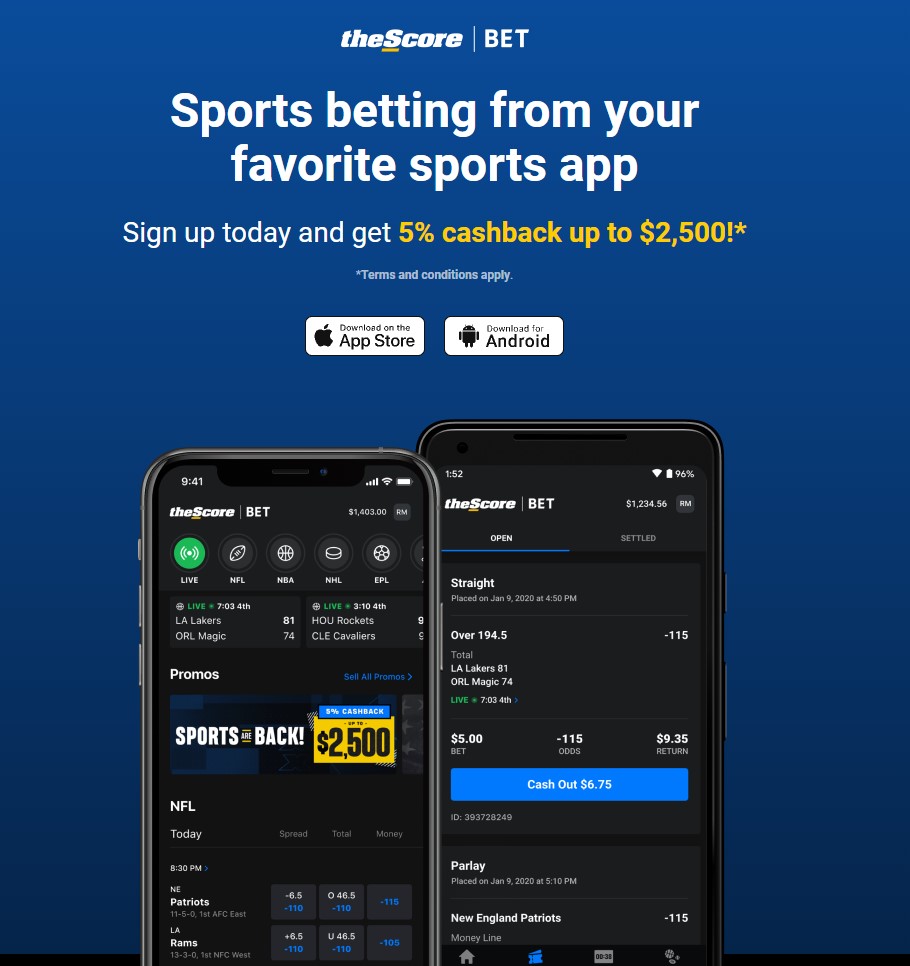 Note: Players who want to make sports bets using theScore sportsbook will want to download theScore's media app as well. This original version combines the sportsbook with plenty of game analyses, sports news and other great content from theScore.
Both versions of this app can be downloaded in the Apple or Google Play stores. 
Score Media and Gaming Inc. is based in Toronto, Canada and produces sports and sports betting content and media. The company covers all sports and has a massive following of over three million users. theScore officially launched its brand of sports betting in New Jersey on September 3, 2019. 
Once the app has been downloaded, you will need to register an account with the sportsbook to begin accessing other features of the app. Registration is a quick and simple process on theScore, and goes through the necessary information you will find on other sportsbooks. 
Download theScore mobile app, select the register button to get started

Complete the necessary sections with accurate information 

Provide verification and wait for the confirmation email from theScore
Payment Methods on theScore
The first thing that you will be prompted to do after completing registration is to make your first deposit on the sportsbook. However, this can easily be done anytime by going to your account profile and clicking on the deposit button. Deposits can be made from anywhere, even outside the legal state that you are betting in. 
In order to choose a method to deposit with, you will need to be registered and be logged into your account. theScore does not feature the most payment methods, but the methods available are still quite popular and fit the needs of most users. The maximum deposit for all methods is $50,000.
Debit/ Credit Card

eCheck Select

theScore Bet Play+ Card
Deposits on theScore will almost always be accepted immediately. The most versatile and quickest option for payment transactions will be the Play+ Card. These are widely used by sportsbooks, and can make deposits and withdrawals extremely quick.
Betting on theScore Mobile App
Going off of the design and layout of theScore mobile app, there is not too much that would distinguish it from other mobile sportsbooks. The main page will be the most important, as you will be able to reach most other sections on the site from here. The most popular upcoming games will be featured on the main page.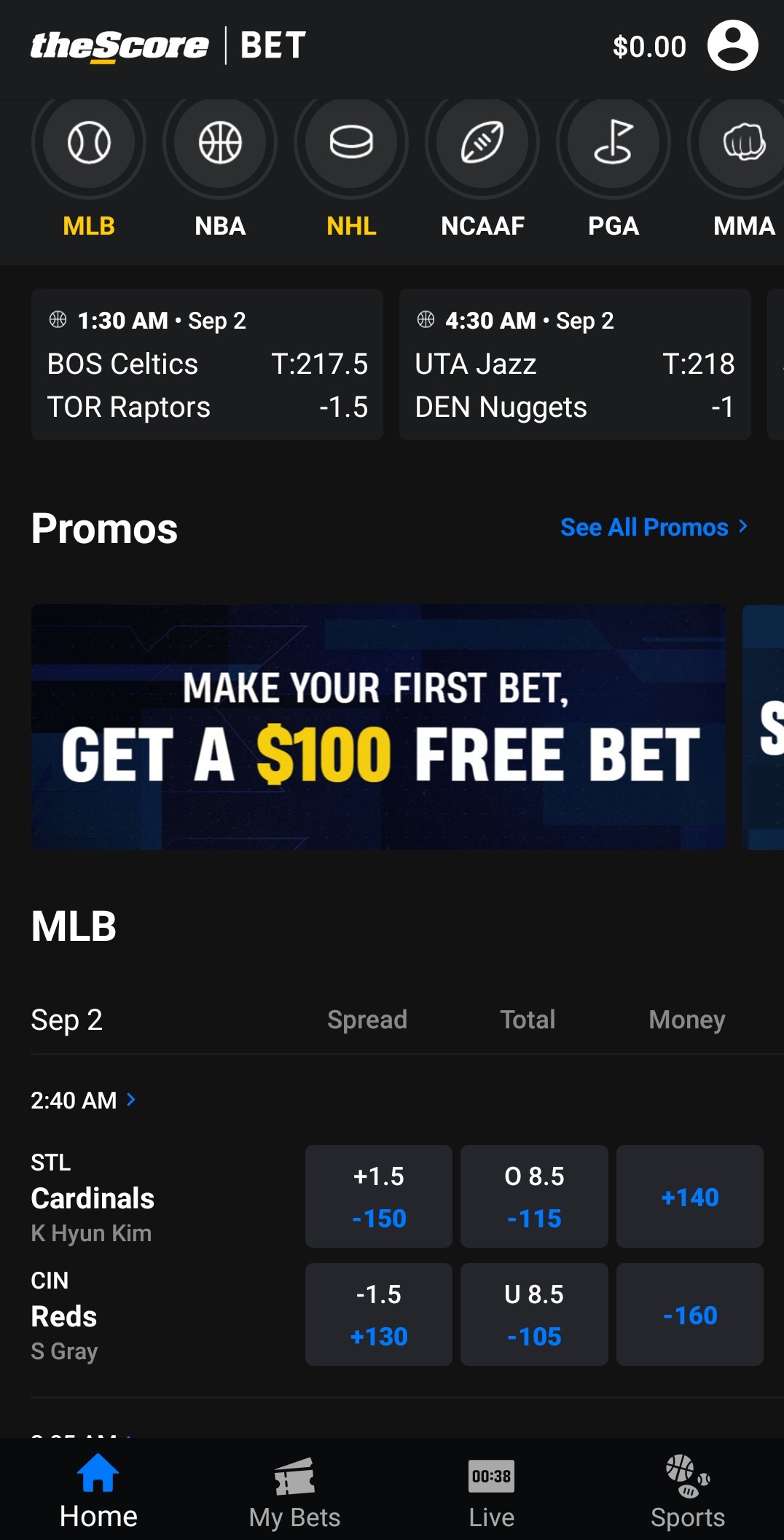 The biggest difference between theScore and other sportsbook apps is that there is no menu that includes all of the sections and sports. Instead, you will have to find the buttons or links to each of the different sections. Luckily, you won't have to look that hard as the app's design makes finding each sportsbook section simple. 
There are plenty of different sections on the app for the beginning player to take in. Live betting and promotions are definitely covered, however there is a great amount of media content as well. It is for this reason that players will also want to download theScore's base app as well. The two are linked and from each game on the sportsbook you can get great media coverage and analyses. 
theScore MLB Game Preview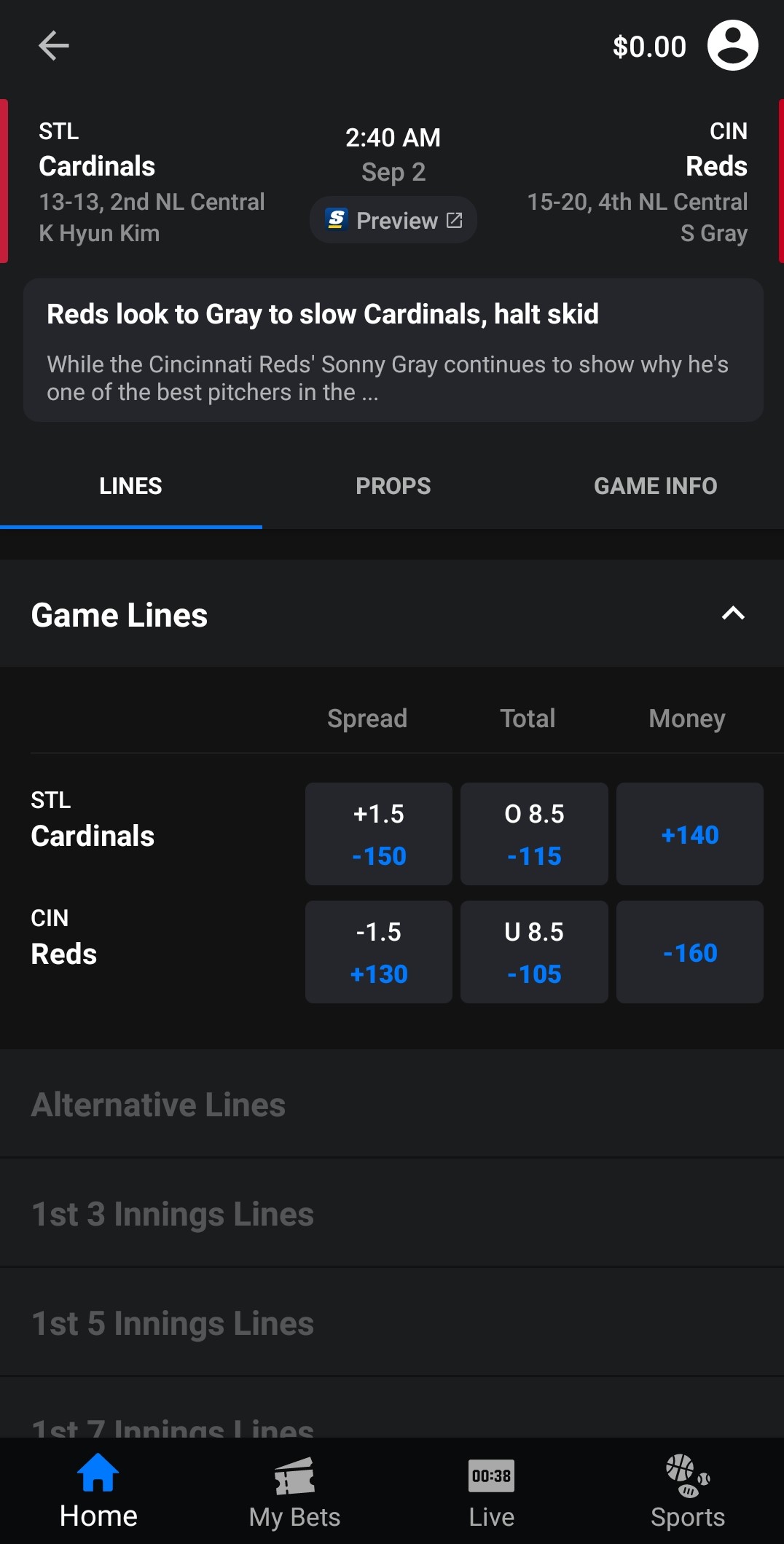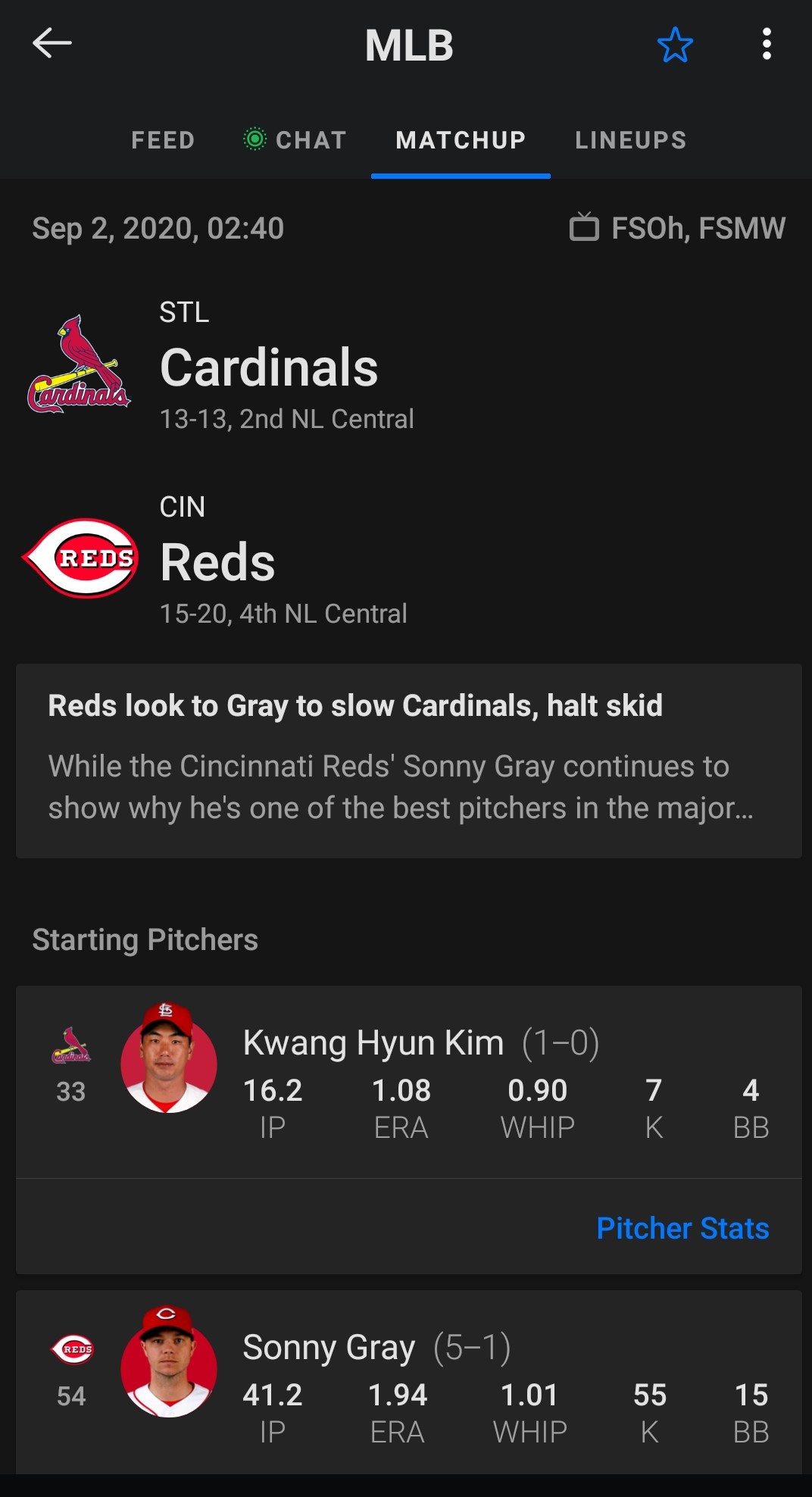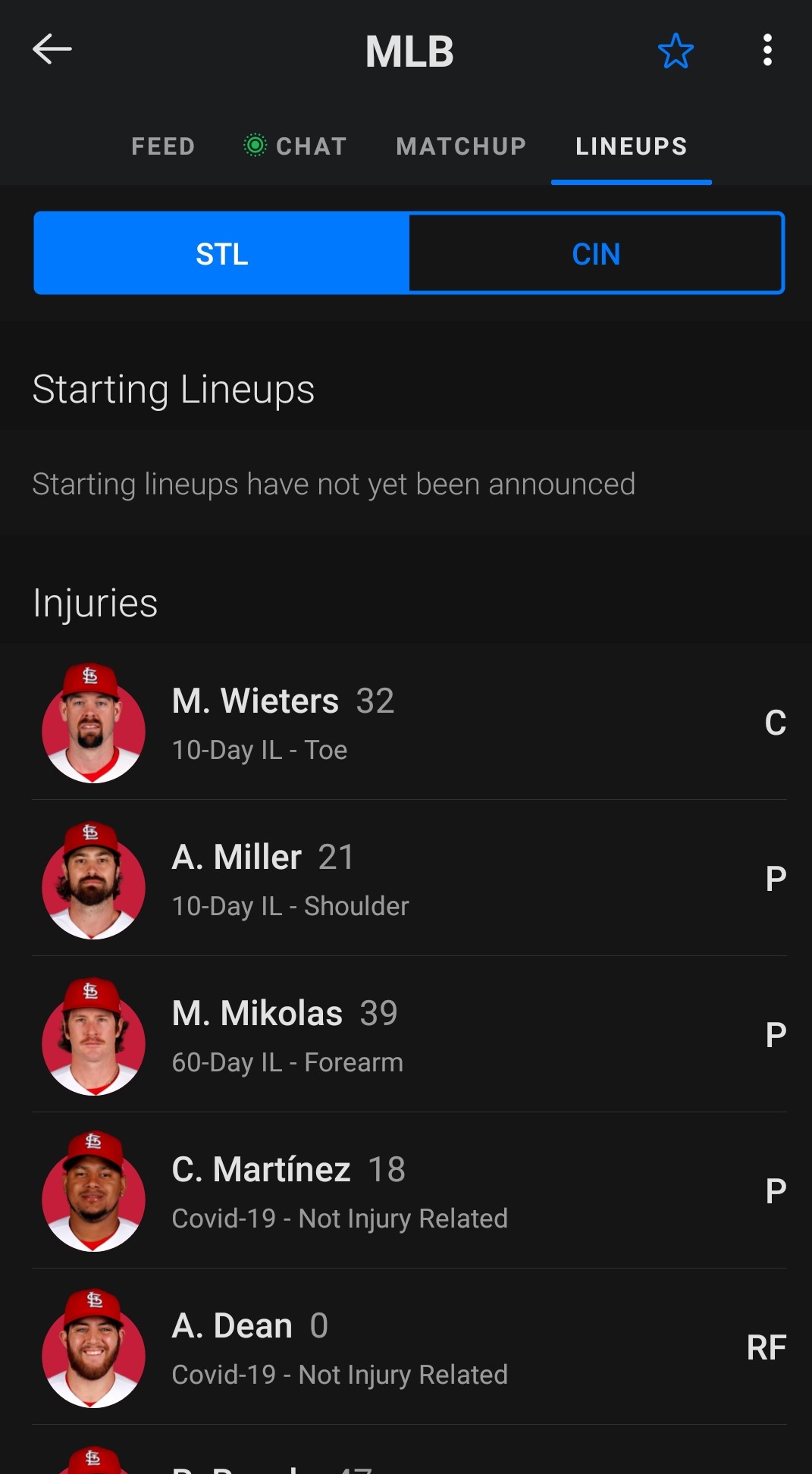 Choosing a competition to bet on can be done a couple of different ways from the main screen. First, you can always browse the main page as the most popular games coming up will be listed down the center of the screen. theScore has a good focus on American sports and leagues, so you will definitely be able to find all of the high profile games here. 
Players can also get more specific with their choices, and directly find the sport or competition they want by selecting the sports tab at the bottom of the screen. This will take you to a menu with all of the available sports on theScore. You can also narrow the sports down into each of the different leagues featured.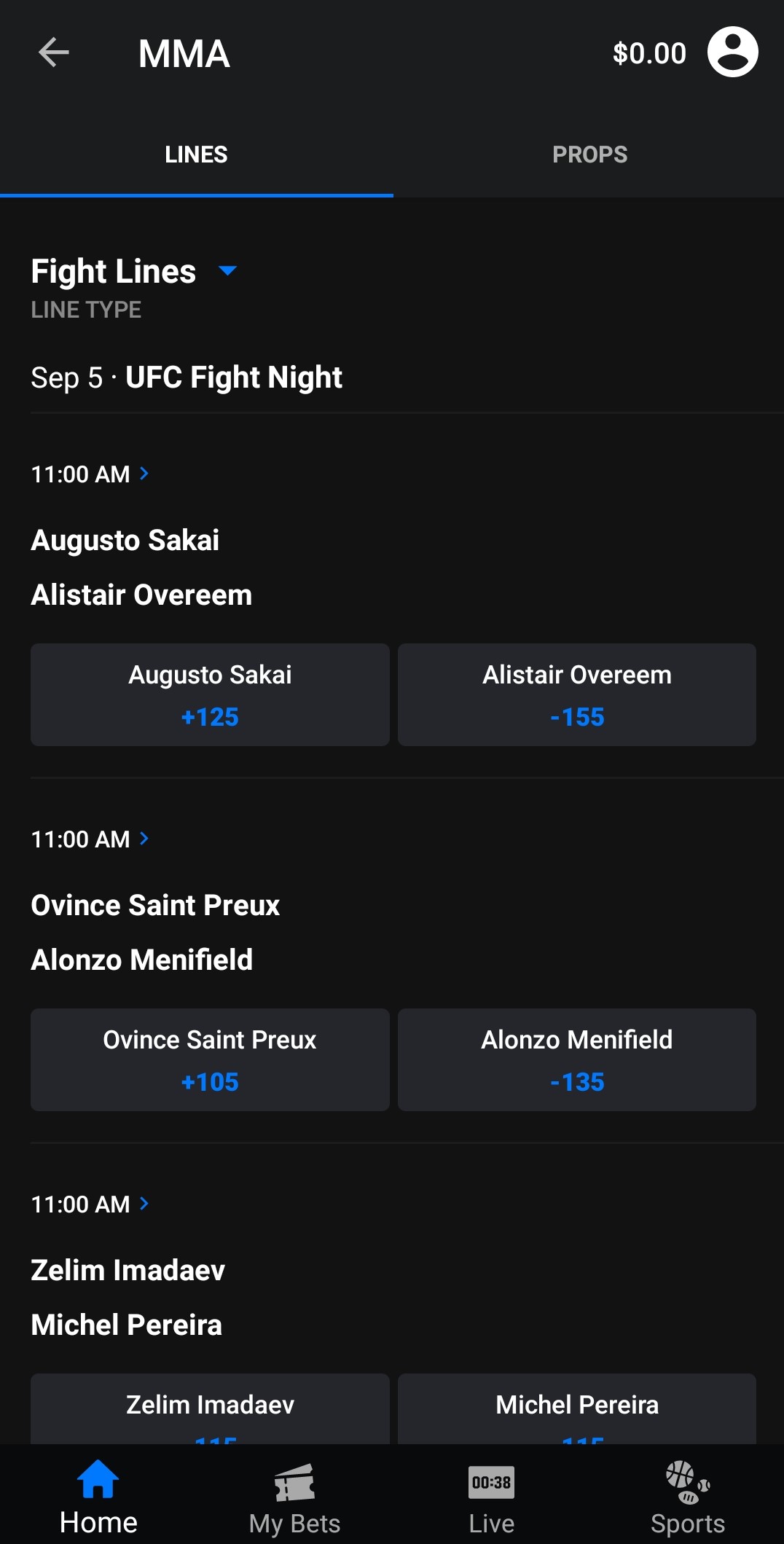 Having picked a sport or league the individual pages will only show the games coming up in that competition. Games will be listed by start time, the games with the earliest start time will be listed first. The bets listed next to all of the games will be the main three lines for the over/under, the spread and of course the moneyline. 
These betting types can usually be switched however which allows you to easily browse different markets in each game on one screen. Prop and future bets will normally have a tab displaying those markets. Once you select the bet you want to make, it will immediately be placed into your own bet slip. 
theScore Betting Markets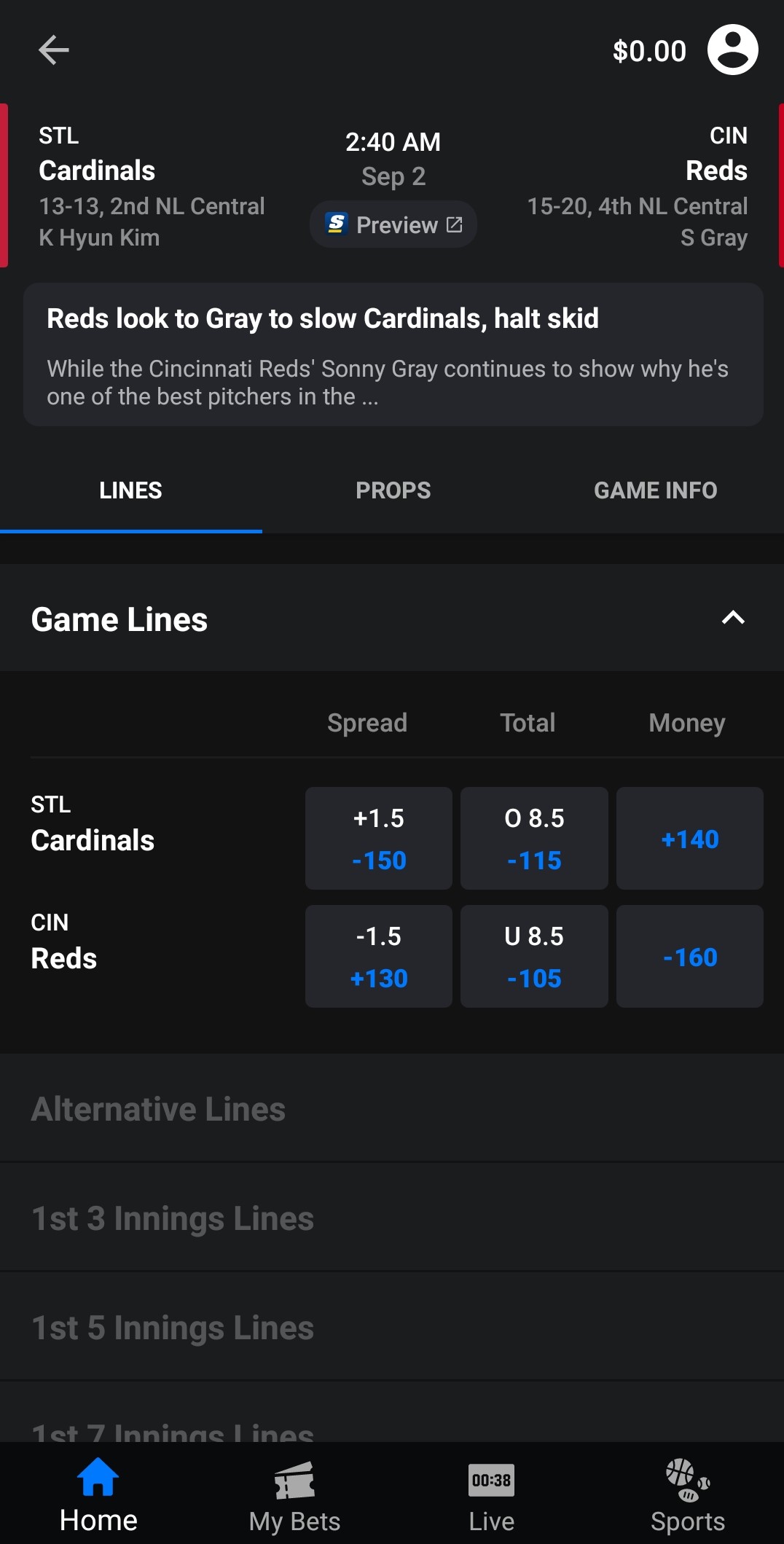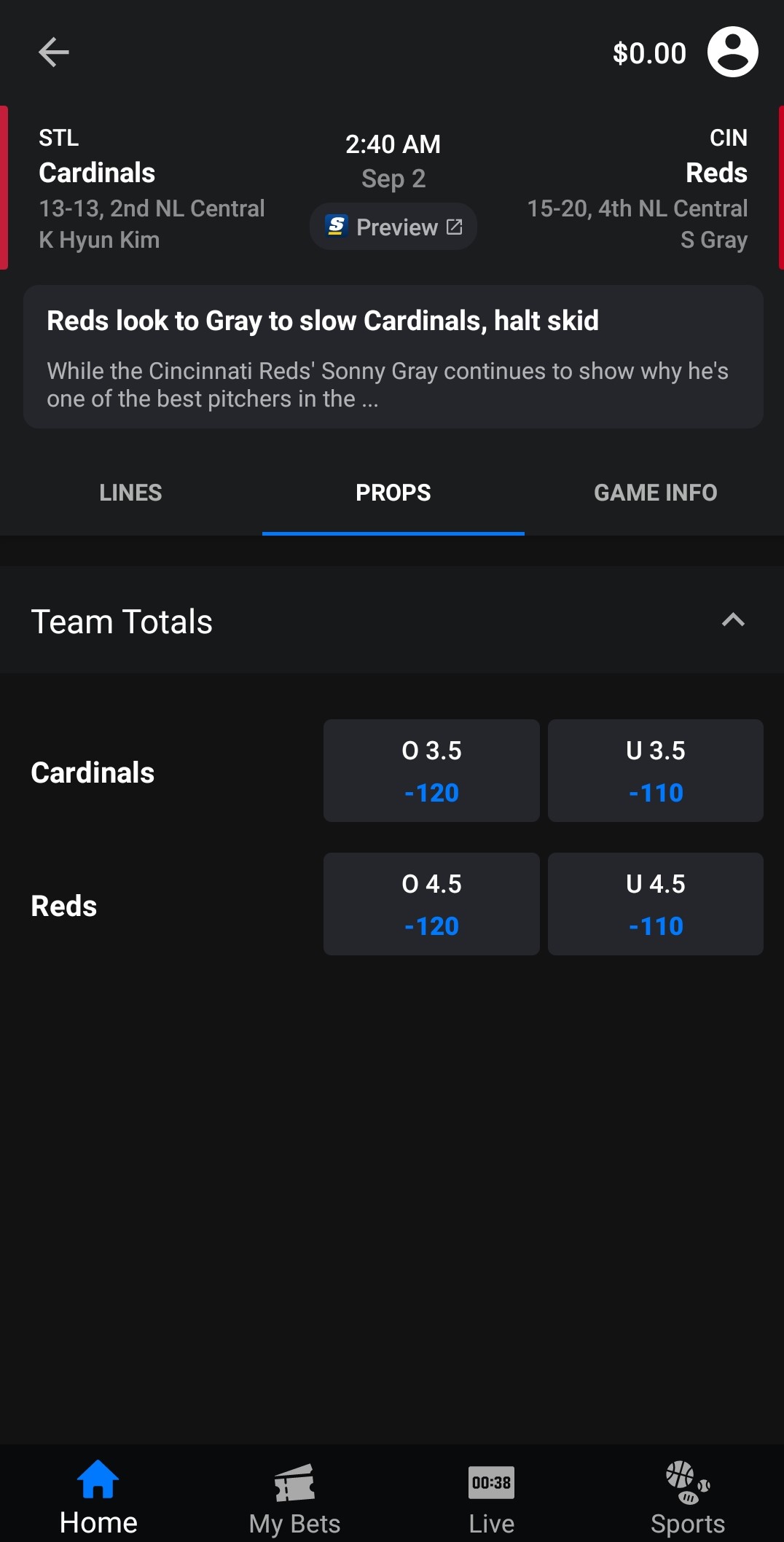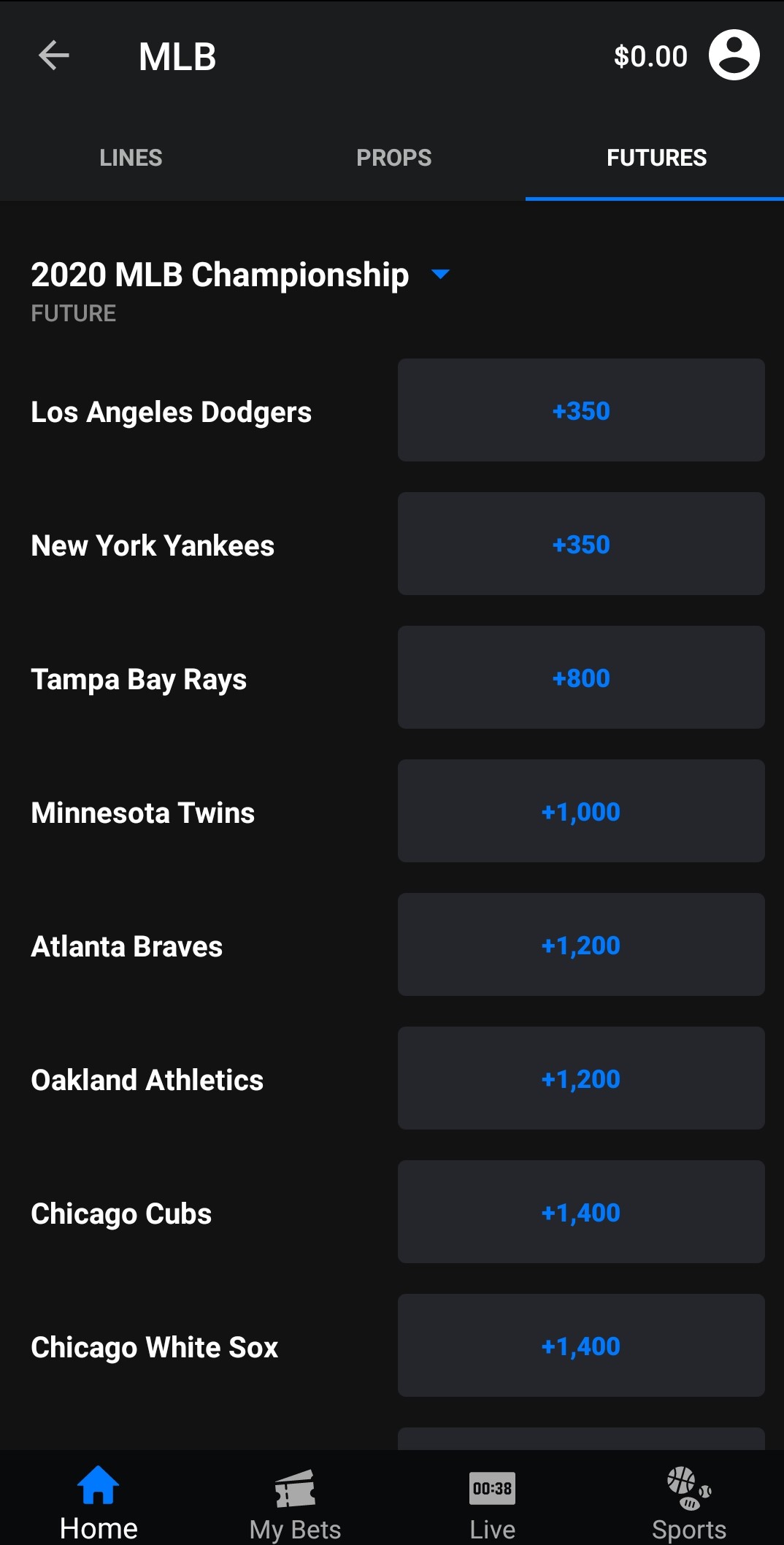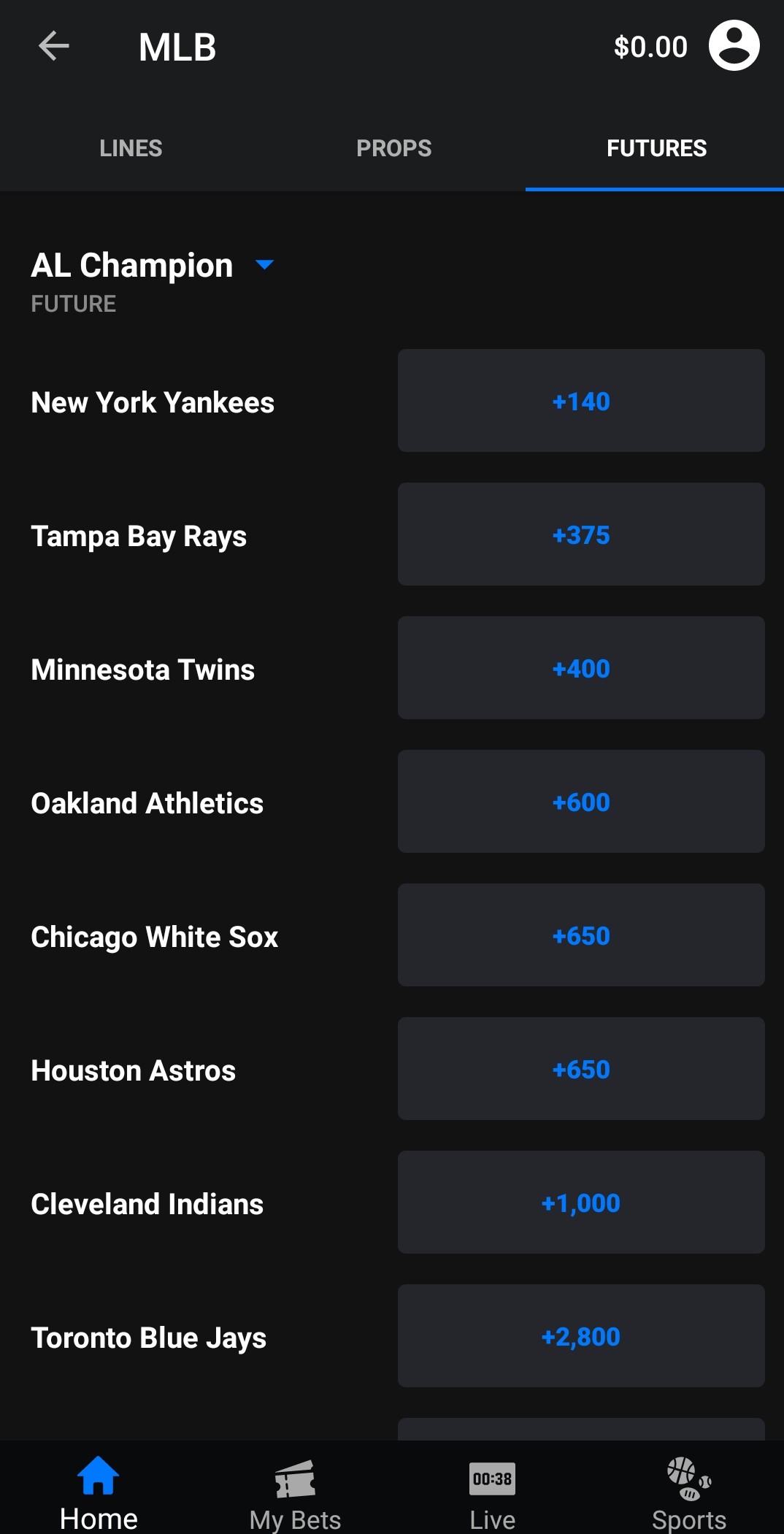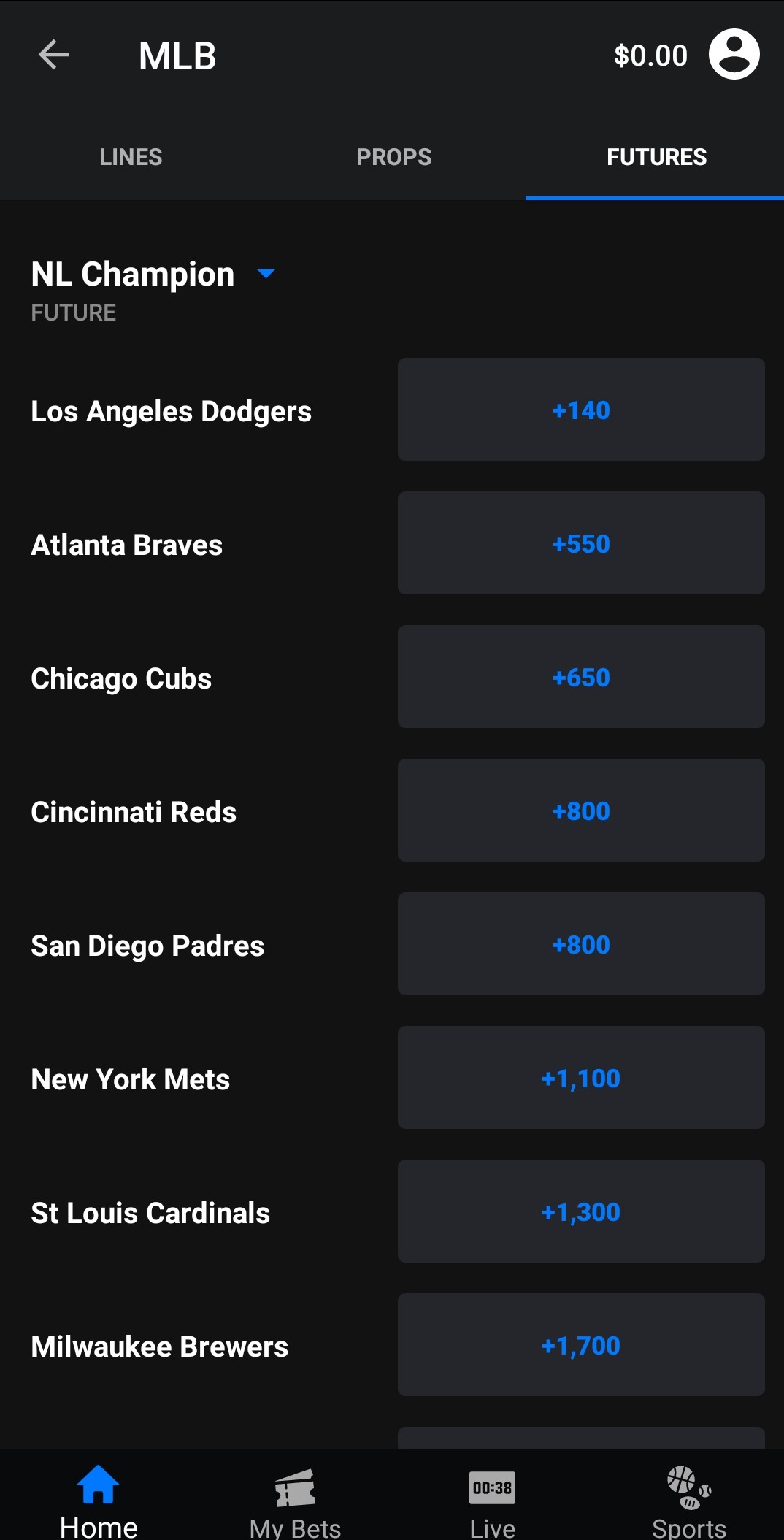 From here, there are a couple of ways that you can make these bets. If you have a single market added to your slip, then you place a stake and confirm the bet. However, you can also add multiple markets from different games to your bet slip. Doing this will open additional opportunities for making parlay, round robin and teaser bets.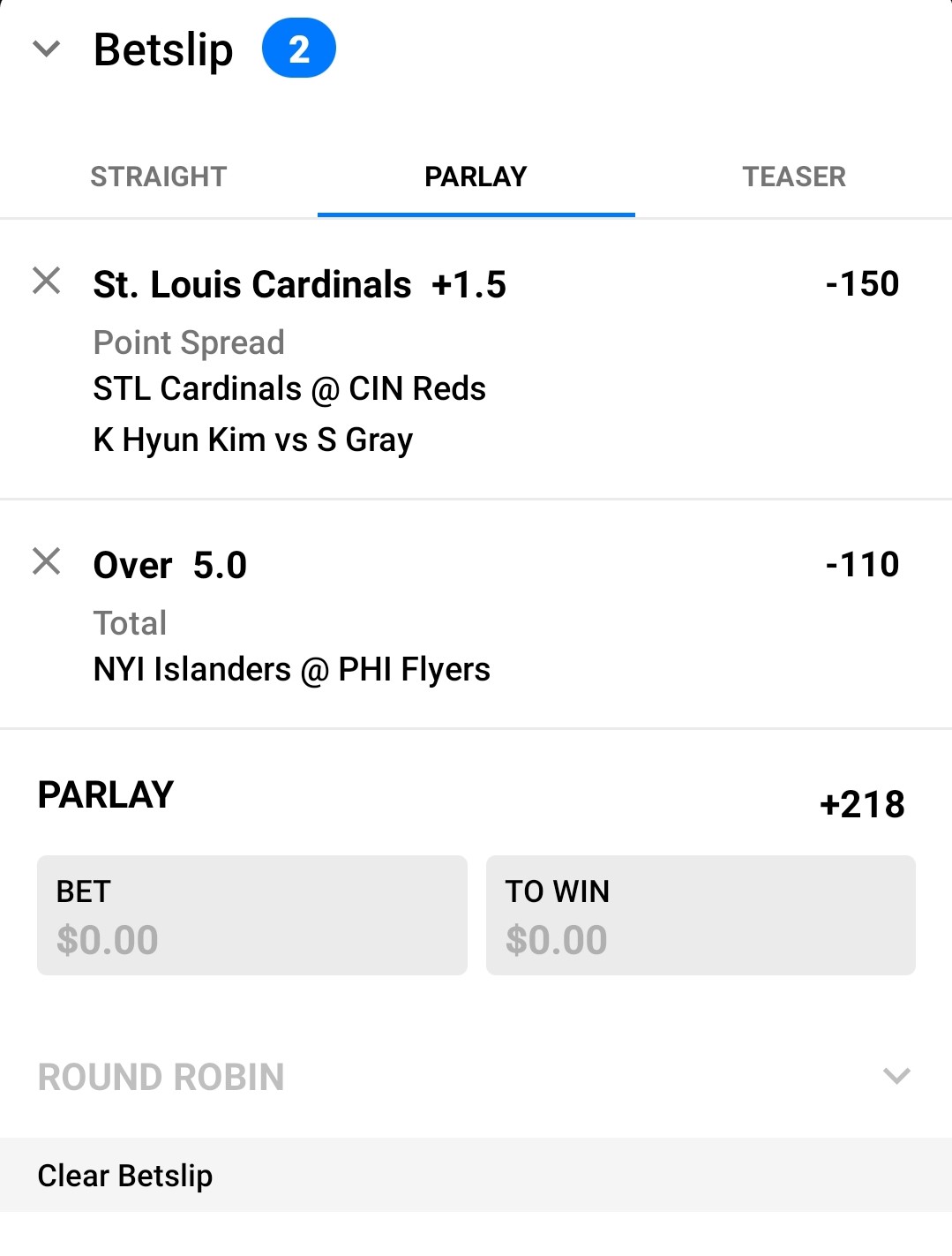 Single or straight bets can also be made on multiple markets in your bet slip. For this, you will need to enter your stake amount for each market in the slip. Once done, you can place separate wagers on each game all at once. Players can also choose to make straight bets on a couple of games, and include the other markets in a system bet.
Placed bets will be put into your betting history. This part of the sportsbook can be accessed from the bottom tab "My Bets". This will serve as a place to check all of your previous wagers, ongoing and settled. This section of the sportsbook will allow you to keep track of which games are still being played, and the results of your settled bets.