Pros
Wide range of sports and betting markets
Sportsbook linked to theScore news app
Exclusive promotions for the mobile betting apps
Multiple customer service options available for getting in touch
Cons
Limited options for bet types
The sportsbook lacks unique/enticing betting features
Live section could use updating and no live streaming available
Review of the bookmaker TheScore from Legalbet
Although theScore was late to the New Jersey party, it was only the second media company to open up a mobile sports betting app in the state when it launched on September 3, 2019. This was a pleasant surprise to those who were already fans of the theScore media app. 
The sportsbook is the product of Score Media and Gaming Inc., a well known sports media company based in Toronto, Canada and Bet.Works, who provides the sports betting software. It is one of the most popular media apps in North America, with more than four million active users.
The sportsbook will likely be available in many states other than just New Jersey. In August 2019, the company partnered with Penn National Gaming, which gives them the ability to open up in multiple states across the country. 
Top reasons to choose theScore Sports Betting App
Great selection of promotions offered

Many different sports to bet on, with all American sports covered

Mobile app runs smoothly and is easy to use

Integrated with the Score media app, providing lots of news, previews, statistics
In general, theScore has a great foundation for what could become a top sportsbook in the country. The integration with the media app is a major unique plus,as you will have access to lots of top-notch coverage for each game. 
There are also a wide variety of sports to bet on as well as available promotions. While theScore has laid a good base for sports betting, there are still some things like betting options and live betting that need to be improved. 
Odds — good
theScore does not offer the widest variety of sports to bet on, but does offer quite a good selection. All of the popular American sports are covered, with a couple of international sports thrown in as well. Games from the popular leagues such as the MLB and the NHL will feature games at a much higher frequency than games in international or amateur leagues. 
Football

Basketball

Baseball

Hockey

Soccer

Boxing

MMA/UFC

Tennis

Golf

NASCAR

Formula 1

Darts

Rugby

Australian Rules

Table Tennis

Bull Riding
Betting options — good
In theory, you can find all of the main betting types on theScore,however there is a strong focus on the main lines for most games. These will include the outcome, the spread and the over/under line. There will still be a multitude of other available betting markets.
| | | |
| --- | --- | --- |
| Moneyline Bets | Over/Under Bets | Spread Betting |
| Parlay Bets | Live Bets | Futures Bets |
| Prop Betting | Teaser Bets | Period Bets |
The main line on at least the outcome will always be listed for a game. Prop and teaser bets can be made by adding multiple games to your bet slip and selecting one of the two tabs. For most games though, you are lucky if you find a bet past just the outcome.
One separate line may be available for each the over/under and the handicap/spread. theScore sticks to the main lines on most competitions and not much else. 
Live — normal
The live section on theScore will give you the ability to bet on games as they are currently being played. Many of the sports and games that are featured on theScore betting app will also be available for live betting. 
Live betting with theScore betting apps is quite simple for the most part. There are not many different betting features available including no live streaming, and no match tracker. The betting markets will also stay the same, with a slim selection on the game's outcome and maybe a line for totals. 
The best thing about the live betting section is that the cash out feature is available for live games as well. This gives you the opportunity to end your bets before the final result.
If you are following the game, this can be very useful if you think your wager might be in danger due to the happenings of the game you can cash out if you are quick and save a profit. 
theScore Offical Mobile App
All sports betting that takes place on theScore goes through the mobile apps at least for now. To its credit, the apps are very well designed and work incredibly well.
They transition seamlessly through pages making the app enjoyable to use. The main screen features all of the top games that are scheduled to be played that day.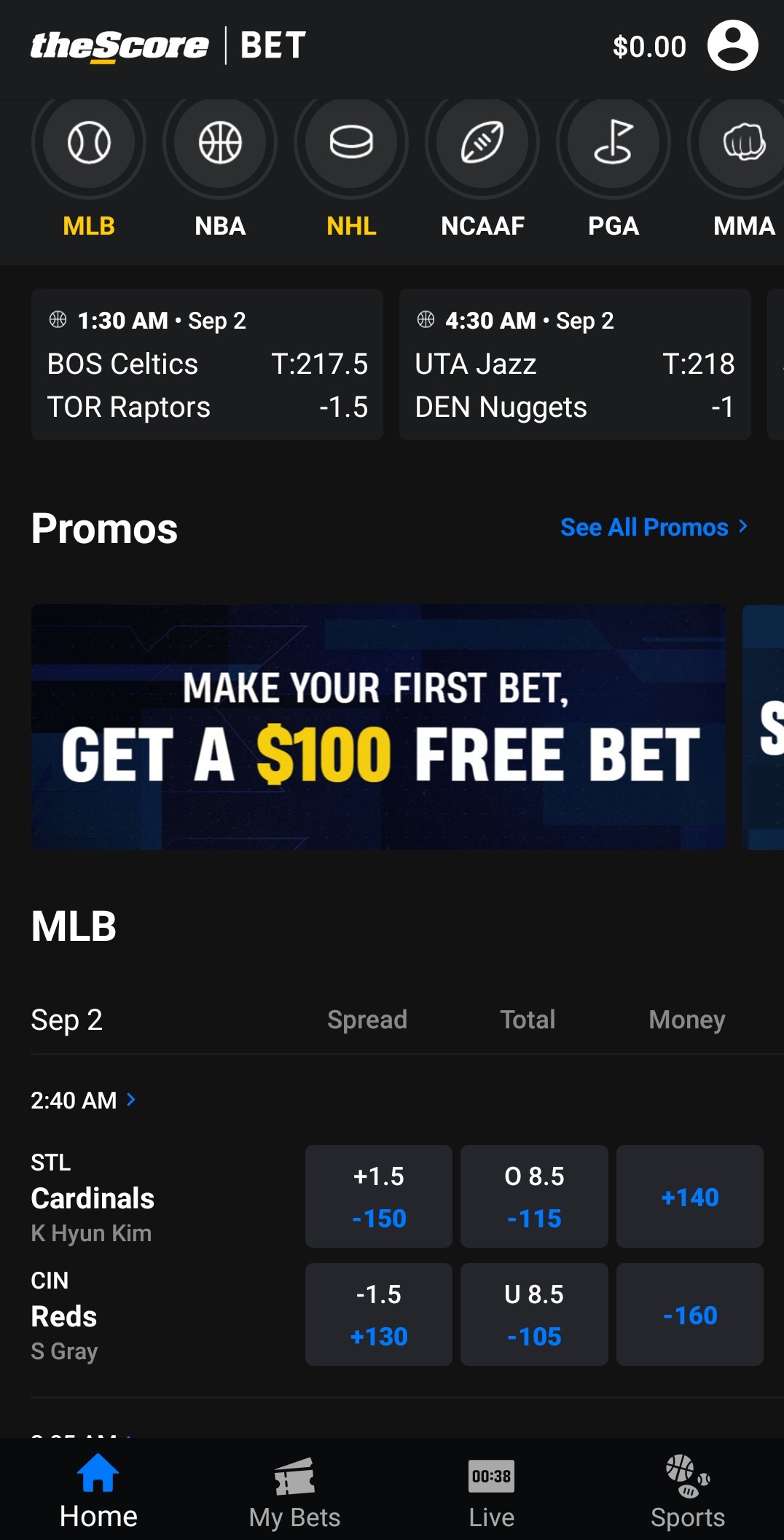 Trending games and promotions light up the app's main screen 
All of the sections on the site are also easy to get to, with tabs at the bottom for your bet history, live betting and a complete list of the sports available on theScore. 
By clicking on preview for major games, theScore media app will automatically open (ifr downloaded) for that game giving you an incredible analysis of the upcoming matchup.
Current Form
League Tables
Current Injuries
Game Previews
Team Lineups
This is unmatched on most sportsbooks and an excellent way to prepare for your bets. The mobile app for theScore tells the story of its sportsbook. It works well, however it is extremely simple and many of the advanced features for betting are not included. 
There are not many betting options and it is difficult to find live bets available. If you are someone who enjoys making bets only on the outcome of games then it would be hard to find anything at fault with theScore.
The mobile app works well and together with Score Media provides a unique sports betting experience. 
Registration & Verification
Signing up on theScore is necessary before you will be able to make deposits or bets on the sportsbook. In most states you will be able to sign up and register for sportsbooks no matter where you are located, however you will need to be within the legal state whenever placing a bet. 
App Permissions - (Location)

Account Information

Personal Information

Terms and Conditions

Verification
The process of registration on theScore is a quick one that requires only basic information to complete. Much of the process is made up of general account and contact information. The information placed throughout the process must be accurate and up to date.
After you have entered all of the information and completed the process, theScore will need to verify your identity. This is done through the use of the last four digits of your Social Security number. This will normally only take a few seconds to complete.
Once your account has been approved you are set to go! If there is a welcome bonus available then theScore will immediately offer it to you and prompt you towards making a deposit. Login can be done using the email address and password you entered in registration. 
theScore Bonuses
All of the bonuses on theScore can be found in the promotions section. There is usually a welcome offer available as well as an offer or two for existing players.
Other promotions are updated usually to represent the changing of sporting seasons. Bonus offers on theScore are rated quite highly as they give players unique and beneficial offers. 
theScore does pay attention to its promotions section and often features something relevant for the games or leagues that are currently being played. There are also an assortment of promotions that can be found at any given time on the site.
Free bets

Cash back

Parlay boosts

Odds boosts 

Live bets 

Risk-free wagers

Matched deposits
Getting any of these promotions is just a matter of being there at the right time, as they are constantly being updated with new offers. For each bonus, you will need to read the necessary requirements and fulfill them to receive each offer.
For welcome bonuses, you will be offered these immediately after completing your first task on the site, per the descriptions. These will most often be risk-free bets or matched deposits. Welcome bonuses are almost always available and are a great way to get started betting on the sportsbook. 
Once you are logged into your account, you will have the ability to deposit and withdraw funds at any time. This can be done by clicking on your account icon in the top right corner of the screen and selecting either deposit or withdraw. 
There are three major categories that are available for making deposits. While there are no means an abundance of deposit options, there are certainly enough to give you variety and to cover most players. 
The minimum deposit on theScore is ten dollars for all methods.
| | | |
| --- | --- | --- |
| Payment Method | Deposits  | Withdrawals |
| Visa | Yes | No |
| MasterCard | Yes | No |
| theScore Play+ Card | Yes | Yes |
| echeck select/ ACH transfers | Yes | Yes |
| PayPal | No | Yes |
| Neteller  | No | Yes |
It is surprising but equally refreshing to find a good amount of withdrawal methods available on theScore. The surprising part is that while PayPal and Neteller are available for withdrawals, they are not for depositing money, though we foresee that changing down the line. 
There are a few main points that theScore makes in regards to withdrawals on the site. The first is that you will need to have a government issued document uploaded before withdrawing any amount.
The wait times are also mentioned, and will depend on the method you use, however no wait time should be longer than 72 hours. 
Mobile App Review
Right now, all betting with theScore will take place on mobile apps. The mobile apps are available for both IOS and Android mobile devices. Each of them are free to download. The IOS version is available in the Apple store, whereas the Android app is available directly off of theScore's website.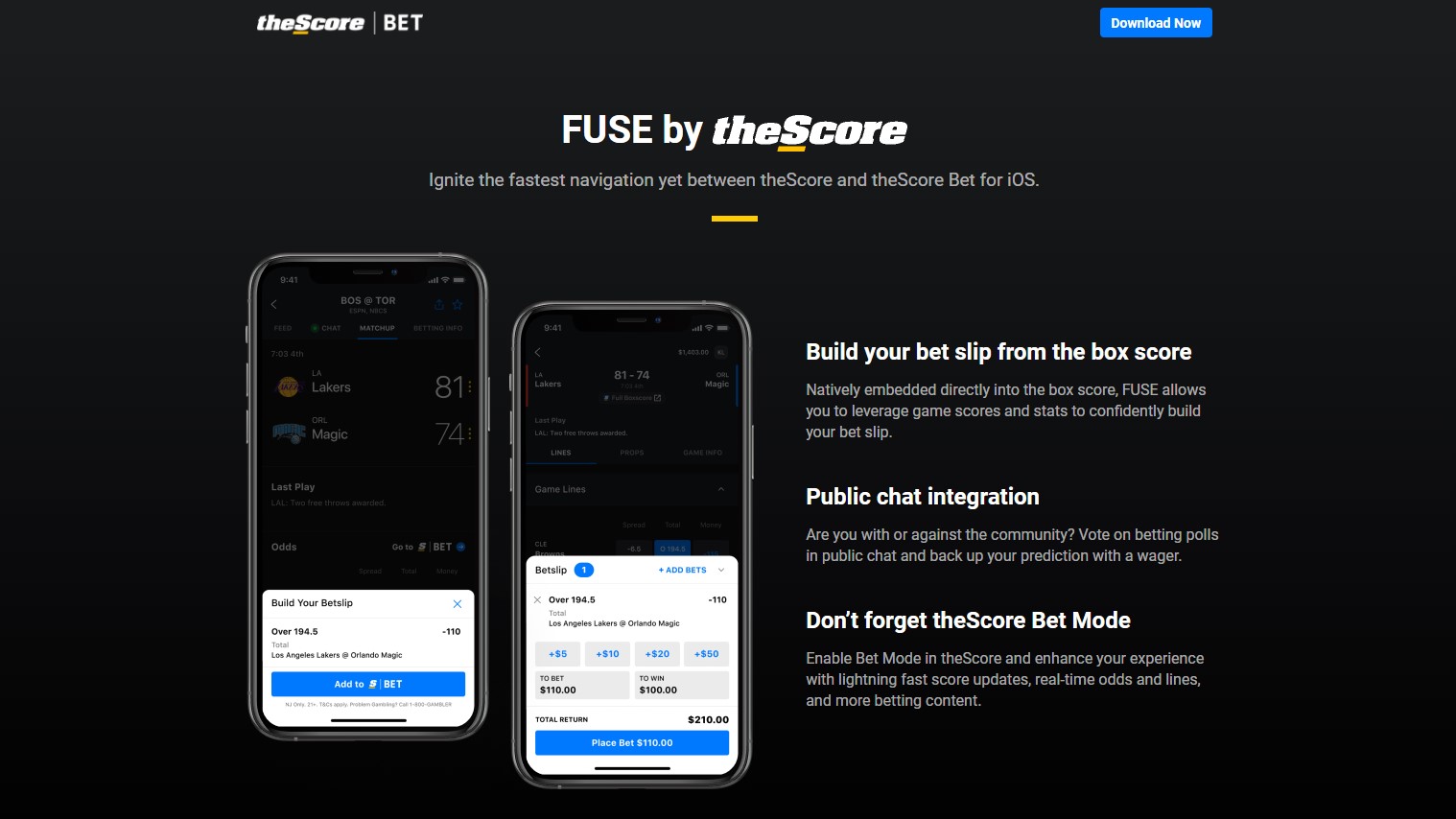 The media app from theScore is and linked can be quickly accessed from the sportsbook
The app is integrated well with theScore's media app. This gives players access to a large amount of additional information such as game previews and statistics. The complete analyses include relevant news for games, leading all the way up to the start.
These features are available for many of the competitions on the theScore, though the apps need to be separately downloaded. 
Mobile Betting App Positives
Great selection of sports to bet on

Integrated well with theScore news/ sports app

App runs smoothly and quickly

The design looks good and features exclusive promotions
Areas That Could use Improvement
Layout of the app can make some sections hard to find

Missing a good selection of betting features
The mobile app will be the only option for a while, and it's possible that theScore will not ever introduce a desktop version. Still, the problems are not with the app, which actually runs great much of the time, however it continues to be with the lack of betting markets or features. 
This could actually be taken as good news, as it means there is no need to tear down the entire app and start new. Simply adding more markets and betting features could greatly improve the playability of the theScore app. 
Customer Support
In case of any possible disputes or questions regarding your time betting, theScore does have a great informational section that you can access under your account.Here you can find many of the answers that you are looking for. 
Among the items under 'help' is a very extensive list of FAQs with detailed written answers for each.
There are also plenty of different categories that theScore has betting guides for, such as account information, how to bet guides and theScores own rules and regulations. Of course, sometimes an article is not enough to give you the correct answer with your concern.
theScore has customer support options that allow you to get in touch for exactly this reason. 
Telephone Number

Live Chat

Email Address
These customer support methods will allow you to quickly get in touch and are available on the app. If you have an urgent concern, then live chat or going through the phone will likely be the best options, although emails are also rather quickly replied to. 
Review Conclusion
While theScore is by no means a bad sportsbook, the lack of betting options are noticeable especially in a market like New Jersey. This is especially bad when you consider that many of its competitors are offering a more finely tuned product with more betting markets and features.
Live betting is incredibly popular, so to see the section so bland and lacking does not inspire much in the way of confidence. Overall, the sportsbook does function well and is certainly a viable option for betting.
However, without major updates and additions, we would not expect users to be immediately satisfied with this option in its current state. 
Updated: 04.06.2023
Information about the company
Questions and answers
What is the over/under in theScore betting?
One of the most popular types of bets and one of the main ones offered are over/under or totals bets. These types of bets will almost always have a line included in the main three bets. 
The over/under is where a sportsbook will give you a certain statistic (number of goals, number of touchdowns,etc), and you will need to determine whether the actual in game number will be higher or lower. 
Many sportsbooks will offer different totals lines for the same statistic, and the most common statistic used will be the total combined score of both teams. 
Odds for this type of bet are normally quite different for each side, and the number will also often have a .5 added on, to prevent any type of push. 
You can get in contact with someone from theScore in a multitude of different ways. The first would be to go to the 'help' section, and select one of the available options to get into contact. 
You can choose either to call in through their telephone number, send them an email or initiate a live chat. The live chat is normally the quickest option however they do not work all the time. 
What are the best features of theScore?
theScore has a few things that really make it a sportsbook that can be worthy of being used. The promotions are pretty good and are often available. Another positive feature is that the app is well designed and runs very smoothly.
We would say the best feature however is the number of sports available along with which sports theScore has available. The sportsbook covers all of the main American sports and competitions and even includes some international options as well.
Bull riding is one particular sport that we do not see on many US sportsbooks, and we have to admit it sounds pretty entertaining to bet on. Besides that rugby and international soccer are included giving you plenty of options for sports to bet on.