Caesars sports betting app
It is no surprise that one of the biggest names in entertainment and gaming launched its own brand of sports betting once it was made legal. Caesars Sportsbook is now available in multiple states with its desktop and mobile app versions of the sportsbook. Caesars mobile sports betting apps can be found by searching for Caesars sports betting apps in your browser.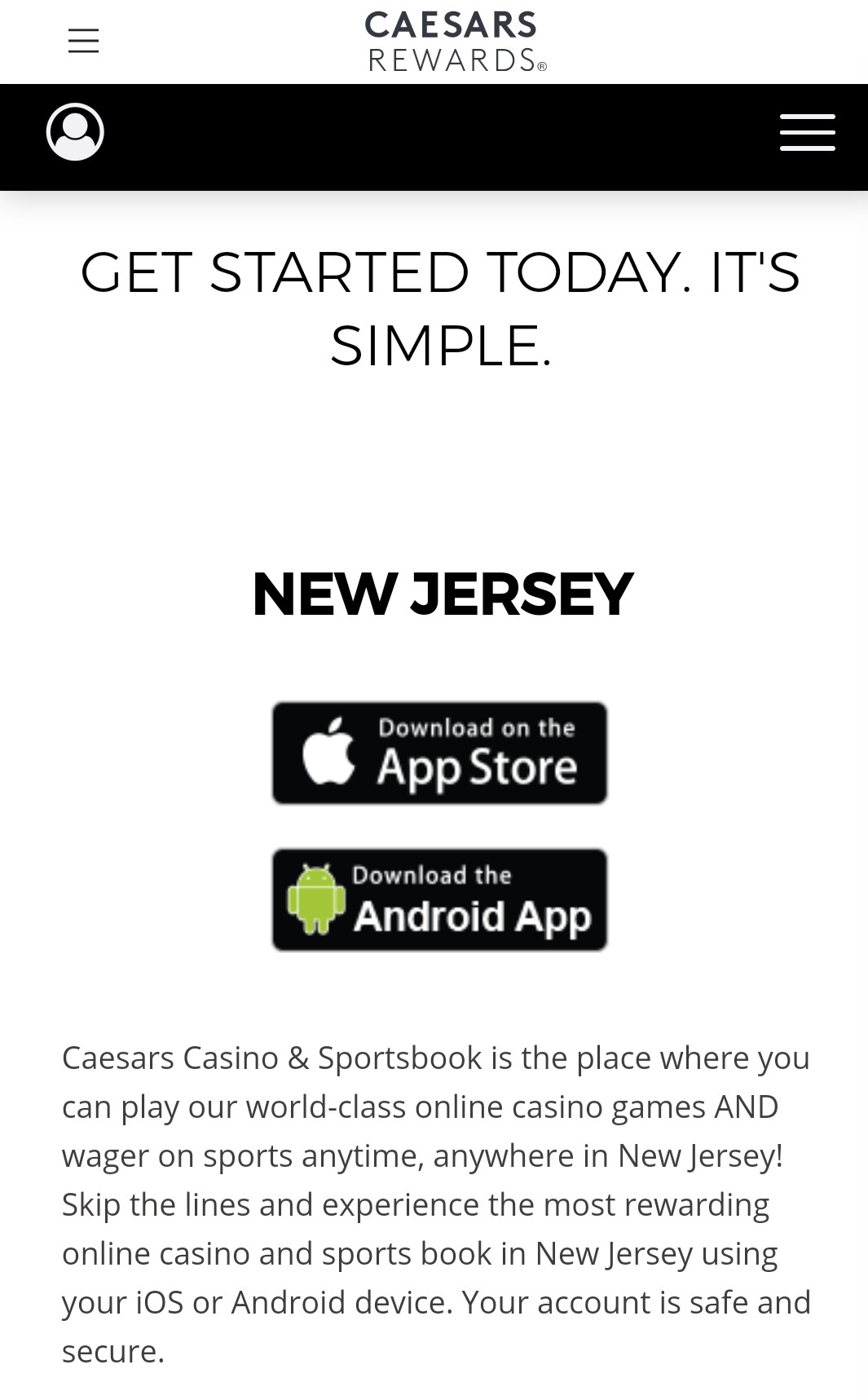 The Caesars' brand name is well known across the country. The company has been a leader in the gaming and resorts industry since its founding in 1937. Founded in Reno, Nevada, Caesars now runs locations in all of the nation's biggest cities for gambling and entertainment, including Atlantic City, Las Vegas and Biloxi, Mississippi.  
Mobile sports betting from Caesars can also be found in multiple states. The Caesars' sportsbook app is available in states including Indiana, Pennsylvania and New Jersey. With the massive reach the company has, its likely more states will be added to that list.
For each version of the app there will be a different process for how to download. A link for both versions can be found on the Caesars' website. For IOS users, the mobile app can also be found in the Apple Store. However, the Android app will need to be downloaded directly from the site by following a few quick steps.
Search for "Caesars' sportsbook mobile app" in your browser

Once on the site, click on the download android button 

Wait for the file to download onto your device

When the file has downloaded, open and click install
Payment Methods on Caesars Sportsbook
Making payment methods such as deposits and withdrawals can also be done through the Caesars' sports betting app. In order to make a payment transaction, you will need to be logged into your account and in the 'cashier' section. From there you can select one of the available methods for depositing. 
Minimum Deposit on Caesars: $10
ACH (Electronic Check)

MasterCard/Discover/Visa/American Express

Online Bank Transfer

PayPal

Caesars Prepaid Card

Cash at cage (Atlantic City)

PayNearMe
Since the sportsbook and the casino are both operated under the same account. Players will be able to use deposited funds for both sections of the mobile app. From the cashier section you can make both deposits and withdrawals, using the same or a different method for each transaction. It is advised if possible to select a method that is able to make all transactions. 
Withdrawal methods available on Caesars includes one new option such as Neteller. Also included are e-checks, Caesars PrePaid Card and PayPal. Overall, Caesars includes some of the bigger and most common methods, which is good for covering a wide range of players. Some methods, like PayPal, will only be available for withdrawals if the player has also made their deposit using the method. 
Making Bets on Caesars
Caesars has done a good job of adapting its sportsbook to the mobile version. The mobile app will be listed under the casino, however the full sportsbook is included as a major section. The design and layout of the mobile app will remain the same, although some things are naturally moved around to fit the screen. Navigation to different sections will still take place on the main page.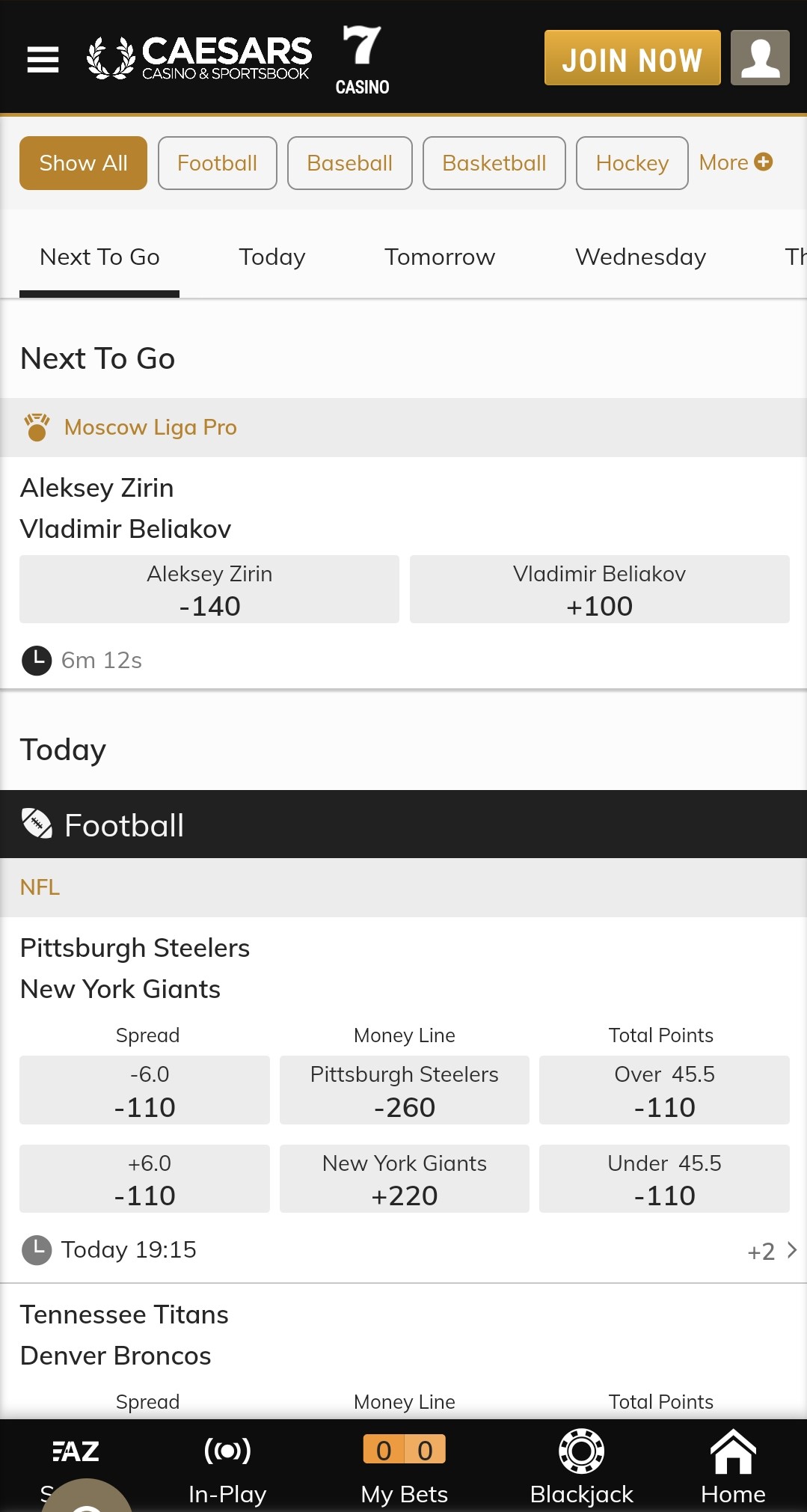 The main page on Caesar's mobile app begins with a unique and interesting section, the 'next to go'. This will be a countdown to the next competition set to go live. Once the event has started, it will be replaced in this section by the next upcoming competition. Following the up next section are game lines separated by sports, presumably the most popular or tending at the time.
Caesars' mobile app is heavily focused on its casino games section. That makes it unsurprising that players can find two tabs leading to the casino off of the main page. Other tabs include a link to the live betting section and also an A-Z section, which can be found by opening the pull out menu on the left side of the screen. This section will show you all of the sports that currently feature bets on Caesars. 
(Screenshot)
Going to a specific sport will display all of the available games and betting lines for that sport. This is where you can more easily find certain leagues and competitions for that sport. Another type of sport that Caesars features are its virtual sports games. These are simulated sporting or racing events that have regular odds on betting lines for things like the outcome and pole position. 
These games will always be available and can be bet on in the same way as regular sports. What makes these games appealing is that it features a nice combination of casino-style games and sports, including many different game types. 
Virtual Horses

Virtual Soccer

Virtual Greyhounds

Virtual Motorcycles

Virtual Cars
The virtual sports do not just include traditional sports competitions and races, there are also plenty of different games that players can bet on, each with their own styles. The betting will take place slightly differently but it's easy to figure out. For regular sports, the entire schedule for the next week is available and can filter the games on your screen. Futures bets are also among the top tabs which offer long-term wagers.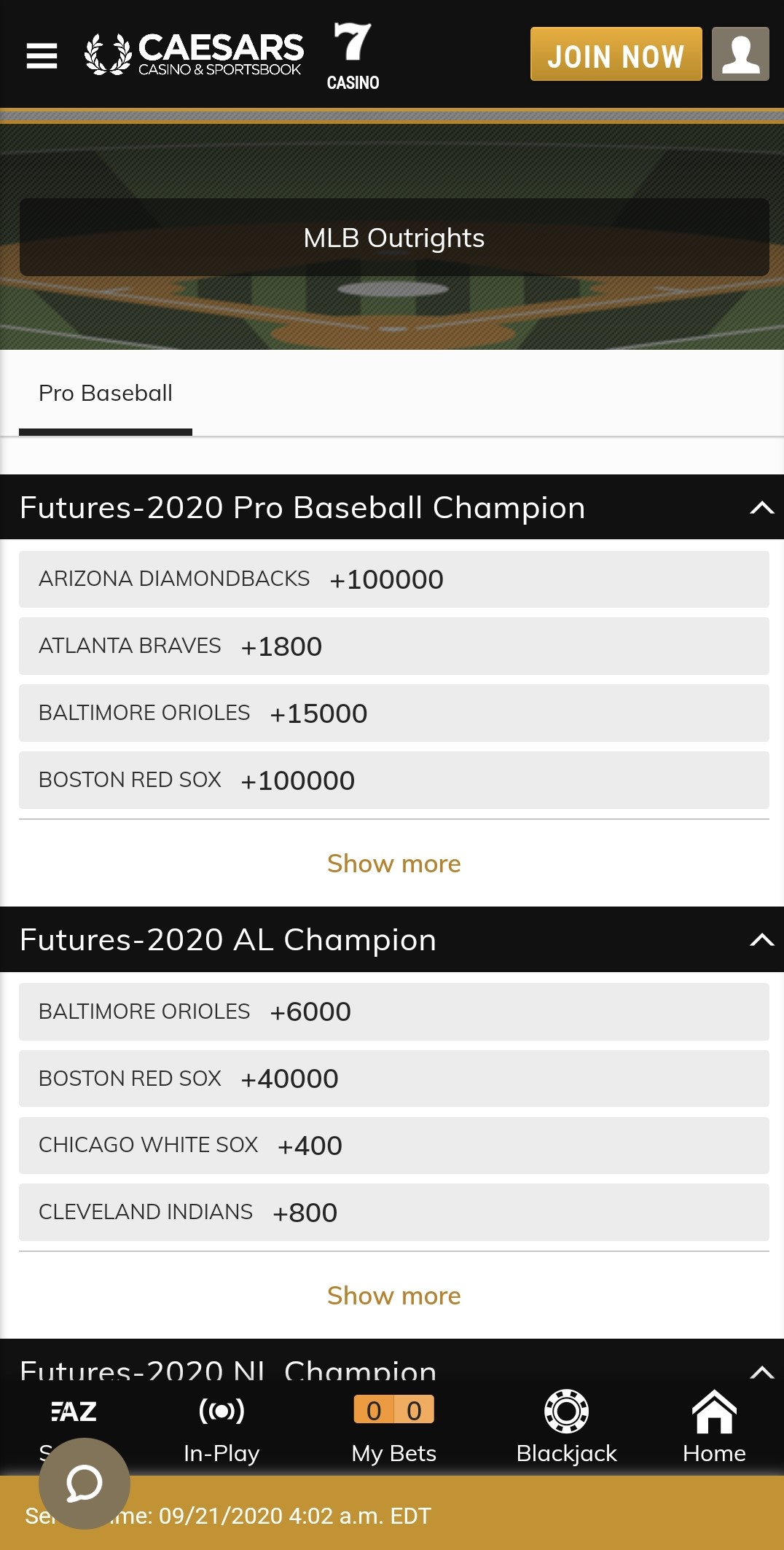 Betting lines will be shown for all of the games going down the list. These will only be the main game betting lines however, including the moneyline, over/unders and the spread. Clicking on a specific game will take you to the screen with all of the available bets for that game. For many games and leagues, these may be the only bets available, but some games will have additional betting markets which can be filtered. 
Once you have found the betting market that you would like to take, you can click on the small box to add the market to your bet slip. There is no immediate limit to the number of markets you can add here. If you have added multiple slips to your bet slip, then additional bet types will be made available. These include both teasers and parlays.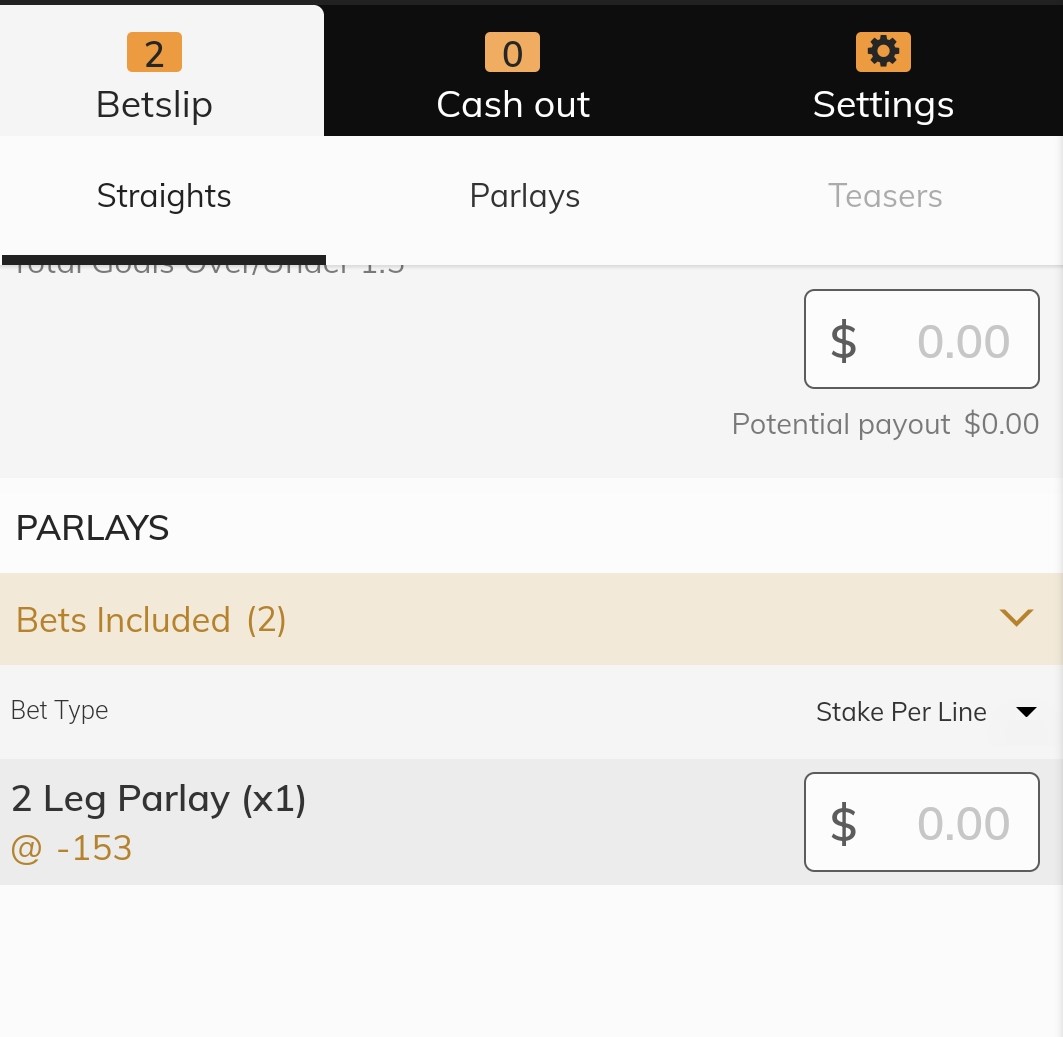 You can then select the stake amount and bet type, and confirm your bet. Bet slips will keep track of all of the games you have added, however to keep track of all previous bets you will need to go to your account setting and find bet history.