BetAmerica sports betting app
The convenience that mobile betting apps have given to players is unmatched. With these apps, betting from anywhere in a legal state is made possible. Many sportsbooks have also put lots of work into making sure their apps are functional and clean, with BetAmerica being no exception. 
BetAmerica currently has mobile betting apps for both Android and Apple devices. The apps are available in multiple states, with more likely to come with time. There is also an app for live horse racing and betting, which is definitely recommended if you are a fan. Downloading the Android apps must be done by going to BetAmerica's official website.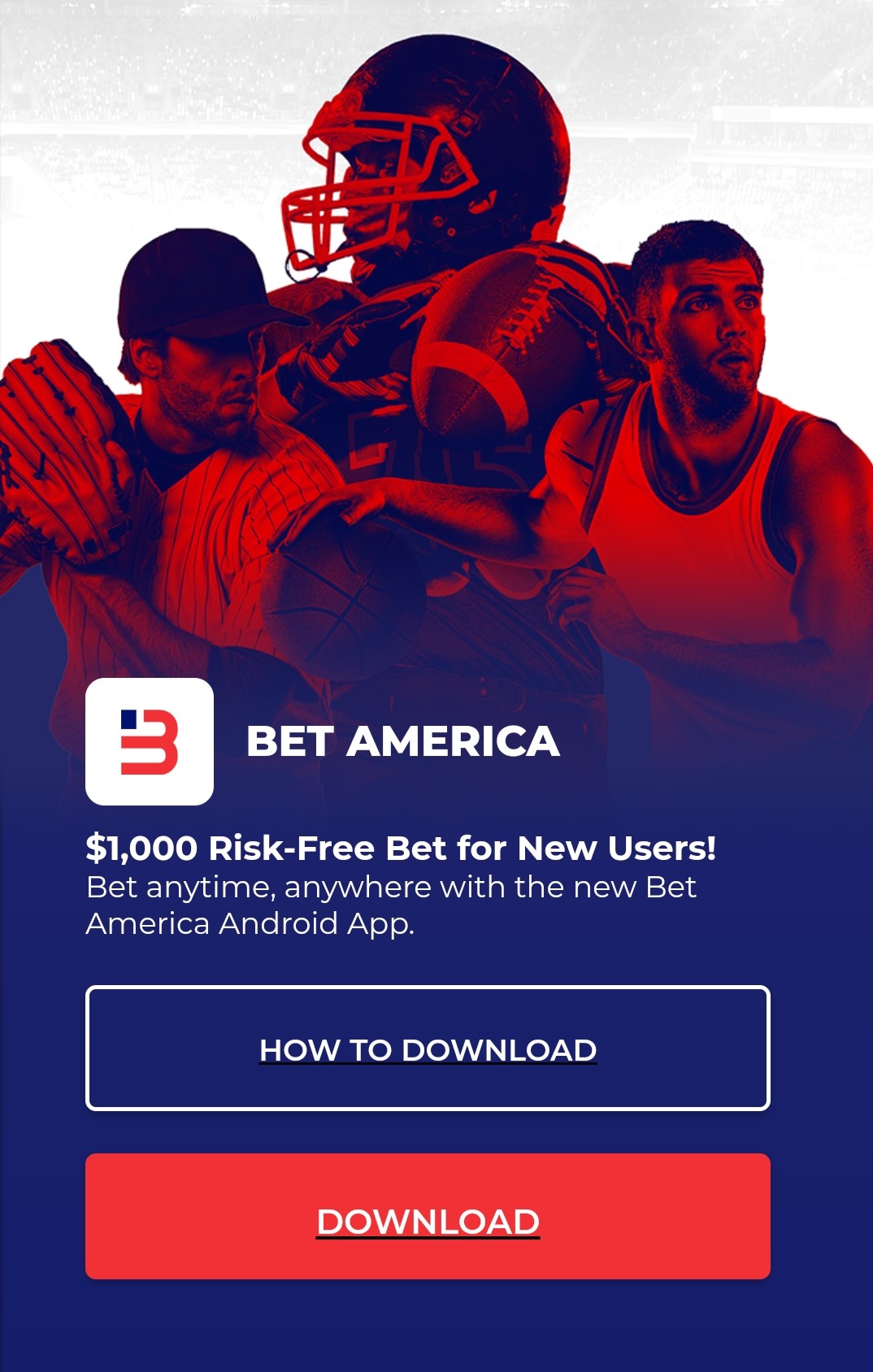 The BetAmerica sportsbook is the product of the well-known Churchill Downs Incorporated and is powered by SBTech. The company released its sportsbook which is a tremendously well done balance of sports and horse racing betting. The sportsbook has gone live in multiple states, most notably in New Jersey in February 2019. 
Creating an account can be done either before downloading the apps or after. The process will remain the same on both versions of the sportsbook, but may differ slightly depending on your state. If you complete the registration process before, then once the app is downloaded you can log in and begin making bets right away.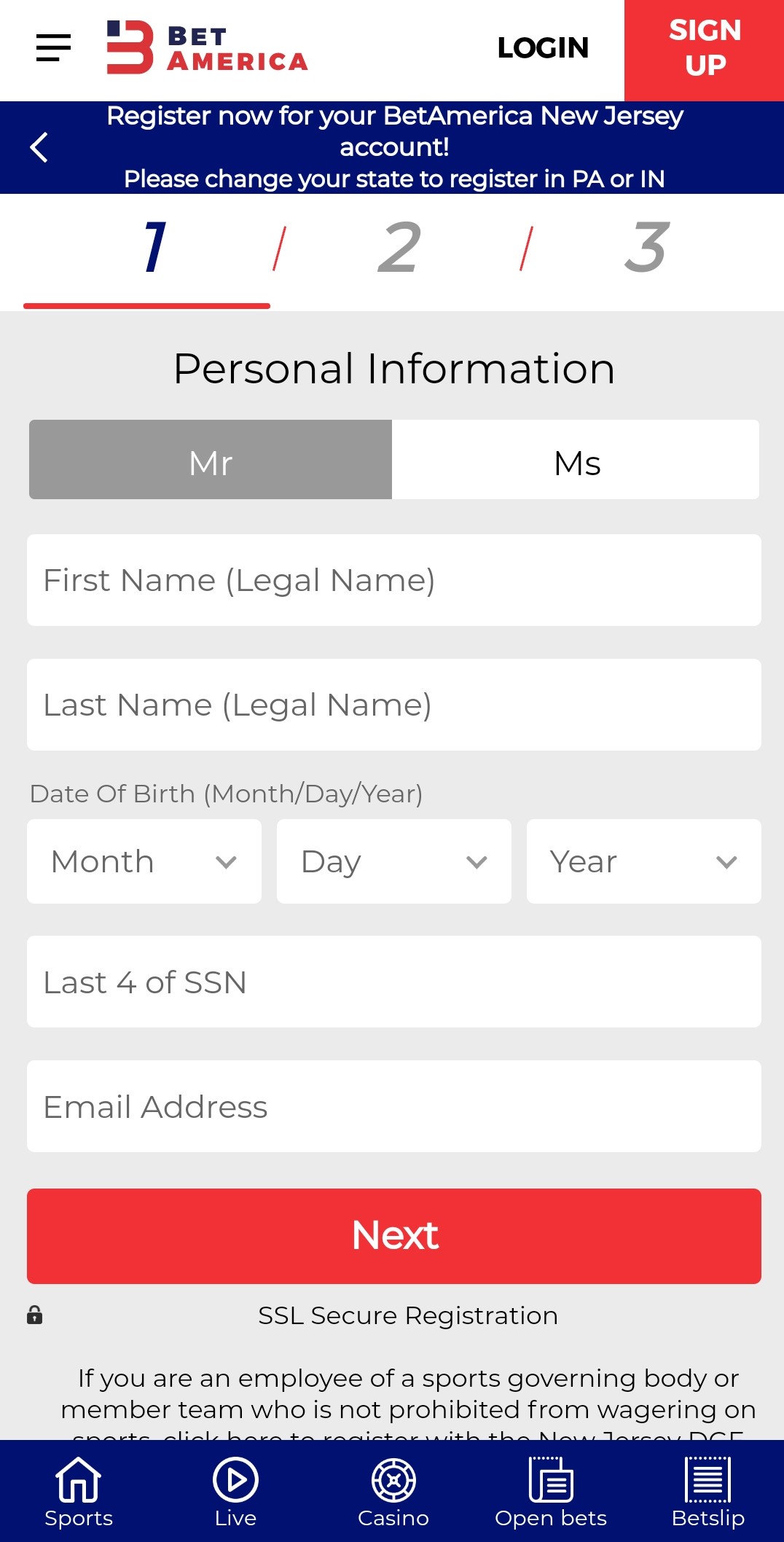 Registering an account is a quick process and is nearly the same between the states. In most mobile betting states, you will be able to complete everything including sign up, deposits and betting on the desktop or betting apps. Other states may have different processes for the signup, which can include in-person registration. 
Payment Transactions on BetAmerica Mobile Apps
After finishing the registration, a screen with the available deposit methods will come up. Picking a method will make this your default, which can be switched at any time. The best advice would be to find a method that can make both deposits and withdrawals and select this. All payment transactions can be made at any time by going to your account information.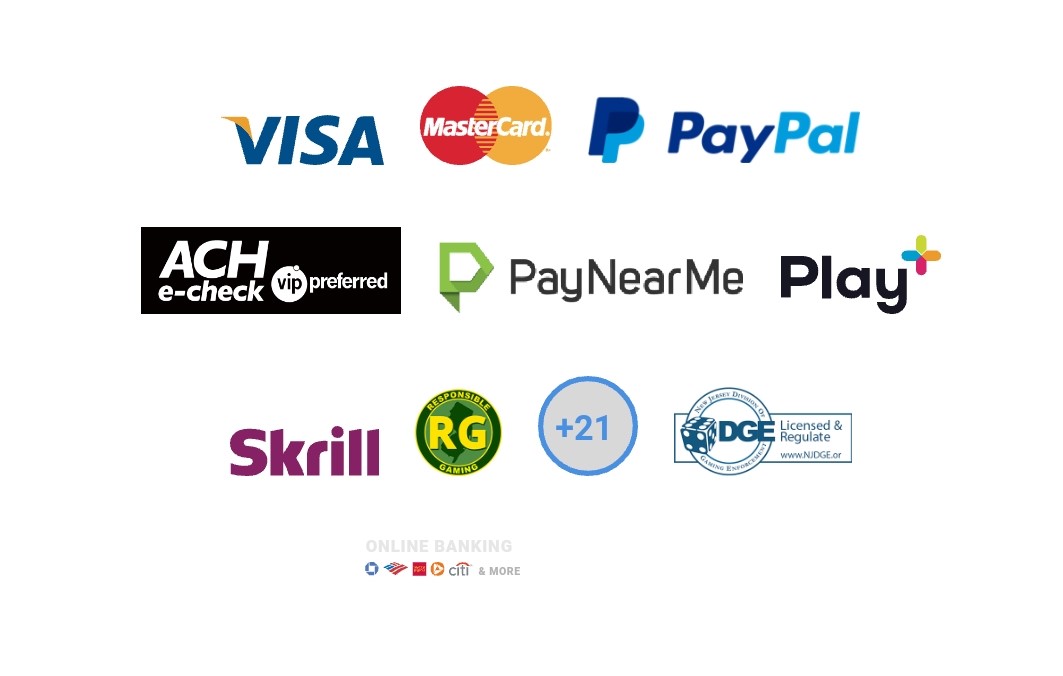 The selection of payment methods that you can choose from is quite good on BetAmerica. Many of the most desirable options are available, including PayPal and Skrill. Methods that allow you to make both deposits and withdrawals are generally the most convenient. 
Wait times for withdrawals are varied, and depending on the method that you are using. You should allow one to two days for most methods. Deposits will almost always be processed instantly however. Maximum deposits will vary depending on the method, however for most methods the minimum deposit will only be one dollar. 
Sports Betting with the BetAmerica Mobile App
The mobile betting apps for BetAmerica are top quality, including an incredible design and layout. Navigating the sportsbook shouldn't take too long to get down. The BetAmerica apps have everything you need on the main page. You can browse different sports and see the upcoming or live games for the day. 
The pull out menu in the top left corner makes things really simple. All of the main features that are included on the sportsbook can be found here. BetAmerica lists the many sports that it features on the sportsbook. Clicking on any will take you to the page with the game schedule for that sport including betting markets.
Some other features can also be accessed from the main page including BetAmerica's 'super odds'. This is an odds boost that takes certain markets and increases their odds. Live betting, casino and promotions sections are also shown at the top as tabs. A couple of clicks on these tabs will take you directly to that section of the sportsbook. 
BetAmerica Mobile App Overview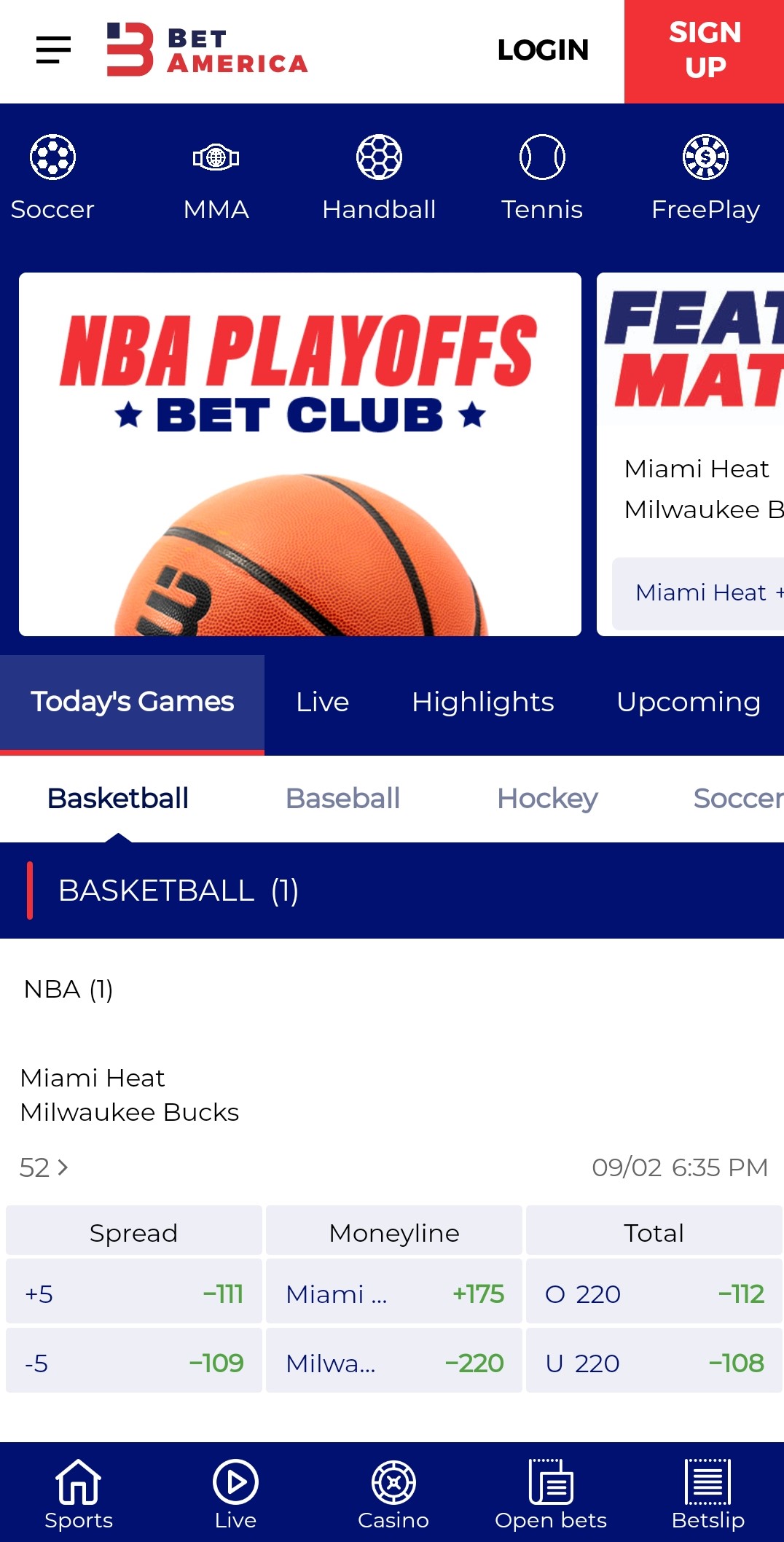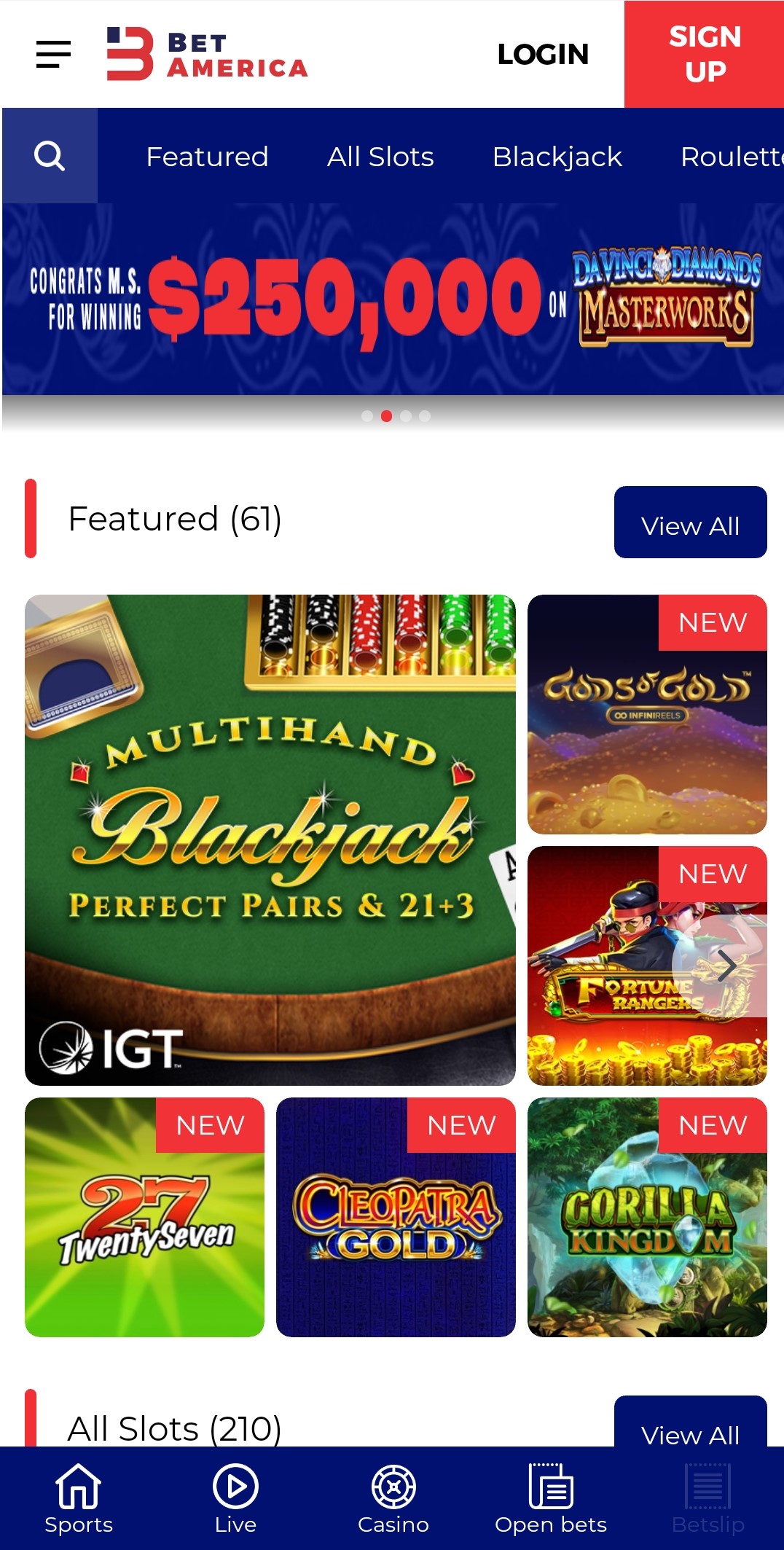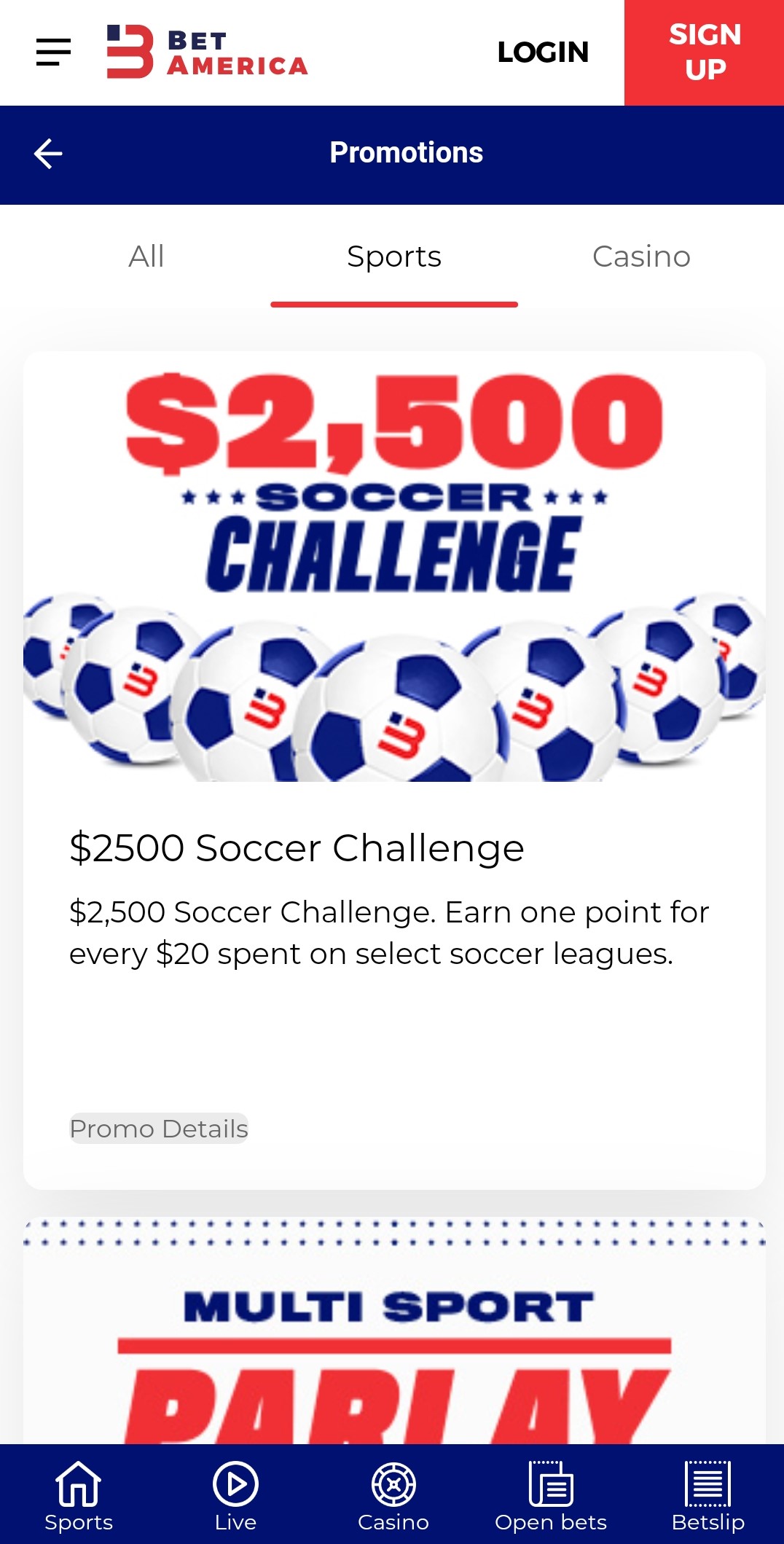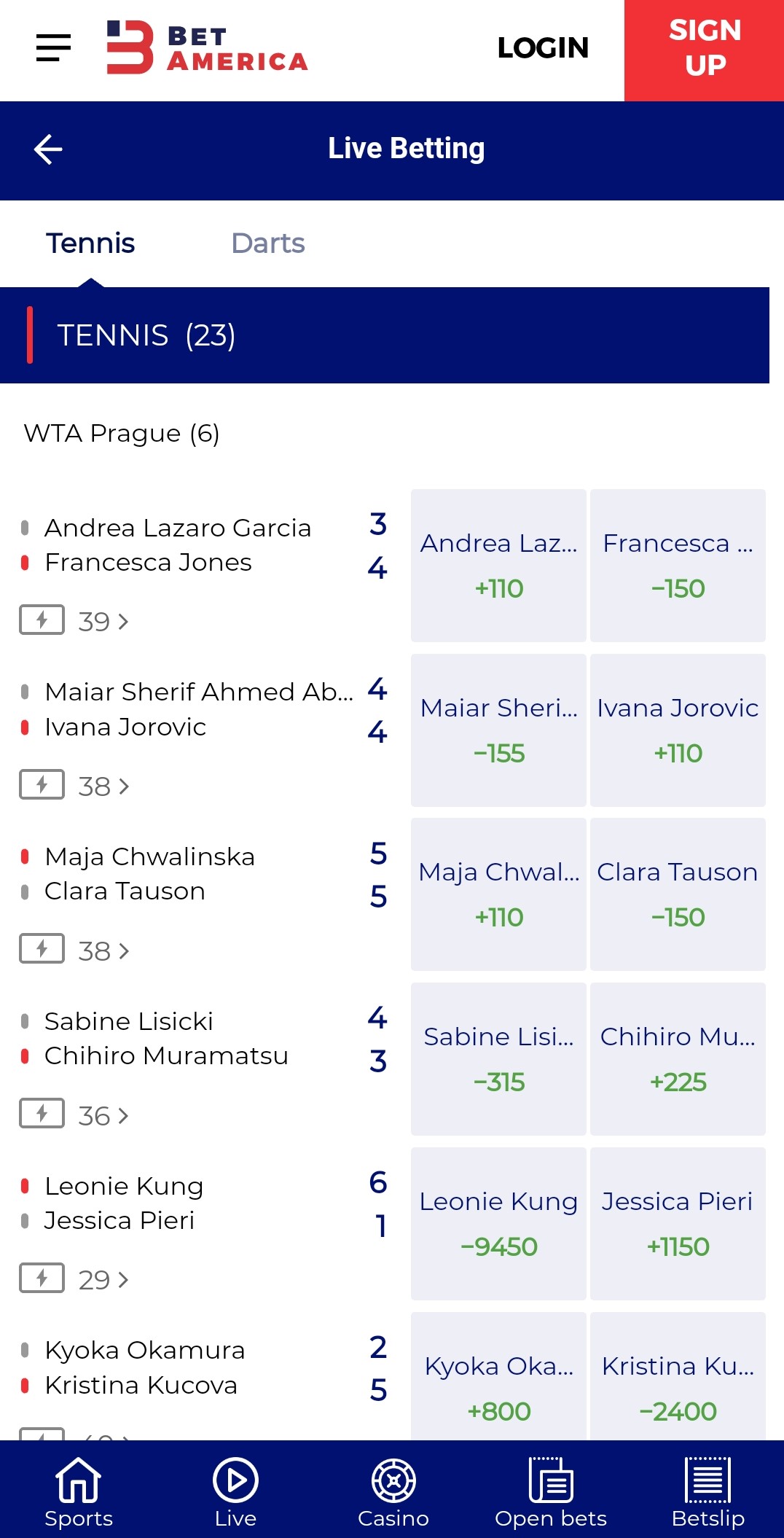 Live betting in particular is done extremely well on the BetAmerica app. Live games will be separated by sport, and will be characterized by a couple of features. The scores and the main betting lines will be shown for each game. Despite not having live streaming on the apps, BetAmerica does a great job allowing players to follow the game without leaving the app.
When you arrive on a game, look for a small icon telling you whether the game will have a live match center included or not. If you are planning on watching the game, then this is an important factor. The match tracker is great, and will follow all of the action from the game as it happens. This includes scoring plays, fouls, ball possession and a lot more.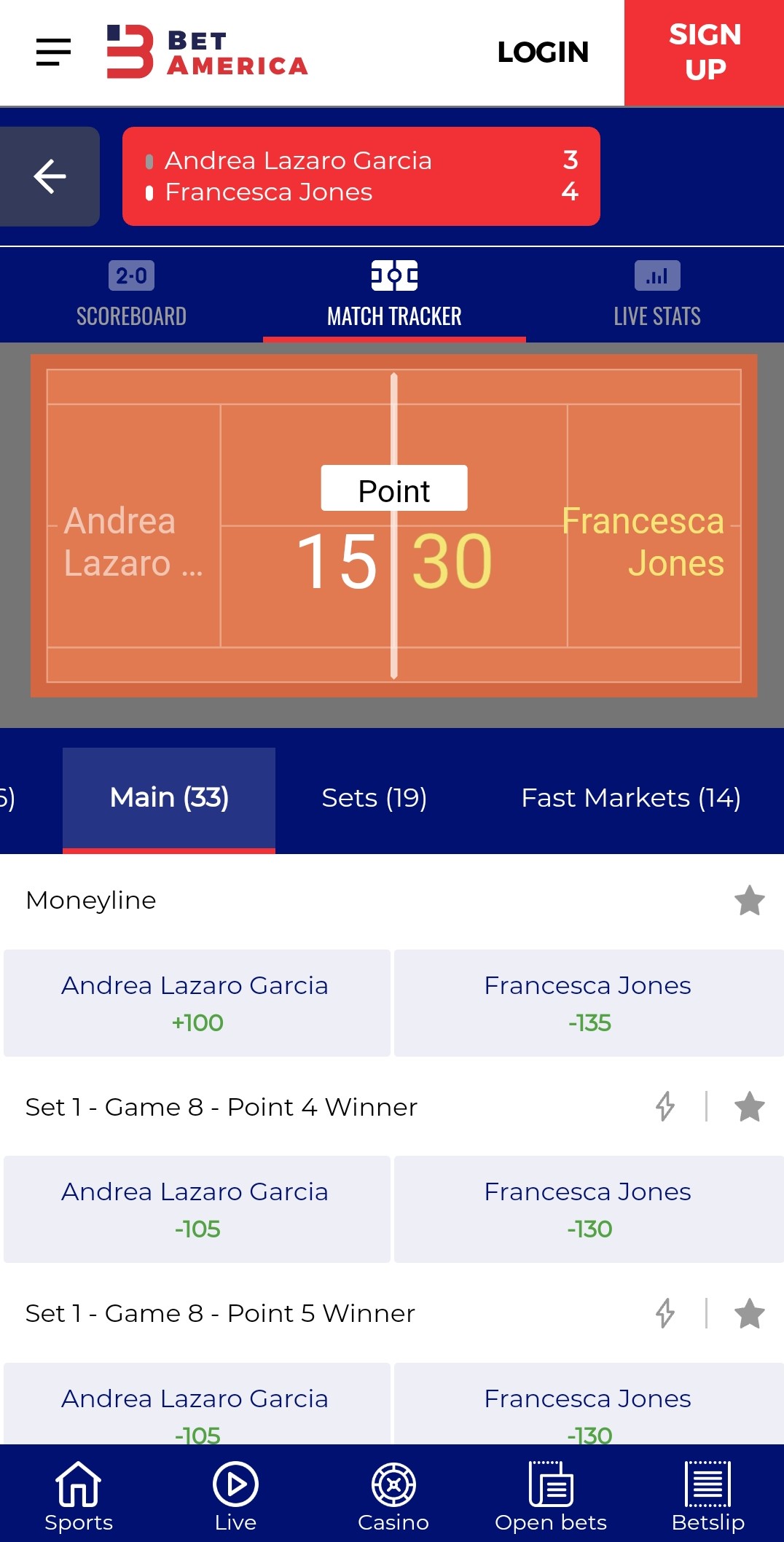 For all pre-match games, you can scroll the center of the screen or select a specific sport or league that you would like to browse. The sport that you choose will have all its upcoming games listed in order of their start times. Main betting types such as the moneyline, the spread and the over/under for the games will be listed on the outside. By selecting a certain game from the list you can find all of the available betting markets for the game.
These bets can be filtered further to help you pinpoint the exact market that you are searching for. You can add a single betting market or multiple markets to your bet slip. BetAmerica offers you plenty of options if you choose to take the multiple route. Depending on what you have added, you will be able to choose between making a parlay, system or teaser bet. Of course, you can also bet on each selection individually as well.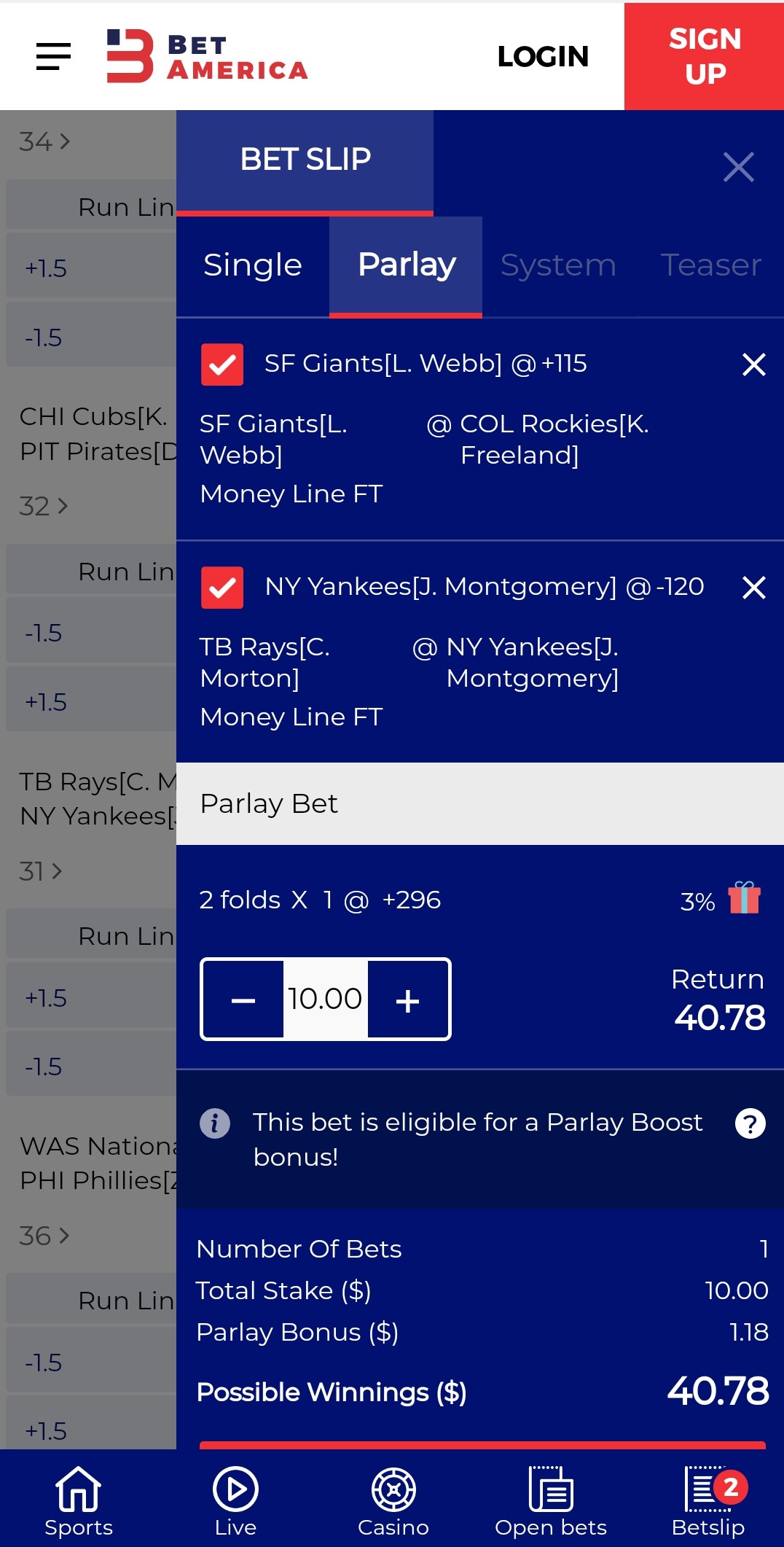 Whether you have made your parlay or teaser or just a single bet, you will need to enter the amount you wish to stake before placing the wager. Stakes can be placed on all of the markets in your bet slip at once, or separately on each individual market. 
The bet slip will also be the place where you are able to keep track of all the different bets you have ever made using BetAmerica. This tool is basically your checkbook for BetAmerica, helping you to manage all of the wagers you have previously placed. You can view all of your open and settled as well as which bets that you have won or lost.