Pros
Great bet selection including teasers and parlays
Multiple locations available for signup
Multiple options for live customer support
Cons
Lacks a good selection of markets for games
Live betting section lacks features like live scores and updates
There is a limited number of sports to bet on
Review of the bookmaker Elite Sportsbook from Legalbet
Iowa was the fifth state to officially launch mobile sports betting on August 15, 2019, both in retail locations and on mobile devices. Elite Casino Resorts was one of the Iowa companies to get in on the action. 
Each of the brand's three casino resorts in the state will feature sports betting on site, and has also launched a statewide mobile version of their products, called Elite Sportsbooks. The online product is produced with the help of major British bookie BetFred and Bet.Works, who it works with for its sports betting software. 
Elite Sportsbook was one of the first to launch its retail betting, doing so on the same day of legalization at the Rhythm City Casino In Davenport, with the Grand Falls Casino not far behind. Mobile sports betting would launch later in the month. 
Top reasons to choose Elite Sportsbook:
Strong focus on Iowa sports and neighboring teams

Betting on in-state colleges is allowed in Iowa

Functioning sportsbook with good promotions

Great customer support options to get in touch 
Sports betting is still in its early stages in both the United States and Iowa, however we would agree that Elite Sportsbook is lagging a little behind and remains in the very early stages. There are a lot of updates to be made, as right now we are looking at a bare product. 
That being said, the highlights of this sportsbook would be the ability to bet online and the selection and attention given to local sports. The odds are also slightly above average, and betting against local teams could give you a slightly higher profit. 
Odds — good
There is a live betting section available on Elite Sportsbook. There you will be able to make bets on games as they are being played. This functions the same way regular pregame betting does and features all of the sports you can find on the site.  
Unfortunately right now, there are not many features to go along with live betting. There is no live streaming or even match trackers to follow the game. So if you are making live bets on Elite Sportsbook, you would do well to have a live stream or television nearby. 
Each competition will be separated by its sport. The games that are listed down the screen will also contain the main three betting markets along with them. Unfortunately, the betting markets are extremely limited, and these are more often than not the only bets available. 
Odds — normal
Elite Sportsbook has a limited selection of sports that you can bet on as of now. The reason is that Eilite does not explicitly feature international offerings, though there will be some international leagues in some of the major sports like baseball or soccer. 
Regardless of the limited selection, there are still popular options available such as the major four leagues the NFL, NHL, NBA and the MLB. 
Baseball

Football

Boxing 

UFC/ MMA

Soccer

NASCAR

Formula 1

Basketball

Golf

Hockey

Tennis
Betting options — good
When it comes to bet selection, Elite Sportsbook covers many of the wager types that we like to see. These include the main bets such as moneyline wagers as well as spread and totals betting. 
Both pregame wagers and live wagers are also included in the offerings. You can make live bets in the live betting section. 
Moneyline Bets

Point Spread Bets

Over/Under Bets

Prop Bets

Live Bets

Parlay Bets

Futures Bets

Teaser Bets

Grand Salami Bets
Although these bets are all available on the site, the most common will be the top three. These will appear on almost every game. You can make parlay and teaser bets by adding selections to the bet slip and then clicking on the parlay or teaser tab.
Elite Sportsbook Official Mobile App
The online sportsbook layout for Elite follows many of the other sports betting sites in the country. Sports and leagues are listed on the left side and the different sections of the book in the top tabs. 
Navigation on the site is not particularly difficult, and the root cause may be because there is much to find. Besides the cash out feature, there are really no other features even included. Elite Sportsbook offers the necessary tools, i.e. you have the ability to bet on sports, and not much else.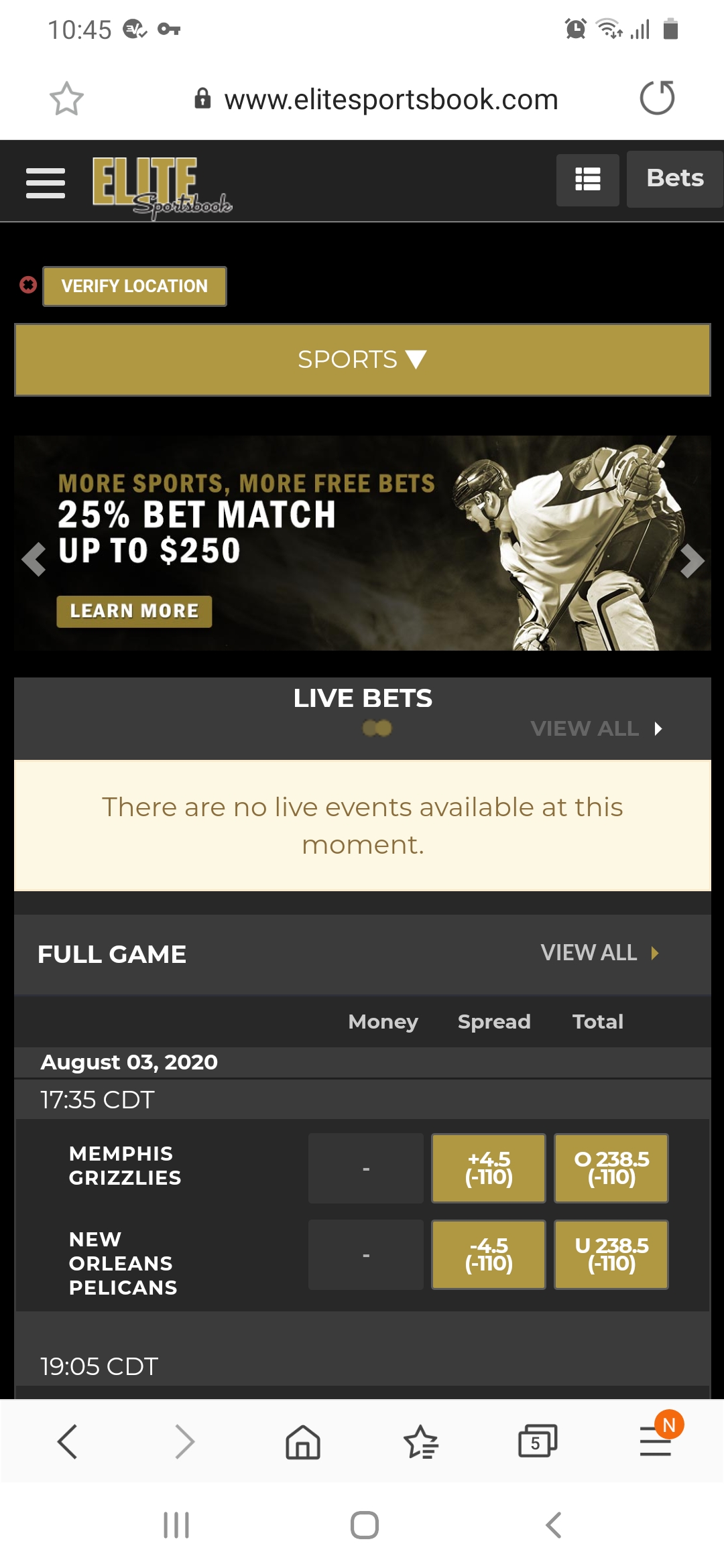 The biggest feature that Elite Sportsbook seems to be touting on its website is that you are able to make mobile bets. However, this is already available from multiple other sportsbooks in the state and is done much more competently as well.
There is also a massive focus on Iowa sports, which is fine since that will probably drive a lot of the market (along with Cubs, Bears and Packers games), however little attention is given to any other teams. 
Like much of the rest of the sportsbook, there is not really much there. The main American sports are covered, along with some international leagues. There is also a promotions section that does have some decent offers available.
Other than that, the sportsbook should prepare for a lot of work to take place. The initial design is not bad, the main problem is just that the only things included are the bare minimum. More sports, betting markets and an updated live section would go a long way to making this sportsbook truly elite. 
Registration & Verification
Registering an account at Elite Sportsbook must be done in person at one of the brand's retail locations. This is due to Iowa's laws regarding sports betting. Betting online is completely allowed, however all registrations must be done in person. 
This will be the case until January 2021. Until then you will need to fill out a registration form and head to a retail casino with a photo ID. After January 2021 you will then be able to register a sportsbook account completely online. 
Luckily for players hoping to sign up on Elite Sportsbook, there are three casinos that you can sign up and make your first deposit. The locations are scattered throughout the state, which means they will be able to cover players from different areas. 
Riverside Casino and Golf Resort - Riverside, IA

Grand Falls Casino and Golf Resort - Larchwood, IA

Rhythm City Casino Resort - Davenport, IA
Signup is available at all three of these locations. Once you have verified that you are over the age of 21 and signed up, you will be able to bet anywhere in the state with the Elite Sportsbook mobile version and sports betting apps. 
Elite Sportsbook Bonuses
There are quite often at least a couple of different promotions featured on Elite Sportsbook. This includes both promotions for new users and existing players. All of the different offers can be found in the promotions section on the site.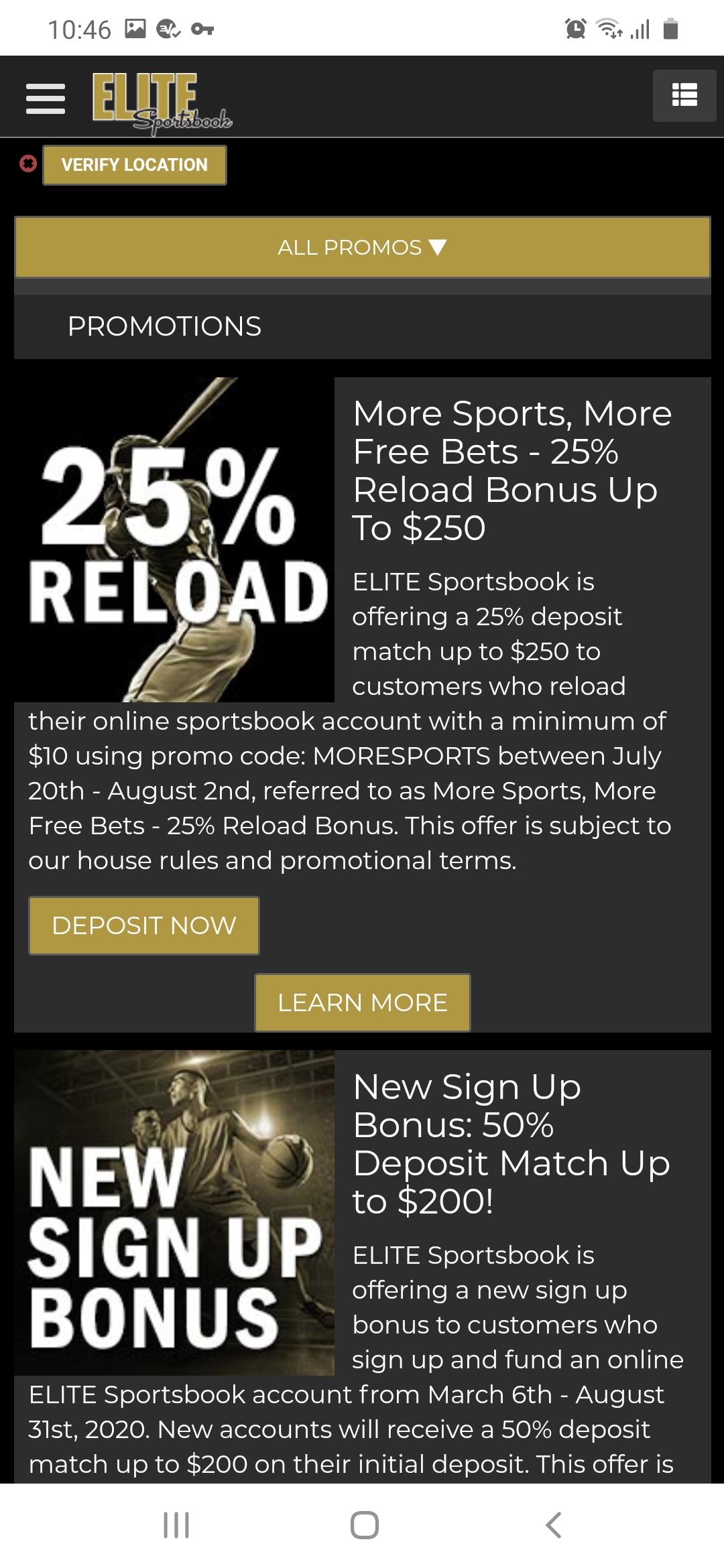 You can find many different types of offers in the promotions section, and they are constantly changing. Elite Sportsbook does feature league specific bonuses which signal that they are at least making some updates for the online sportsbook. 
Expect to find a lot of different promotions for both welcome offers and existing users. We would also expect many bonuses for local teams around the area. Some of the promotions we would expect to eventually find on Elite Sportsbook.
Cash Out Bonuses

Matched Deposits 

Risk-free Bets

Live Bets Bonuses

Parlay/ Odds Boosts

Specific League Bonuses
These are the typical promotions that make their way onto most sportsbooks, so we would expect to see them interchangeably on Elite. There is still a welcome offer at most times and at least one other bonus to go with it. This is one of the highlights of the Elite Sportsbook, as the promotions offered are quite up to par. 
Deposits & Withdrawals
Options for payment transactions on Elite Sportsbook are extremely slim. In fact, there are only two ways to get money into your account. This includes only one option to make payment transactions. Only one of the options that they offer is online. 
Players on Elite will need to either get the Play+ Card that is linked to their account, or make a trip to one of the physical locations in the state. This will hopefully not be the only two options long term. The minimum deposit that you can make is ten dollars, with the maximum capping at $2,000. 
There are plenty of other payment options that are offered by American sportsbooks that would greatly improve the convenience of deposits and withdrawals: 
PayPal

Skrill

ACH Bank Transfers

Checks

Wire Transfers
Adding any of these methods would be a major improvement from the current situation. From the two payment methods currently offered, the Elite Sportsbook Play+ Card is definitely the best option for a number of reasons. The main reason is that it is online, making it much more convenient. 
Customer Support
Questions are bound to arise during your time playing on Elite Sportsbook, whether you are a new player or an experienced user. Hopefully nothing serious, but when you have questions it's great to have options. 
For common questions, there is an FAQ section that has  articles that answer major questions in different categories. However, sometimes it is best to get in touch with someone for more specific instances. 
One of the major positives on Elite Sportsbook is the options available for you to contact with a member of customer support. You can do this anytime by going to the "contact us" page and then selecting the method that you want to use. 
| | | |
| --- | --- | --- |
| Live Chat | Phone Call | Email Address |
The best option is usually the quickest and most direct, which would be a live chat. There is a support button that you can click on in the bottom right corner that will allow you to initiate the chat feature. 
Review Conclusion
Although Elite Sportsbook has a few different sections that provide an exceptional sports betting experience, there is more than a little work that needs to be done. There is a severe lack of betting markets, payment options and the live betting hardly carries any features.
If you are in Iowa and are looking for a sportsbook to use, then Elite will get the job done. You will be able to make bets online and play the game. Currently Elite's mobile apps are lagging behind the competition, however for a local casino app it is actually quite good. Local fans will have a great time using this app and its features. 
Updated: 04.06.2023
Information about the company
Questions and answers
How does Elite Sportsbook work?
Elite Sportsbook allows users to bet on sports online through its mobile versions and apps. Once you have registered for an account and deposited funds, you will be able to risk money on different sports competitions for the chance of returning even more money.
There are different ways to bet on games. You can make simple bets such as which team will win a game or on more specific bets like what time the first team will score or which player scores. After choosing which bet you want to make, you choose an amount that you want to stake and confirm your bet. 
If your bet is successful, you will win back more money based on the odds that you placed your wager. Elite Sportsbook will also offer ways to bet on games as they are being played, special promotions and other features that will give you more ways to play. 
What are the best features of Elite Sportsbook?
The best features available on Elite Sportsbook are its attention to the USA sports. All of the sports currently listed on the site are American, with not any specific international offerings. 
The sportsbook also features a heavy emphasis on the popular US leagues. So finding a bet on your favorite league or sport as an American will be incredibly easy. 
Another great feature is the customer support section on the site. In this section there are multiple ways to get into contact with someone from the Elite support team. Having a live chat on the site makes it a whole lot easier as well. 
How to use an Elite Sportsbook bonus?
There will usually be promotions on Elite Sportsbook that will give players the opportunity to gain even more reward from betting. These can range from free bets to profits boosts and everything in between. 
Current bonuses will all be listed in the promotions section on Elite Sportsbook. Once you find a bonus that you would like to use, you can read the description and fulfill the requirements to receive it. 
Welcome bonuses are reserved exclusively for new players performing their first task on the sportsbook such as creating an account or making the first deposit. These bonuses may require players to use a promo code during registration which can also be found in their descriptions.