Pros
Huge range of betting markets (multibets, combo bets, parlays)
Experienced software and operating companies
Live betting section is incredible with match center and statistics
Enhanced odds and full horse racing section
Cons
Casino ads on the sportsbook
Mobile betting apps can be glitchy
No live streaming service available
Payment systems
Type
At least
Max
Payment. Commission %
Payment. Deposit time

$1
$1,000
$5
Immediately

$10
$100/1,000
None
Immediately
Done through EZmoney. First transaction maximum deposit is $100, after that $1,000.

$1
$500
None
Within 15 Minutes

$1
$500
$5
Immediately

$1
$500
$5
Immediately
Type
At least
Max
Payment. Commission %
Payment. Withdrawal time

$1
$2,500
$1
2-3 business days

$0.01
Any*
None
1-5 business days
Done through EZmoney. *Any amount less than pending deposits.
Review of the bookmaker BetAmerica from Legalbet
BetAmerica burst onto the scene in February of 2019 as a new sports betting option. Located in New Jersey, the online sportsbook was quick to take advantage of the law change allowing for the legalization of sports betting by state. The company, BetAmerica, has itself been operating since 2008 as an online racebook.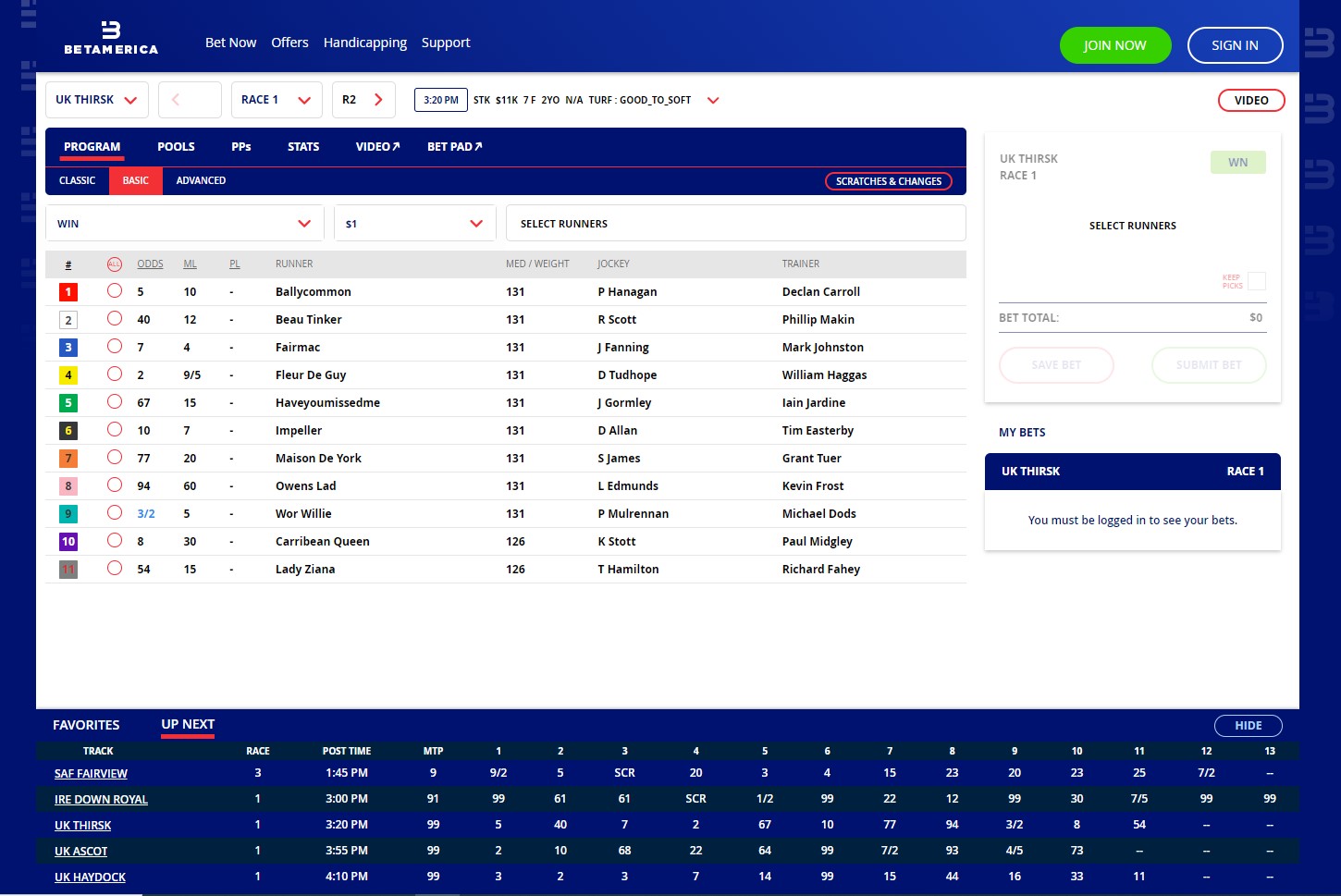 BetAmerica includes a full online horse racing section on the site
Both are operated by their Churchill Downs Incorporated, a long-respected company who deals in casinos, online gaming and racing. The company is headquartered in Louisville, Kentucky and is the United States leading online wagering company.
Beginning with just one racetrack, the company today owns multiple racetracks and casinos across the country. 
Churchill Downs Incorporated today is one of the most recognized and respected names in America, let alone in the gambling sector. The company has been involved in the gambling industry since 1875, when they opened its first racetrack in Louisville.
Today, the company owns casinos/racetracks in many states across the country.
Maine
New York
Ohio
Maryland
Pennsylvania
Mississippi
Kentucky
Indiana and more.
The online sportsbook they run uses software created by SBTech, another very respected name in its industry. The international software company is known for great live betting and a wide variety of betting markets.
The software boasts incredible fast markets and its custom ability for each customer. The company currently has over 1000 employees and more than 10 years of experience providing sports betting software.
Odds — normal
We searched the BetAmerica Sportsbook in order to find the average margins given on games in the top sports and leagues. With our unique formula, we can find the exact percentage of each bet made on BetAmerica that is kept by the sportsbook. 
We look at multiple leagues within different sports to find more accurate average margins. This gives us a more better idea of how the margins stack up in our 'Odds Rating' for each sport and multiple leagues!
Soccer Betting
Average Margin = 4.63%
There are many different soccer leagues featured on BetAmerica's site. The total margin average for soccer was at 4.63. This number places BetAmerica at the top of the good category on Legalbet.
| | | |
| --- | --- | --- |
| Odds Rating | League for Soccer Betting | Average Margin Percentage |
| Good | English Premier League (EPL) | 4.56% |
| Good | Russian Premier League | 4.45% |
| Good | Major League Soccer (MLS) | 4.89% |
Tennis Betting
Average Margin = 5.229%
There were multiple tennis tournaments ongoing when we looked for the average margins. The total average for all the tournaments looked at was 5.23%, which puts the sport high up in the normal category on Legalbet.
| | | |
| --- | --- | --- |
| Odds Rating | Tennis Competition | Average Margin Percentage |
| Normal | M15 Antalya | 5.35% |
| Normal | Australian Open WC Men | 5.14% |
| Normal | ITF W15 Monastir | 5.20% |
Hockey Betting
Average Margin = 5.122%
There were multiple leagues available for hockey as well. We looked at some of the most popular both in the United States as well as international leagues. The total average for all margins in the sport was at 5.122. 
| | | |
| --- | --- | --- |
| Odds Rating | League for Hockey Betting | Average Margin Percentage |
| Good | NHL | 4.87% |
| Normal | Swedish SHL | 5.28% |
| Normal | Finnish SM Liga | 5.23% |
Basketball Betting
Average Margin = 4.828%
We looked at a few of the top basketball leagues available on BetAmerica. The total average margin for all of the games and leagues was 4.828. BetAmerica has odds listed for both American basketball leagues and leagues in international markets as well. 
| | | |
| --- | --- | --- |
| Odds Rating | League for Basketball Betting | Average Margin Percentage |
| Good | NBA | 4.86% |
| Good | NCAA Mens | 4.75% |
| Good | EuroLeague | 4.88% |
Betting options — normal
The BetAmerica sportsbook features all of the main sports that you would expect to find, with a few less popular sports also in the mix. The main leagues for American sports can all be found here as well as some international options as well.
A key part of betting on BetAmerica Sportsbook takes place in the horse racing section. For fans of betting on the races, there are few online sportsbooks who can compete with BetAmerica. 
Football

Basketball

Baseball

Hockey

Soccer

Horse Racing

MMA

Golf

Motor Racing

Tennis

Table Tennis

Darts

Aussie Rules

Boxing

Cricket

Cycling

Rugby League
There is also a section featured called Super Odds where they will display random wagers with inflated odds to bet on. These can pop up in any of the website's sports and include odds that can be more than +800.
These odds update quickly and feature bets like Man City to win Premier League and Champions League and Clemson/Alabama to meet in the NCAA football championship.
BetAmerica Baseball Betting
The MLB is the only league available for betting on in the baseball section. Both game odds as well as future bets are included. For a typical baseball game, you can expect to find around 50 markets to bet on. These include the main bets on the moneyline, totals and with a handicap.
However, the options for these main bets can be expanded. For example, for bets with a handicap you can choose whether a team will win by one, two, three or by four or more runs all with varying odds. You can be even more specific and choose for a team to win from a range starting at -1.5 all the way to +5.5.
There are also bets available on whether there will be extra innings, the total of runs by innings and on who the first team to score will be. Another bonus is that BetAmerica features player bets as well specific to each game. This includes total strikeouts for the pitchers, total ERA, and total bases and home runs for selected players.
In the futures section you can bet on which team will win the World Series, all of the division winners and on some individual awards. These include both the American and National League MVP winner and the American League Cy Young winner.
BetAmerica Tennis Betting Markets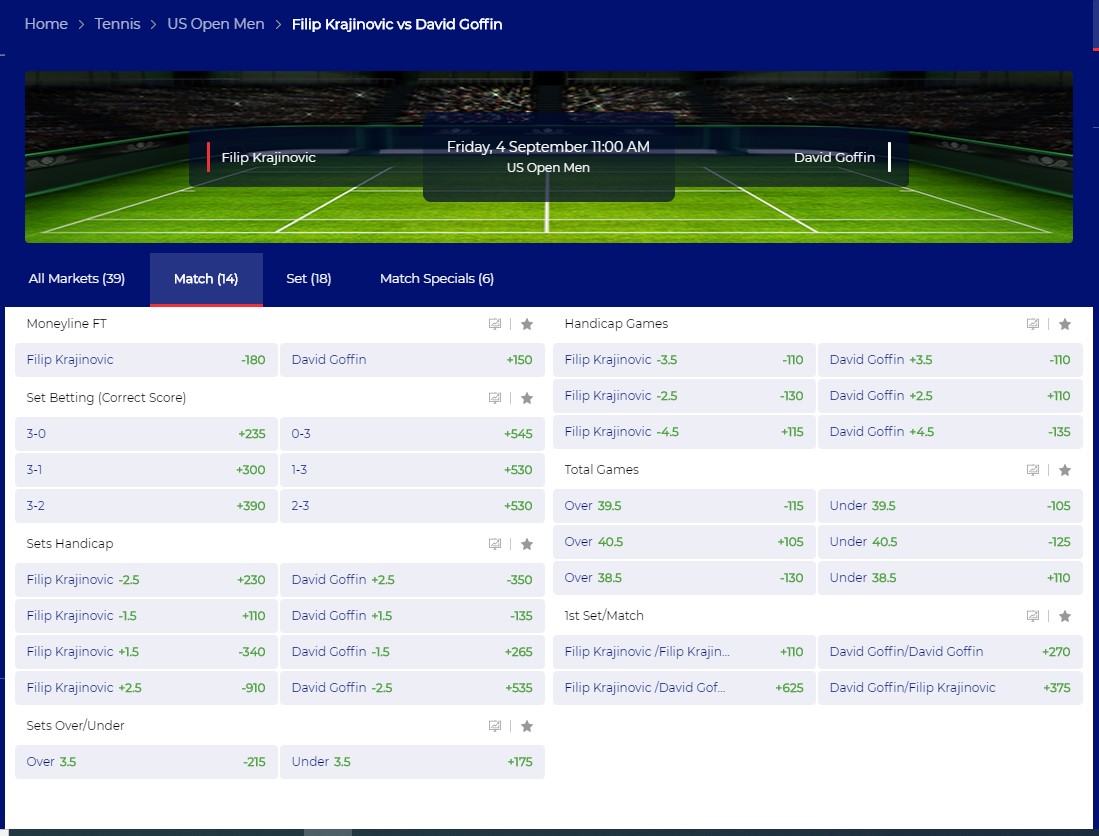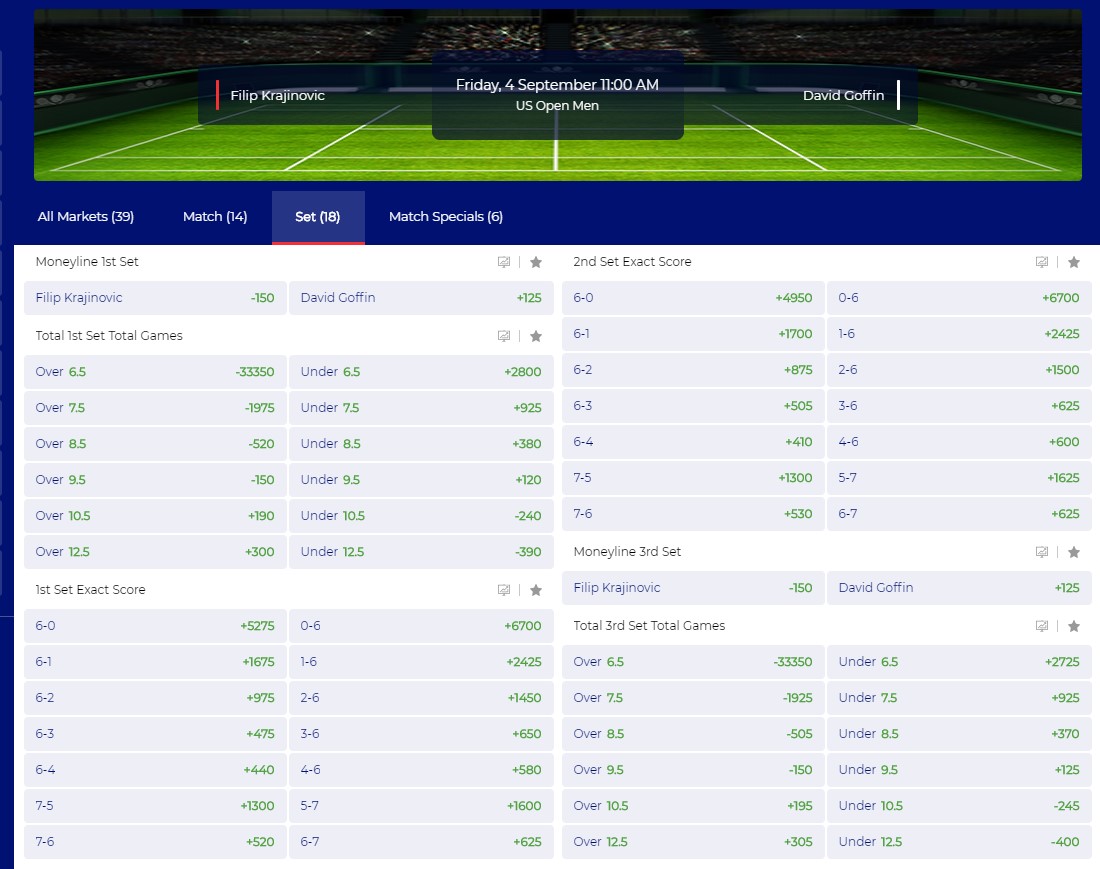 BetAmerica Tennis Betting
The number of leagues available to bet on for tennis is extraordinary for a sportsbook. An extremely popular sport worldwide, you can find almost any league you are looking for no matter the country.
You can find bets for tournaments such as:
ITF 60 Warsaw
WTA Toronto
ITF Chiswick, among many others.
The main tournaments such as the French, US and Australian Opens are also offered.
Bets for individual matches include the moneyline and over/under bets of course. However, you can also find offers on the exact score of a set, point winners and whether a game will be to deuce or not. Over/ under bets are available by the set and game, as well as on the total score.
On the tournaments displayed, you can make future bets on the eventual winners. There are also handicap bets offered for some games which usually include -.5 or +.5 for the athletes. The real action for tennis is within the live aspect of betting.
There is no set number of bets to expect for individual matches, because they vary drastically for each. A good rule of thumb would be to expect a higher number on the more prolific competitions and less on the smaller ones. 
BetAmerica Soccer Betting
Like tennis, soccer is a very popular worldwide sport that showcases a following in just about every country. Accordingly, BetAmerica offers a massive collection of leagues and tournaments for the player to choose from.
There are five main leagues and they are all of course offered but there are many smaller leagues as well. For example, on the BetAmerica sportsbook you can find bets on Ireland's league and multiple leagues from Scotland.
Switzerland, Cyprus and Finland also all have their leagues featured among others. The range of tournaments is equally as impressive as you can find major tournaments such as the Champions League and the World Cup but can also find tournaments that pop up in specific countries.
And not just the FA cup or the Copa Del Ray, but also tournaments like Ireland's FAI cup for instance. Bets on individual games can range in numbers not depending on any one factor. However, for some games you can find over 120 different markets to bet on.
Some of the more interesting markets included are to score/miss a penalty, for one of the teams to win from behind, and for an own goal to occur. All of the bets offered are available in the first half, second half or for the total game. For the tournaments you can bet on which team will lift the trophy at the end.
Live — good
The live section on display at BetAmerica is up there with the best. The sportsbook quite obviously takes a lot of pride in its live section. All of the sports featured on the site are available to bet on live as well. The Live Schedule shows which games will be played in order of time and separated by sport.
In the center the list of games is not separated by sport but rather by which time they will be played, however you can click on a scroll down tab and select which sport you want to be displayed. You can also change the date at the top and the long list will display all of the events scheduled for that day.
There is also a results tab where you can select the sport and time frame (last 24 hours, 48, etc.) and the website will display all of the event results within that time frame.
These results are in alphabetical order separated by league/ tournament. However, the real value is in the Event View tab. Here you can select a specific event and the screen will instantly center all around your choice. At the top there will be a banner displaying all of the teams currently playing, the time in game and the score.
Down the center of the screen below the banner, you can view all of the available bets for the current event. The odds on these events change quickly and will be signified by a red or green arrow in the corner of the box containing the offer.
The live screen shows the field and where the ball is on the field at the time. This is incredible accurate as the ball will move with every pass and shot. Captions will also appear commenting what is happening. 
A live broadcast of the game is still recommended, but you could make live bets confidently with this live section's setup.
Updated: 04.06.2023
Information about the company