Legal Sports Betting: How it Works in Iowa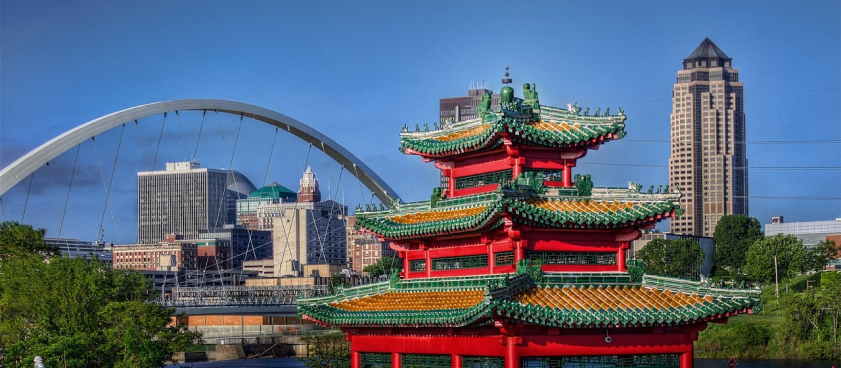 Iowa became the first Midwest state and the 11th state overall to officially legalize online sports betting. The decision was made final when the Iowa Senate's sports betting bill 617 was passed.
The law became official in May 2019, with the first bet being taken on August 15, 2019 at Prairie Meadow Casino in Altoona. The rules and regulations surrounding sports betting in Iowa are beneficial to both players and the casinos in the state. 
There is a 6.75% tax rate on sports betting, lowest in the country tied with Nevada

Originally, in-person registration was required until January 1, 2021

Players must wait for a period of time before amending their bet limits 

Iowa is fully mobile after January 1st, meaning that players can register, deposit and bet online or on mobile sports betting apps

Players must be 21 or older to legally bet in Iowa
Despite the original bill making in-person registrations mandatory for more than a year, Iowa has still managed to attract some big names to the state.
These big name online sportsbooks and apps bring The Hawkeye State professional and experienced sportsbooks to bet on, with plenty of options to choose from.  
Where to Bet in Iowa: Sports Betting Locations
Luckily for Iowa bettors, there are both a lot of online sportsbooks and physical locations to bet at. These locations are situated throughout the state, meaning that most players will have something reasonably nearby. 
Iowa players can also bet local, with many Iowa casinos opting to launch their own online sportsbook and betting app brands, rather than partnering with big-name companies. 
| | | | |
| --- | --- | --- | --- |
| Sportsbook | Casino/s | Mobile App | City |
| | Catfish Bend | Yes | Burlington |
| | Grand Falls, Riverside, Rhythm City | Yes | Larchwood, Riverside, Davenport |
| | Isle Bettendorf/ Waterloo, Prairie Meadows, Lakeside | Yes | Bettendorf, Waterloo, Prairie Meadows, Lakeside |
| | Wild Rose Casinos | Yes | Clinton, Emmetsburg, Jefferson |
| | Hard Rock | Yes  | Sioux City |
| | Diamond Jo Dubuque, Diamond Jo Worth | Yes | Dubuque, Northwood |
| | Q Casino | Yes | Dubuque |
| | Grand Falls  | Yes | Larchwood |
Best Online Sports Betting Apps in Iowa
While physical locations were prepared for sports betting much almost immediately after the bill was passed, mobile applications took a little longer to launch.
The first Iowa mobile app was William Hill, giving them a big lead in revenue from the start. 
Iowa has a decent mix of both professional sportsbooks partnering with casinos as well as casinos launching their own mobile betting apps. Though these apps are certainly great for faithful locals, the professional names have been able to offer a more complete sports betting experience. 
PointsBet
One of the latecomers to the United States, Australian sportsbook PointsBet is known for its wildly high-risk, high-reward style of betting called 'Pointsbetting'.
Fixed-odds betting is also available on a mobile betting app that runs smoothly and comes with plenty of great features including promotions, live section, pointsbetting, name a bet and quick parlays. 
William Hill Sportsbook
By now, the William Hill sportsbook is known all over the country, operating in more than ten different states. The mobile app is top quality coming from years of experience in the industry.
It runs smoothly and gives Iowa players a great betting option. Features include live betting, promotions, quality customer service and cashout options. 
How to Register an Account in Iowa
When the bill was originally passed, the terms were set that players needed to register inside a physical location for betting. This made things much less convenient than other states where registration was fully mobile. However, this only lasted until January 1, 2021. 
The online process is much simpler and you are already in the perfect place to get started. After carefully comparing Iowa sportsbook reviews, players can select the red 'Bet Now' to begin the signup.
Sportsbook registrations usually take players through a few quick sections: 
Personal information - including things like name, age, email address and passwords 

Location - asking for the players address, 

Terms and conditions - these will go over the basics asking you to confirm your age, certify that the information entered is true and agree to the sportsbook's rules
The last four digits of a player's social security number will serve as the sportsbook's verification method. Once the registration is completed and approved, players will be able to instantly deposit and make bets. The process as a whole is quick and takes around 5-10 minutes. 
Best Sports Betting Odds in Iowa
Odds are the chances given to a certain outcome for games and competitions on a sportsbook. Better odds mean that if you win the bet, you will receive a higher payout for the same amount of money placed on a bet. 
Therefore, it is critical to know which sportsbooks have higher odds on average, or even just for specific competitions you wish to bet on. 
Some sports bettors take to "line shopping", where they look at multiple sportsbooks and manually find which one has the best odds. Though this works, it is time consuming and there are better ways. 
For Iowa sportsbooks, players can look at our odds ranking, which measures the average margin size of each betting site. The lower the margin percentage, the better the odds will be on average on that sportsbook.
For individual competitions, our betting center will always display the highest sports betting odds for the main three outcomes. 
Iowa Sports Betting FAQs
Which Sports and competitions can I bet on?
Sports betting in Iowa is pretty wide open with few restrictions when it comes to the types of competitions that players can bet on. All of the popular American sports and leagues will no doubt be included and featured on Iowa online sportsbooks. 
However, especially with the big name sportsbooks, the list does not stop there. We have seen everything from Pesapallo (Finnish baseball) to bull riding appear on sportsbooks in the US. Here are just some of the sports and events that could be available.
Football

Baseball

Hockey

Basketball

Collegiate sports

Tennis

Golf

Boxing

Table tennis 

Horse Racing

Rugby 

Olympics 

MMA

Winter athletics

Cricket

Entertainment
Are there any notable restrictions?
While Iowans can bet on a large selection of sports and events like fantasy drafts, horse racing and collegiate games, there are some notable restrictions. Betting on in-state colleges is allowed, however collegiate prop bets are not allowed for in-state colleges. 
Like most states unfortunately, eSports betting is still not yet available in Iowa. This is a common theme that has not been addressed often but is starting to pick up steam.
New Jersey has had eSports betting approved on the condition that all participants were over 18, so it's possible Iowa makes amendments in the future. 
Do you need to live in Iowa to Bet?
While you do need to be inside the Iowa's borders while making a bet, players do need to live in the state to register an account and make bets. If you are visiting or are coming from another state you will be able to bet as long as you are in Iowa. 
This is especially helpful for neighboring states without legal sports betting, which includes all of them except for Illinois. Some casinos will certainly enjoy their location like Diamond Jo Casino in Northwood.
Diamond Jo features FanDuel Sportsbook and is in a great location to attract bettors from both states. 
What professional teams are in Iowa?
When talking about professional teams we think of the premier leagues like the MLB and the NFL and this regard, Iowa has none. There are plenty of minor-league teams in the state, however finding those anywhere on an online sportsbook is almost never going to happen. 
Though this is a tough situation, there are strong professional followings in Iowa which will garner a lot of attention from sportsbooks.
Teams like the Chicago Bears and Green Bay Packers as well as other Chicago, Minnesota and Missouri teams will likely see sportsbook promotions geared their way more often than not in Iowa.
Iowa Sports Betting Revenue Tracker
| | | | |
| --- | --- | --- | --- |
| Month 2020 | Total Handle | Revenue | Taxes/ State Revenue |
| September  | $72,397,241 | $5,167,819 | $348,828 |
| August | $50,313,674 | $3,003,903 | $202,316 |
| July | $22,859,622 | $2,244,021 | $151,919 |
| June | $12,711,201 | $620,740 | $42,033 |
| May | $6,976,637 | $501,062 | $32,111 |
Looking for a different state?
You can find updated profiles of all US states with legal sports betting along with rule updates, online sportsbooks and more here. This page will give you an updated outlook on the United States sports betting industry. Clicking on any legal state will bring you to that state's home page.