Pros
Good selection of different betting types
Sportsbook covers all of the main American sports
Mobile app runs well with focus on trending games
Cons
Live betting section does not differ from the rest of the app
Not a very high number of betting markets for each game
No promotions section on the site
Review of the bookmaker Q Sportsbook from Legalbet
Q Sportsbook is the product of Dubuque, Iowa's own Q Casino and RaceTrack. The location is owned by the city and saw the casino fully formed by 2005. The Q Sportsbook started online in the Fall of 2019 after receiving permission from the IRGC on November 8th. 
The Q Sportsbook is unique for a couple of reasons. For one, the Q Casino has chosen to do all of its app development themselves, without any major software betting partnership. Many other sportsbooks and casinos have forgone in-house development. 
They instead opted for software or gaming companies to provide a direction and power the sports betting equipment. This provides for a basic design that truly caters to local sports bettors who may want to head to the Q Casino to place bets once in a while and want to have the app on hand. 
Top reasons to choose the Q Sportsbook:
Local casino with fully renovated retail sportsbook

App has unique design which makes it easy to find trending/ relevant games

Good selection of bet types that can be made including teasers and round robins

Has a focus on American sports and especially local teams
In general, Q Sportsbook understands who they are trying to market to and does not really strive to move away from that. If you are someone who is already a fan of the Q Casino and close enough to drop by to watch games, then having the app would be a great idea to avoid lines and make bets more conveniently. 
What the mobile betting app lacks the most is the number of bets for each game as well as the basic design of the live betting section. Currently, there is also no promotions section on the app. If the Q Sportsbook wants to have a wider reach in the state, then these are things that it must address.  
Odds — normal
There is not the biggest selection of sports and leagues on Q Sportsbook, however all of the main American sports and leagues are covered. If you stick with the popular and basic professional leagues, you should have no problem finding bets on the game you are looking for. 
Tennis

Soccer

Baseball

Auto Racing

Fighting 

Pro Football

College Football

Pro Basketball

Hockey

Golf
Betting options — normal
The available number of betting markets for each game is nowhere near the best, but it is also more than other sportsbooks we have seen. For many games on Q Sportsbook, there will not be more than 20 different markets in total.
For the bigger leagues and games there will normally be more, and there are normally a couple of futures bets available as well for league winners. The types of bets vary from mainstays like outcome and over/unders, with some more specific offers available as well.
Moneyline Bets

Over/Under Bets

Spread/Handicap Bets

Live Betting

Futures Bets

Parlay Bets

Teaser Bets

Round Robin Bets

Prop Bets
This is actually a very decent selection and is exactly what you would like to see on a sportsbook. Round robin and teaser bets are both available, which is great news as you can usually only find one or the other. 
Upcoming, live and futures bets cover all time periods so there is never a time when you cannot find a bet on the sport you love. 
Live — bad
The live betting section on Q Sportsbook is quite basic. It allows you the ability to bet on many different games as they are being played. However, the betting markets and live features are nowhere to be found.
In truth, the live betting section does not differ from any other betting on the site. There are no match trackers, live streaming or any other statistics to help you watch the games. Q Sportsbook surprisingly does not even feature the scores of the games being played. 
As such, live betting is as basic as it could be. If you are watching a game live and would like to make a bet then Q Sportsbook gives you the opportunity. With no ways to follow the games though you will need some other platform to even be aware of what's going on. 
The number of betting markets for each game also tends to be a little less than upcoming games. Each game will at least carry a bet on the outcome as well as a line for the over/under or spread. However, the number can increase depending on the game/league's popularity.
Q Sportsbook Official Mobile App
Since all of the Q Sportsbook software and design is done themselves, it will obviously lead to a different, more unique look than other mobile betting apps. Trending, or upcoming games will be given priority on the main screen. These will constantly update and once you make a selection you will automatically be taken to the main betting screen for that game.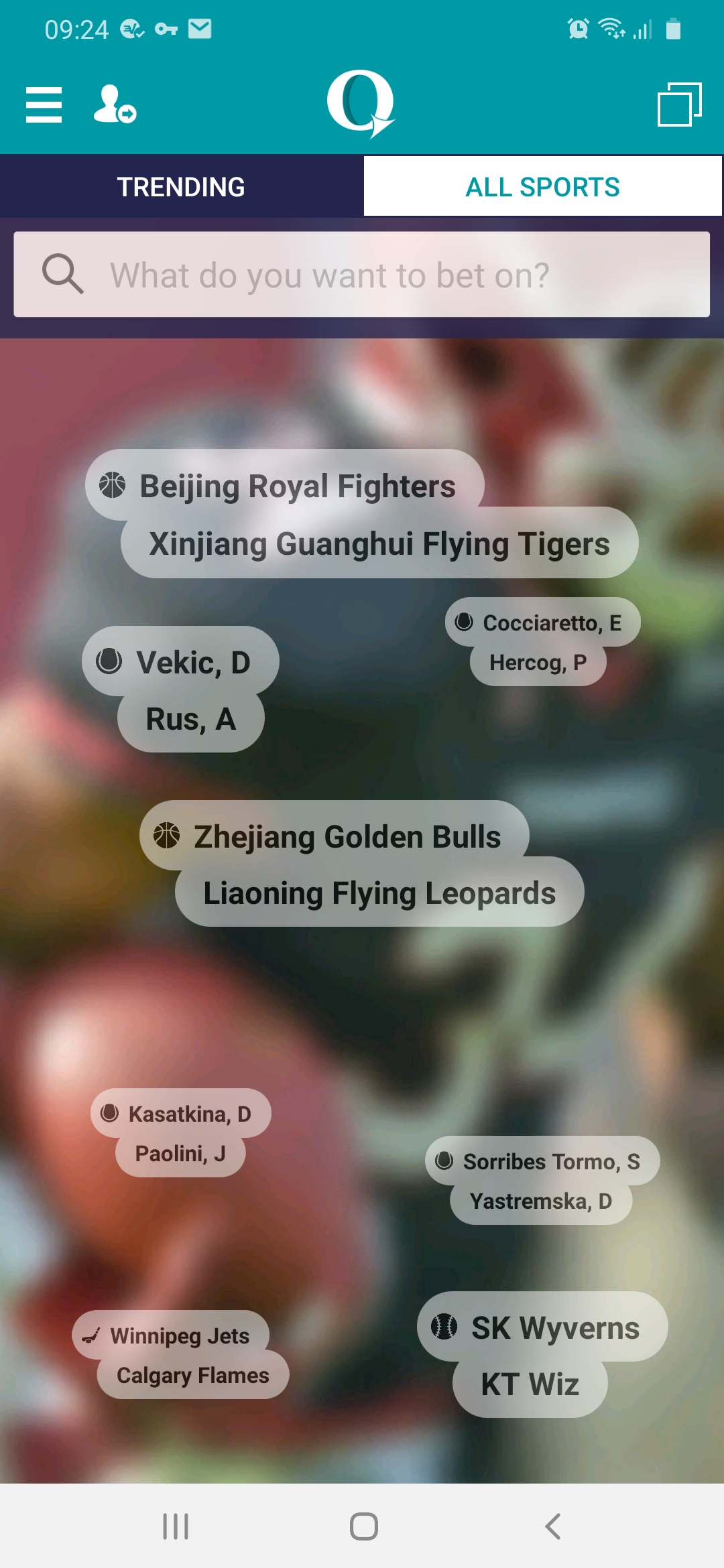 In truth, navigation on the app only takes a little bit of time to get used to. A lot of that comes from the straightforwardness of the betting app. You can find the sports that you are looking to be on, and choose from the lines offered. There are not any special betting features such as odds boosts or a promotions section.
While this obviously takes away from the experience that other sportsbooks are offering, it does not necessarily hurt the overall design of the app for its intended purposes. The intent of the app is to make sports bets on a mobile device from anywhere in the state, and the app certainly gives you the ability.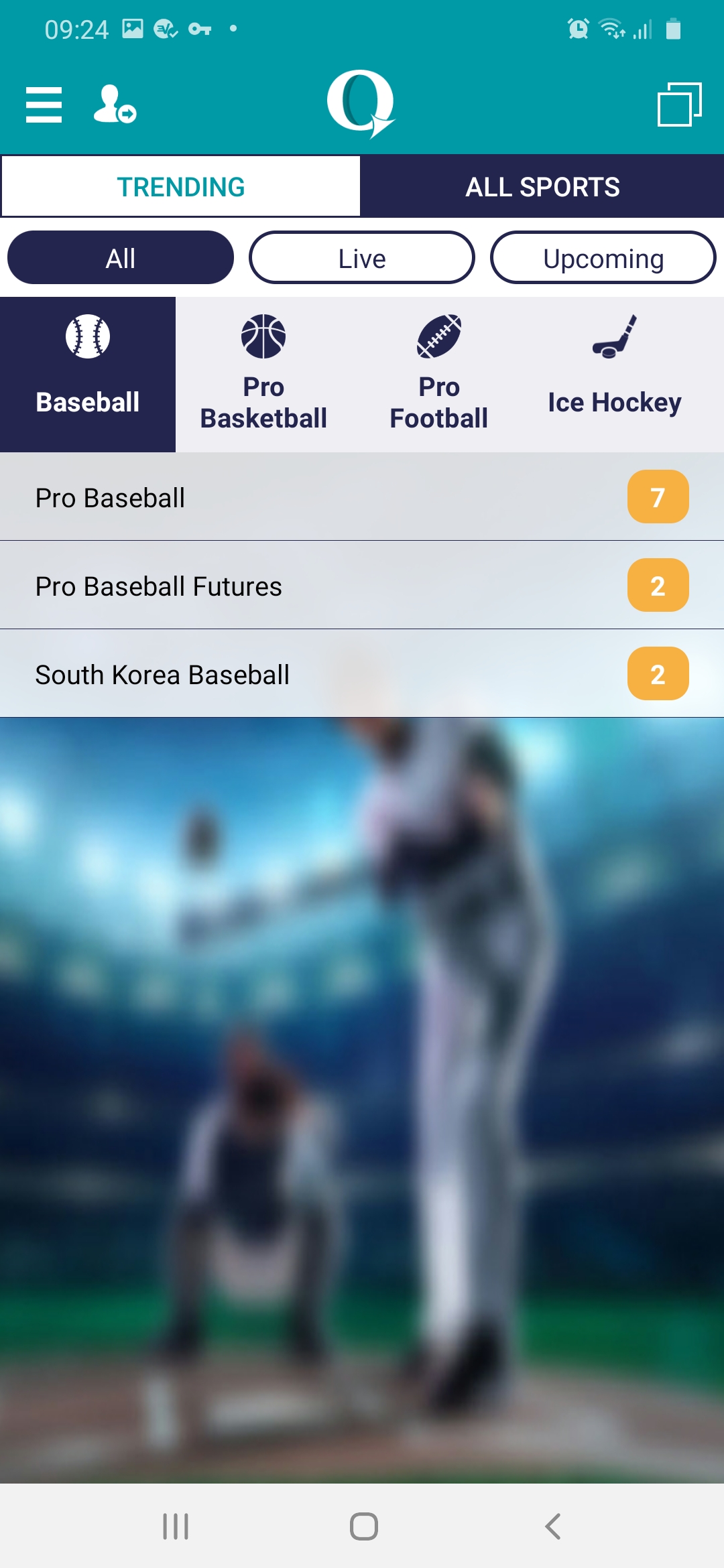 There are still a good variety of sports available, as well as plenty of bet types that are supported by Q Sportsbook. For the in-house design of the app, we stand quite impressed. 
The app itself also runs quite well, as the transitions are smooth and there are no major software problems such as crashes or certain sections not functioning well. In short, the basic foundation is done well, and there is a lot of room available for improvement or additions. 
Registration & Verification
For the time being, until January of 2021, Iowa residents will need to set up their sportsbook accounts at the physical location before being able to register on the mobile app. This can be done in a few simple steps.
Download the Q Sportsbook mobile apps

Go to the Q Casino in Dubuque, Iowa

Talk with guest services about registering your account

Fill out the form provided with correct information, provide ID and make deposit

Enter your pre registered email address in the app to finish the process
Until the turn of 2021, sports betting in Iowa will likely be extremely localized. It is unlikely that someone will make the trip from across the state to sign up in person at a particular casino. 
However, Q Casino is in a potentially great location, as it sits about an hour away from two of Iowa's biggest cities, Davenport and Cedar Rapids. They will certainly compete with other sportsbooks in the area, but Q Sportsbooks remains a realistic and viable option. 
The registration process should not take that long in person, and once it is done you will be able to log into your account and make online bets anytime. You will need to bring a photo ID, as well as a payment method in order to make the first deposit into your account. 
Deposits & Withdrawals
Since the process of sports betting in Iowa generally still has a long way to go, payment options are not quite as branched out as in other states. While there are still plenty that could be added, Q Sportsbook does feature some good options that should be able to cover most of the users of the app. 
| | | |
| --- | --- | --- |
| Payment Method | Deposit | Withdrawal |
| Credit/ Debit Card | Yes | No |
| Q Play+ Card | Yes | Yes |
| PayPal | Yes | Yes |
The one great thing about the payment options at Q Sportsbook is that you are able to use your PayPal account for both deposits and withdrawals. This is something that is not offered at notable other sportsbooks in Iowa and will definitely make things easier for many players. 
Going to the retail location in Dubuque will allow you to make both deposits and withdrawals. The online options will likely be more convenient, however if you are willing to go to the retail location there will be more options afforded to you. 
Q Sportsbook Official Betting App
All mobile sports betting on Q Sportsbook will take place on the betting apps. These can be downloaded from the Q Casino official website by searching for the mobile app in your browser. 
Both the IOS and Android versions of the app are free. The Android app can be downloaded directly off of the website, whereas the IOS version can be found in the Apple store. 
Q Sportsbook Mobile App Positives
The app runs smoothly and is easy to navigate

Unique design makes it easy to find featured games

Can make mobile bets from anywhere in the state
Q Sportsbook App Needs Improvement
Live betting section has no updates or live streaming

No promotions available on the sports betting app

Very few markets for games

Only a couple customer service options and very few payment methods
The mobile app works well and there is also room for a lot of improvement. Navigating and using the betting apps though are easy and the ability to make sports bets anywhere in the state is a major plus. 
Review Conclusion
The sportsbook produced by Q Casino is by no means bad for what it is, however it cannot in its present state stand up to many other competitors. This is mainly due to the lack of any promotions as well as the uninspired live section. 
The good news is that since the app works well and features a good design, it is entirely possible to turn the app into a top notch sports betting competitor with some updates. 
As of now, the sportsbook allows you to make mobile bets and does so well. If you are a fan of Q Casino and just want to be able to bet with its app, then this will work fine, though still leaving something to be desired. 
Updated: 04.06.2023
Information about the company
Questions and answers
How to get into contact with Q Sportsbook?
There are currently only a couple of methods available that allow you to get into contact with Q Sportsbook. The first is by going to the on site location at Q Casino and talking to one of the representatives there. 
Another option available to users is to call the sportsbook at the phone number listed on the application. You may be able to get through to someone by using the email address on the official site as well, though this is not listed as an option. 
What are the best features of Q Sportsbook?
As the mobile app still has a lot of work to be done including adding new sections and updating others, we have to say that the best features of the sportsbook would be the app itself. In truth, the unique design of the app may be offsetting at first to fans of other online betting apps, but it actually works quite well making navigation simple.
The layout of the app provides a unique sports betting experience, that provides a good foundation for further updates. The sports and leagues are easy to find and the app runs smoothly. If Q Sportsbook went further to add things like a promotions section and updated its live betting, then we would see a unique sportsbook with a functional app. 
The Q Sportsbook is the product of Q Casino in Dubuque, Iowa. The property doubles as a greyhound race track and is owned by the city of Dubuque itself. The race track is run by the Dubuque Racing Association, a nonprofit organization. 
The location's race track began its operations on June 1, 1985. The casino and sportsbook is a member of the American Gaming Association, and shares its license with Diamond Jo Casino.