Pros
Incredible app combining betting, news and social media
Very low margin consistently giving Smarkets better odds than competitors
Great live section with match tracker, tips and statistics
Large selection of sports including a horse racing section
Cons
No promotions section on the site
Does not have a complete focus on American sports
Steep learning curve for new users
Payment systems
Type
At least
Max
Payment. Commission %
Payment. Deposit time

$20
$3,000
None
Immediately

$10
$10,000
None
Immediately

$10
$5,000
None
Immediately
Type
At least
Max
Payment. Commission %
Payment. Withdrawal time

$20
$25,000
None
1-2 business days

$10
$10,000
None
Within 30 minutes

$10
None
None
1-2 business days
Review of the bookmaker SBK Sportsbook from Legalbet
Smarkets is a well known and experienced sportsbook who have had a lot of success already in Europe. All of the experience the app carries is evident in its sports betting offerings. The sportsbook first launched its product on US soil in Colorado, becoming the seventh mobile sports betting app in the state. 
The mobile sports betting app was announced on June 4th, 2020 thanks to a partnership with Full House Resorts, who own Colorado's Bronco Billy's Casino. Smarkets was founded in 2008 by American duo Jason Trost and Hunter Morris.
The sportsbook started as a betting exchange allowing its users to bet against each other. 
Top reasons to use Smarkets:
Massive in-depth app that runs smoothly 

Great selection of sports including ones hard to find elsewhere

Opportunity to communicate with other bettors and bet against other users

Great live betting section that allows you to follow games

Lots of experience in the company which shows in its display
The absence of a promotions section does not actually take so much away from this sportsbook, because the rest of the app is certainly top notch. With the unique mix of social media betting as well as the functionality of the app, Smarkets should have no problem competing in the US market. 
Odds — good
Smarkets has taken a more international approach when it comes to the sports offered on the site and nothing is off limits. It is already featuring bets on politics, current affairs and bets on TV and entertainment which are not yet available on many US sportsbooks. 
Besides the extra offerings all of the main American sports are covered as well as plenty of international competitions. In total, there is a massive collection of different sports and events to wager on and players should have no problems finding something new. 
| | | | | |
| --- | --- | --- | --- | --- |
| Australian Football | Baseball | Basketball | Boxing | Cricket |
| Current Affairs | Cycling | Darts | eSports | Football |
| Golf | Greyhound Racing | Hockey | Horse Racing | MMA |
| Soccer | TV/Entertainment | Table Tennis | Tennis | Volleyball |
Betting options — good
With such a great selection of sports and events to bet on, you would expect for Smarkets to offer plenty of ways to bet on them, and you would not be disappointed.
The number of markets available depends on the quality or popularity of the league, however you can expect more than just the main three lines available for each competition.
One of the unique ways to bet on Smarkets is by using the 'auto acca' feature. This will help you to automatically create random parlay bets with a swipe of your screen. 
All you need to do is pick between three and five selections and swipe and that number of bets will be put together. The bets will be completely random and can come from any sport. You can swipe as many times as you like to find that perfect parlay. 
Auto Acca

Moneyline Bets

Parlay Bets

Prop Bets

Over/Under Bets

Handicap Bets

Futures Bets

Live Bets

Period Bets
Live — normal
The live betting section on Smarkets gives you the opportunity to make bets on games as they are being played. This part of the sports betting app is well developed and will include all types of sports including horse races and betting markets for each game. 
Once you hit the live tab at the top of the screen, you will be able to switch between different sports and games. Clicking on a different game will allow you to see all of the betting markets available for that particular game.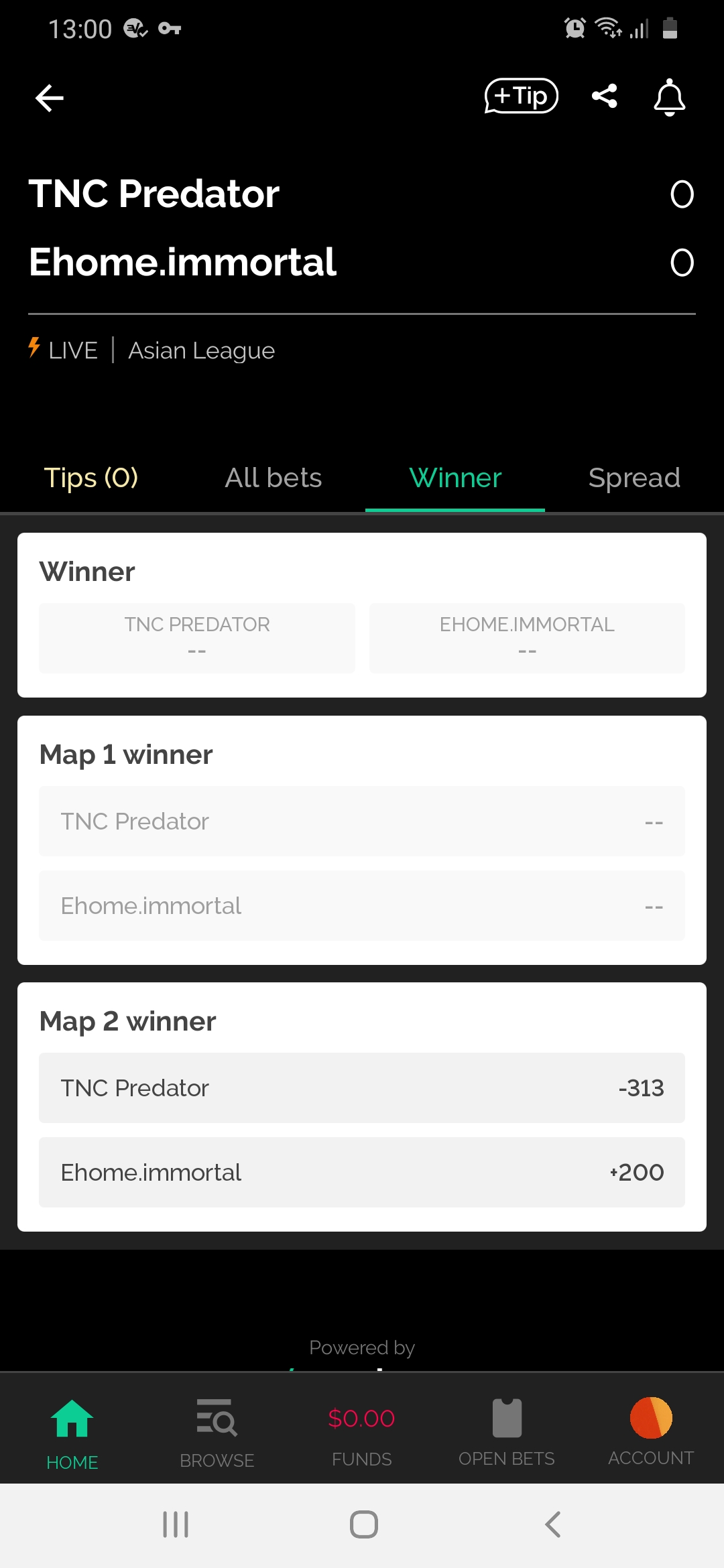 The good thing about live betting on Smarkets is that the app has so many different sports included. For this reason it is almost always possible to find at least a couple of live games being played. In general, the live betting section is well designed and features a lot of different sports and games 
(One drawback would be that there are not quite enough ways to watch or follow games being played. For some sports there will live match trackers available, however for others there is only the score included to follow each game. For big and popular games though this is a very good section for live betting). 
Official Mobile App
Looking at the app that Smarkets has put forth for the American market it is clear to see that they will have a good time in the founders' home country. The app comes completely unique to the US market, as the combination of media, social networking and sports betting has not yet been seen on this level.
This could help them reach a wider audience and give them an extra advantage against competitors.
Especially when you figure that they are going into a sports betting market with a lot of new names to sports betting. There's plenty of sections, not just choosing a bet and wagering. There is enough here to keep users entertained for hours with different news and taking bets against other player's predictions included. 
Smarkets instead has combined plenty of different features on a mobile app that is sleek, and is sure to appeal to many younger sports bettors. There is a tips section where you can follow other users of the site and check out their suggestions as a large selection of sports, both domestic and international. 
Overall, the app has a lot of information and will keep you entertained with plenty of different sections to visit. The design is also well done as the entire app looks very professional and clean. The betting app will take some getting used to, but once you do you will have an amplified way to make sports bets.
The only downside of the betting app is that it can be difficult at times to just browse sports betting markets. The app is so packed with news and other extra sections that the focus specifically on sports betting can take a hit, especially when only five or six markets are featured on the main page. 
Registration & Verification
Registering an account on Smarkets must be done before you are able to deposit and make sports bets. The good news is that registration can be done completely on the mobile app, without having to go to any physical location.
Registering your account is not a long process, and only takes a few basic steps to get started betting.
Download the Android or IOS version of the Smarkets app 
Begin and complete the registration process 
Wait for confirmation from Smarkets and set your preferences
Log in to your account and make a deposit
Start choosing bets and begin playing! 
When your account has been approved by Smarkets you will have the opportunities to set some preferences for how you bet on the mobile app. This includes the odds format that you wish to use (American, Fractional, Decimal) and also the card size you wish to be displayed. 
This is not included on many sportsbooks and is a cool feature allowing you to customize your betting. You will be able to switch these preferences anytime in the future.
Once this has been completed you will be able to make your first deposit on the app and begin betting. After registration, you can log into your account at any time using the email address and password that was set. 
Deposits & Withdrawals
You can make all payment transactions on Smarkets by logging into your account and choosing to deposit funds in your account information. Once a method has been chosen to use you will be able to instantly deposit into your playing account. 
Smarkets offers a few online different methods for depositing which should cover most players, however you may have to create a prepaid account if you do not want to make a wire transfer. It is of course recommended that you use the same payment method for withdrawals as you do for deposits. 
| | | |
| --- | --- | --- |
| Payment Method | Deposits | Withdrawals |
| PayPal | Yes | Yes |
| Wire Transfer | Yes | Yes |
| Skrill | Yes | Yes |
The best thing about these payment options is that all three can safely be used both for deposits and withdrawals and that they are all done online.
The withdrawal times are also near instant for each method used. PayPal and Skrill are both well trusted and experienced prepaid account services, and setting either of them up is a harmless process. 
Review Conclusion
The Smarkets sportsbook launches in the US with a lot of experience and a unique product for sports betting. These two things have given American sports betting a truly excellent competitor in the industry. 
Though the sports betting app can admittedly be difficult at first to learn, once you do you will have a truly one of a kind way to wager. 
There are a lot of things to do on Smarkets and plenty of different features outside of simply sports betting. What is offered on the betting app is a community, where you can go to check out how other users are betting as well as share your own ideas for upcoming games. 
We truly enjoy the Smarkets betting app and believe that there is something for everyone included. It is an extremely well designed and fully developed betting app, and we are excited to see it launched in the USA. 
The customer service on Smarkets is absolutely solid. There are multiple ways that you can get in touch with the sportsbook for questions and inquiries. Once you are signed into your account, you can go to your information and click on the contact us tab.
Three of the main ways to get in contact are by:
Telephone number
Email address
Twitter
The best option in our opinion however is the live chat. This is available directly on the app and the team will almost always be quick to get in touch. The customer support in the live chat is quick, knowledgeable and extremely helpful to questions of all sorts.
Solid customer support goes a long way and Smarkets is definitely on the ball. With multiple ways to get in touch and an incredibly helpful team, players can safely bet without worrying about what will happen if something goes wrong or is not understood.
Updated: 04.06.2023
Information about the company
Questions and answers
What are the best features of Smarkets?
Smarkets is a sports betting app unlike any other. There is nothing that the sports betting app doesn't do well including selection of sports, customer support and betting markets and features. However, we would have to say that the best feature is the soacial aspect included on the app. 
This feature is what truly sets Smarkets apart from other sports betting apps in the US. By adding this section it really brings you into the community by allowing you to compete directly against other users of the site.
It also gives you the ability to see how the public is betting. Add this in with extremely low margins and you have more profitable odds with more ways to bet!
How does sports betting on Smarkets work?
There are a couple of different ways that you can make wagers on Smarkets. The first is straight up fixed odds betting, where you can bet on different markets set by Smarkets.
This is typical of sports betting and what you will find on any other betting app. 
However, you can also make and create your own bets and share them against other users of the site. Likewise, you can browse wagers set by other users of the site, giving you further ideas for betting on the app. 
With the Smarkets app you will be able to browse wagers in two different ways, with a lot of other features included. With the mobile app, once you are registered and logged in you are able to switch between both sections of the site and make wagers on each. 
Smarkets was founded by and is continued to be owned by Jason Trost. The current CEO Trost founded the sports betting exchange Smarkets in 2008. The sportsbook today has over 100 employees and is headquartered in London.