Pros
Very good odds for most games and competitions
The selection of sports is good and covers most events
Live betting is available
The mobile app is well designed and easy to use
Cons
Only one method of withdrawals and deposits
No promotions section or betting features
Customer service is very slow
Review of the bookmaker Sky Ute from Legalbet
The Sky Ute mobile betting app is the product of Colorado's Sky Ute Casino. It is only the second tribal casino to have offered mobile sports betting as of now, behind Mohegan Sun. In order to launch the mobile sportsbook the casino has partnered with US Bookmaking, a very well known sportsbook company based out of Nevada.
The mobile app is also unique in that it is the second tribal owned sportsbook to go online in the country. They have also produced the app completely in-house, meaning no partnerships with major software or developer companies. Sky Ute is located in Ignacia, Colorado and is owned and operated by the Southern Ute Indian Tribe. 
The mobile app was one of the first to launch in Colorado, going fully live on June 11, 2019. The sportsbook is one of the finest examples we have seen of in-house development across the country. There are plenty of sports covered including the main American sports that are likely to appeal to the majority of bettors.
Live betting is also almost already up and running which is a major step in the right direction. The sportsbook claims that it has the best odds in Colorado, and although Smarkets may lay stake to that claim, Sky Ute indeed is at the top of the competition for lowest odds on many games and events.
Top reasons to use Sky Ute Sportsbook:
Wide selection of American sports available for betting

Great mobile design that is easy to navigate

Boast some of the best odds in Colorado, with extremely low margins

Lots of industry experience from sports betting partners and staff 
Odds — good
The sports selection at Sky Ute right out of the gate is a good one, especially as Colorado begins to further develop. However, right now Sky Ute will still cover all of the major professional American leagues, as well as options for college sports as well. 
However there are also other sports included such as boxing and golf, and includes major tournaments like the Olympics and World Cup. The selection will cover the vast majority of bettors and allow anyone to bet on the major competitions.
Football

Baseball

Hockey

Basketball

College Football

College Basketball

Olympics

Golf

Tennis

MMA/ UFC

Auto Racing

eSports

Soccer

Boxing
Betting options — normal
Sky Ute also comes complete with all of the betting markets that you would hope to see on a sportsbook. This includes the mainstays such as moneyline and spread betting, but also some more niche markets all the way down to scores being odd or even and whether or not a certain player will score in a game. The main categories are all represented. 
Moneyline Bets

Spread Bets

Over/Under Bets

Prop Bets

Live Bets

Futures Bets

Parlay Bets
Sky Ute Official Betting App
The bright and unique design is immediately noticeable after first using the Sky Ute sportsbook app. The color scheme and Sky Ute logo are just the beginning of what is a professional and well done job producing this sportsbook. The mobile app itself handles well, complete with smooth transitions and has very few glitches even in its early stages.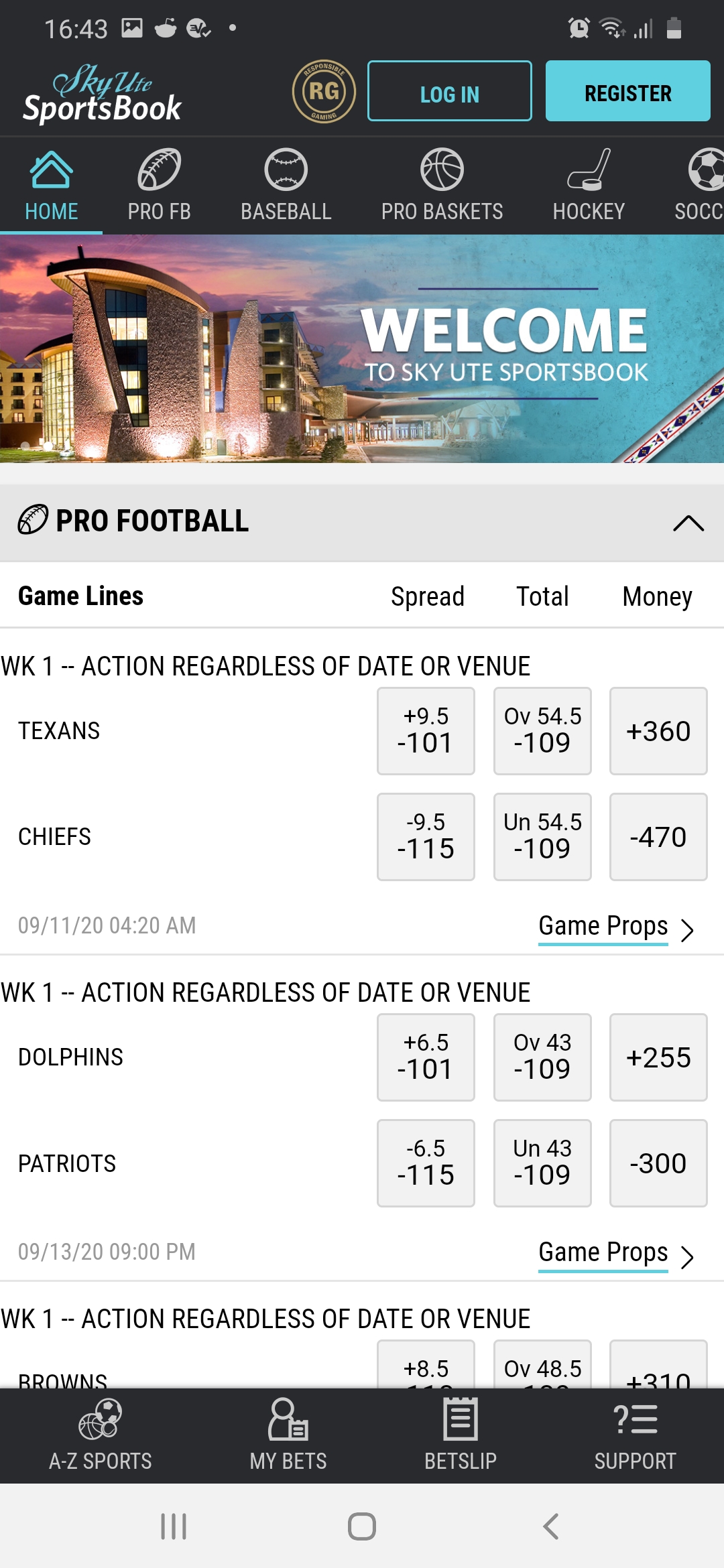 On the outside, the layout of the mobile betting app is set up in much of the same fashion as many other sportsbook apps across the country. The main page especially resembles many other betting apps, with the main events listed down the center and tabs both above and below. 
This design works well for them however as it makes navigation simple and the mobile app visually appealing. From the main page you can easily navigate to a specific sport that you would like to bet on or head to the live betting section to place bets on current competitions. All throughout, nothing is particularly difficult to find.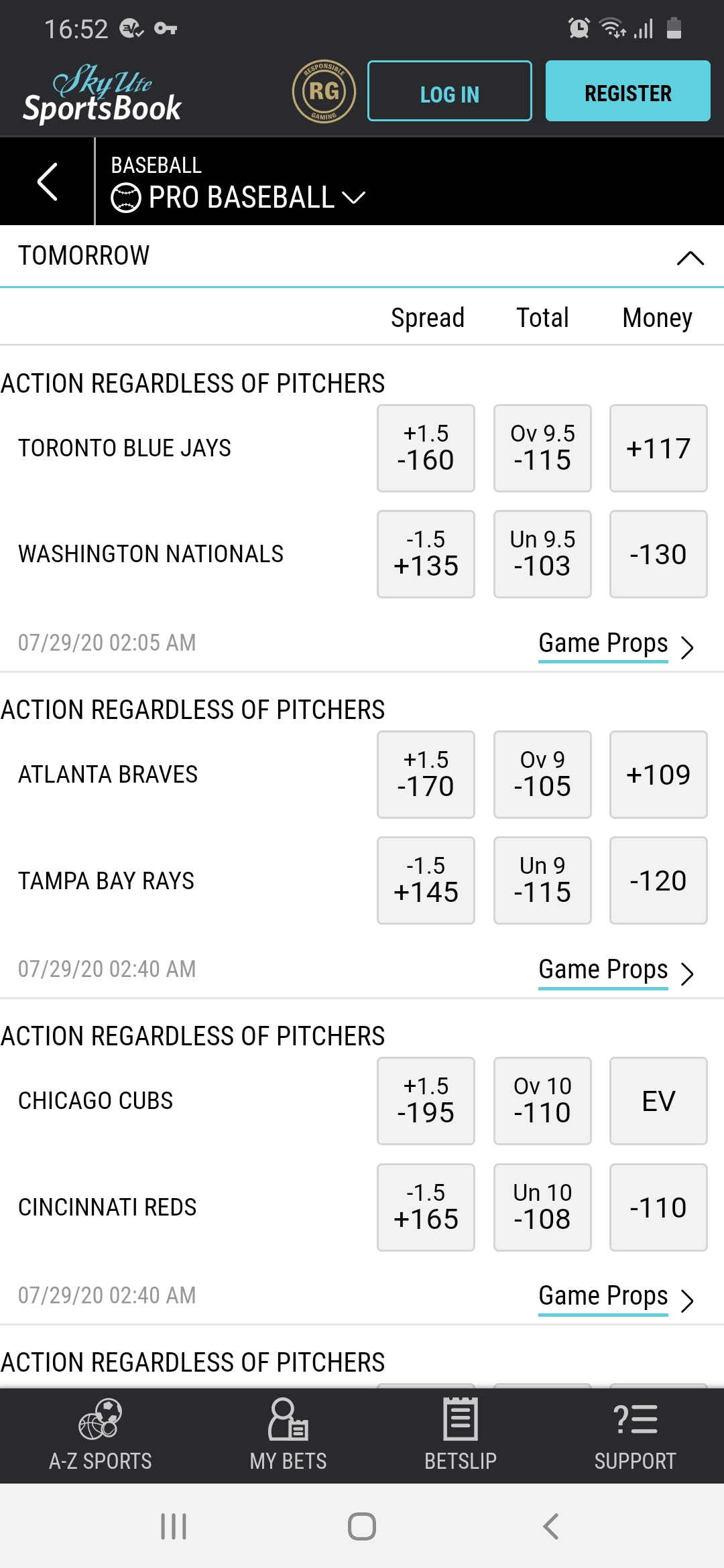 The lack of prominent betting features such as odds boosts or additional competitions may be a drawback, but with more updates certain to come this should not be a threatening concern. Given that the sportsbook was produced by Sky Ute Casino themselves, it holds up surprisingly well to other competitors in the state. 
Registration & Verification
Registering on Sky Ute sportsbook can be done entirely on the mobile app. This is excellent news and a testament to the laws surrounding Colorado sports betting. The registration process is extremely simple and all takes place on one page. 
It can be started by clicking the blue 'Register' button in the top right corner. You will only need to spend about five minutes filling in the information after following a few steps. 
Download the Sky Ute mobile betting app

Fill out the registration form with accurate information 

Wait for account approval via email address from Sky Ute

Make the first deposit and log in to your account with email and password

Start making sports bets with Sky Ute
Throughout the registration process you will need to enter things like your account information and some basic personal information as well. At the end there are a few terms and conditions to agree with. 
Once the registration is complete Sky Ute will verify your information and from there you will have full access to the mobile apps. Sky Ute will use your Social Security number to verify that the information you have provided is correct. 
You will be able to create a sportsbook account from anywhere within the country, however in order to complete actions like funding your account or making bets you will need to be physically present in the state of Colorado. 
Deposits & Withdrawals
There is currently only one form of payment method for both deposits and withdrawals on Sky Ute. This is quite common in states where sports betting is just starting to begin. The method available is also widely used by sportsbooks across the country.
These play+ cards can be applied for directly off of the Sky Ute app, and received in the mail in a week or two. The card acts as a prepaid account, where you can deposit and withdraw money from and use to pay various businesses. 
There are a wide variety of methods that you can use to fund this prepaid card, including other debit/ credit cards, bank accounts and transfers and cash. 
The best thing about using this prepaid card when making transactions at a sportsbook is that the withdrawals and deposits are often instant, and without charges. In order to activate wagering on the app, you will need to make an initial deposit of $25. 
Customer Support
There are a couple of online methods available to get in touch with Sky Ute customer service if you have any questions or conflicts when using the sportsbook. The first is an email messenger on the website where you can send a message and wait for an email response. 
You are also able to call the location with the phone number provided on the official Sky Ute website. Of course, you can always visit the location in Ignacia and try to get answers in person. Before exhausting these options however you should read through the Betting rules and terms and conditions listed on the site, as they may answer any questions you have. 
Review Conclusion
The Sky Ute mobile betting app and sportsbook is a testament to the good that can be accomplished when a casino decides to put in the effort and experience of launching its own online sports betting. 
Sky Ute Sportsbook puts forth a professional and formidable competitor in the Colorado sports betting market.The sports that we love to see and the bets we love making are all included in the app. The app is easy to use and has an appealing design. 
Sky Ute is already making strides with its sports betting app, with live betting included on launch and some of the best odds in Colorado. Since the tribe has already launched out of the gate on such a good note, with a few updates and additions down the road the sportsbook could be a top competitor in the state down the road. 
Updated: 04.06.2023
Information about the company
Questions and answers
How to use a Sky Ute bonus?
Although there are currently no bonuses available on Sky Ute, we must be prepared for when they inevitably arrive. Well, we are hoping that they arrive someday. If they do, then there will likely be a promotions section added to the site where all of the ongoing and current offers are placed. 
To use bonuses on the site you will need to go to this section, select the bonus you want to use and fulfill the requirements for receiving this offer. Once you have completed the set instructions for receiving an offer you will be allowed to use your bonus per the terms and conditions. 
There are a variety of different bonuses featured on sportsbooks including free bets and parlay and odds boosts. Each of these offers will give you a leg up and enhance your overall sports betting prowess. Bonuses can be for either all players or just for new players signing up. For the latter, these bonuses may have a bonus code that needs to be entered during registration. 
You can get in touch with Sky Ute by calling the listed phone number or sending them a message from the site and waiting for an email response. In person, you are always welcome to visit the Sky Ute Casino during its business hours to talk with a customer service worker. 
What are the best features of Sky Ute Sportsbook?
The best feature of Skye Ute would likely be the odds that are given for games and competitions. The sportsbook boasts that it has the best odds in Colorado, and although that may not always be true, they usually come pretty close. 
The margins on Sky Ute are very low, which is why the sportsbook is able to continuously offer great odds for its sports and games. Since low odds give the player more profits for each winning bet, it's a very important and valuable feature. Among the other positive features of the betting app would be the app's design itself and the selection of sports available.