Registering at 888sport
888sport is currently available in New Jersey and launched in the state in September 2018 through a partnership with Caesars. Bets on the site include parlays, teasers, moneylines, point spreads, totals and futures. You can read our full review of 888sport New Jersey in our sportsbook section. 
1) Step One: Create an Account at 888sport
The two main things of importance to remember when starting out are that the player must be 21 years or older and you must be physically located in New Jersey to create an account and make bets.
Go to the official 888 sportsbook mobile site in New Jersey to get started. Upon going to the site, you can find the 'Sign Up' button in the upper right hand corner of the home page screen. Once you click on the button to continue, the registration form will come up.
To avoid any immediate or future problems, you need to fill out this information as accurately as possible with no mistakes. Failure to do so could result in you not passing verification and therefore not being able to create an account. 
Registering on 888sport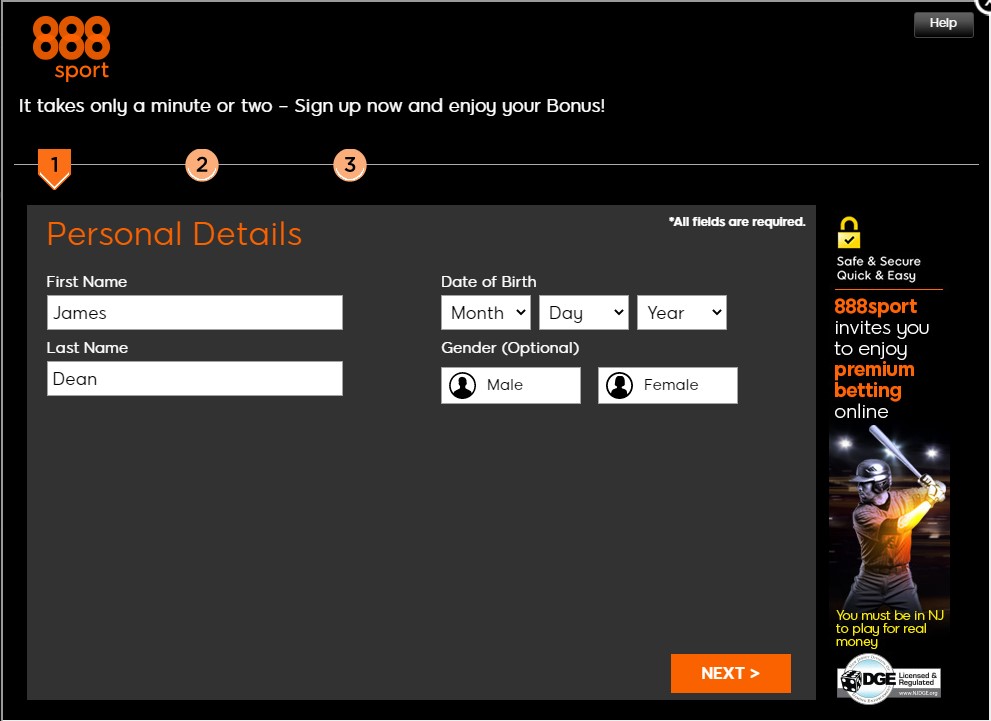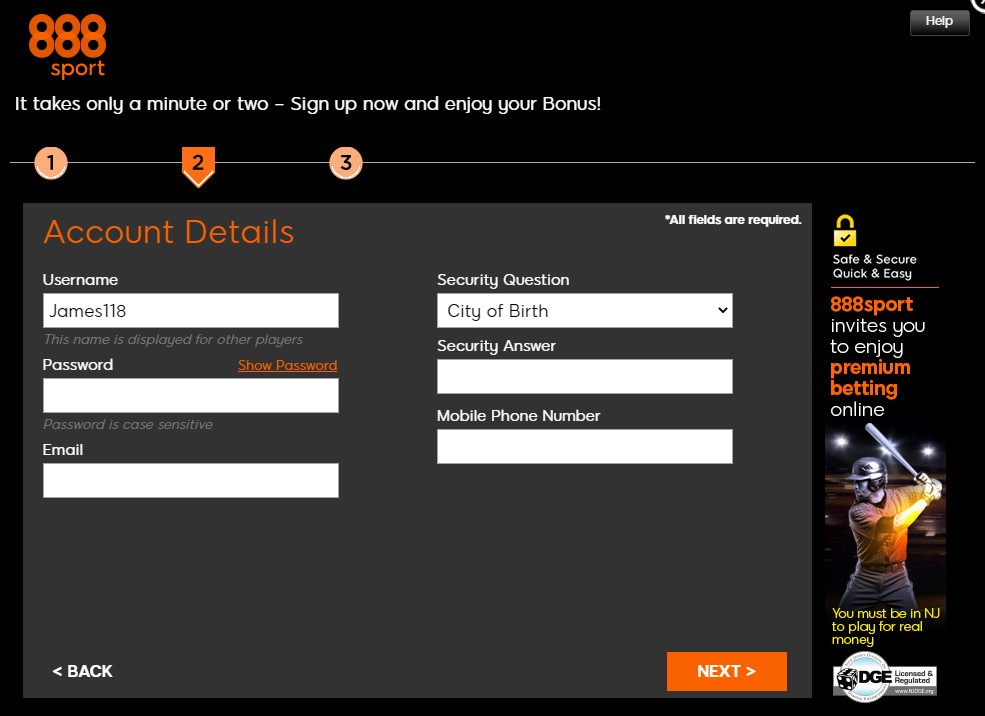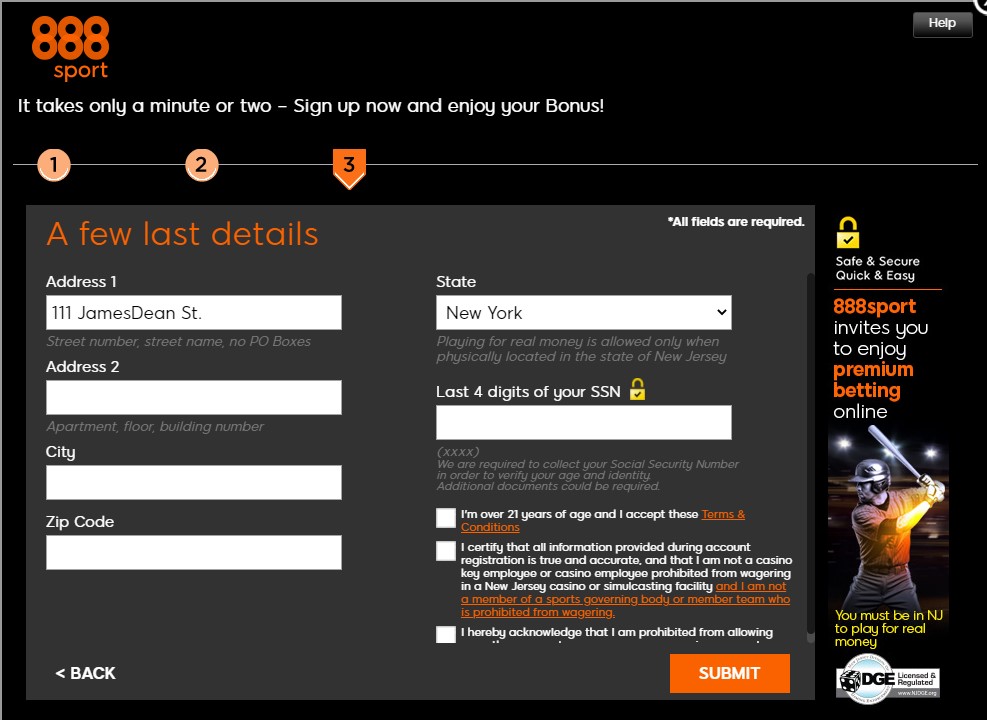 There will be three separate sections to the signup process. The first section will ask for basic personal details including name, birthday and gender. This will give you the first opportunity to satisfy the age restriction as laid out by New Jersey gambling laws. 
After providing this information, you will need to set up your account. This includes details such as username and password, phone number, email address and a security question and answer. You will be able to choose from five different options for security questions. 
Finally, 888sport will ask you to provide your address (street number, city, zip code) and your social security number. The social security information is what the sportsbook will use to verify your age and identity. 
2) Step Two: Complete Registration: 888sport and New Jersey Terms and Conditions
Each state in the US has the right to offer its own form of sports betting. This means that there are slight differences in the rules and regulations for each state. Since 888sport is only currently operating in New Jersey, the player will need to agree to the terms and conditions of both the sportsbook and the state.
The age requirement and verification of location will be the two major concerns. There are some other terms and conditions when filling out this part. These mainly follow 888sport's requirements and include the main terms as well as some more specific ones.
A Brief Outline of 888sport Terms and Conditions:
The player must be at least 21 years of age

Acknowledging that you will be within the state during all times of use

Consenting to the verification of the details provided

The ability for 888sport to conduct background checks for verification

Confirmation that you are not professionally affiliated with leagues or teams

You are using funds acquired in a legal manner 

Agreement to the company's policy regarding bonuses
Breaching any of the terms and conditions could result in account deactivation. If you have any questions with regard to these regulations you should contact the available customer support on the site.
Two of the points above are explained in further detail as they are required not only by 888sport but also the state of New Jersey. 888sport bonus policy is also outlined in further detail.
Address and Geolocation Location Services
Geolocation services are widely used by sportsbooks apps in the US in order to guarantee that the player is within the state borders at the time of any attempts at betting. This is first and foremost a federal requirement, and in any state with mobile betting you will be required to be physically located in that state while making wagers. 
To enable these services, you must have a device with WiFi and have your GPS location services on. You do not need to be connected to WiFi for this to work, but the WiFi on your phone must be turned on. Upon logging in to the sportsbook, 888sport will confirm your location.
If you are located outside of the state, you will not be able to perform basic functions such as betting on the site. However, players will still be permitted to view odds and make payment transactions.
Key Employee or Team Member
This is another federal betting requirement that will have slight differences in each state, though the main ideas will remain the same. In regards to New Jersey laws on the subject, a player must disclose their status as an employee of a sports governing body or a member of a team that is prohibited from wagering. 
This includes members acting as a:
Referee

Player

Coach

Team Owner

League Office Employee
If the player holds one of these positions but is not exempt from sports wagering, they must fill out a separate application before creating an account. However, they will not be able to bet on sports or leagues directly related to their positions. 
For example, if you are a player or coach of a professional sports team like the Philadelphia 76ers in the NBA, you will be unable to make wagers on NBA games. Upon approval of the application, you may be given approval to bet on unrelated sports and events. 
888sport Bonus Policy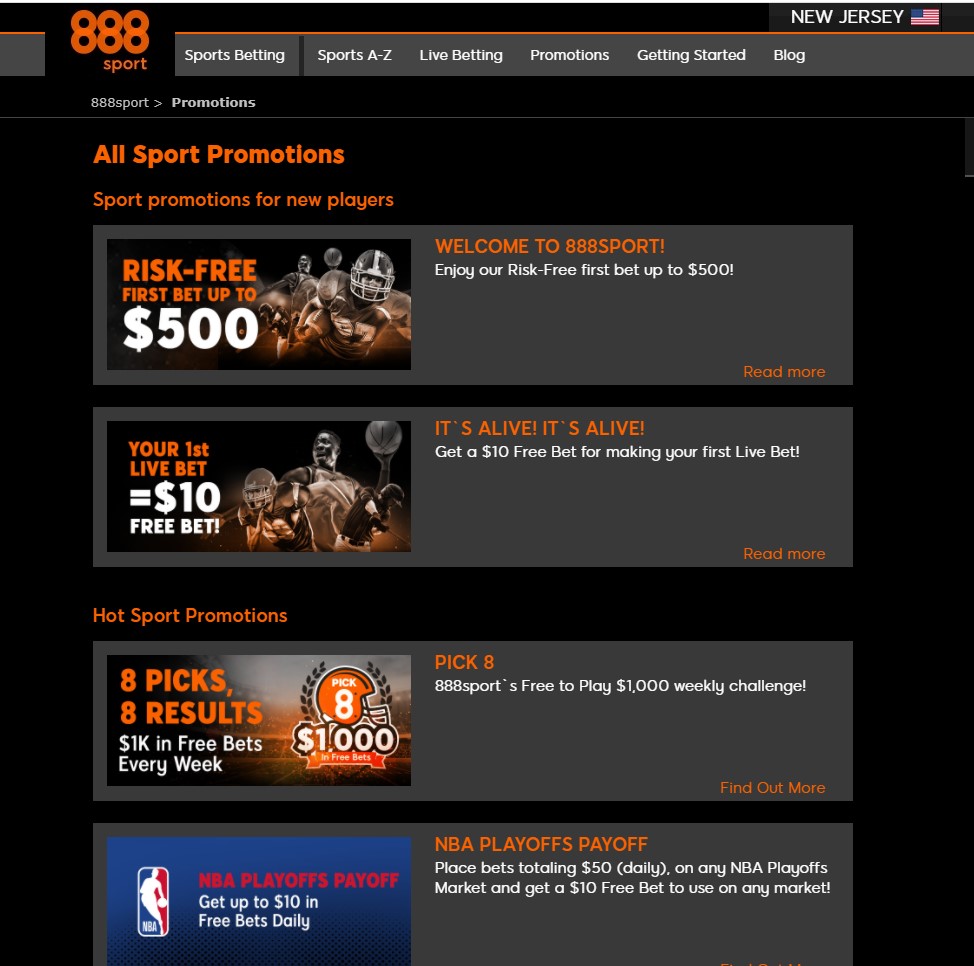 888sport offers a lot of great bonuses and promotions on its site. There are welcome bonuses, parlay bonuses and even unique promotions specific for 888sport, among others. In order to be eligible for these offers, you need to abide by the 'Bonus Policy' on 888sport. 
There are a few main things outlined in the policy. For 888sport bonuses to be fully claimed (unless stated otherwise in the bonuses terms), you need to fill all of the bonus requirements within 30 days of the bonus funds being deposited into your account. 
Profits made from bets placed with bonus money will be given to the player as:
A payment to the player's real money account, matching the amount/portion of real money used in the wager.
A payment to the player's "bonus wallet", in the amount matching the portion of the bet made with bonus funds, or matching the amount in the player's "bonus wallet" prior to making the bet. Whichever is greater will be the amount returned.
A player may have multiple bonuses in their account at a single time, however bonus money may not be used to satisfy requirements for a different bonus. 
Like the $500 risk-free bet welcome bonus, there are many different promotions that will allow the player the chance to receive free bets in the form of free bet tokens. These bets must be used in their entirety and cannot be combined with real money wagers.
3) Step Three: Deposit into an 888sport Account
The last thing that you will need to do in order to start betting is to deposit funds into your account. After finishing your registration, you will be taken to a screen where you can enter deposit information. There is no rush to make the first deposit, as it may take some time to find the best payment method for yourself.
Any other time after this, you can go to the main lobby and click on the cashier button, then on deposit. 888sport has a good selection of deposit methods that you can select from. To make a deposit, you must select from one of these payment types:
Bank Transfer (ACH)

PayPal

Visa Credit and Debit Cards

MasterCard

Discover

Online Banking Transfer

PayNearMe

Cash at Cage (Caesars Atlantic City)
Once you have chosen a deposit method, you will need to enter the required information related to that method. There, you can choose an amount and confirm the transaction. If you are depositing at the time of a related welcome bonus, you will need to include the bonuses promo code in the information, which can be found in the bonus' description on the site.
The minimum deposit for all above listed payment forms is $10. If there are any troubles with the deposit you can access any of the FAQ articles on the site, or speak directly to the site's customer service.
4) Step Four: Making Bets
On 888 sport, all of the different sports are featured on the left side of the screen. In the center of the screen you can find games that will be starting soon and trending bets as well as advertisements for various ongoing promotions.
Clicking on the 'live right now' section will take you to all live games. You can click on any game on the site and see all of the lines and odds available for that game. The bet slip will pop up in the bottom right hand corner after clicking on any of the lines. Simply enter an amount and click 'Place Bet'. 
Betting on 888sport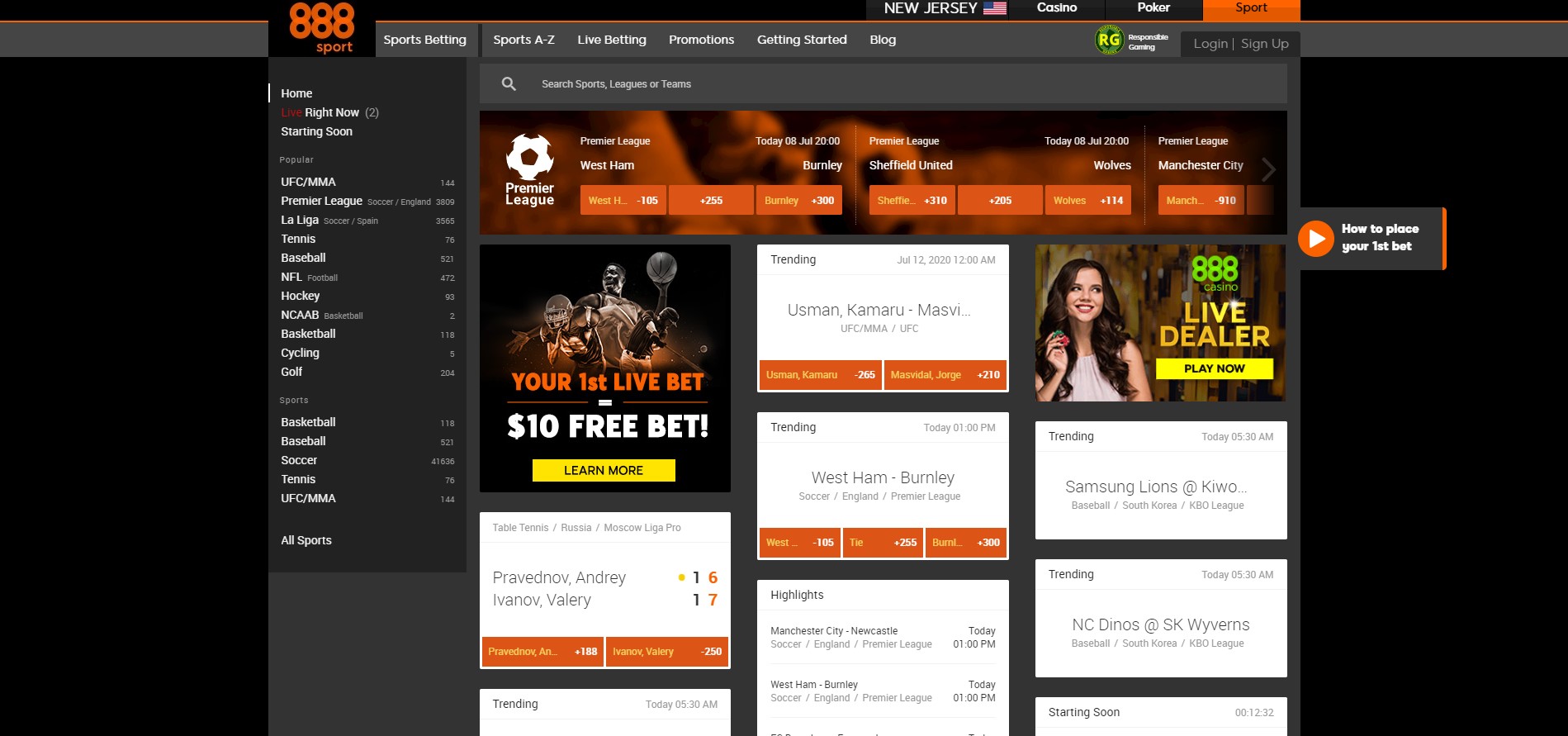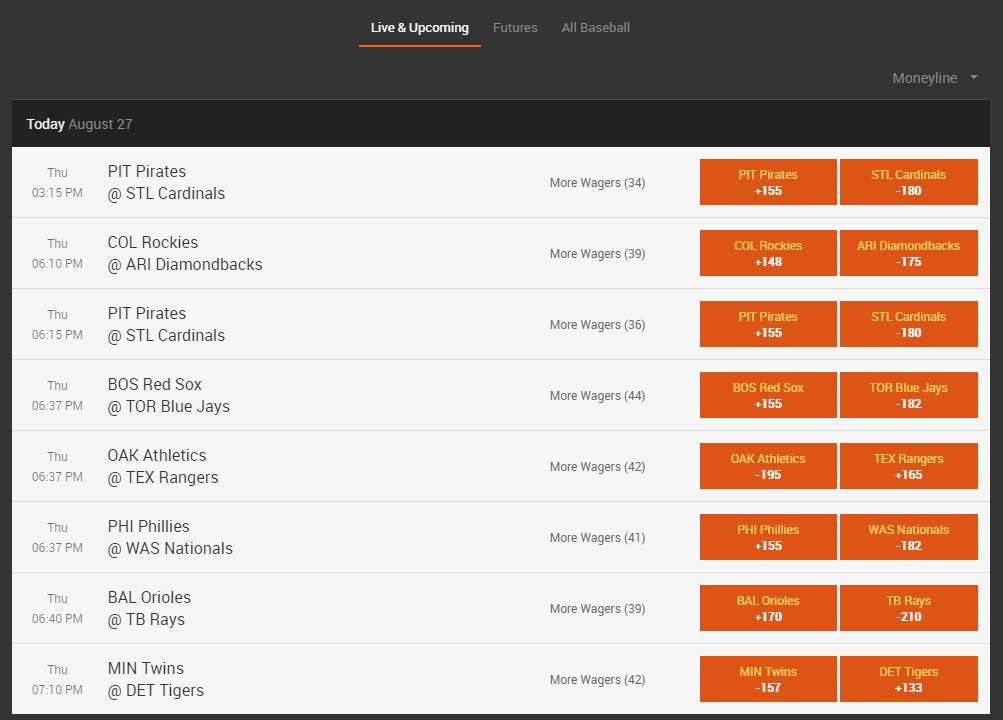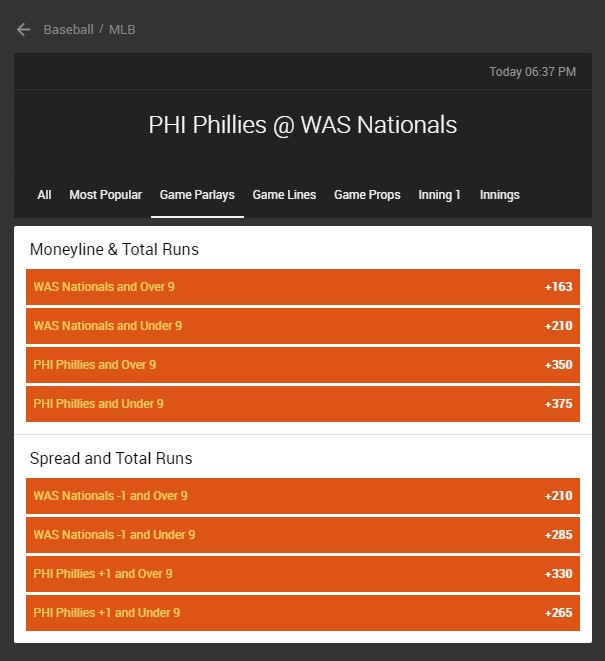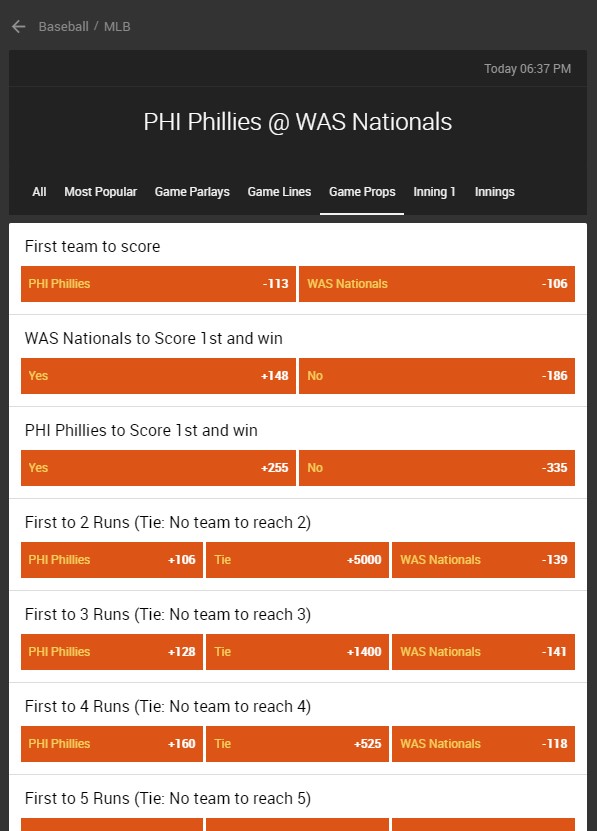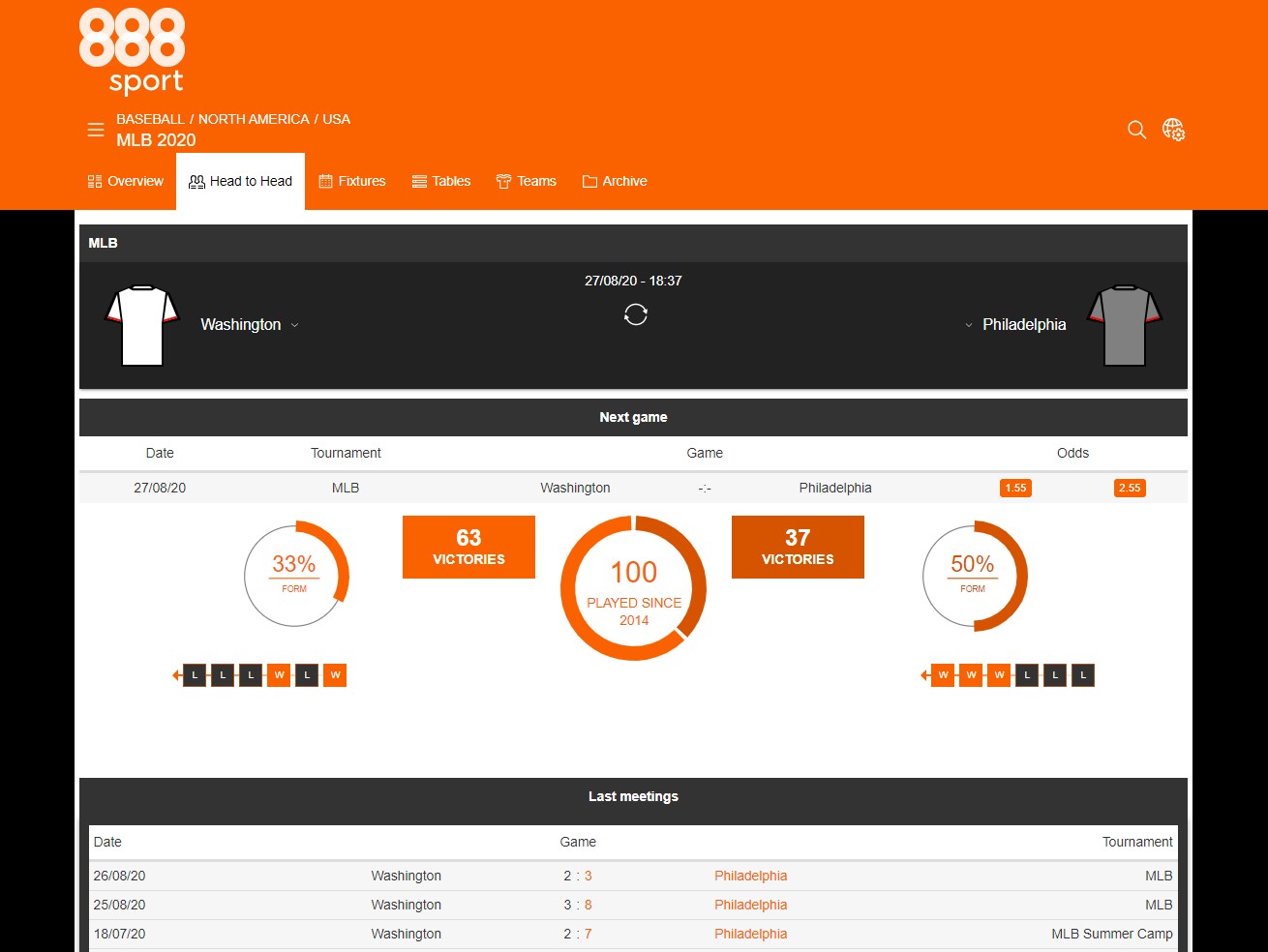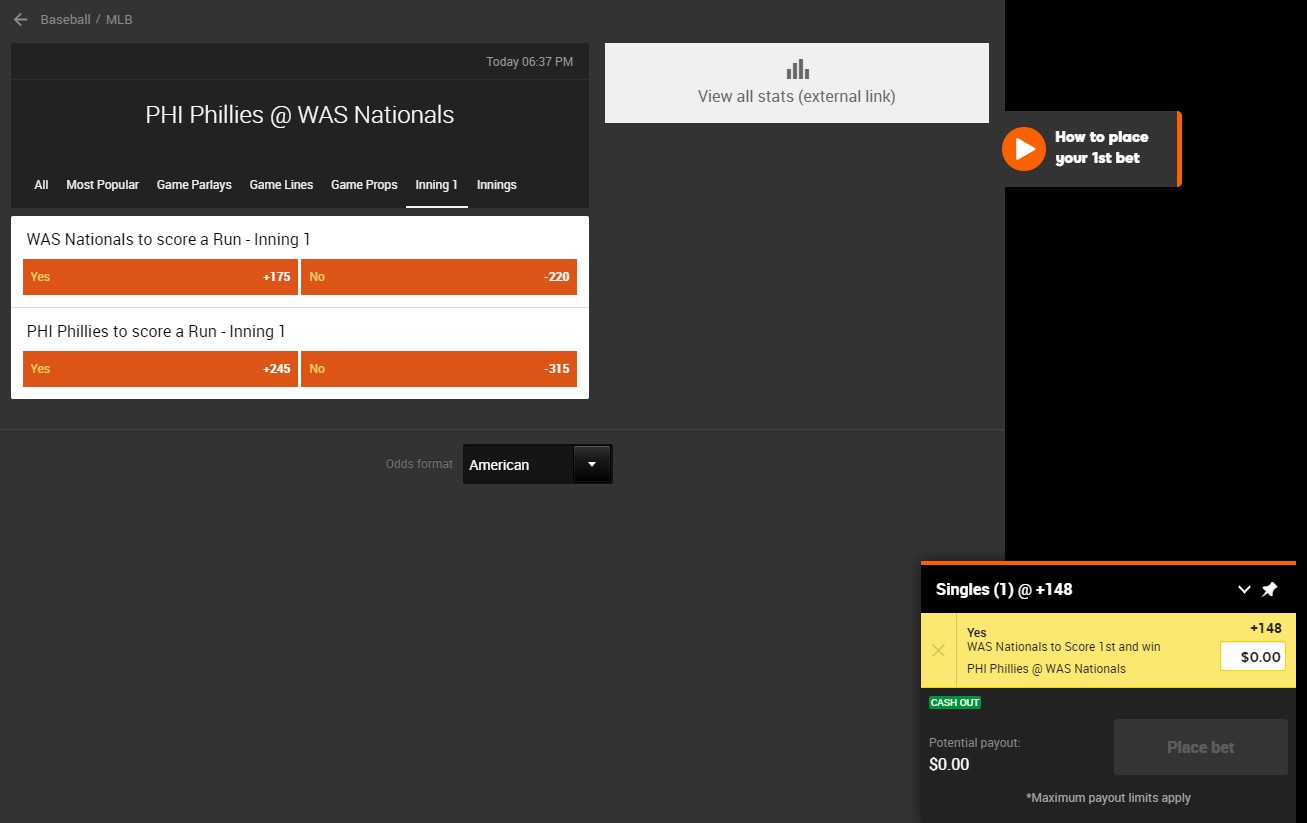 Bets will be accepted almost instantly. You can also add multiple wagers to your bet slip at once to create a parlay bet. Most bets will be accepted, however 888sport does have rules for accepting bets, so it is best to read up on them beforehand.
Once the event finishes or your bet has completed the requirements needed to win, the money will be deposited into your account within 24 hours, though it almost always no longer than 20 minutes. 
One of the best things about 888sport is the amount of promotions that are available on the site. Beyond the standard welcome bonus, there are many promotions constantly updated on the site giving you the opportunity to receive extra advantages. 
5) Step Five: Withdrawing Funds
Whenever you decide that it is time to cash out, you will have the option to withdraw funds from your account. This can be done in the same way as making deposits.
First you must be logged into your account, then just go to the cashier section and click on withdraw. You will be asked to confirm the amount that you are withdrawing as well as what payment method you want to use to make your withdrawal. 
The following withdrawal methods are available on 888sport:
ACH Bank Transfers
PayPal
Cash at Cage (Caesars Atlantic City)
The minimum withdrawal amount for a bank transfer is $10, while for PayPal it is $20. If you are withdrawing on location at Caesars Atlantic City, there is no minimum withdrawal amount.
Depending on the withdrawal method the player chooses, the times to wait for the funds may differ. However, the wait period should be no longer than two days no matter the form of payment. 
If, for any reason, 888sport requires extra verification before withdrawing funds, the player will have 14 days to complete account verification. If the verification is not completed within that time, the withdrawal request  will be reversed and the money returned to the player's account. 
888sport also has mobile apps that are available for Apple and Android devices and can be downloaded from the stores. These apps feature the same betting functions as the desktop version and can be accessed from anywhere in the state.